Chrissy Martinez (@chrissy_martinez_photography) loves photographing and sharing stories about wildlife that inspire others to connect more mindfully with nature and to help further conservation efforts. She aims to continue to learn about how to be a better caretaker of the natural world as she moves through it and photographs magical and beautiful moments that can help create change and leave a positive impact on the world. When we came across this photo from her 2021 calendar on her Alpha Universe Profile, we had to learn more about it. We connected with her to get the story behind this staredown. For your chance to be featured, complete your own Alpha Universe HERE.
How wildlife photographer Chrissy Martinez captured this whimsical photo with a lightweight Sony 70-200mm f/2.8 GM + 2X extender setup on her Alpha 7R III.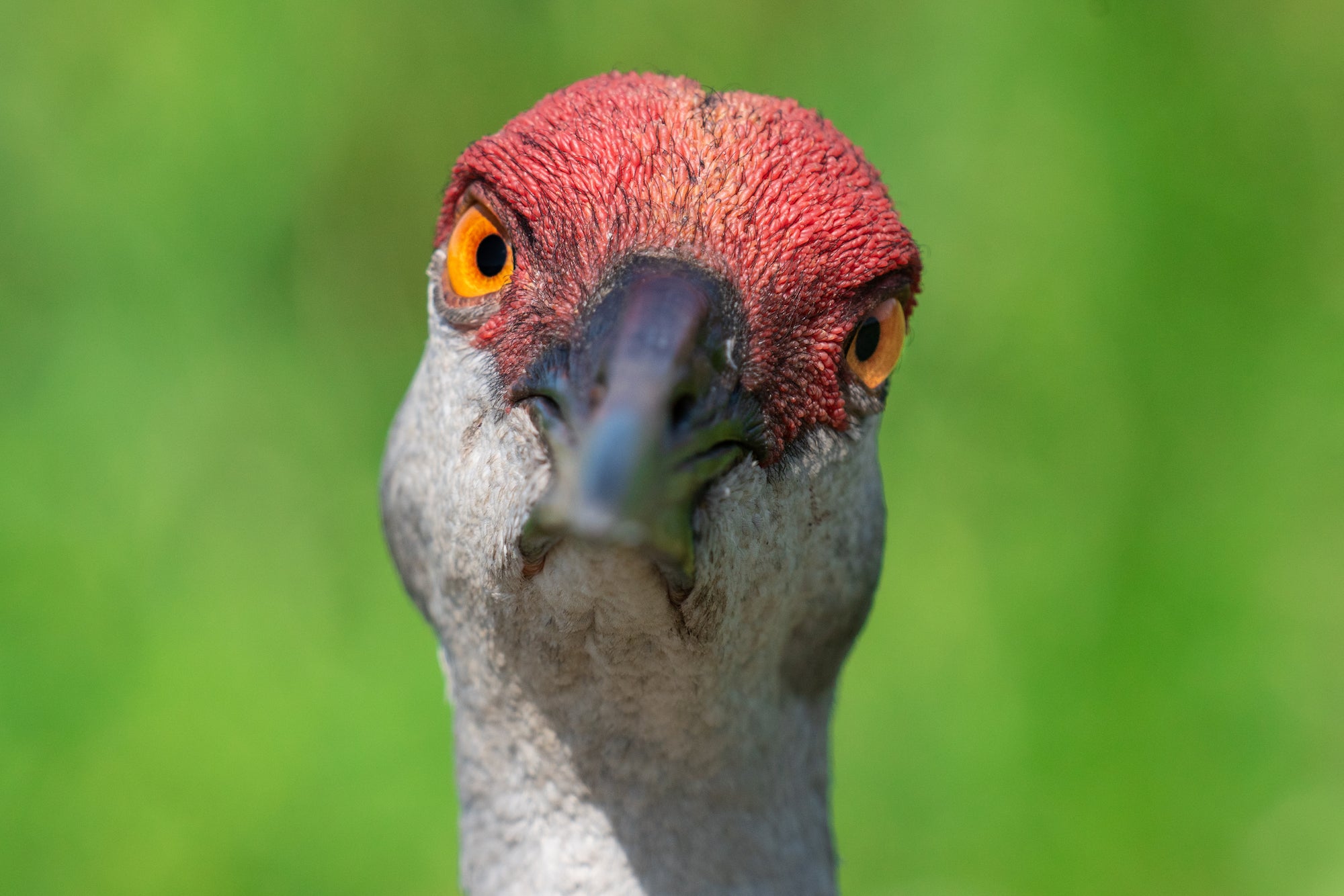 Photo by Chrissy Martinez. Sony α7R III. Sony 70-200mm f/2.8 G Master + 2X TC. 1/1250-sec., f/8, ISO 640
The Scene
I rode my bike to Paynes Prairie to do some wildlife photography and for some healing time outdoors. I lost my motorcycle in an accident in 2019 and had just purchased a bicycle and this was my first solo photo adventure to Paynes Prairie since the accident. Paynes Prairie State Park is a 21,000 acre nature preserve that happens to be just a few miles from my house. Being in the middle of a pandemic while healing from a traumatic brain injury getting outside in nature and doing wildlife photography has been an integral part of my healing.
I left the house early in the morning on a weekday hoping to see very few people and looking forward to whatever wildlife I might see on the Prairie. We were three months into the pandemic and it really just felt incredible to leave the house and be somewhere outside of my own neighborhood. When I first stepped onto the trail I saw two Florida Sandhill cranes (G. c. pratensis) the non-migratory kind hanging out together.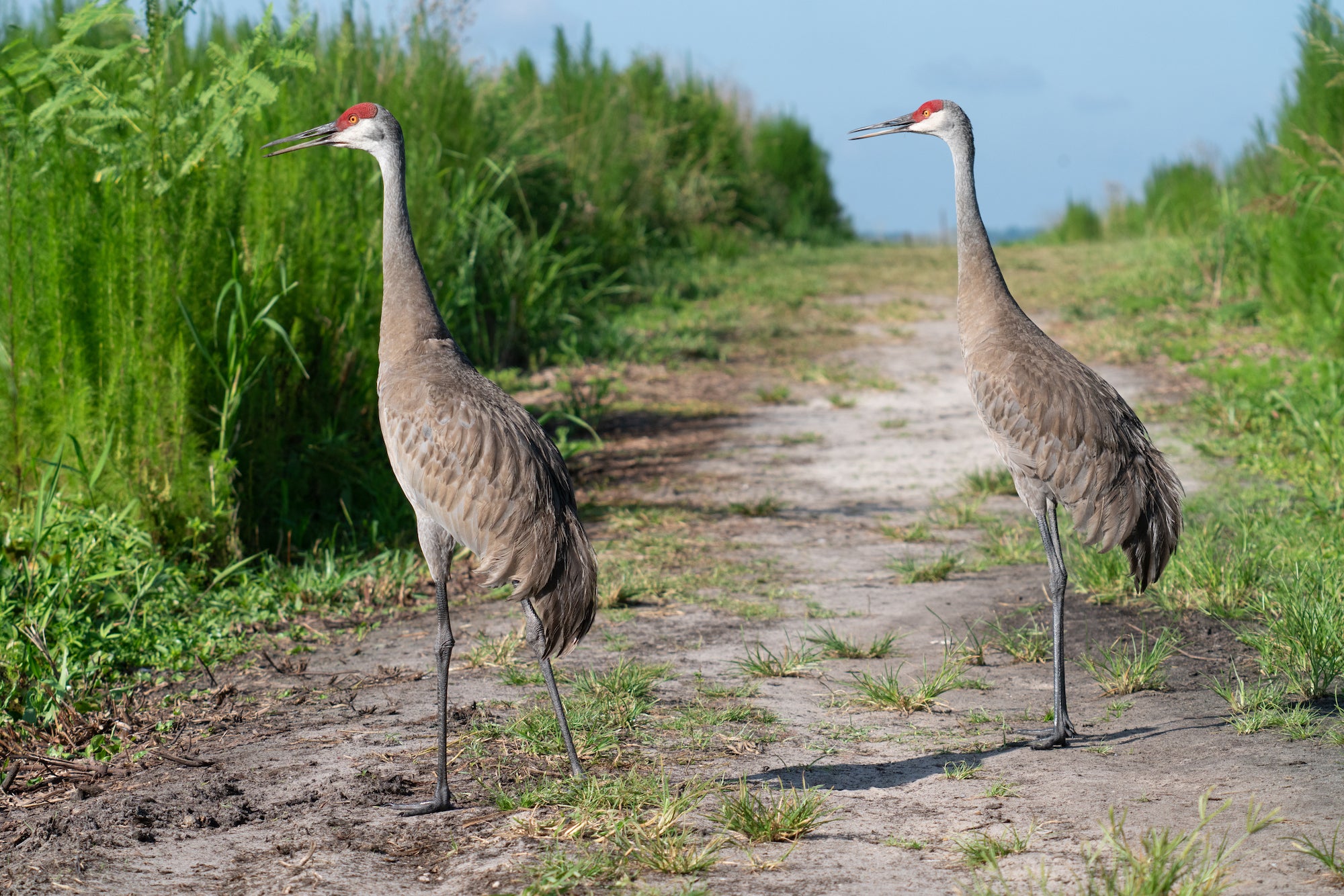 Photo by Chrissy Martinez. Sony α7R III. Sony 70-200mm f/2.8 G Master + 2X TC. 1/1600-sec., f/8, ISO 1000
There was only one other person nearby on the trail that day and we had never met before. We both kept our space with the occasional quiet glances of pure amazement as we witnessed these beautiful cranes on the trail in front of us. It was hot and my legs were tired so I sat on the ground and set up my tripod without encroaching on their space. After quietly observing them for a little while the cranes started walking towards us, stretching their legs, preening, making their incredible sandhill crane calls and one even just sat down relaxing on the trail in front of us. The crane in this photo walked up to the woman who was also sitting on the trail and very curiously and quickly pecked at her phone bringing a smile to both of our faces.
Getting The Shot With The Sony α7R III & Sony 70-200mm f/2.8 G Master
I had the camera on a tripod so that I could move quickly between filming the cranes and photographing them. I sat there a little farther back with my camera on my tripod photographing and filming the bird when suddenly it looked at me and started walking towards me. Before I knew it this nearly 4-foot-tall crane was quickly advancing towards me. I felt a wave of joy move through me as I pressed the shutter on the multi burst mode getting as many photos as possible until it was towering over my camera and I found myself face to face with this Sandhill crane.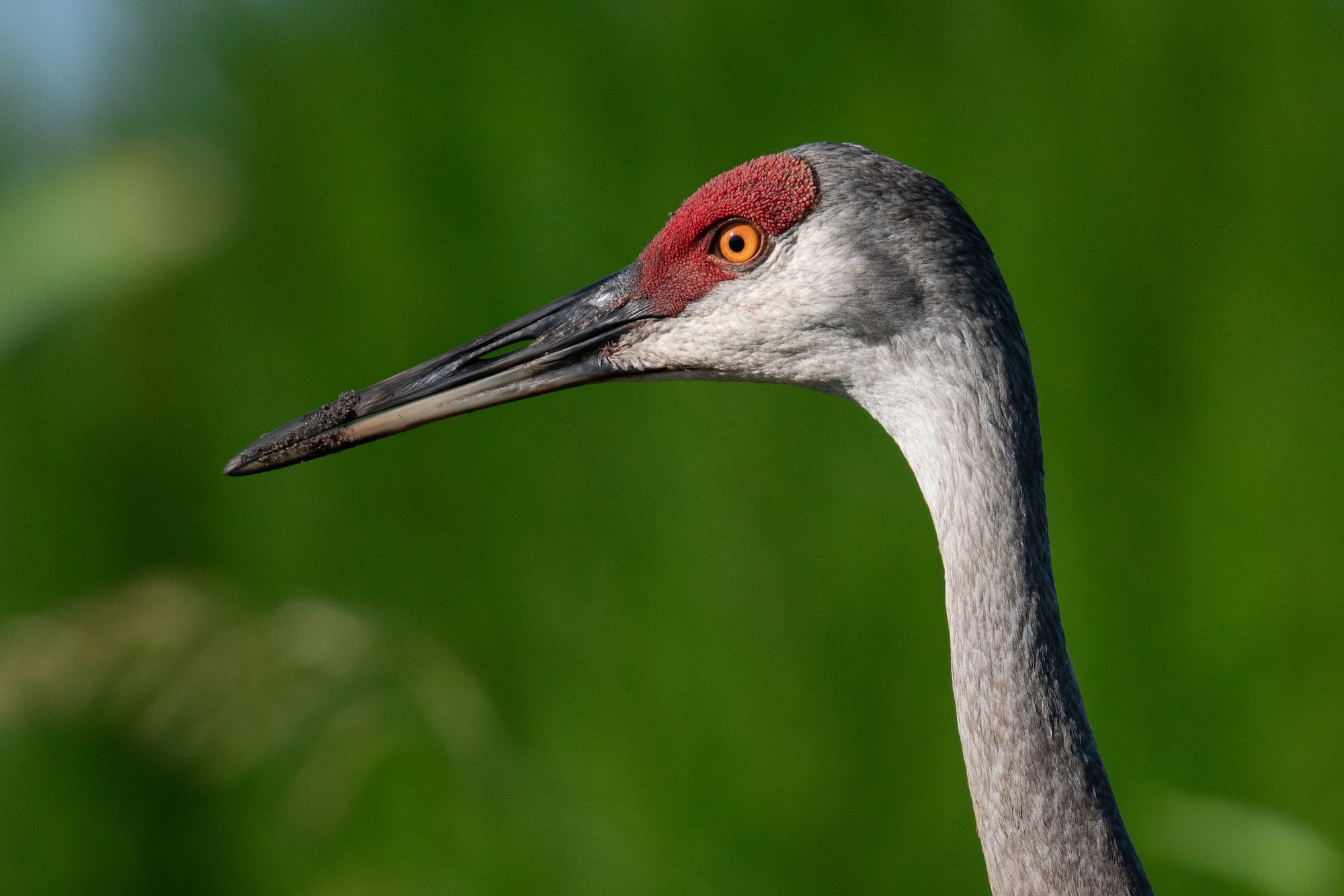 Photo by Chrissy Martinez. Sony α7R III. Sony 70-200mm f/2.8 G Master + 2X TC. 1/2000-sec., f/8, ISO 1000
I had switched from my previous system to Sony when I bought the Sony α7R III and Sony 70-200mm f/2.8 G Master lens with the 2X extender. The camera was set to manual mode with auto focus enabled. I had the ISO set to 640 and the speed set for 1/1250 second for quick movements and the aperture set to f/8 to have more depth of field. The focal length was 246mm. As the crane approached, I quickly moved from 400mm to 246mm and I snapped the shot.
I often use Sony Animal Eye AF and the silent shutter when I'm photographing wildlife. I continue to be blown away by the speed, accuracy and tracking abilities of this Sony Alpha 7R III. Everyday I keep learning new things about my camera.
Post-Processing
I wanted to bring out the vibrant colors of this bird and its incredible orange eyes and the green background and to brighten up the part of the photo that was slightly underexposed.
I did all of my editing in Adobe Lightroom. I cropped the image and I increased the exposure to +.45, highlights to +3, shadows to +33, whites to +9, blacks to +9. I brought the Texture down -2, brought the Clarity up to +20, Dehaze to -1, Brought the Vibrance up to +15, Saturation +2. I brought the green hue slider up to +26. I also used the mask wand on the left eye and the right eye. On the eye to your left I lowered the exposure by - 0.08, brought the contrast up to 84, brought both the Highlights and shadows down to -100, brought the texture up to 32 and the clarity up to 39. On the eye to your right the one in shadow I brought the exposure by .75, Contrast up to 12, Highlights up to 21, Texture to 5, and clarity to 6.
Join Alpha Universe and complete your public profile. It's free and you'll have a chance to be featured on Alpha Universe! Click here to learn more.