Spencer Pablo takes us into the new Sony app that will have your graduated ND filters gathering dust
I use neutral density filters a lot. They are, by far, my most used filters. They help me drag my shutter speeds to get a pretty neat effect with water and clouds. They help me make the smoothest curtains of water, as well as stretched out cloud effects.
But they also serve a different purpose. When I photograph something with skies, I grab a graduated ND filter to properly expose the skies with the land or water. The dynamic range of the Sony sensor is pretty amazing, but sometimes you need to stretch it even further to bring out details in both the land-based items and the clouds in the sky. Otherwise, with less dynamic range, you stand to lose details in the highlights or shadows.
Graduated NDs have worked so far with my photography, but they come with their own set of problems. One is making sure I brought the correct one and every piece required to mount it (not only do I need the actual graduated ND filters--there's a few of them--but I also need the slide mount and the appropriate threaded rings that the slide mounts clip onto). Then when I bring the pieces, I need to make sure I don't drop the delicate filter. Typically the environments I photograph in are not the easiest to move in, and among the most hazardous when I drop things (dropping glass on rocks usually ends in tragedy). Then there's always the cost. Some of the ND filters are extremely expensive. You could always purchase the cheaper, non-multicoated ones, but then you run the risk of glare and internal reflections. Adding to the challenges, the filter is really another element to keep clean. You have to make sure your lens is clean--sure, but now you also have a filter with two sides that can pick up dirt.
In short, you have to really be dedicated to put up with all the filter juggling.
Sky HDR PlayMemories Camera App
Now I would like to think that Sony actually made this Sky HDR application for me. This app ticks so many of my checkboxes.
It includes three types of presets (Blue Sky, Sunset, and Graduated ND), with two additional custom "save points." I only had time to really play with two of them and I'll share my experience here.
Here is the comparison--with the only corrections being the removal of dirt on the lens and sensor.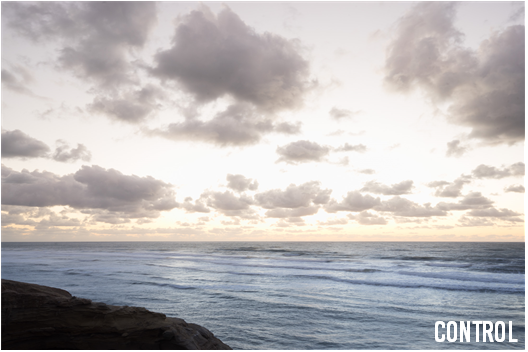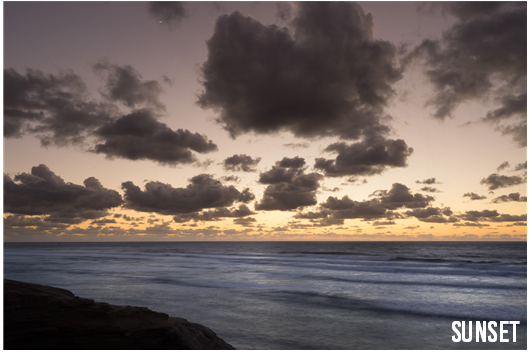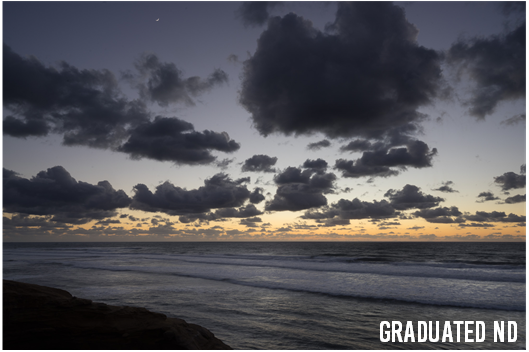 I got really comfortable with the Sunset and the Graduated ND filters. The sunset preset provides a warm tone that "expresses the redness of dusk scenes impressively." The Graduated ND filter "shoots images with only different exposures."
Usage
This app is remarkable to me for the reason that it does a composite of the land and the sky--each with it's own exposure settings. You can independently control the white balance, shutter and aperture of each element. You set the boundary between the sky area and the land area and rotate it appropriately to match your horizon. When you get your settings dialed in, you push the shutter button and your camera takes an image with the land settings first, then it takes the second exposure with your sky settings. It presents it to you then asks if you would like to tweak your boundary settings (position of boundary, as well as the defocus area--the strength of the effect near the horizon). When you accept the changes, you can then save the image. Oh yeah, it can also do this on the RAW file.
ON. THE. RAW. FILE.
Also, it's friggin' 10 bucks. That's cheaper than shipping on some of the ND filters I own.
Caveats
The Sky HDR app is, no doubt, a pretty powerful tool. That being said, it can take a while to get the settings done so that your image looks natural. It's very easy to make the settings so pronounced that it makes the image look weird.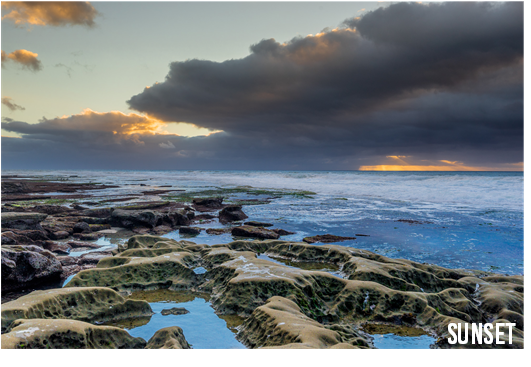 Also, in my short time with the program, I could not figure out a way to make the exposure last longer than 30 seconds, even with a remote shutter connected. It would have been nice to use the remote to drag the shutter far beyond 30 seconds, as I find that the clouds really start to look pretty awesome after a minute like they do here.
Discovered Niceties
There are some advantages to the Sky HDR application that I never thought about before even playing with it. One nice advantage is that I can further shrink what I bring when I go shooting--which is nice. I have forgotten things when I head out to shoot (memory cards, filters, batteries), so it's nice to know that if I bring, at minimum, my camera, I also know that I have a decent set of graduated ND filters.
Another nice advantage that I didn't realize when I first started playing with this application is filter stacking.
Filter stacking can be frowned upon due to degradation of some filters, as well as vignetting that occurs--especially when you shoot with a wide angle lens. The reason filter stacking is nice is for use with a 10-stop ND filter--to really slow down my shutter.
Lastly, it saves me some time when I don't need to do a composite in Photoshop. When I do it with my Sony α7R II, that would be at least two 42 megapixel images, each one with the potential to be over 80 megabytes in size. When my camera can do that for me--then I could send the image straight to my smartphone for sharing.
I am quickly finding the Sky HDR application very useful--and now a very easy to implement component in my workflow. Also--it's only $10. That's a simple decision for the application-capable Sony camera owners out there.
All photos Sony α7, Sony Vario-Tessar T* FE 16-35mm F/4 ZA OSS Lens