A unique lens that has been in the Sony lineup for several years is the 10-18mm f/4 ultra-wide zoom. When it first came out, Sony NEX camera users were enamored with it as it easily outperformed other ultra-wide options. Today, α6000 and α6300 shooters continue to find the SEL1018 10-18mm f/4 to be an excellent ultra-wide lens for landscape, travel and more. If the story of this lens ended there, it would be a great story, but, as they say, WAIT…there's more.
One interesting characteristic of the Sony e-mount is that you can use lenses designed for APS-C on the full-frame α7-series cameras. The camera will detect the lens and go into an APS-C crop mode. HOWEVER, you can also override the crop mode and experiment with an APS-C lens like the 10-18mm f/4 in full-frame and, as several reviewers and bloggers have noted, the results with this lens are impressive. There's some vignetting at 10mm, but when you get to 12mm and above it gets quite good and software can reduce if not eliminate vignetting.
Officially the 10-18mm f/4 is an APS-C lens, but the Sony mirrorless system makes usable on full frame cameras and that makes it a much more useful and interesting lens than you might otherwise think.
Here's what's been written about the SEL1018 10-18mm f/4 over the years since it first came out:
Over at Stuck In Customs, Trey Ratcliffe used the 10-18mm f/4 on his APS-C and his full frame Sony cameras. "I use this lens almost more than any other for my Sony [APS-C camera]. It's not really a 10-18mm, btw, if you're into this hardcore crop-factor stuff. It's actually 15-27mm with the 1.5 crop factor. That is still plenty wide for almost any landscape situation. My previous camera was the Nikon D800, and my favorite lens for that was the Nikon 14-24mm, and this Sony lens is comparable in almost every way.
"As you can see in [this] video, the [10-18mm f/4] lens is my surprising favorite! I didn't really expect it to be equal in sharpness and quality to its bigger full frame counterpart." –Trey Ratcliffe, Stuck In Customs


"Personally, I don't think I could have asked for a better APS-C companion to my Nikon 16-35mm f/4. If you are looking for that niche super wide lens, this may be the next addition to your kit." – Peter Walkowiak, The Phoblographer


"One of the pluses of the Sony 10-18mm f/4 is the constant semi-fast aperture throughout the focal range, meaning you can set it at f/4 at all zoom lengths. Although f/4 is not really considered fast, it will allow you to shoot at a lower ISO in low-light hand held conditions, and don't forget the OSS, which helps minimize the effects of hand shake, allowing you to shoot at an even slower shutter speed." –Kurt Munger


"Sony put some seriously high quality lens elements inside the SEL1018 lens and the results confirm this! An ultra wide-angle lens like the SEL1018 has a lot more optical challenges to overcome than a standard lens.
"In any event, the super extra-low dispersion glass, three aspherical elements, ~4-stop OSS performance, smooth focus and zoom, and a very nice clean design, make this lens a great investment for the Sony [APS-C] camera system." –SonyAlphaLab


"One of the pleasant surprises that's come out of testing the full-frame coverage of APS E-mount lenses on the Sony α7R came when I discovered that the Sony 10-18mm F4 OSS E lens covers a lot more real estate than needed for the APS-C chip.
"While this lens was not designed for full frame, the coverage is much better than I expected at 12mm and above. Sony's SEL 10-18mm F4 OSS E-mount lens actually does a pretty good job from 13-16mm and is particularly good at 14-15mm." –Brian Smith


"It is the best of the four super wide-angle zooms I've tried, and I consider it a keeper." –Mark Segal, Luminous Landscape


"Starting with the widest of the Sony E mount zoom lenses, the 10-18 f/4 E-mount lens is a must have for any landscape photographer. It is sharp, relatively fast and super lightweight." –Colby Brown


Technology
Circular Aperture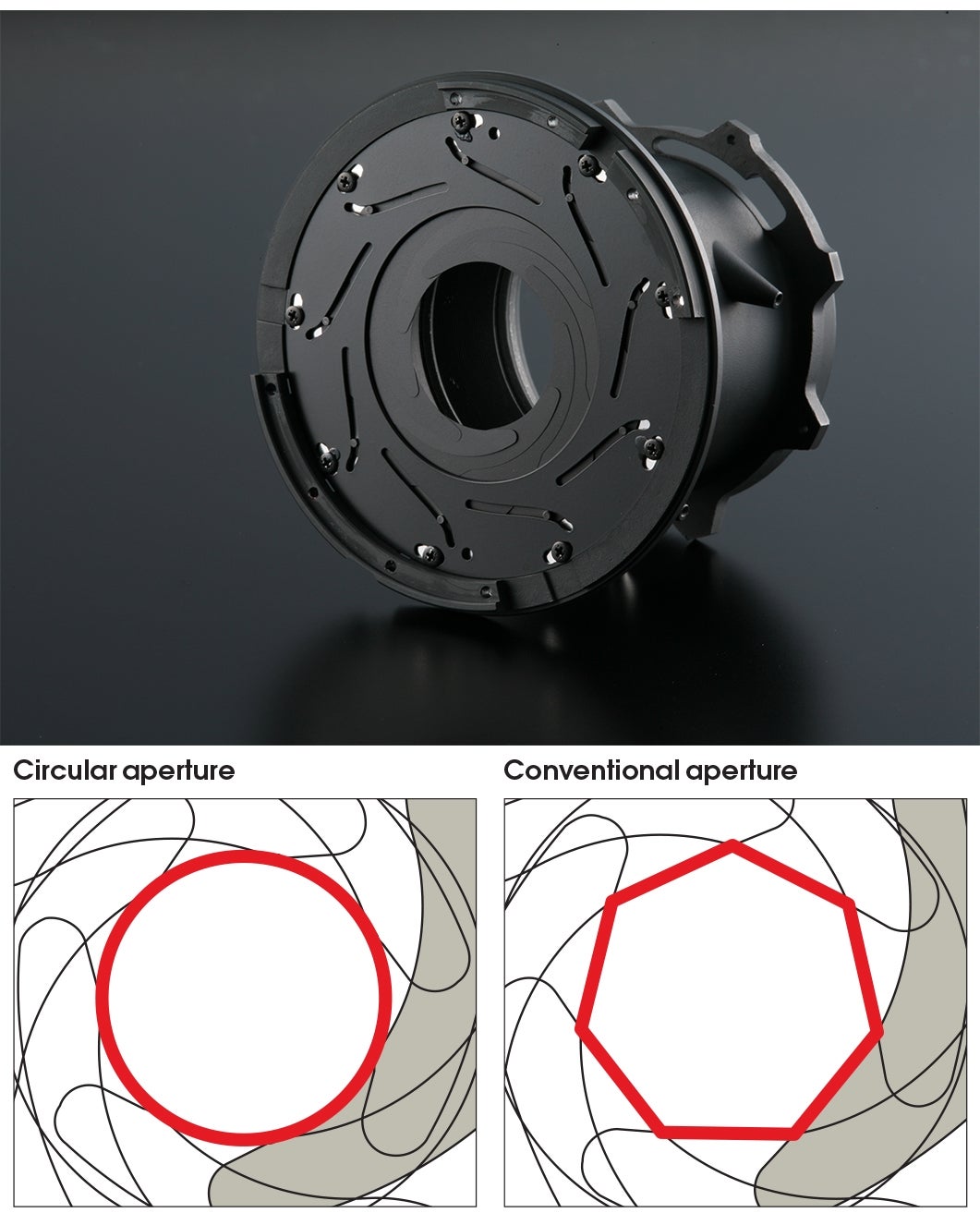 When changing your aperture to defocus the background, the light sources appear blurred. This 'bokeh' effect of the blurred background can be enhanced with circular aperture blades used in this lens. Conventional aperture blades have flat sides creating unappealing polygonal shaped defocussed points of light. α lenses overcome this problem through a unique design that keeps the aperture almost perfectly circular from its wide-open setting to when it is closed by 2 stops. Smoother, more natural defocusing can be obtained as a result.
ED (Extra-low Dispersion) Glass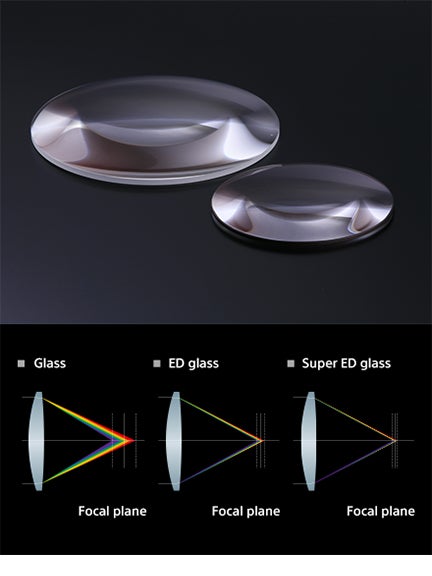 As focal lengths get longer, lenses built with conventional optical glass have difficulties with chromatic aberration, and as a result images suffer from lower contrast, lower color quality, and lower resolution. ED glass dramatically reduces chromatic aberration at telephoto ranges, and provides superior contrast across the entire image, even at large aperture settings. Super ED glass provides enhanced compensation for chromatic aberration.
Aspherical Lens Elements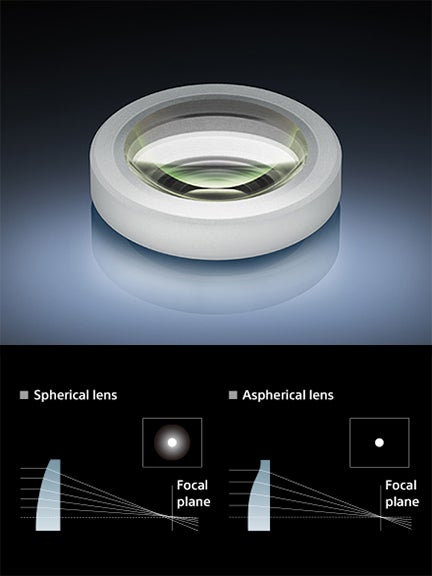 Aspherical lens design dramatically reduces spherical aberration while also reducing lens size and weight. Spherical aberration is a slight misalignment of the light rays projected on the image plane. This is caused by differences in refraction at different points on conventional spherical lenses which degrade image quality in large-aperture lenses. Specially shaped "aspherical" elements near the diaphragm restore alignment of light rays at the image plane, maintaining high sharpness and contrast even at maximum aperture and can also be used at other points in the optical path to reduce distortion.
Well-designed aspherical elements can reduce the total number of elements required in the lens, thus reducing overall size and weight. Advanced Aspherical (AA) elements are an evolved variant, featuring an extremely high thickness ratio between the center and periphery. AA elements are exceedingly difficult to produce, relying on the most advanced molding technology to consistently and precisely achieve the required shape and surface accuracy, resulting in significantly improved image accuracy and quality.
Distance Encoder

The distance encoder plays an integral part in ADI flash metering, which delivers high precision flash metering that is unaffected by the reflectance of subjects or backgrounds. The distance encoder is a lens component that directly detects the position of the focusing mechanism, and sends a signal to the CPU in order to measure distance to the subject. During flash photography, this data is very useful in calculating how much flash output is appropriate to the scene.
Lens-Based Optical Image Stabilization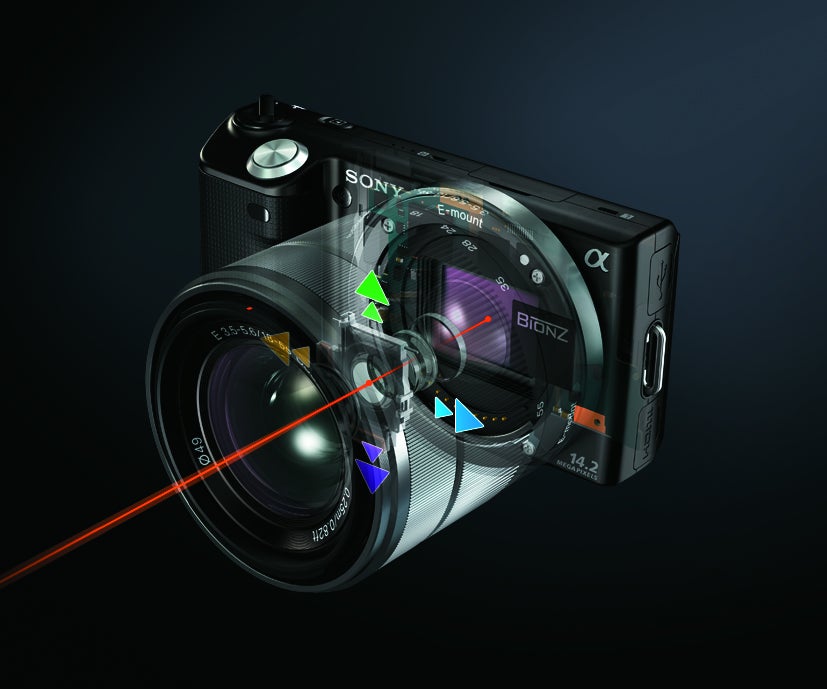 Gyro sensors built into the lens detect even the slightest movement, and the stabilization lens is precisely shifted to counteract any image blur that might occur. The use of precision, quiet linear motors and technology inherited from high-end Sony professional camcorders results in exceptionally quiet, effective image stabilization that contributes to high-quality movies as well as stills.
Internal Focusing
Only the middle groups of the optical system move to achieve focus, so the overall length of the lens does not change. Other important benefits include fast autofocusing and a short minimum focusing distance. Also, the filter thread at the front of the lens does not rotate, which is convenient if you're using a polarizing filter.