Introduced along with the original Sony α7 camera bodies, the Sony Sonnar T* FE 35mm F2.8 ZA was one of the first 3 lenses specifically designed for the α7 system. When it arrived, the lens was very well received, earning accolades for its combination of high-performance and small size. Since then, several other full-frame E-mount outstanding lens options have ben developed for the α7 series, and the Sony Sonnar T* FE 35mm F2.8 ZA continues to hold its place in the line. Plain and simple, it's just an all-around solid 35mm prime--the kind every photographer should have in their bag. It's an ideal match for the Sony α7 system.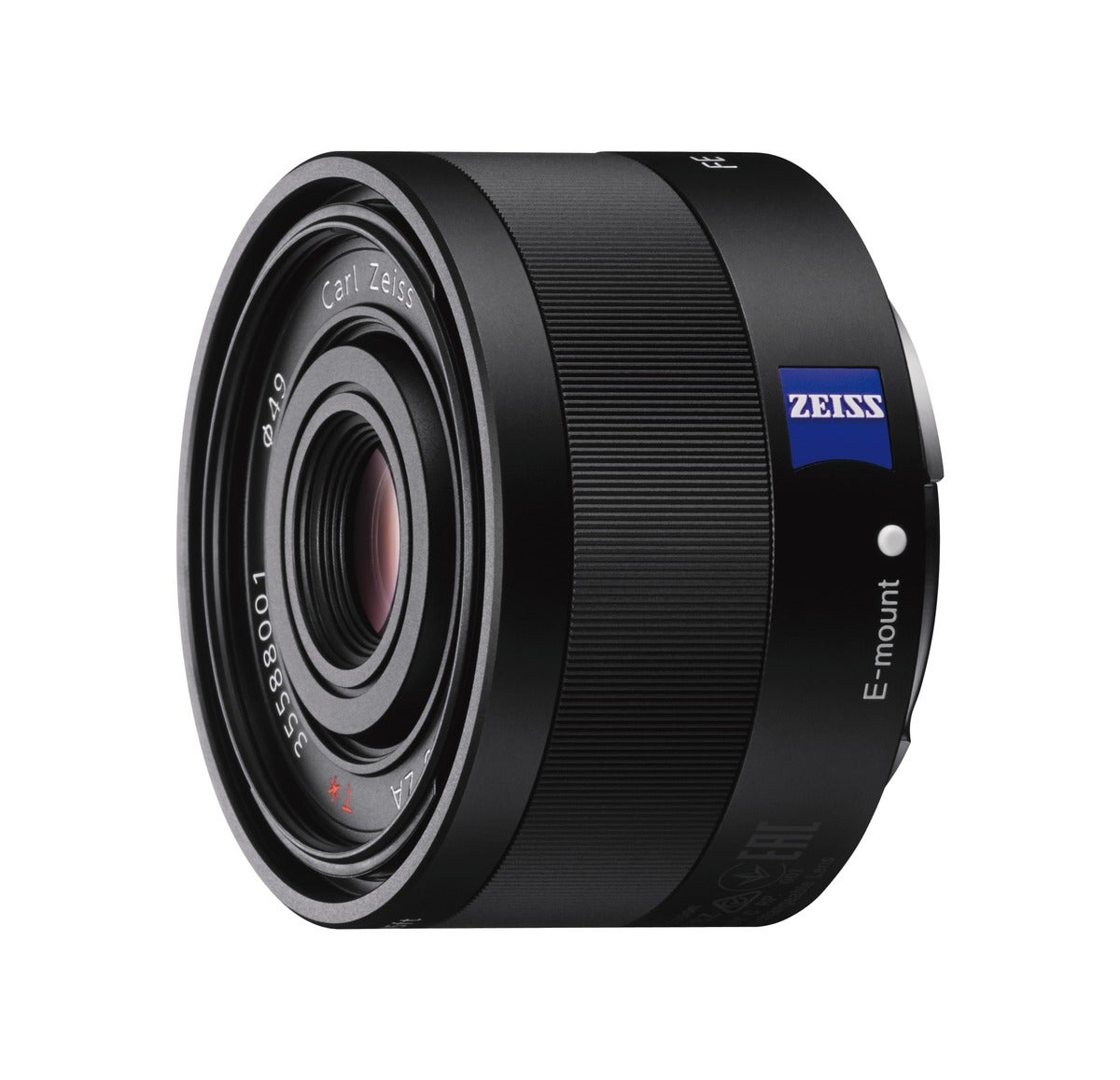 Here's what the photo press has said about the lens:
"The Sony FE 35mm ƒ/2.8 ZA Zeiss Sonnar T* lens is another fantastic fast prime lens for the Sony α7R and α7 full-frame mirrorless E-mount cameras and gives shooters an excellent, general purpose wide-angle focal length perspective that's great for travel and street photography as well as portraits." -William Brawley, Imaging-Resource
"Like taking a foreign-language class for a language in which you are already fluent, this lens gets an easy A+ for anyone shooting with the Sony system... Because there is no flipping reflex mirror to clear, this lens has all the sharpness advantages of rangefinder lenses." –Ken Rockwell
"If you have an α7 and you want a 35mm as small as your camera, you need this lens. This lens is a workhorse; it does what it's made to do and nothing more." – Austin Rogers, fstoppers
"[I]t's an incredible lens. On the α7 it will focus like a speed demon. On the α7R it will resolve more detail than your mom will want to see in her face. Then when you're all done with that, you can take it out into inclement weather with no problems. Then there is your excellent color rendition and class leading sharpness. With this in mind, the Sony 35mm f2.8 receives an Editor's Choice award for best semi-wide full frame mirrorless lens."-Chris Gampat, The Phoblographer
Technology
Circular Aperture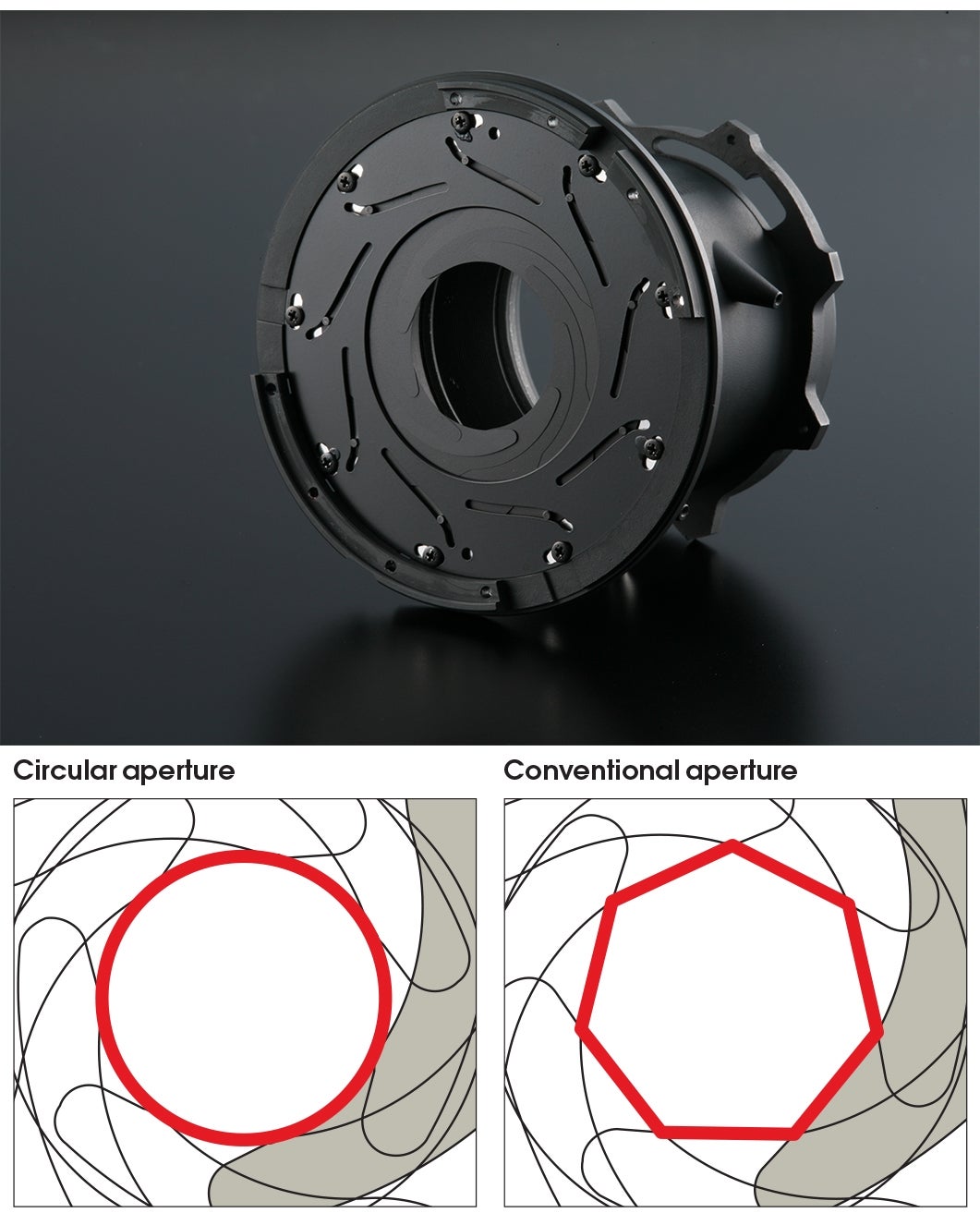 When changing your aperture to defocus the background, the light sources appear blurred. This 'bokeh' effect of the blurred background can be enhanced with circular aperture blades used in this lens. Conventional aperture blades have flat sides creating unappealing polygonal shaped defocussed points of light. α lenses overcome this problem through a unique design that keeps the aperture almost perfectly circular from its wide-open setting to when it is closed by 2 stops. Smoother, more natural defocusing can be obtained as a result.
Aspherical Lens Elements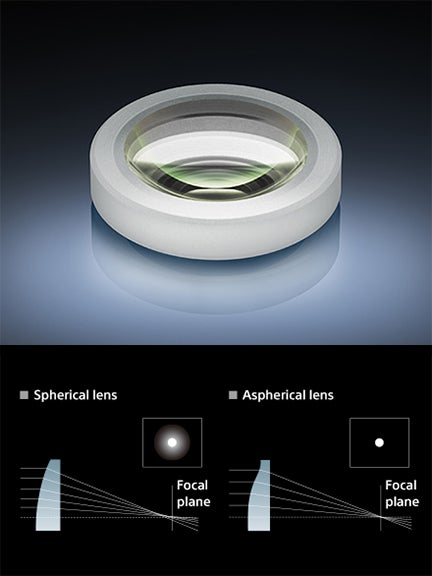 Aspherical lens design dramatically reduces spherical aberration while also reducing lens size and weight. Spherical aberration is a slight misalignment of the light rays projected on the image plane. This is caused by differences in refraction at different points on conventional spherical lenses which degrade image quality in large-aperture lenses. Specially shaped "aspherical" elements near the diaphragm restore alignment of light rays at the image plane, maintaining high sharpness and contrast even at maximum aperture and can also be used at other points in the optical path to reduce distortion. Well-designed aspherical elements can reduce the total number of elements required in the lens, thus reducing overall size and weight. Advanced Aspherical (AA) elements are an evolved variant, featuring an extremely high thickness ratio between the center and periphery. AA elements are exceedingly difficult to produce, relying on the most advanced molding technology to consistently and precisely achieve the required shape and surface accuracy, resulting in significantly improved image accuracy and quality.
Carl Zeiss T* (T-star) Coating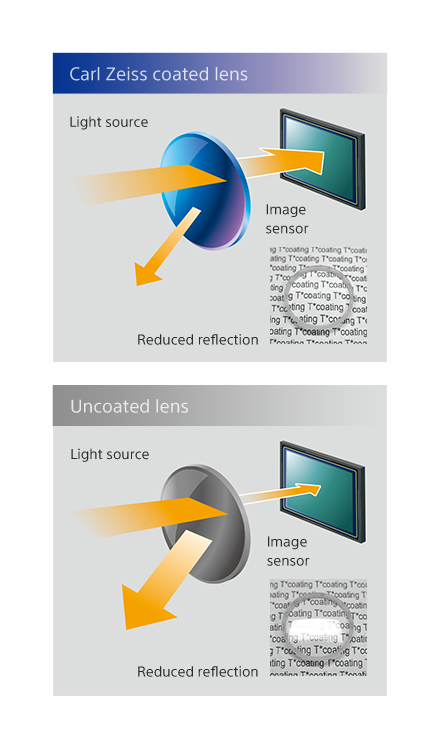 Coated optics were pioneered by Carl Zeiss - and this superb lens features the Carl Zeiss T* (T-Star) coating that virtually eliminates lens flare, internal reflection and light scattering that can otherwise occur at glass-to-air surfaces. The T* coating contributes to outstanding image quality, with high contrast and uniformly excellent resolution right out to the image edges. Not simply applied to any lens - the T* symbol only appears on multi-element lenses in which the required performance has been achieved throughout the entire optical path, therefore guaranteeing the highest quality.
Internal Focusing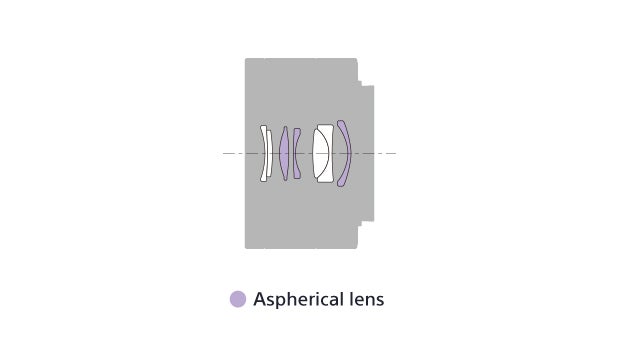 Only the middle groups of the optical system move to achieve focus, so the overall length of the lens does not change. Other important benefits include fast autofocusing and a short minimum focusing distance. Also, the filter thread at the front of the lens does not rotate, which is convenient if you're using a polarizing filter.
Dust & Moisture Resistant
The dust and moisture resistance design makes this lens appropriate for heavy-duty outdoor use, especially when combined with a camera that employs weather resistant measures.