I've been on the road since June 21 and have been working with the new Sony RX10 III quite extensively in both Kauai and now in Australia.
Sony just keeps filling the gaps with one great camera after the next. So, when I first heard of this new bridge camera, I couldn't wait to get my hands on it and put it through its paces. I own a Sony RX100 IV and will keep that one in my lineup as I can place it in my pocket and go anywhere.
First off, this camera is ready to go right out of the box. If you use any other Sony camera, the menu system will look very familiar to you.
What enticed me was the idea of having a camera capable of a zoom range from 24mm-600mm with a maximum aperture of f/4. At 24mm, the aperture is f/2.4 and the cross-over point comes at 135mm.
Short of needing an ultra-wide angle, this camera can handle it all in terms of the perfect landscape range.
Here are some of the camera's main features:
20.1MP 1″ Exmor RS BSI CMOS Sensor
BIONZ X Image Processor
Zeiss Vario-Sonnar T* f/2.4-4 Zoom Lens
24-600mm (35mm Equivalent)
2.36m-Dot OLED Tru-Finder EVF
3.0″ 1.228m-Dot Tilting Xtra Fine LCD
UHD 4K30 Video, Full HD 1080p at 960 fps
Built-In Wi-Fi with NFC
ISO 12800 and 14 fps Continuous Shooting
Optical SteadyShot Image Stabilization
I am using the camera with a L-bracket made for the RX10 II. I do need to remove the plate when changing batteries but it does allow me to remove my card and plug in my remote cord with no problems. As of now, Really Right Stuff has no plans on milling a bracket for the RX10 III, but that could change once demand goes up.
Just How Good is the Sensor?
So let's start with what is most important to me, the sensor. Sony decided to add its new 1″ Exmor RS back side illuminated (BSI) CMOS senor to this camera and the results are phenomenal.
If you are careful to expose for the highlights, there will be lots of data waiting for you in the shadows. So much so, that oftentimes my shadows on either my LCD or the camera's EVF look too blocked-up. But don't be fooled – I'm continually amazed at the amount of data waiting for me when I open those shadows in Lightroom.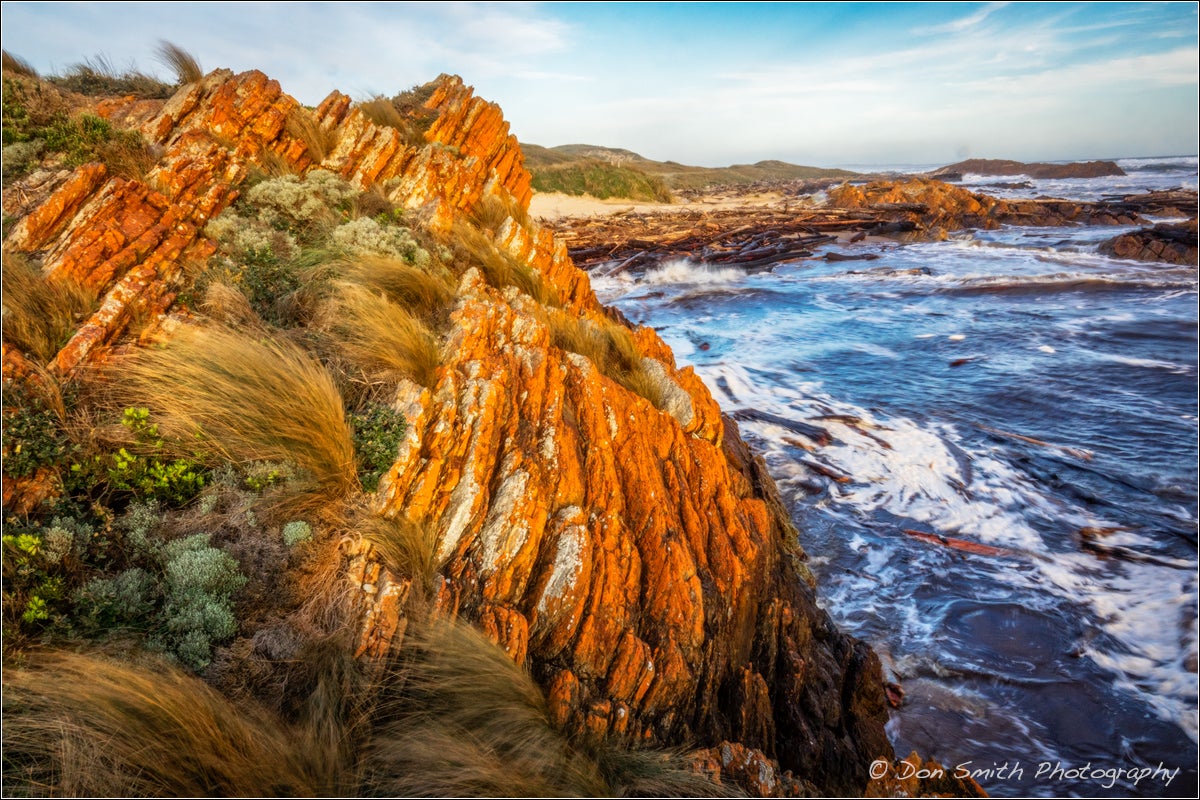 Upright quarzite beds, Edge of the World, furthest western point in Tasmania, Australia. Sony RX10 III, 35mm, f/16, 1/6th ISO 200, Singh-Ray LB Neutral Polarizer
How Good is the Glass?
Next comes lens quality. Sony and Zeiss have become one and the same as Sony lenses are built to Zeiss specs. I was very skeptical of a 24mm-600mm (actually a 8.8-200mm) holding sharpness throughout the entire range, but I will gladly admit that Sony and Zeiss proved me wrong.
I am getting tack sharp images throughout the entire range! I shoot exclusively in RAW and the processor is a tad bit slow; however, the resulting files are so good, I have learned to tolerate the wait.
When composing images shot towards the sun, contrast tends to look a bit thin while viewing the image in the EVF; yet I have to say, once the images are imported into Lightroom, I see perfect contrast and resolution. Not sure how Sony has compensated for this but the files don't lie.
How Good is the Autofocus?
If there is one downside to this camera, it would reside in the less-than-stellar AF. This is a Contrast-Only sensor and once one becomes used to Phase Detection AF, it's hard going back. I have found myself limiting my AF usage and I essentially use MF for most of my landscape imagery. AF is also slow in low-light scenes.
As far as noise goes, I would rate 800 ISO as the highest that I would accept. I am however waiting for DxO OpticsPro 11 to get the profile for the RX10 III, once they do, I would not hesitate to push my images to 3200.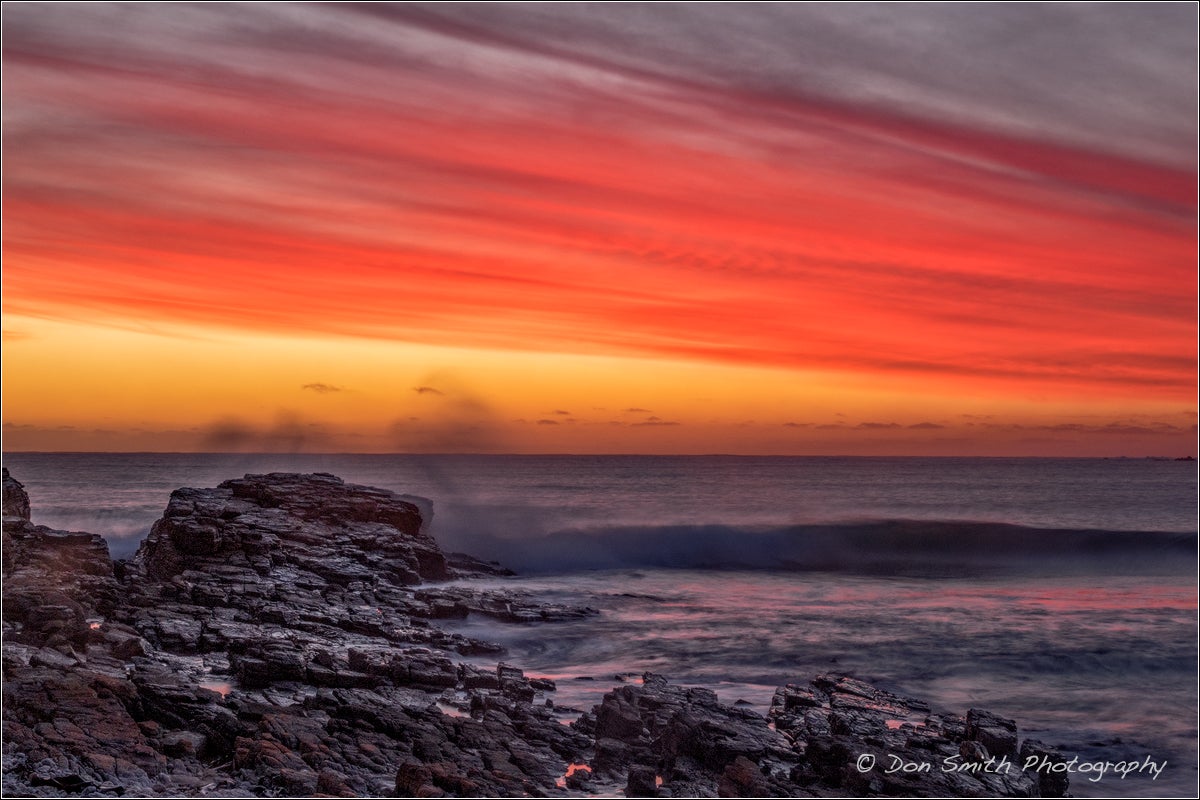 Dusk sky over Tettley Bay, Tasmania, Australia. Sony RX10 III, 70mm, f/13, 1.3 seconds, ISO 200
For my landscape photography, I tend to shoot with the following settings:
Camera Icon 3 > Drive Mode > Single Shooting
Camera Icon 4 > Focus Area > Wide
Camera Icon 4 > ISO > 100 or AUTO
Camera Icon 5 > Metering Mode > Multi
Camera Icon 5 > White Balance > Auto
Camera Icon 6 > Lone Exposure NR > On
Gear Icon 1 > Zebra > 100+
Gear Icon 1 > Grid Line > Rule of 3rds Grid
Gear Icon 2 > Peaking Level > High
Gear Icon 2 > Peaking Color > Red
Gear Icon 3 > Live View Display > Setting Effect ON
Gear Icon 4 > FINDER/MONITOR > Auto
At a price point of $1498.00, this camera is a steal. Let's face it, when traveling, none of us wants to be burdened with large and heavy backpacks. I have been having a great time with my RX10 III and a lightweight Really Right Stuff tripod with a medium-sized ballhead.
I am free to hike without a lot of weight holding me back. The image quality is stellar and with an incredible zoom range, I have an entire arsenal of lenses built into one easy-to-zoom optic!
With summer in full swing, this just may be the only camera you need to take on your next adventure!