SAN DIEGO, CA – May 23, 2023. Sony Electronics launches the all-new second generation camera to the ZV-1 in the vlog camera ZV series, the ZV-1 II, which includes highly requested and popular market-leading features. With a wider-angle lens than ZV-1, the ZV-1 II helps vloggers make more engaging storytelling with attractive photogenic image quality.
With the 1.0-type Exmor RS™ image sensor (approximately 20.1 effective megapixels), BIONZ X™ image processing engine, and newly developed ZEISS® Vario-Sonnar T* 18-50 mm F1.8-4i lens, the ZV-1 II allows for creators of many skill levels to enjoy sophisticated capabilities. From the 18-50mmii wide angle lens which can frame everything from group selfies to narrow interiors or dynamic recordings of everyday scenes to the Multiple Face Recognitioniii , which recognizes multiple faces and automatically adjusts to keeps all faces sharp and clear when taking selfie shots that include two or three people, the ZV-1 II is the advanced vlogging camera packed into a travel-size.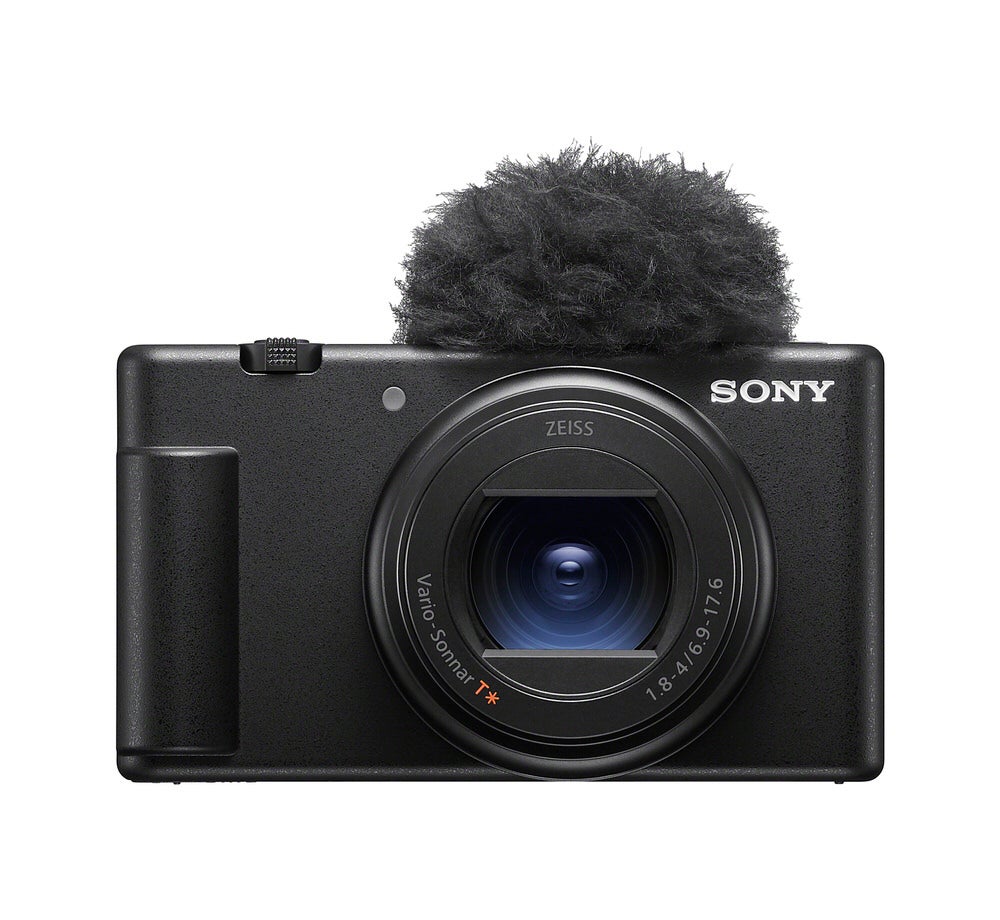 "The ZV-1 II is an exciting chapter for content creators and will be the go-to camera for many, including vloggers, social media influencers and short form video creators. With the newest vlog camera in the ZV series, we have taken requests from various users and included features that matter most to vloggers," says Yang Cheng, Vice President, Imaging Solutions, Sony Electronics Inc. "We are striving to take feedback from our community to continue to expand and elevate our ZV series and the ZV-1 II does just that."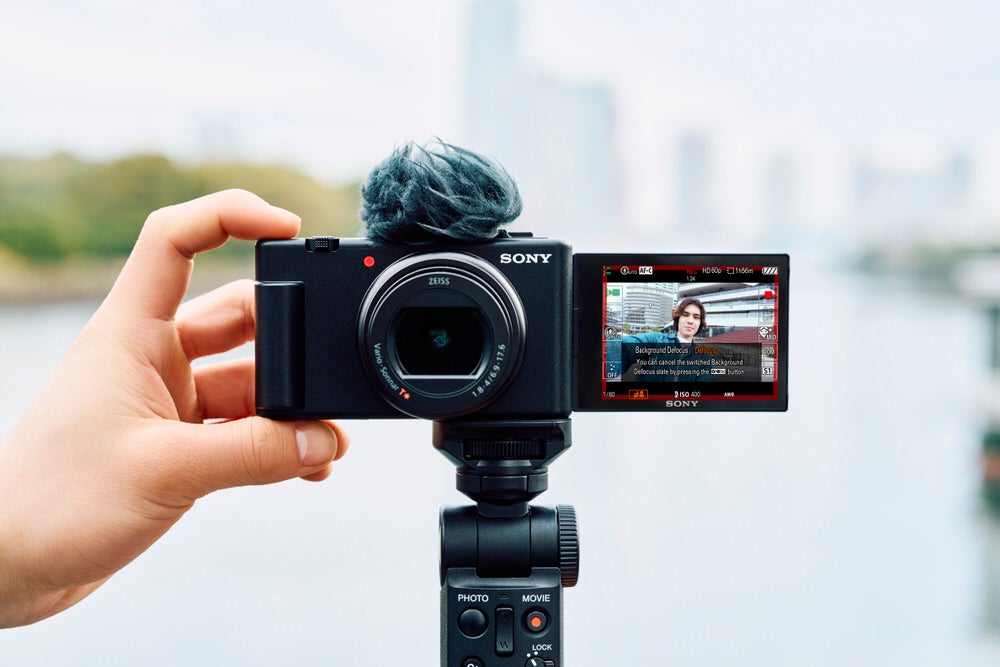 Comprehensive Features for Vloggers & Video Content Creators
The ZV-1 II has a number of new and popular features that will empower creators to capture better content.
Ultra-wide angle and Zoom - 18mmii wide angle of view makes it easy to capture attractive photogenic image with the entire scene – especially when shooting selfies at arm's length. The 18-50mm optical zoom and the Clear Image Zoom smoothly enlarges images while minimizing loss of image quality to create variety in videos by changing the angle of view.
1.0 type sensor with Bokeh Switch which gives beautiful bokeh by defocusing the background with a single touch.
Intelligent 3-capsule microphone - In Auto mode, the camera recognizes human faces or objects and automaticallyiv switches the direction of the built-in microphone ([Front] or [All Directions]). In Manual mode, you can select [Front] for selfies, [Rear] when shooting with narration or [All Directions]. The supplied windscreen ensures a clear recording of the speaker when outdoors. Easy to use cableless attachment to Multi Interface Shoev and a 3.5 mm microphone jack makes it easy to connect external microphones.
Cinematic Vlog Setting function responds to the demands to easily capture videos with a filmic look. It enables impressive imagery at a touch. Simply tap the on-screen function icon and the camera will automatically set a CinemaScope size (2.35:1)vi and a frame rate of 24 fpsvii – the same as for a cinema movie. Then finish off the work with the on-screen buttons to select from five LOOKs and four MOODs
Creative Look which supports 10 preset looksviii to suit your creative preferences and pro-level imaging features.
Face Priority AE and Soft Skin Effect automatically and immediately detects faces and adjusts the exposure to optimize facial brightness, no matter the lighting. Soft skin effect smooths skin and facial features when filming.
Fast Hybrid AF System - Even in high-definition 4K where precise focusing is required, the camera will keep the images sharp with the same Fast Hybrid AF system seen in α series cameras. The camera is equipped with AF Transition Speed to select the focusing speed during video recording, and AF Subject Shift Sensitivity to control whether the camera shifts focus from one subject to another. In addition, the Real-time Eye AF can accurately keep focus on human or animals for both stills and movies.
Product Showcase Setting - which delivers convenient shooting of product review videos with smooth focus transitions from your face to the item you are highlighting.
S&Q shoot modeix which allows a selection up to 5x slow or up to 60x quick motion to add impact to everyday scenes. The combination of shooting and recording frame rates can now be set on a single screen.
ISO sensitivity spanning from 125 to 12800 - allows the camera to record sharp images with less noise, even in low lighting.
Active Mode electronic image stabilization - content can be captured while walking or in motion and is especially useful for handheld shootingx. Useful for handheld Movie and Slow & Quick motion shooting.
Built-in ND filter – to reduce exposure by three stops and allow for beautiful background bokeh even in the brightest situation.

Compact and Lightweight for Easy Portability, Operability, Connectivity
The ZV-1 II is perfect for on-the-go; its compact and lightweight design can be easily carried in a pocket or small bag, even with its optical wide zoom lens. The ZV-1 II supports different filming styles with the vari-angle screen suitable for selfies, easy to hold body grip (or with an optional GP-VPT2BT grip), user-friendly key and control layoutxi and the recording indicator on the front face of the body. The monitor display has been redesigned with a bold, clearly visible red frame that makes it obvious when recording is in progress. Power charge easily via a USB Type-C® connector.
Creators can connect and share content easily with Sony's Creators' Cloud platform and easy smartphone connection. The Creators' App can be used to control the ZV-1 II from a smartphone, monitor camera battery and media status, edit date and camera names, and easily transfer stills and videos shot, even in the background. The Creators' Appxii also provides a convenient way to update camera software.
For easy high-quality live streaming, simply connect the ZV-1 II to a PC or smartphonexiii with a commercially available USB cable (not included) to use it as a webcam. Make your video more attractive in online meetings and live streaming by using Creative Look to improve the skin's appearance and adjust the hue. Faces will appear clearer and brighter (Face Priority AE) and the eyes will be kept in focus (Real-time Eye AF).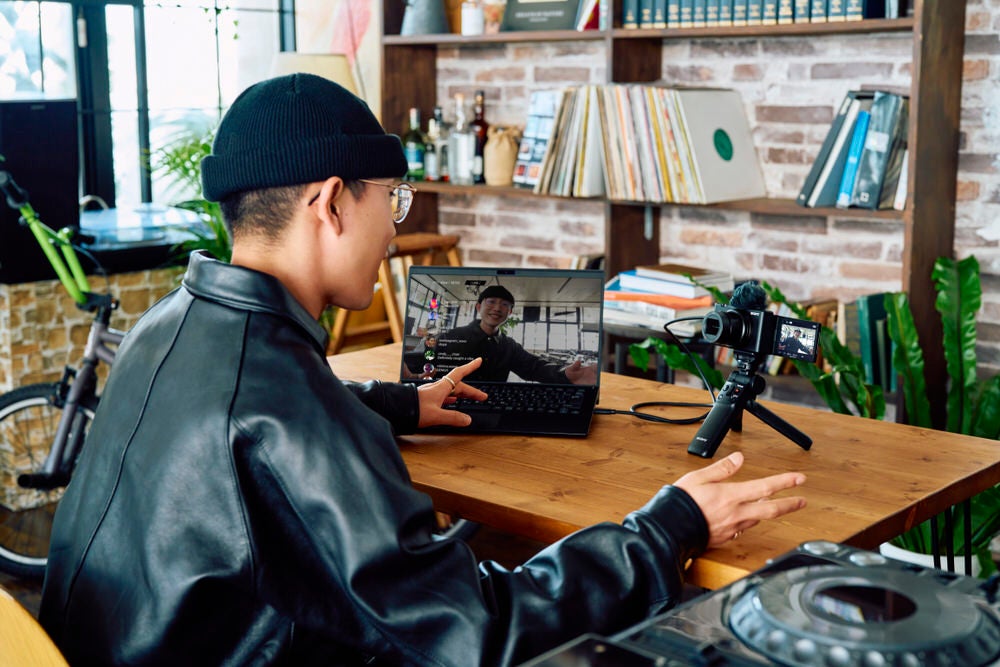 Sustainable and Accessible Design
In addition to Sony's commitment to a sustainable future with global initiatives like Road to Zero and the 2030 renewable energy goal, the ZV-1 II has been specifically developed with sustainability in mind. Recycled materials, including SORPLASTMxiv, are used for the camera body, reducing environmental impact without sacrificing functionality. Sony's unique recycled paper "Original Blended Material," which does not use plastic and is easy to recycle, is used for individual packaging. Using materials such as bamboo, sugar cane fiber, and recycled paper collected from the market, it is both environmentally friendly and high quality.
The ZV-1 II includes accessibility features that facilitate operation in several ways, including screen reader functionality for people with low vision or with visual impairments. Accessibility features allow anyone to enjoy shooting and playback. When the screen reader functionxv is activated, text on the menu screens is read aloud. The screen reader function can be activated by turning the [Screen Reader] function in the [Setup] tab ON. Screen reader volume can be adjusted via the [Sound Options] settings. In addition to the above, the ZV-1 II includes several functions that assist in achieving pinpoint focus on a variety of subjects. Additionally, the Real-time Eye AF can automatically recognize and focus on [Human] or [Animal], or the Real-time Tracking function. Focus Magnification, and Peaking functions make it easier to focus manually, and features like Touch Focus, Touch Tracking, and Touch Shutter let the user focus, track, and shoot simply by touching the subject on the monitor screen. ZV-1 II accessibility features (items listed in the specifications): Screen Reader, Touch AE, Focus Magnifier, Peaking Display, Real-time Eye AF, Real-time Tracking, Touch Focus, Touch Tracking, Touch Shutter, Vari-angle LCD screen and Custom function.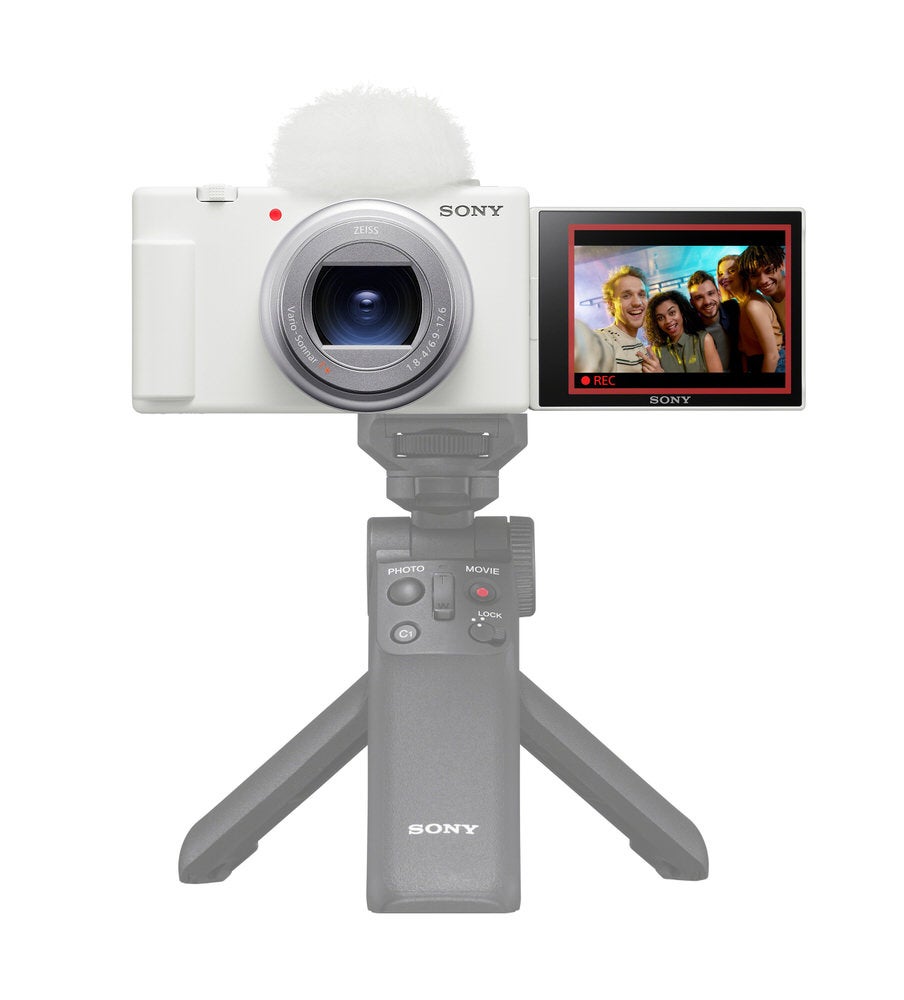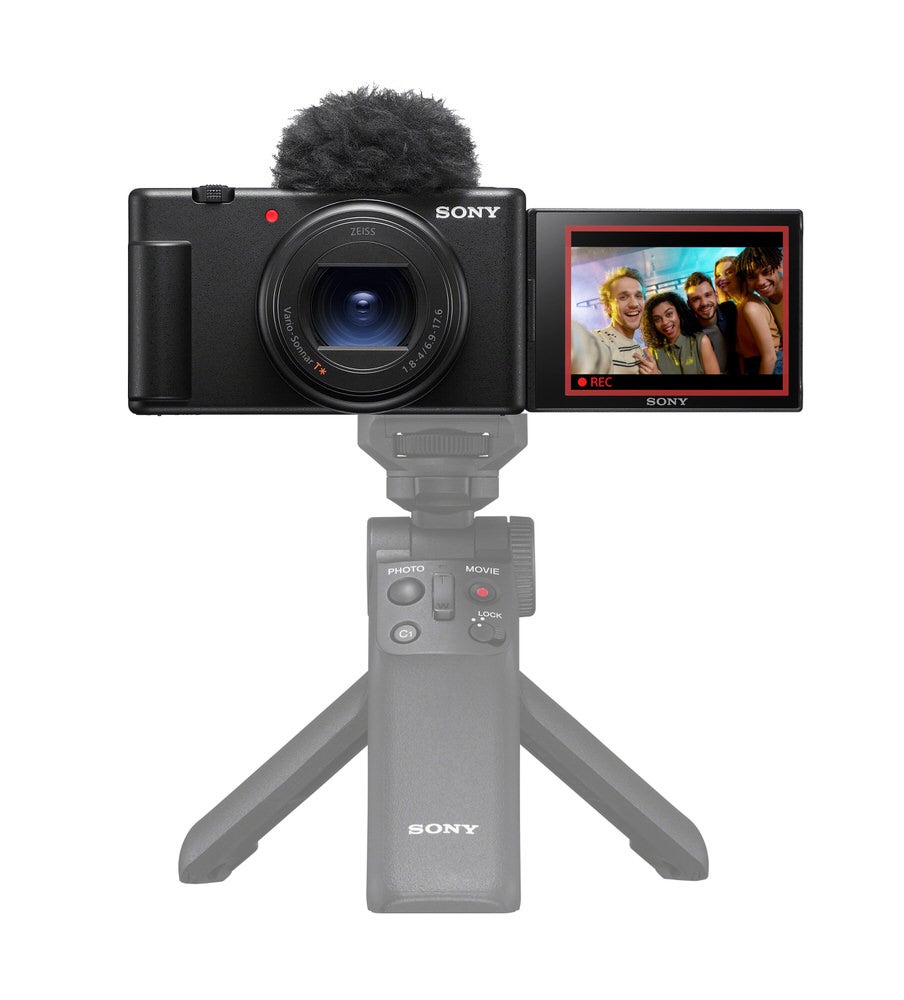 Pricing and Availability
The new ZV-1 II will be available in June 2023 at a variety of Sony's authorized dealers, for an estimated retail price of $900 USD and $1,200 CAN.
For detailed product information, please visit HERE.
Product videos of the new ZV-1 II can be viewed HERE.
About Sony Electronics Inc.
Sony Electronics is a subsidiary of Sony Corporation of America and an affiliate of Sony Group Corporation, one of the most comprehensive entertainment companies in the world, with a portfolio that encompasses electronics, music, motion pictures, mobile, gaming, robotics and financial services. Headquartered in San Diego, California, Sony Electronics is a leader in electronics for the consumer and professional markets. Operations include research and development, engineering, sales, marketing, distribution and customer service. Sony Electronics creates products that innovate and inspire generations, such as the award-winning Alpha Interchangeable Lens Cameras and revolutionary high-resolution audio products. Sony is also a leading manufacturer of end-to-end solutions from 4K professional broadcast and A/V equipment to industry leading 4K and 8K Ultra HD TVs. Visit https://pixt.me/sonynews for more information.
Notes:
i 35mm format equivalent. 9 elements in 9 groups, including 5 aspherical and 1 AA (because the advance aspherical element is one of the 5 aspherical lenses) lens elements. 7-bladede circular aperture. T* Coating to suppress ghost and flaring.
ii 35mm format equivalent.
iii Compatible with video modes/S&Q mode only. Wide side. iAUTO mode selected. Does not work when the Bokeh switch is ON or when subject recognition is OFF.
iv Direction may be fixed depending on the shooting settings.
v Not compatible with digital audio interface.
vi The black bands at the image top and bottom are recorded as part of the image. The image (excluding the bars) is in CinemaScope aspect ratio, but the recorded image is 16:9.
vii Recording frame rates are indicated as the closest integer values. The actual corresponding frame rates are as follows: 24p: 23.98 fps, 30p: 29.97 fps, 60p: 59.94 fps, and 120p: 119.88 fps.
viii Creative Look presets: ST, PT, NT, VV, VV2, FL, IN, SH, BW, SE and Advanced settings (Saturation cannot be adjusted when BW or SE is selected): Contrast, highlights, shadows, fade, saturation, sharpness and clarity.
ix S&Q mode records in XAVC S HD format. Audio cannot be recorded. A Class 10 or higher SDHC/SDXC memory card is required. Recording at 100 Mbps requires a UHS-I (U3) SDHC/SDXC memory card.
x The angle of view is slightly narrower in Active Mode. Active Mode is set to be off when the recording frame rate is 120 p or when the "Slow & Quick Motion Frame Rate" is 120 fps.
xi Keys and controls on the ZV-1 II are optimally arranged for greater usability, including REC button and Still/Movie/S&Q button.
xii Check regional availability of services and applications via the URL below:
Download app at Google Play and the App Store. Network services, content, and operating system and software subject to terms and conditions and may be changed, interrupted or discontinued at any time and may require fees, registration and credit card information.
xiii Streaming via USB gives 1280×720 resolution and 30 fps frame rate. To use this function, the PC's or smartphone's OS must support UVC/UAC. Be sure to use the OS's latest version. When connecting to a mobile device equipped with a USB Type-C® port, use a commercially available USB cable or terminal conversion adapter.
xiv SORPLAS™ may not be used for the parts used depending on the production period.
xv Availability varies depending on region and language.