Sony has introduced a new ultra-compact camera with a stunning ZEISS Vario-Sonnar T* 24-720mm zoom lens. The new Cyber-shot HX99 features advanced capabilities in a small form that make it an ideal travel camera.
ZEISS® Vario-Sonnar T* 24-720mm (1) High Magnification Zoom and High Image Quality Lens
Stunning 4K (2) video with full pixel readout and no pixel binning
Upgraded (3) BIONZ X™ image processing engine and newly implemented front-end LSI ensure outstanding image quality
Versatile operability and shooting functions including Eye AF, EVF, Control Ring, Touch Focus/Touch shutter, 180°Tiltable LCD and more
See full press release below:
SAN DIEGO — October 15, 2018 — Sony Electronics Inc. – a worldwide leader in digital imaging and the world's largest image sensor manufacturer – has today announced the Cyber-shot® HX99 (model DSC-HX99) camera, an exciting new travel zoom that packs an extreme zoom range of 24-720mm (1) into the world's smallest (4) camera body of its kind.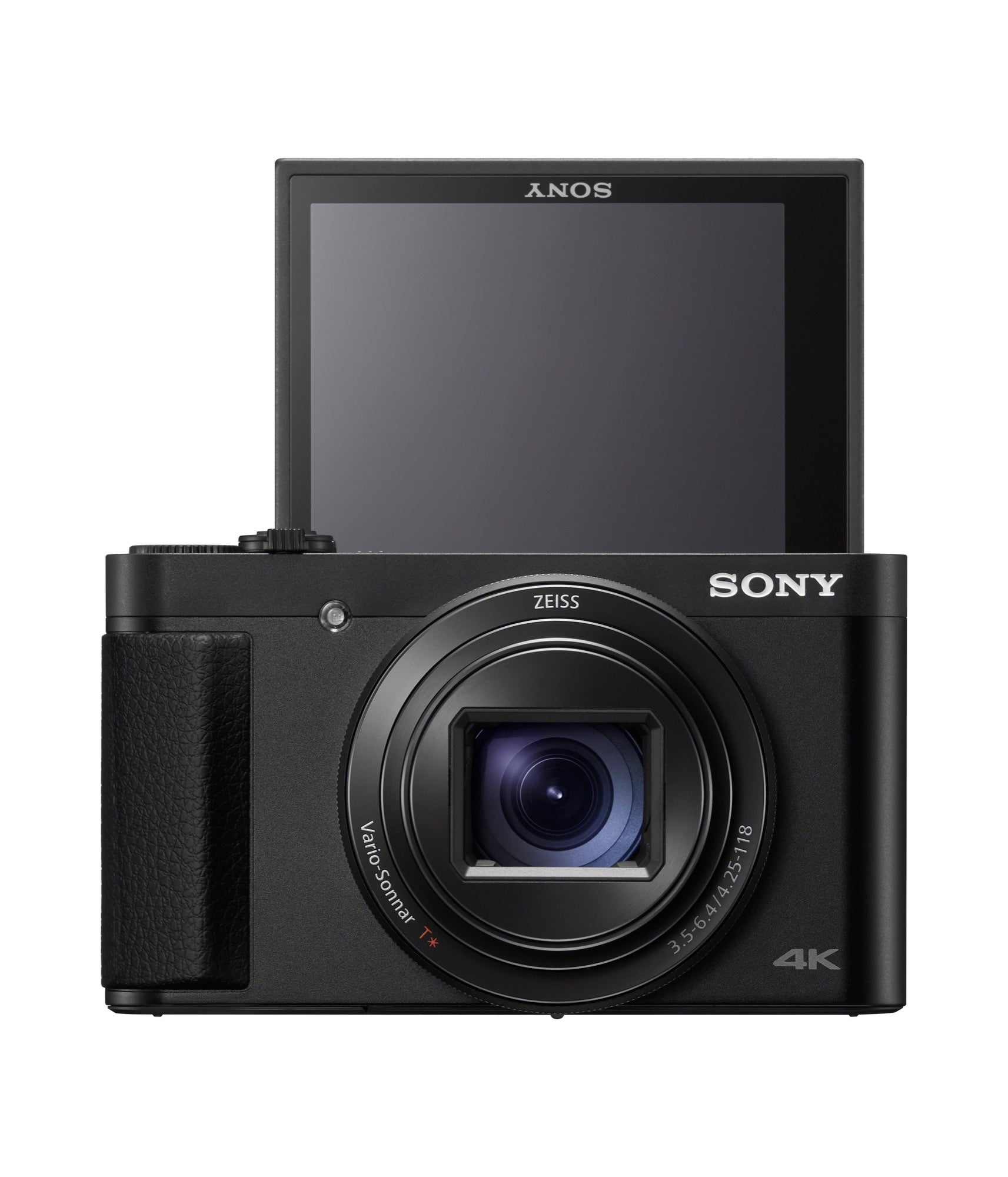 The new HX99 model is the ultimate companion to any travel enthusiast or weekend photographer with extensive functionality that includes the ZEISS® Vario-Sonnar T* 24-720mm (1) High Magnification Zoom lens, 4K (2) movie shooting, a powerful BIONZ X image processing engine with a front-end LSI, extremely fast AF, Eye AF, 10 fps (5) shooting and more.
ZEISS® Vario-Sonnar T* 24-720mm High Magnification Zoom Lens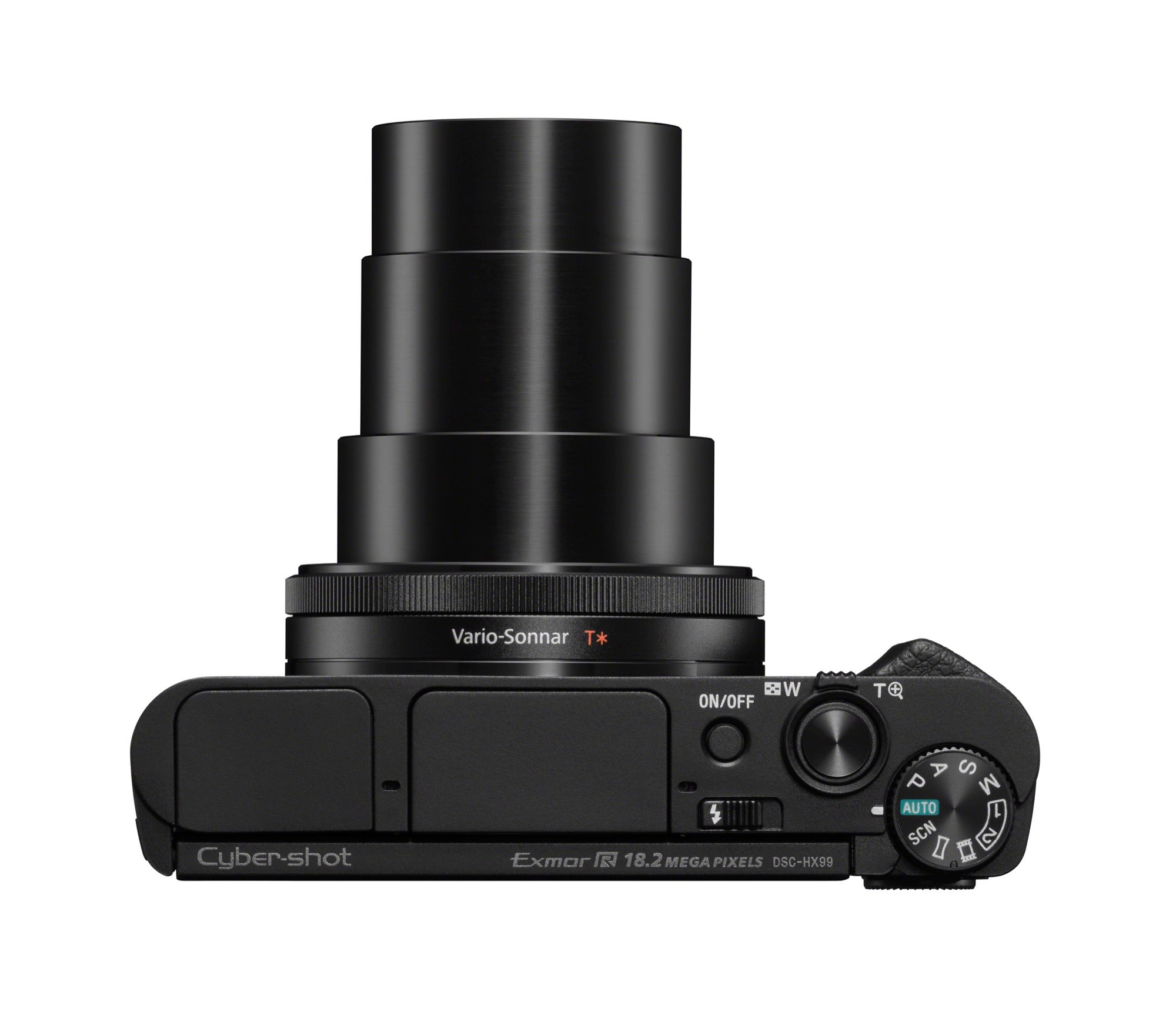 In addition to the extensive 24-720mm (1) zoom range, the versatile new ZEISS® Vario- Sonnar T* lens features Optical SteadyShot™ image stabilization, which effectively minimizes the camera shake and blur that often occurs during handheld and telephoto shooting. The new HX99 is also equipped with a Zoom Assist function that allows the user to zoom more accurately while shooting far away subjects by offering a quick, temporary zoom-out display to showcase a wider area.
Processing Power for Video and Stills
Thanks to its powerful BIONZ X processing engine, the new HX99 camera can capture stunning 4K (2) video with full pixel readout and no pixel binning, with minimal "moire" and "jaggies." The new model also is capable of shooting high-frame rate HD (6) video at up to 120 fps (7) to produce impressive slow-motion sequences during editing.
During still photography, the camera can acquire focus in as little as 0.09 seconds, and it can shoot continuously at up to 10 fps for up to 155 shots (8). The HX99 also is equipped with Eye AF technology, a feature made popular by Sony's acclaimed lineup of αTM interchangeable lens cameras that locks focus onto a subject's eye for compelling portrait and fast-action photography. The camera also is capable of shooting images in RAW format and has a maximum ISO of 6400 (9).
Intuitive and Comfortable Operation
The versatile HX99 travel camera includes Touch Focus and Touch Shutter functionality for added convenience, as well as a Touch Pad function for smooth focus point shifting while using the retractable OLED Tru-Finder. The camera also has a Control Ring that can be customized with functions such as manual focus or step zooming, as well as a customizable 'My Menu' option for instant recall of up to 30 different settings.
The new camera has a 180-degree tiltable LCD screen that allows for easy framing of self-portraits and group shots, a pop up electronic viewfinder and an upgraded grip that offers a firm hold and greater stability during shooting. It also offers location data acquisition (10) via Bluetooth®, which can collect and record location data from a connected mobile device, and proxy recording that allows instant transfers to smartphones or websites for quick sharing.
Pricing and Availability
The new Cyber-shot HX99 Travel Zoom camera will ship in early November for $449.99 USD and $599.99 CAD. It will be sold at a variety of authorized dealers throughout North America.
A variety of exclusive stories and exciting new content shot with the new Cyber-shot cameras and Sony entire line of α interchangeable lens cameras can be found at www.alphauniverse.com, a site built to educate and inspire all fans and customers of the Sony Imaging brand.
The new Cyber-shot content will also be posted directly at the Sony Photo Gallery and the Sony Camera Channel on YouTube. Detailed information pages within Sony.com for the new products can be found at:
About Sony Electronics Inc.
Sony Electronics is a subsidiary of Sony Corporation of America and an affiliate of Sony Corporation (Japan), one of the most comprehensive entertainment companies in the world, with a portfolio that encompasses electronics, music, motion pictures, mobile, gaming and financial services. Headquartered in San Diego, California, Sony Electronics is a leader in electronics for the consumer and professional markets. Operations include research and development, engineering, sales, marketing, distribution and customer service. Sony Electronics creates products that innovate and inspire generations, such as the award-winning Alpha Interchangeable Lens Cameras and revolutionary high-resolution audio products. Sony is also a leading manufacturer of end-to-end solutions from 4K professional broadcast and A/V equipment to industry leading 4K Ultra HD TVs. Visit http://www.sony.com/news for more information.
Notes:
(1) Angle of view (35mm format equivalent)
(2) 3840 x 2160 pixels. Continuous recording time is approx. 5 minutes, and may vary with recording environment
(3) Compared to DSC-HX90 series
(4) Among fixed lens digital cameras with a built-in viewfinder and telephoto end 700mm or above (angle of view, 35mm format equivalent) lens. As of August 2018, based on Sony research
(5) With "Continuous shooting mode: Speed Priority Continuous Shooting" and "Image quality: Fine"
(6) Class 10 or higher micro SDHC/SDXC memory card is required to record movies in the XAVC S™ format. UHS-I (U3) is also required for recording at 100Mbps
(7) NTSC. 100fps in PAL
(8) CIPA standard, internal measurement, at f=4.25mm (wide-end), EV8.5, Program Auto, AF area: Wide, NTSC mode
(9) When expanded ISO sensitivity is enabled
(10) Can be connected via Bluetooth with smartphones featuring (as of August 2018, based on Sony research):
Android smartphones: Android 5.0 or later and compatible with Bluetooth 4.0 or later,
iPhone/iPad: iPhone 4S or later/iPad 3rd generation or later