Whenever I used to think of networking I would go into a panic. I thought it was about meeting people I didn't know, shaking their hands, impressing them somehow and pressing my business card into their palms with the hope of somehow getting work from them at a later date…which sadly, never materialized. That's wish upon a star kind of networking and like any goal without a real plan, it never amounts to anything but frustration. Today I do things differently. I don't panic anymore because I've learned a fundamental truth about networking—successful networking is really about connecting, not impressing. And connecting can be easy.
Five Strategies Of Networking
Here, simply and succinctly are my Five Strategies Of Networking. #1) Chance favors the prepared. #2) Make friends before business. #3) Have some high-impact business cards, a website, possibly an Instagram account and a curated portfolio of your work. #4) Have or develop social skills and be interested in other people. Too often we talk about ourselves. If you can find some common ground or even know a bit about the person you are trying to network with your chances of making a real connection are much greater. #5) Print your own note cards and handwrite Thank You notes to people you meet.
Just to be clear. I don't think of these rules when I'm out connecting with people. They're second nature to me now. They're a collection of what works for me after a decade and a half in the photography business and they've become part of my DNA. And I assure you they can be applied to any business you are in.
Allow me to share a recent trip I took to the desert city of Palm Springs, California for the annual Palm Springs Photo Festival (PSPF). Fellow Sony Artisan, Michael Britt was an educator at the PSPF and he let me know that Jeff was offering full access guest passes to other Artisans that would like to attend. I'd wanted to go the PSPF for years and jumped at the chance. Little did I know what was in store for me.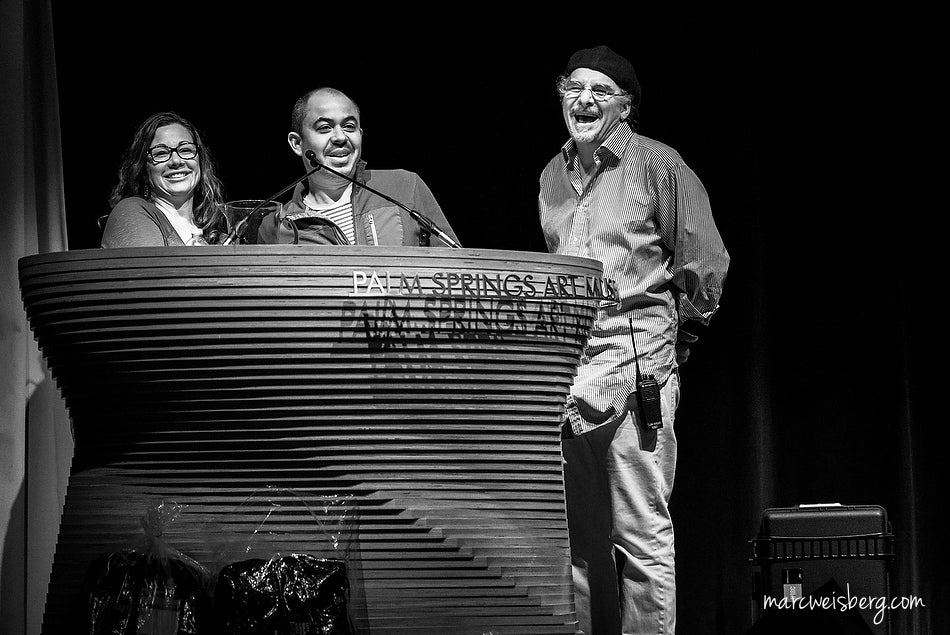 PSPF organizer, Jeff Dunas (right). Sony α7S, Sony FE 90mm f/2.8 Macro G OSS. 1/100-sec., f/2.8, ISO 8000. Converted to B&W.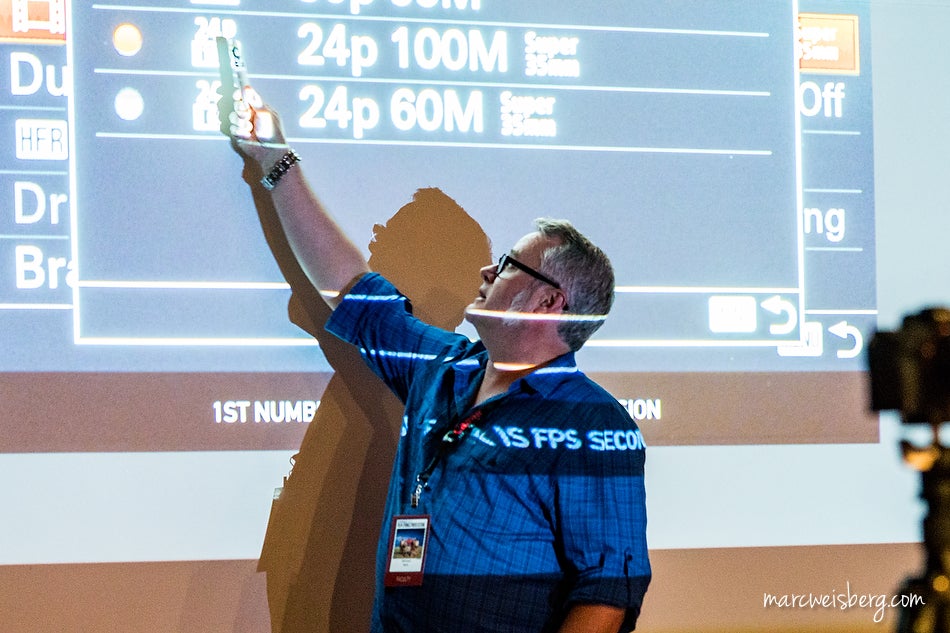 Michael Britt teaching at PSPF. Sony α6300, Sony FE 55mm f/1.8. 1/80-sec., f/3.2, ISO 10,000.
Networking Is Connecting
The day before heading up to Palm Springs I saw that Mark Tucker, a photographer that I follow on Facebook mentioned that he was going to be up there. I thought: "Hey maybe he's attending the PSPF?" I didn't know Mark, but followed him on Facebook for a couple of years so I posted a query asking him if he was attending. He mentioned he wasn't attending but he'd be on the fringes of the festival. I asked him if I could buy him a beer or two. He responded that he'd be having dinner with a bunch of friends at Native Foods and to join him if I was free. I arrived to find a group of 6 or 7 people at a long table. I introduced myself to Mark and his lovely partner Brandise Danesewich and sat at the opposite end of the table next to Tim Griffith, one of the top architectural photographers working today. Needless to say it was a bit surreal. Then in the middle of conversation I looked over to my left and noticed that David Burnett, another living legend of photography, was seated across from Brandise. You really can't plan for a situation like this. I wasn't there to sell myself. I was there simply to connect, have fun and meet other like-minded people.
Here's where it gets really interesting. Somehow the conversation turned to camera technology. Go figure. On a whim, I pulled out my RX1R II from my bag and asked if they'd seen this. No one had. It was an a-ha moment for everyone at the table. The camera was passed around person to person as I briefly explained the full frame prowess of the mini beast and that it was a 42mp sensor with a Carl Zeiss f/2.0 leaf shutter lens with macro capability. Lets just say everyone was in awe of the RX1R II. I didn't know anyone at the table, but having that camera became a common point where we all related and connected.
After dinner we left the restaurant and gathered outside the front door. David and I had a few words and laughs and Mark wanted to get everyone in a group picture. Sensing an opportunity to contribute I asked if I could take it for them. Mark set up the camera with a slow shutter speed of ¼ of a second. I used a waist high patio entry gate to steady that camera and popped off a couple frames. Whamo! History made. You can bet I was feeling just a bit of pressure capturing this image with what I hoped was a steady hand. Networking Rules #1, #2, #3 and #4 invoked without even thinking about it.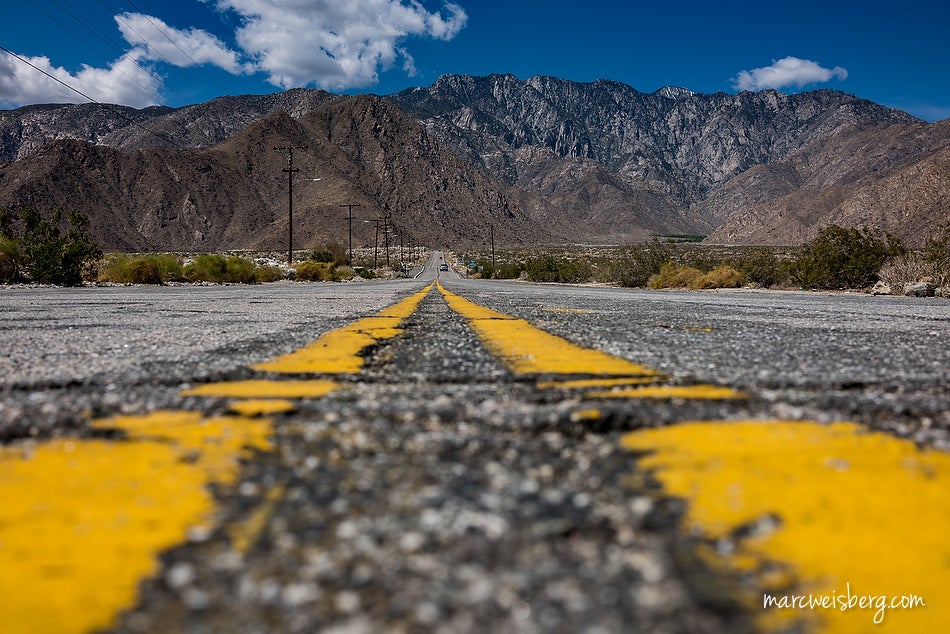 Palm Springs photographed with the camera on the ground, the LCD screen tilted up for easy viewing. Sony RX1R II. 1/200-sec., f/11, ISO 100.
This perchance meeting with an amazing think tank of serious photography talent at Native Foods led to a few things during the PSPF and over the coming weeks. It kindled friendships with many people at the table. I ran into Tim Griffith many times, in passing and at breakfast. We shared stories and laughs. He was kind enough too look at some of my architectural photography and suggested that I'd benefit from using a proper tilt-shift lens. I took his suggestion to heart. It's expensive but worth every penny. At this time Sony doesn't make a tilt-shift lens, but one of the many benefits of the Sony mirrorless camera system is the ability to use just about any lens via an adapter. I've purchased the lens and fitted it to my Sony a7R II and I can't wait to start using the combo.
I made it a point to seek out Jeff Dunas and thank him for his generosity. I let him know how much I enjoyed the festival and how smoothly it's run and that the quality of the instructors is top notch. I told him how inspired I was being surrounded by so much talent. I did this to thank Jeff for his openness and his generosity. He didn't need to offer guest passes. It was out of the kindness of his heart that he does this. And you can tell Jeff is kind….he's well-loved by all that know him. I've sent him a hand written note card thanking him again for his kindness. Rule #5.
An Unorthodox, But Ingenious Approach
Here's a power tip on networking from River Jordan, a photographer and a panelist with PDN's Emerging 30. When River isn't photographing or working on a project, he's often connecting with other photographers, artists and people in the industry that he'd simply like to get to know. His method of connecting is ingenious. He takes them out to dinner! River said he's out to dinner networking four nights a week! Everyone likes to eat and there's no better way to get to know someone than by breaking bread, and enjoying a good glass of wine with them.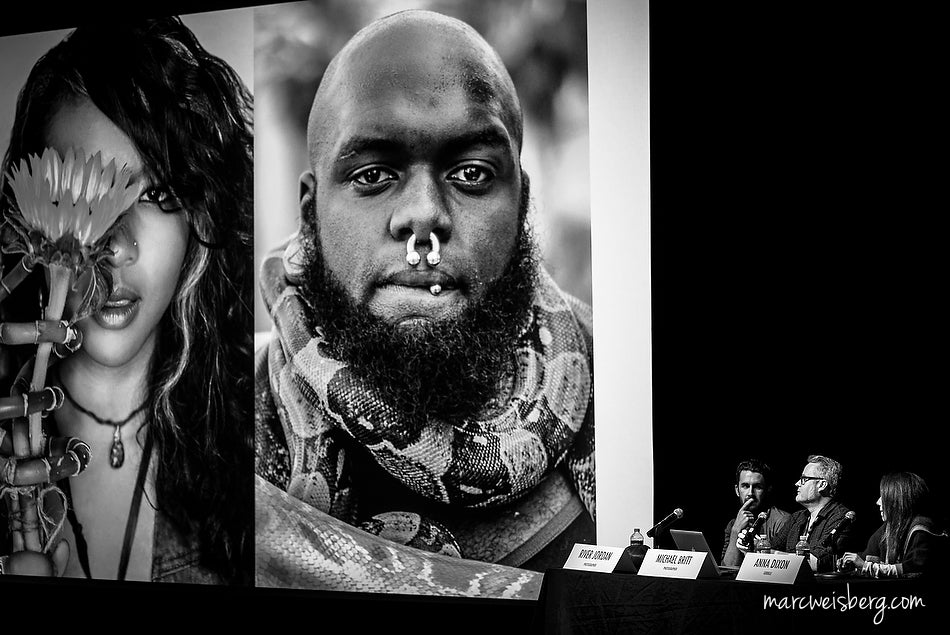 River Jordan, Michael Britt and Google's Anna Dixon during PDN's Emerging 30 Conference. Sony α7S, Sony FE 90mm f/2.8 Macro G OSS, 1/100-sec., f/2.8, ISO 4,000.
Every Meeting Is A Networking Opportunity
A mainstay of my business is luxury real estate photography. Last year I attended a Laguna Beach Realtors meeting. It was a chance for realtors to preview new homes on the market and for affiliates (non realtor members) to network. A well-dressed man sat next to me. His name was David and it was his first time attending. David turned out to be an investment specialist and he asked me a few questions about the weekly meetings. We exchanged business cards and he noticed that I was a photographer. Fast forward to a week later. David's fiancé called me when I was out shopping. She asked me if I was available that evening to photograph their engagement party at a swanky Newport Beach country club. We negotiated the terms in 5 minutes and I photographed their gathering that evening.
This is another great example where the Five Strategies Of Networking came into play, which, in case you didn't catch them all before, I'll reiterate now: #1) Chance favors the prepared. #2) Make friends before business. #3) Have some high-impact business cards, a website, possibly an Instagram account and a curated portfolio of your work. #4) Have or develop social skills and be interested in other people and find some common ground (in this case the Laguna Beach Realtors meeting was an element of mutual interest. #5) Print your own note cards and handwrite Thank You notes to people you meet.
Today more than ever, the ability to network is a necessary skill for any photographer looking to make a living in an our extremely competitive field. It's also something that doesn't need to cause you anxiety. Start with making a connection and you're more than half way there.
See more about Marc Weisberg on his Sony Artisan Of Imagery page and his wesbite.
You can follow him on Instagram @marcweisberg