Director, videographer and editor Elizabeth Cayouette was awarded the first Alpha Female+ grant of the 2021/2022 season for the launch of her video tutorial project, Keie Creative. "I decided to launch Keie Creative tutorials that break things down to the most basic level, exactly what I needed when I started in video, knowing nothing." For the project, Cayouette shot and edited her first two tutorial videos, Intro To Premiere Pro that just launched, and Videography Basics that will launch soon.
Alpha Female+ Grant-winner Elizabeth Cayouette launches Keie Creative to help women learn the basics of shooting and editing video.
The word Keie means 'to set in motion,' and Cayouette named her project Keie Creative because her ultimate goal is to set in motion women and girl's creative video journeys. The project stems from Cayouette's own experience in video, starting with when she switched her major over to video in college. She struggled to fully understand the material and dealt with imposter syndrome because she was usually the only woman in the room. She found the industry to be intimidating and didn't feel comfortable asking questions. Still, she stuck with it and landed her dream job out of college with Aerie by American Eagle. As she worked for the female forward fashion brand, she realized the growth of which she was capable.
"I set out on a journey to build my confidence and polish my skills. Along the way, I went viral on social media and realized there are millions of girls out there who want to work in video. But between the gender gap, and the lack of exposure to the tech, it's intimidating! I want to empower girls to get started in video production, because the future of video is female."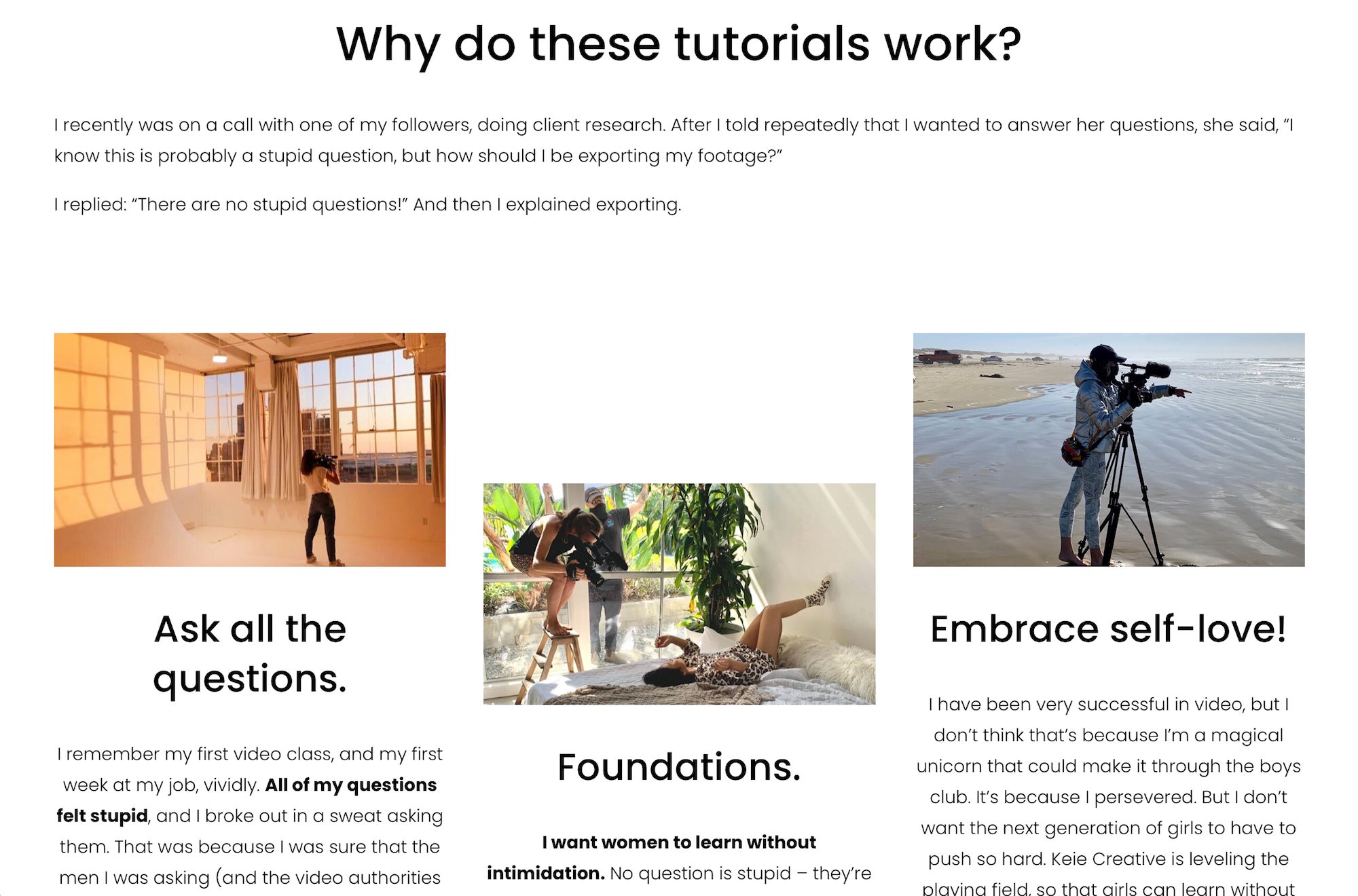 From KeieCreative.com

The tutorials encourage building foundations, asking questions and embracing self-love. Cayouette believes there is no such thing as a stupid question, and that questions are actually the building blocks of your success. She hopes to help make the industry more equal and representative by delving into the root of the problem and getting girls and young women interested in video production.
"I have been very successful in video, but I don't think that's because I'm a magical unicorn that could make it through the boys club. It's because I persevered. But I don't want the next generation of girls to have to push so hard. Keie Creative is leveling the playing field, so that girls can learn without shame, and be empowered to get started."
See more of Elizabeth Cayouette's work on her Alpha Universe Profile and create your own public Creator Profile HERE. You can also contribute to the Alpha Female+ Community by joining the Alpha Female Facebook group, following @sonyalpha and @sonyalphafemale on Instagram and tagging your posts with #sonyalphafemale for a chance to have your work featured.
Do you have a photo or video project that you believe in? Learn more about the Alpha Female+ Grant program and how to apply HERE.