Sony Artisan Drew Geraci is a timelapse master. For a recent project he teamed up with Dell through their partnership program to create a collection of timelapses called, "Vapor." The timelapse piece, captured in Sedona, Arizona, is meant to show that you can find comfort outside and inspire others to do the same. With rolling clouds and shooting stars, the calming timelapses capture the diversity in nature at both day and night. We connected with Geraci to learn more about the project and how he was able to capture the beautiful imagery with a combination of Sony Alpha cameras and lenses.
We connect with Sony Artisan and timelapse pro Drew Geraci to learn more about his latest timelapse project, "Vapor."
To capture the timelapse sequences in "Vapor," Geraci was using the Sony α7R IV, the α7R III and the α7S III, each with its own specialty for different situations. "For pack in pack out we would only take two of our cameras," explains Geraci. "The majority of the time it would either be the α7R IV over the α7R III, and then the α7S III. The α7S III came with us everywhere just because it makes for more compact travel when we're shooting 4K. We don't have to worry about downsampling AK resolution and then figuring out which ones we wanted to use."
"As for lenses, in landscape situations I love using the 70-200mm f/2.8 G Master because it really helps compress the scene and lets you focus in on a particular area or region. Then when we're talking about capturing clouds and movement with fog, it's really beneficial to use a long lens like that to be able to punch into that scene and actually see that fog as it's rolling over it."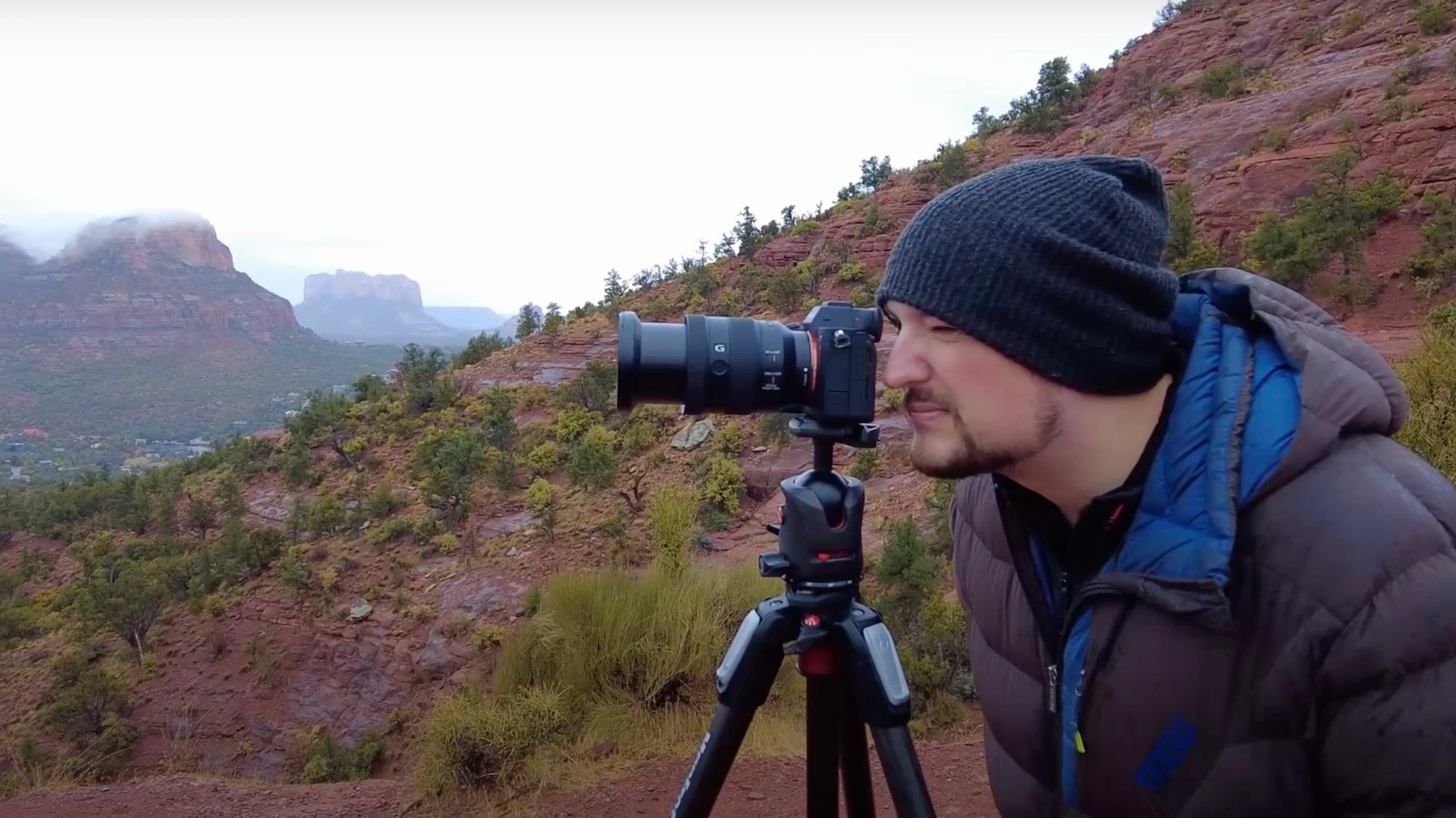 Geraci was also capturing timelapses at night for the project, and he relied on the Sony α7S III in those situations to deliver the sharpest results. "The α7S III got the call when we wanted to do night shooting," says Geraci. "I was absolutely blown away because all of the shots of our stars in the sky are all shot at 51,200 ISO, which is pretty much four or five times more than what I'm normally shooting on other cameras. So it really opens up an entirely new world for us. And being able to shoot at those high resolutions enabled us to shoot with faster intervals and faster shutter speeds so we get crisper, sharper images overall when we're shooting astrophotography."
"Then for astrophotography we were using two different lenses. The first one was the 12-24mm f/2.8 G Master, which is probably one of my favorite lenses now because it is so tack sharp. Even at f/2.8 at night, it just creates this really surreal environment that I think a lot of Sony users haven't been able to capture before because the widest we've had at f/2.8 is the 16-35mm G Master. Being able to capture that at 12mm and f/2.8 really just opens the scene up and gives us much more variety to play around with in post. Then our second lens was the 24mm f/1.4 G Master, which is another phenomenal lens. It's even sharper than the 12-24mm and allows us to shoot at faster intervals so that we can create more dynamic and robust scenes. Using the 24mm f/1.4 GM, we don't have to drag the shutter as much."
The project, created in partnership with Dell, was meant to showcase the wonderment of nature and was made using a new laptop built for creatives. "We were using the new Dell Precision 5750," says Geraci. "It's a 17-inch laptop with a full 4K screen. It has the major advantage of being able to utilize more intuitive graphics cards that really helps propel the ability to edit and use 8K footage, and view it live without having the dropped frames while you're doing playback."
In the never-ending Mac vs PC debate, Geraci is doggedly in the PC camp. While Macs have traditionally been seen as the go-to for high-end photographers and filmmakers, Geraci's embrace of the PC platform is based 100% on performance. 4K timelapse makes hefty demands of a computer's resources and when you need to work efficiently, power is everything. "The whole idea behind the laptop is being able to use it in a seamless environment so you can take that information from your laptop, edit it, have no problems with playback and recording and rendering, and then transfer it to your workstation when you get home and that you still retain the same speed from start to finish. So that's one of the reasons why I use PCs over Macs – because there's so much more performance when it comes to CPU and GPU usage."
Drew Geraci will be speaking at the #BeAlpha Live Online event on February 28. Registration is free and you could win a Sony Alpha 1 camera. See all the details and sign up HERE.