Occasionally I create challenges for myself, to test myself creatively. For a recent engagement session, I limited myself to one lens, the 85mm 1.4 G Master. I realize this isn't a huge sacrifice, as the 85mm G Master is one of the most amazing pieces of glass I have ever owned, and it's an ideal match for my full frame Sony mirrorless cameras.
Limiting yourself to a single lens can focus your vision. You start to see everything in just that focal length and compositional possibilities that could have gone unnoticed suddenly reveal themselves. It's especially powerful with a prime lens, but a lot of street photographers routinely shoot with just a 24-70 for the same reasons.
An 85mm lens with an f/1.4 maximum aperture is always a great choice when photographing portraits and people. The f/1.4 is helpful in low light situations, but I think the best part of the large aperture is the beautiful backgrounds I get when photographing with the 85 G Master wide open. The selective focus and depth of field from this lens is second to none. Photographically, it opens up a whole new world of visual creativity.
I photographed the entire session using my Sony a7S II. I always consider which camera is best depending on what I'm photographing; one camera usually fits the subject matter best. For me the a7S II is outstanding in low light and since I choose to shoot most of my engagement sessions the last few hours of the day, there's always a chance I will end up in a low light situation after the sun has set. I also I like having a full frame sensor to work with my Sony G Master lenses. Some photographers might argue that they want a larger file than the maximum twelve megapixel file the a7S II offers. However, I find the a7S II's resolution to be more than adequate for engagement sessions and on the wedding day. 98% of the images I will reproduce for my clients, either in albums or reprints, will be reproduced 11x14 or smaller, and when my clients do order larger wall décor, the file size from the a7S II is more than adequate, even if a bride orders a 30x40 wall portrait.
When choosing a location for my engagement sessions I leave that decision up to my couples. I do encourage them to take me to a location that has some significance to them; maybe a place they went on a first day, a first kiss, but ideally a place that has some special meaning to them. I want the images to have sentimental as well as visual impact. In this case, my couple chose an area of downtown Minneapolis where they spent many date nights and walked along the Mississippi River which runs through downtown. They've created many memories in this area and their wedding venue is also in the same neighborhood.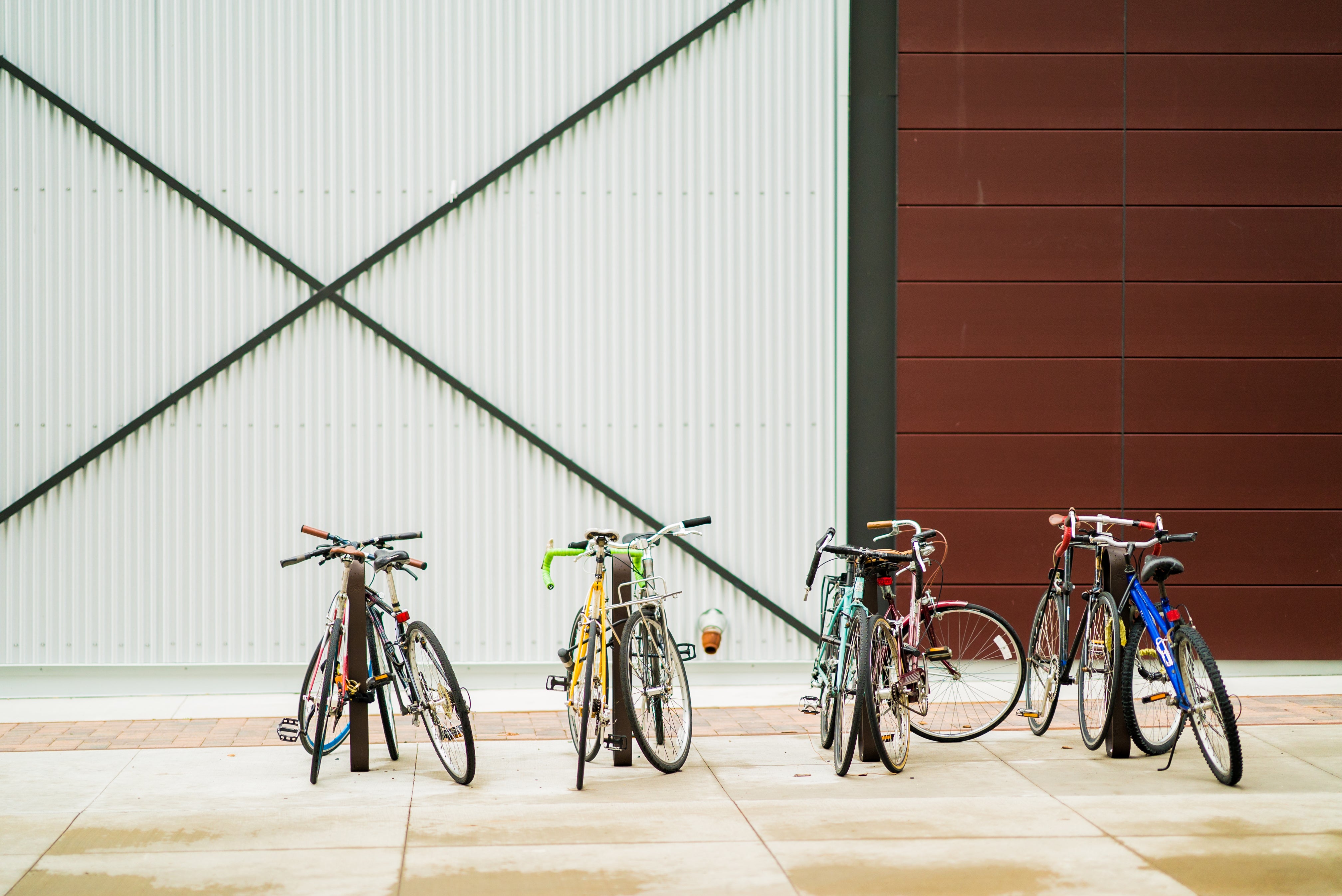 Sony α7S II, FE 85 F1.4 GM lens. 1/1600-sec., f/1.4, ISO 500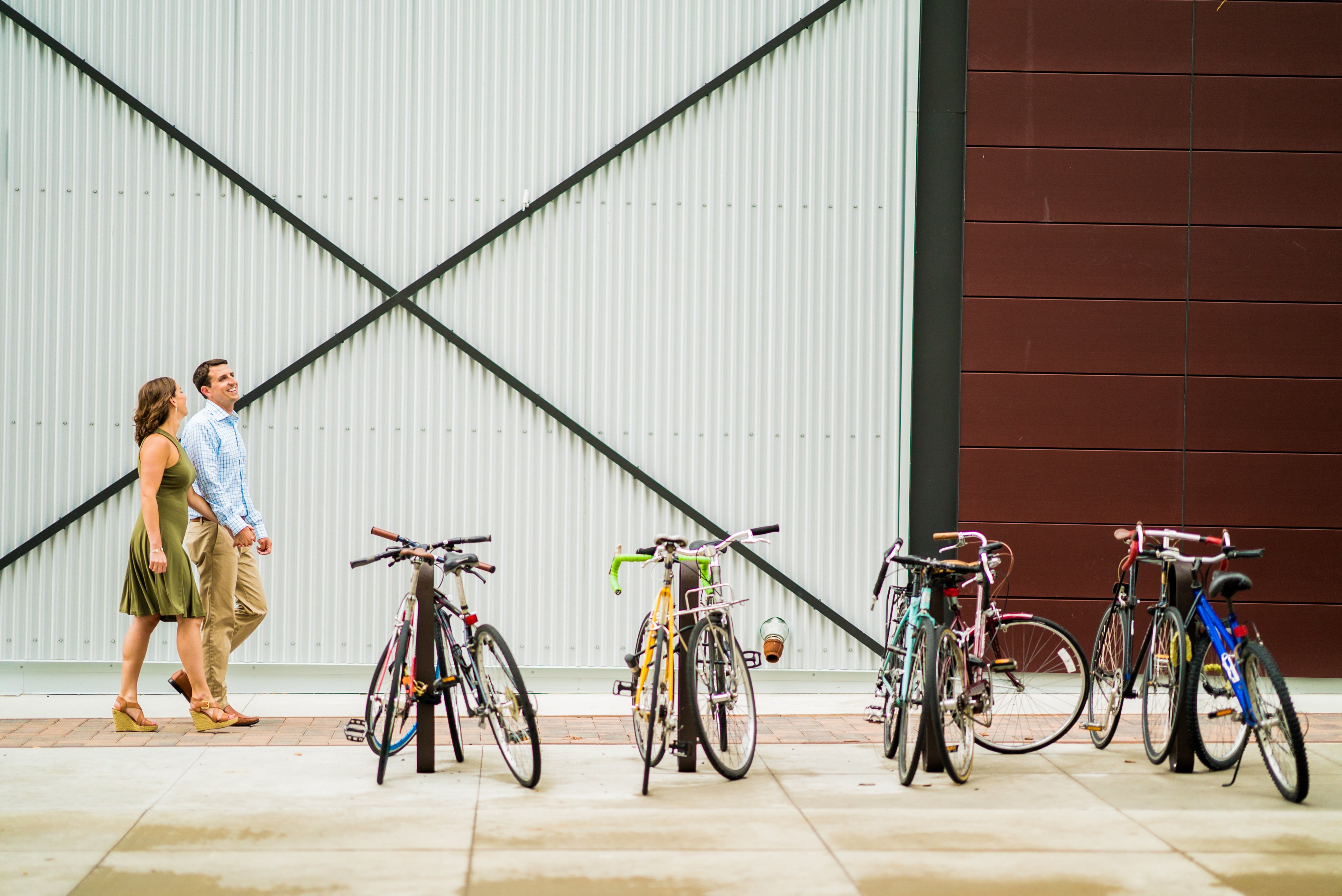 Sony α7S II, FE 85 F1.4 GM lens. 1/1600-sec., f/1.4, ISO 500
Walking down the alley, this small area caught my eye. I loved the combination of the crossing lines, the maroon wall color combined with the bicycles. I took a picture of the scene without my couple in the frame to see the image I liked first, and then I had to figure out how to incorporate the couple to make it work. Both images are great on their own. One could be a fine-art shot and the other a unique portrait hanging in the couple's home that's not the typical engagement image.
Although not always accomplished each time I photograph and engagement session, my goal is to capture an image that has this result. When my couple hangs this image in their home; guests to their home have this reaction. They walk in and say "What a great picture! Wait a minute, that's you guys…
I use leading lines, patterns, architecture, and depth of field a lot in my work, something I think I inherited from my grandfather who was an architect. The 85mm f/1.4 G Master is the perfect lens to accomplish this if you too love to work with depth of field. I tend to shoot this lens wide open most of the time, as I love the astatic beauty it creates in my images.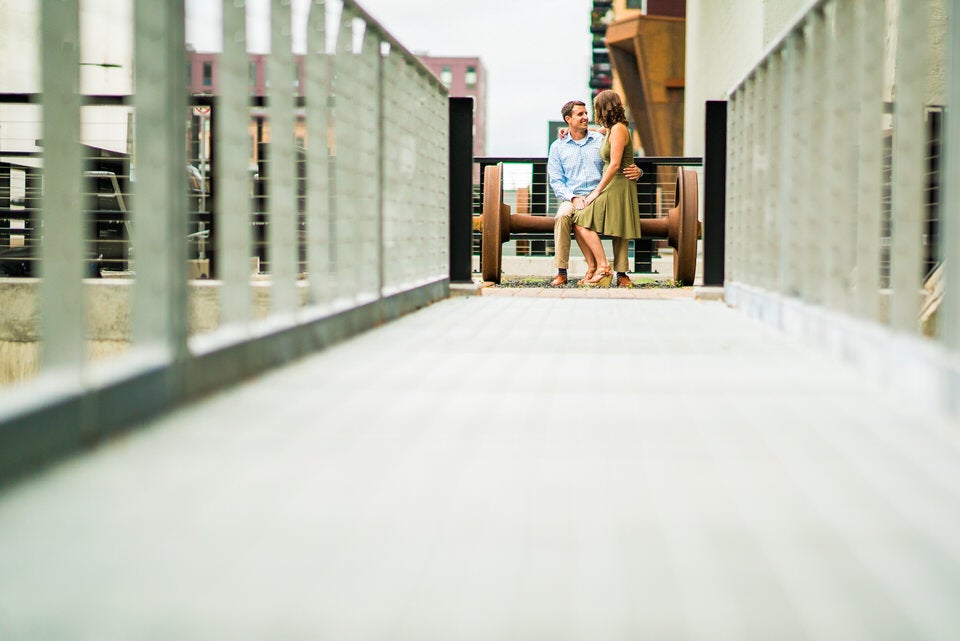 Sony α7S II, FE 85 F1.4 GM lens. 1/2500-sec., f/1.4, ISO 500
Here, I use the out of focus lines of the catwalk in the foreground to lead the viewer's eye to my couple, who are in focus at the end of the catwalk.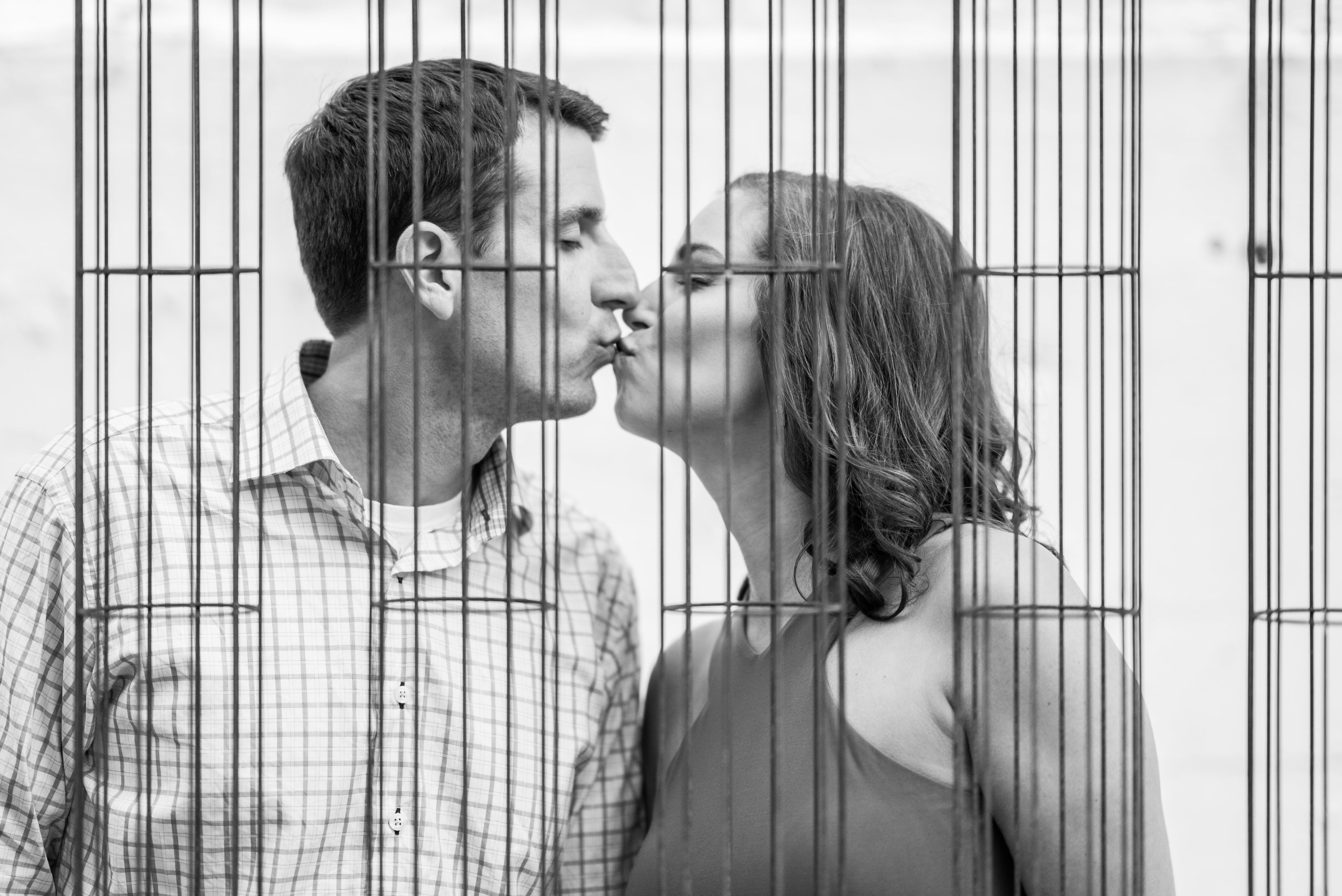 Sony α7S II, FE 85 F1.4 GM lens/. 1/800-sec., f/1.4, ISO 500
Focusing on my couple, the vertical lines are slightly out of focus to allow the metal cages to add texture to the image.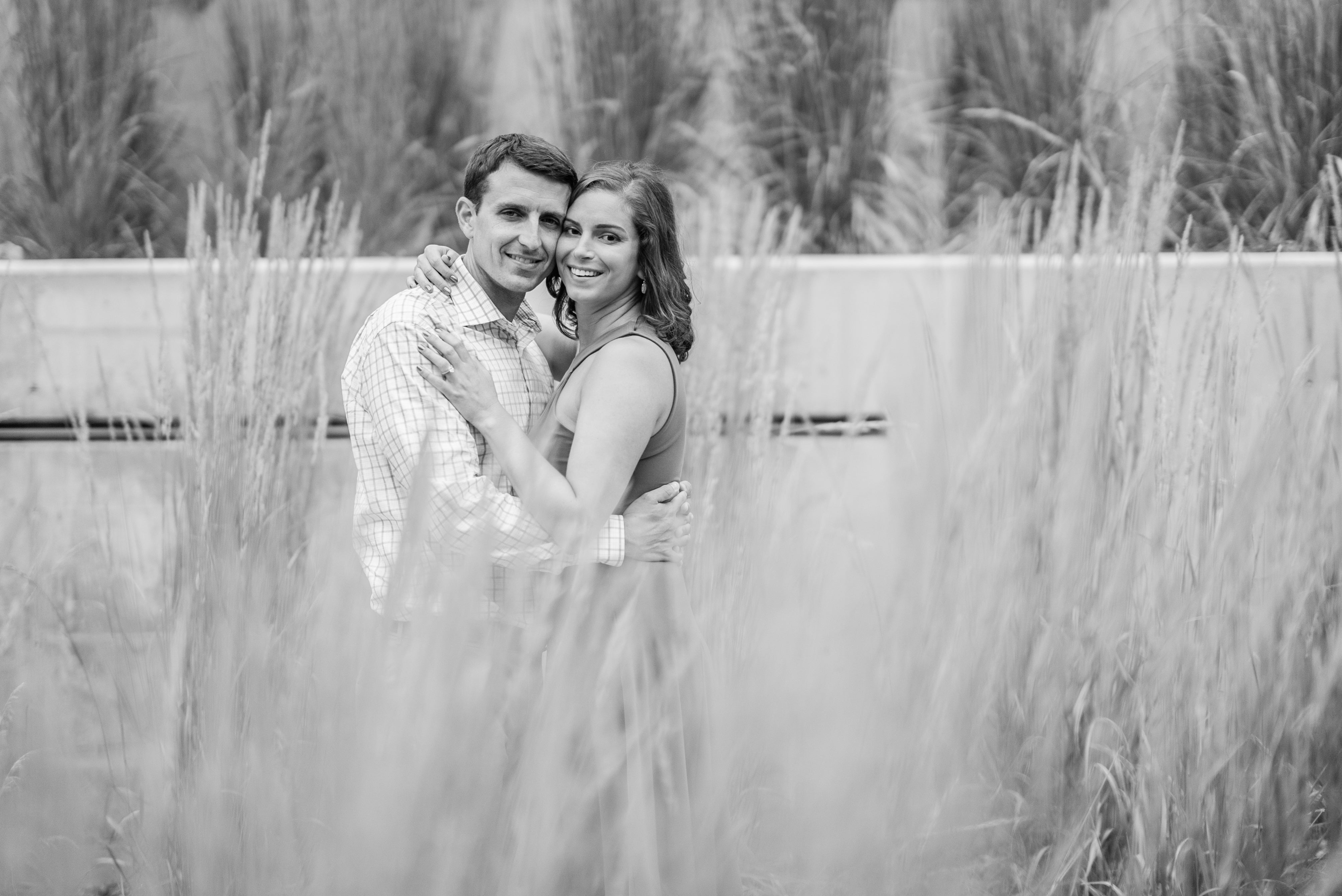 Sony α7S II, FE 85 F1.4 GM lens. 1/2500-sec., f/1.4, ISO 500
Here, I had three layers of this wispy grass, which I used to create a great compositional component: foreground, middle ground and background. This location where my couple chose to do their engagement pictures is near a modern building in downtown Minneapolis with great landscaping.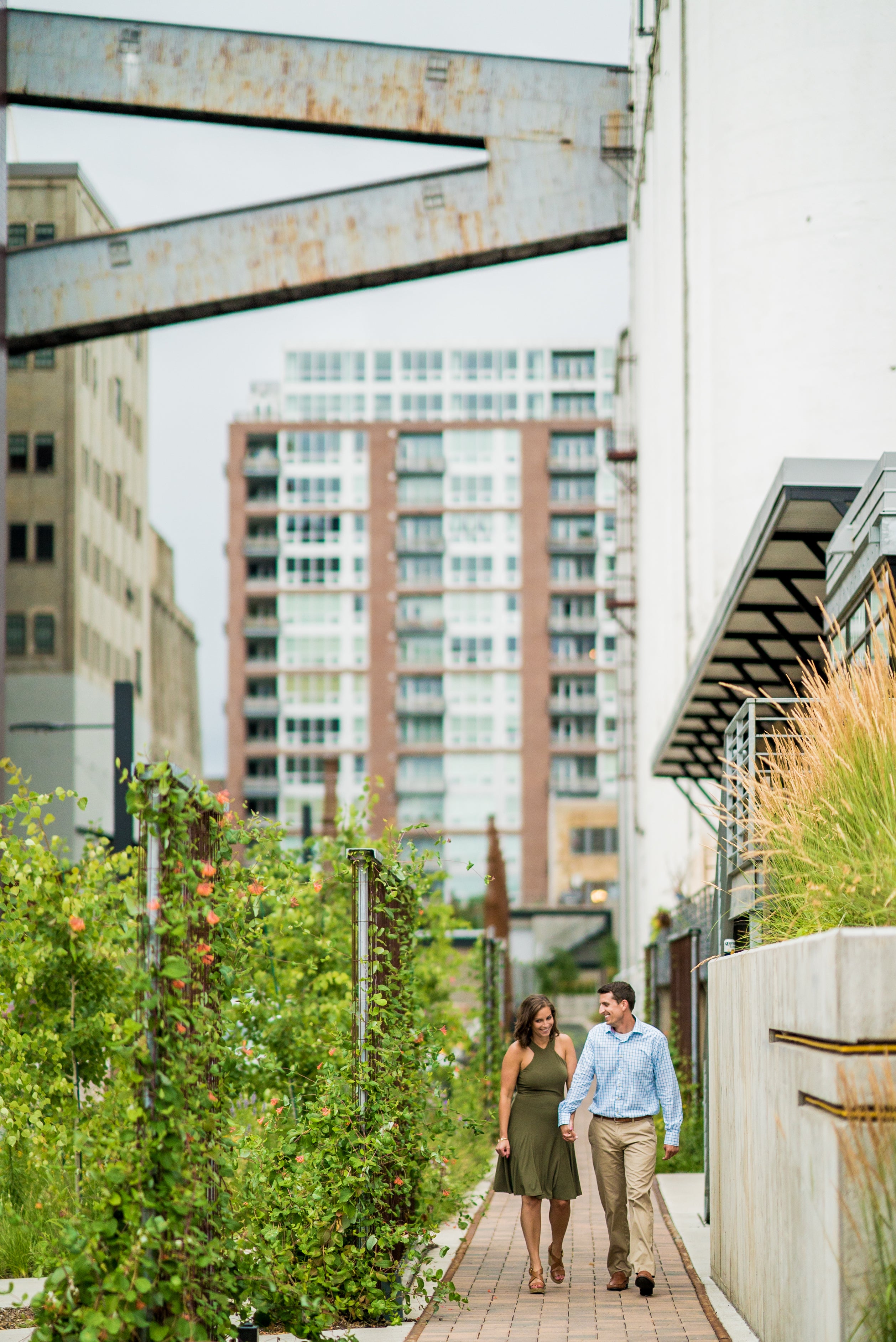 Sony α7S II, FE 85 F1.4 GM lens. 1/2500-sec., f/1.4, ISO 500
I this image, I wanted to include the sideways V-shaped skyway in my frame. I noticed this unique skyway thirty minutes prior, but I was too close to make it work with the 85mm focal length. As we moved further away, incorporating the old skyway into my shot became doable and in hindsight, I think this image is stronger than what I was thinking of originally.
This is a great example of why I advocate one-lens challenges. Limiting myself to one lens can be frustrating at times, however it forces me to think differently and create images I otherwise may not have considered. I once asked to shoot third camera at a wedding for a fellow photographer. I only brought a 100mm macro and captured images with one lens throughout the wedding. Yes, I shot lots of close up images but a 90mm or 100mm macro is a great portrait lens as well. I used it to shoot portraits and photojournalistic moments. At the end of the day I had captured some unique imagery that I would have never thought of if I had my full collection of lenses.
You may or may not want to try this with clients but I would encourage you to definitely try it at some time. Regardless of choice of lens, I encourage you to take the one-lens challenge yourself. Go have fun with it! You just might be surprised at the results.
See more about Sony Artisan Of Imagery Robert Evans here.
You can follow him on Instagram @robertevans