'Failing to prepare,' they say, 'is preparing to fail.' And isn't that so often the case? It's the preparation prior to most tasks in life that ultimately determines whether we're successful. For professional photographers, laying the foundation for a successful photo shoot begins long before the lights are on and the camera is in hand. No matter the type of assignment, the path to success begins in the initial conversation with the client.
How a pro photographer can use a simple tool to bid a job and produce the shoot most effectively
Why The Initial Contact Is Crucial
That first phone call is critical whether the client is a high-profile agency inquiring about a national ad campaign or a solopreneur in need of a portrait. It's not only the opportunity for a photographer to make a positive first impression, it's also how we glean the necessary information to produce a bid or simply determine what approach will serve the client best. But how does a photographer know the necessary questions to ask if they haven't asked them before?
Austin-based commercial photographer Inti St. Clair advises young photographers, students and assistants alike, to use a cheat-sheet when a client calls in order to know what information is essential and which questions need to be asked.
"The first time you get a phone call with a big ad agency," St. Clair says, "you are shaking in your shoes. So it is nice to have something to look at and be like, 'Oh yeah, I've got to ask about this.' Because you're trying to win them over with your personality and get everything right and not sound dumb."
"I created the checklist for my students," she continues, "because, first of all, I wanted to make sure they actually knew what all these things meant. For example, why would you ask if it's talent exclusive and what does that mean? And how does that impact the estimate that you put together? I think it's really important to, as best you can, get all of these answers so that when you're putting together a bid for a job it can be super accurate. And also because it helps you really know what you're going to need, whether that's crew or equipment or who you're going to have to bring in to help you with casting and locations and all that kind of stuff."
Use Your Questions To Focus Your Client's Vision
Inexperienced customers don't make these conversations any easier. They often call with overly simple questions along the lines of, "We need to do a photo shoot. What does that cost?" In these situations it's even more important to consider the myriad things that factor in to the production of the photographs, since the client isn't offering them up in the first place. Some photographers might worry that a rush of questions can be overwhelming to the customer, but St. Clair says it's imperative to take the time anyway. Plus, she says, it's yet another way to demonstrate you've got their best interests in mind.
"I used to feel that way," she says, "but I worry about that less now. Now I'm all in for asking as many questions as I can. And the reason for that is that I want them to feel like I'm an expert. I want them to feel like I know more than they do. And even though I don't know exactly what the project is or exactly what they're asking for, I'm going to give them all the reassurance in the world that I'm thinking of everything I can think of and I am taking this project very seriously and trying to think of everything that maybe they even haven't thought of."
For some jobs, rather than not knowing what questions to ask the challenge is in not assuming the next assignment will be similar to the previous one.
"I think that it can be easy to default to thinking it's going to be like this other thing you did," St. Clair says, "when in fact it could be totally different. I get asked constantly, 'Hey, can you put a bid in?' OK, for what? 'Well it's a lifestyle shoot, two days.' Uh, OK. They don't give you information straight off and that information is so important."
Make A Checklist For Different Kinds Of Assignments
St. Clair advises physically writing out your cheat sheet of pertinent questions to ask when a prospective client calls. The document she created—what she calls an Assignment Inquiry Checklist—is shown below and available for download here: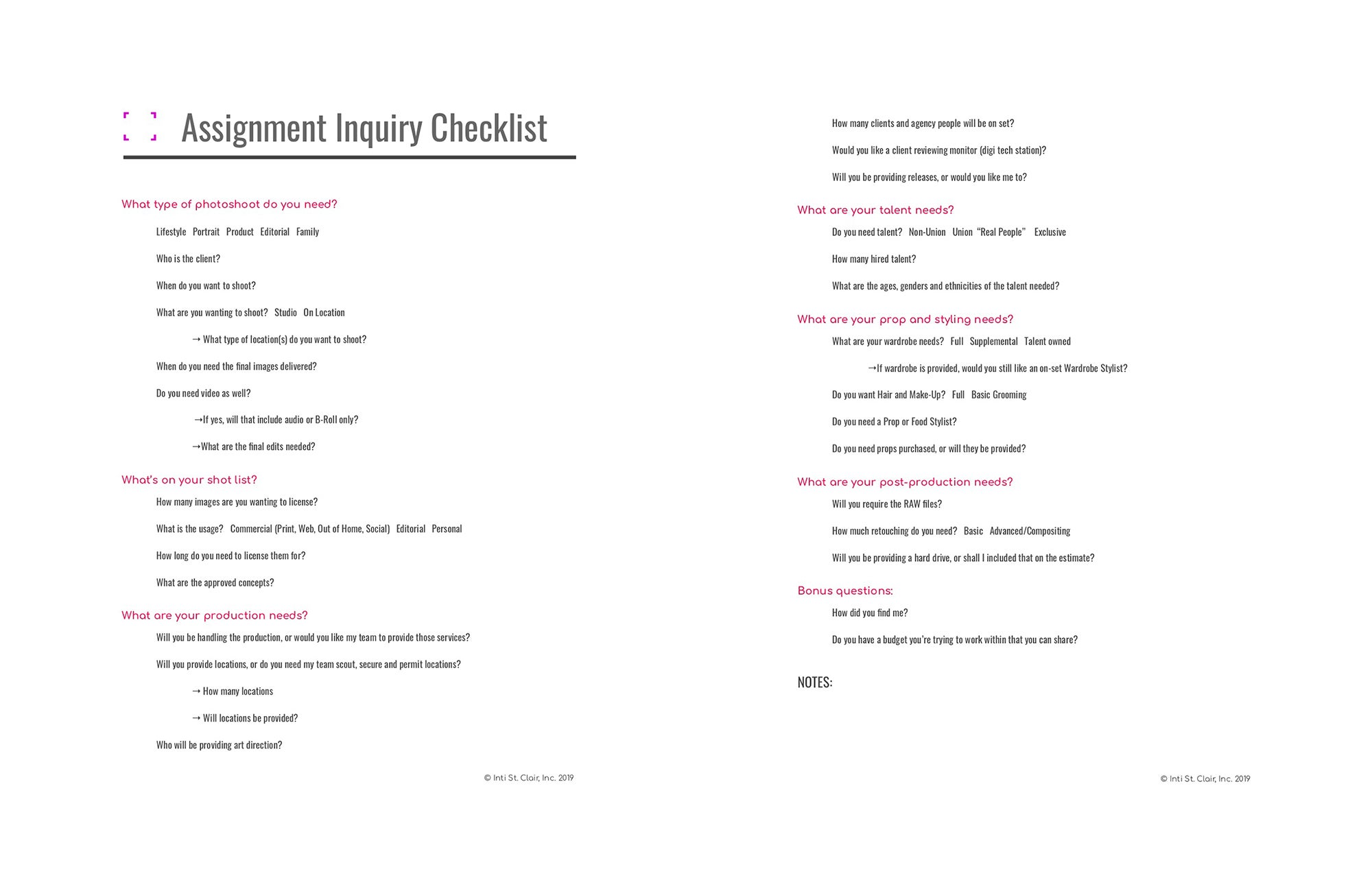 There's no single list of questions that will be appropriate for every type of assignment. St. Clair's document is aimed at commercial photographers who need to deal with issues from locations and talent to usage and exclusivity.
What's on your shot list?

What are your production needs?

What are your talent needs?

What are your prop and styling needs?

What are your post-production needs?
A portrait photographer's list would be different, as would a product photographer's list, an architectural photographer's list and a corporate photographer's list. In each case, however, there will be overlap as it comes to the essentials of who, what, when, where, why and how.
For instance, the most elementary basics of a shoot are essential to cover prior to providing a meaningful bid in any genre. What's the nature of the shoot: lifestyle photography, studio or location, products or people? How many photographs is the client looking for? Is there a deadline? Will you need wardrobe? Makeup? Who's doing the retouching? These nuts and bolts questions may sound basic, but it's important to remember to cover them lest an essential piece of information is missing, which necessitates problems in the bid.
"It is frustrating," St. Clair says, "because all the time we get asked to bid on things when we don't have all the details. And sometimes that's just the way it goes and you have to still put one in. And you have to include all these caveats: does not include this, does not include that. If you don't even know to ask, you're not going to ask."
Other questions pertain to usage, which may be de rigueur for agency calls but not so for less savvy clients. The usage may still be important for the photographer, but it's up to that photographer to ask questions that lead to an understanding of the licensing without frustrating the caller. Some questions are hyper-specific: is there talent exclusivity required? Does the photographer retain rights for her own marketing?
Don't Forget 'Bonus' Questions
Lastly, St. Clair uses her list to suggest bonus questions that may be helpful for a variety of reasons. Some, such as "How did you find me?" are useful when it comes to determining what marketing avenues are working, while others, such as "Do you have a budget?" can simply provide a shortcut to whether the client and photographer are on the same page regarding the requirements for a given assignment.
With time, St. Clair says, the necessary questions will become second nature. But even then, it's useful to have a tool that can act as guardrails in a conversation with the client. It will help you present yourself more professionally and provide the necessary information to price and produce a shoot appropriately.
Inti St. Clair is a commercial assignment and stock photographer based in Austin, TX. View her portfolio at intistclair.com.
About the author:
William Sawalich made his first darkroom print at age ten. He earned a Master's Degree from The Brooks Institute of Photography in Santa Barbara, California. Along with portraiture, still life and assignment photography, Sawalich is an avid writer. He has written hundreds of equipment reviews, how-to articles and profiles of world-class photographers. He heads up the photo department at Barlow Productions in St. Louis.