In early September, I photographed a wedding in London. Following the wedding I headed over to Ireland for five days along with fellow Sony Artisan and friend Jeff Berlin, who tagged along to help photograph the wedding with me and so we could shoot and test out some Sony cameras that we don't normally use in our respective fields of photography.
I brought along the RX10 III which I was especially eager to try due to the Zeiss 24-600mm f/2.4-f/4 lens that's built into the camera. I originally purchased the RX10 III to photograph my kids' sports. With 600mm of range I knew I was going to be able to capture images never before possible with any other pieces of equipment I have owned and for a minimal investment of $1500 dollars. The huge, heavy 500mm and 600mm lenses the pro sports photographers use can cost as much as $25,000 dollars! The images I've been able to capture at my kids' sporting events with the RX10 III at 600mm has made the other parents jealous and I know several of them have already gone out and purchased this camera for themselves.
When I travel I do not travel light. Usually I have at least three Sony bodies and an array of lenses for my destination wedding assignments. I am fortunate to have traveled all over the world photographing weddings and other corporate and editorial assignments and I always take the opportunity to capture images for myself during my travels, but honestly sometimes I just want to walk the streets and countryside without a heavy camera bag with all of my equipment. I think most photographers can somewhat relate to this dilemma. God forbid I shouldn't have every lens I own just in case the perfect shot comes along!
After using the RX10 III in Ireland, I have to say it's the perfect travel camera because when I had it, I didn't miss my bag full of gear. First off, the RX10 III is extremely lightweight. I keep mine around my torso with my Peak Design camera strap, and I hardly notice it's there. More notable is the optical range I can cover with the built-in lens. Did I mention it's a 24mm to 600mm f/2.4-f/4? And beyond that, the camera's image quality is just amazing.
As a seasoned professional photographer this camera really impresses me. If you are new to photography, a serious hobbyist or however you classify yourself, we all have one thing in common: we love photography. If you love taking pictures, you will absolutely love this camera for the depth of features and advantages that you get. Also, it's extremely affordable for what it gives you.
Below are several images I captured on my trip in Ireland. You can see the range of images I took with just the one camera.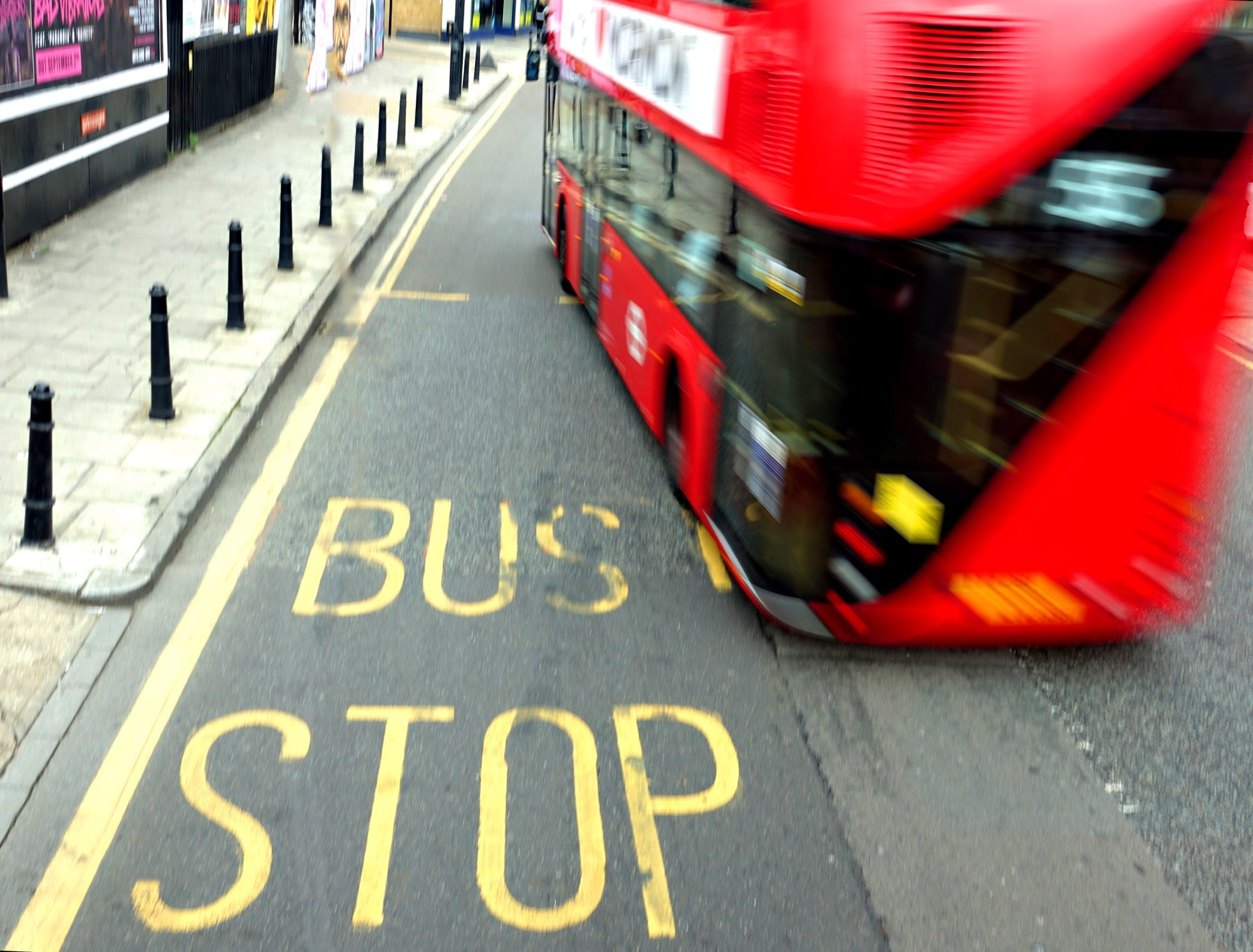 Sony RX10 III at 11.5mm (35mm equiv: 31mm). 1/13-sec., f/9, ISO 64
While in London Jeff and I hopped on a big red bus and sat on the upper level directly above the driver with a huge window in front of us. On our 30-minute ride, I shot an array of images. People on the streets, buildings, etc. This image was captured while we were stopped at a bus stop. I slowed my shutter speed down to 1/13-sec., framed my shot around the painted sign in the roadway and waited in hopes of a second red bus to pass. I got lucky as one went right past us just before our driver pulled away from the curb and continued on our route.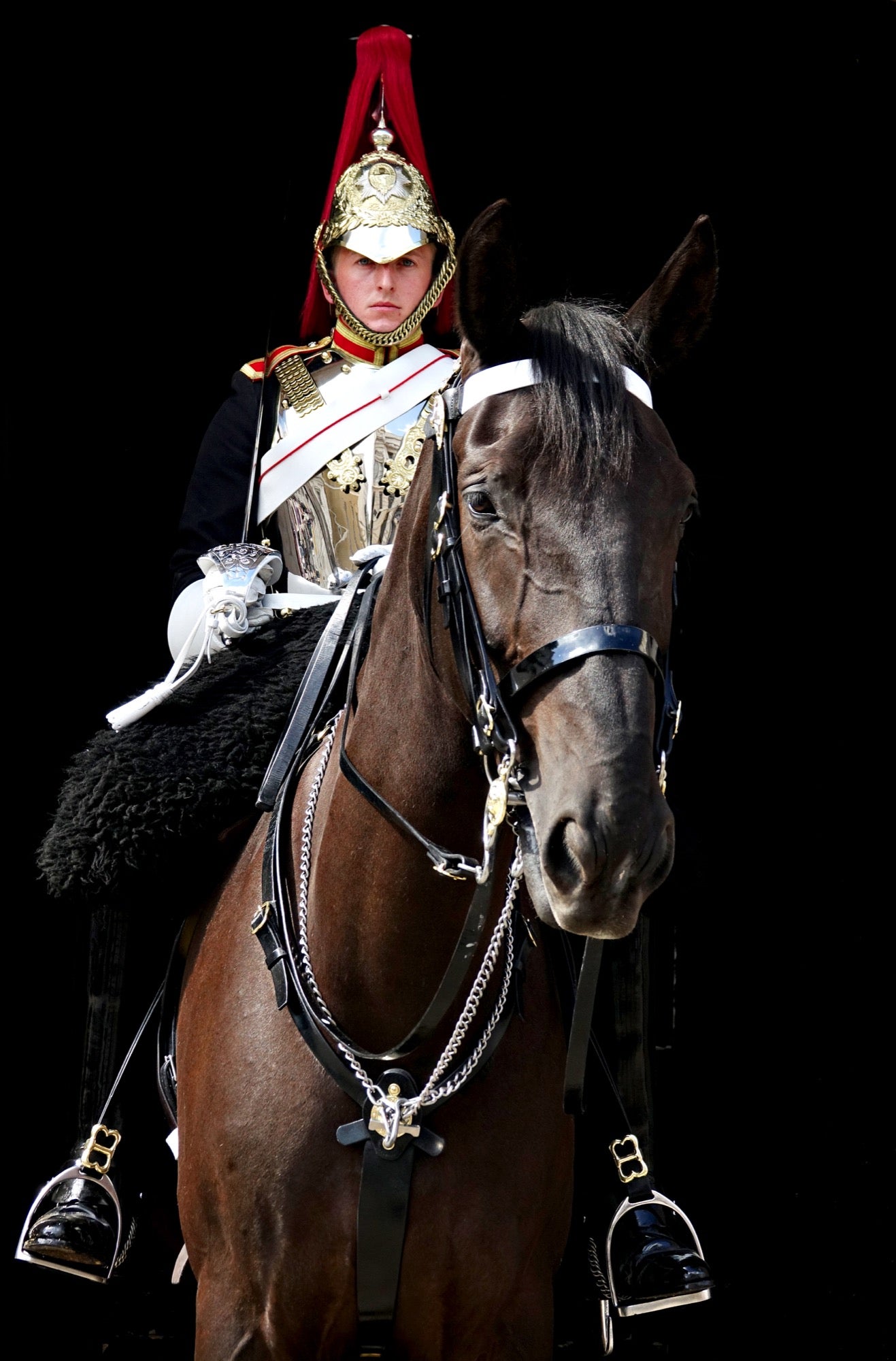 Sony RX10 III at 31mm (35mm equiv: 83mm). 1/640-sec., f/3.5, ISO 160
The Queen's Horsemen. This capture really impressed me. The focus tack-sharp which is impressive considering the short window I had to take this photo. Also, notice the dynamic range from the sunlight on the horse to the shadow to the horseman's face coupled with the brilliant color and rich overall tones which are set off by the dark background. You might think this image was from a highly-produced and lit shoot, but I only had about 5 seconds to grab this shot before everything changed.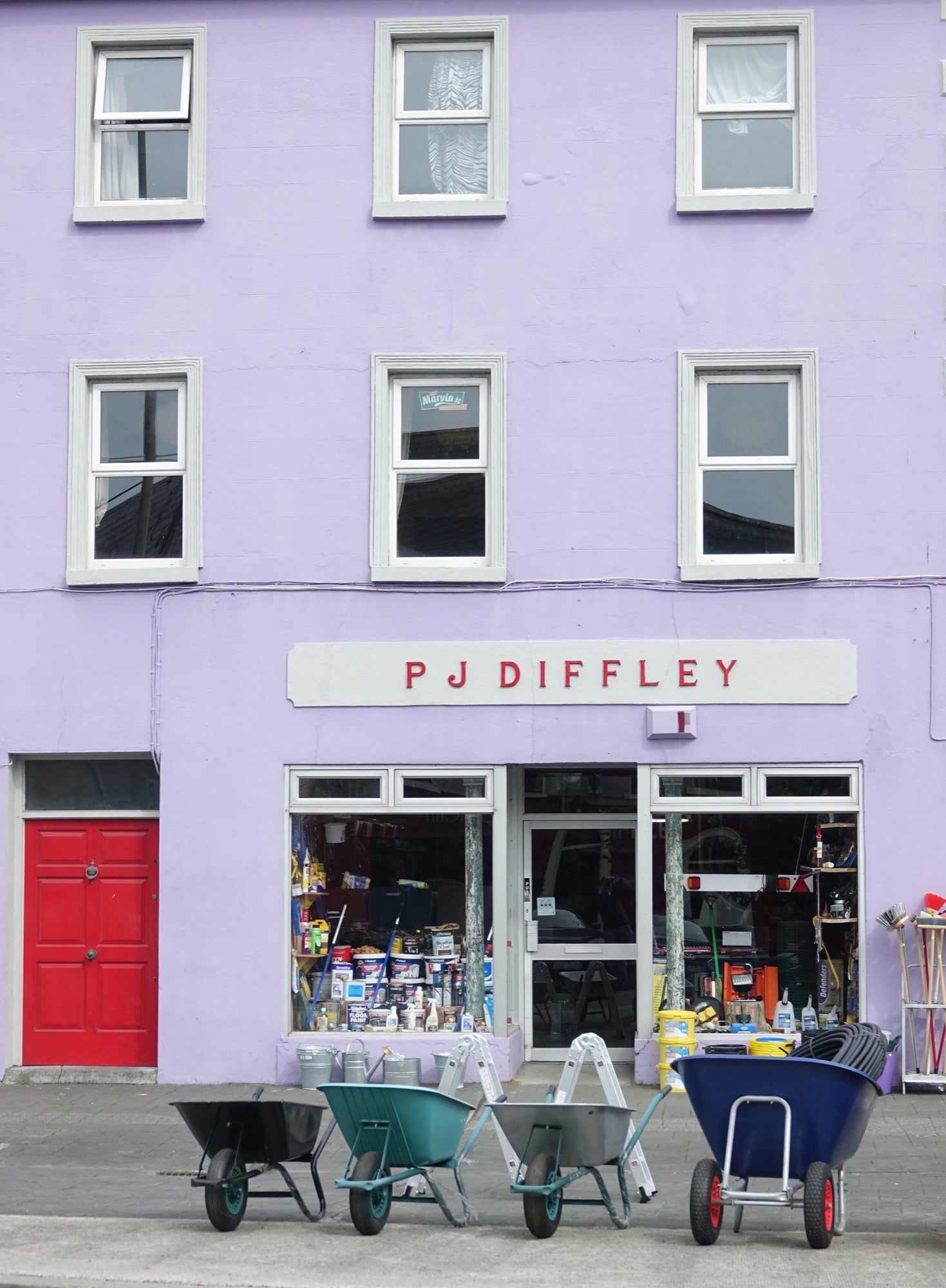 Sony RX10 III at 24mm (35mm equiv: 65mm). 1/1600-sec., f/3.5, ISO 400
The color of this hardware store in Ireland is what drew me to capture this image. Shot from across the street along a busy road, I had to avoid passing cars in order to get my shot. I zoomed in to the point where I was only including the six windows and the red door while making sure to include the four wheelbarrows in my foreground, all while not allowing the buildings on either side to intrude into my frame.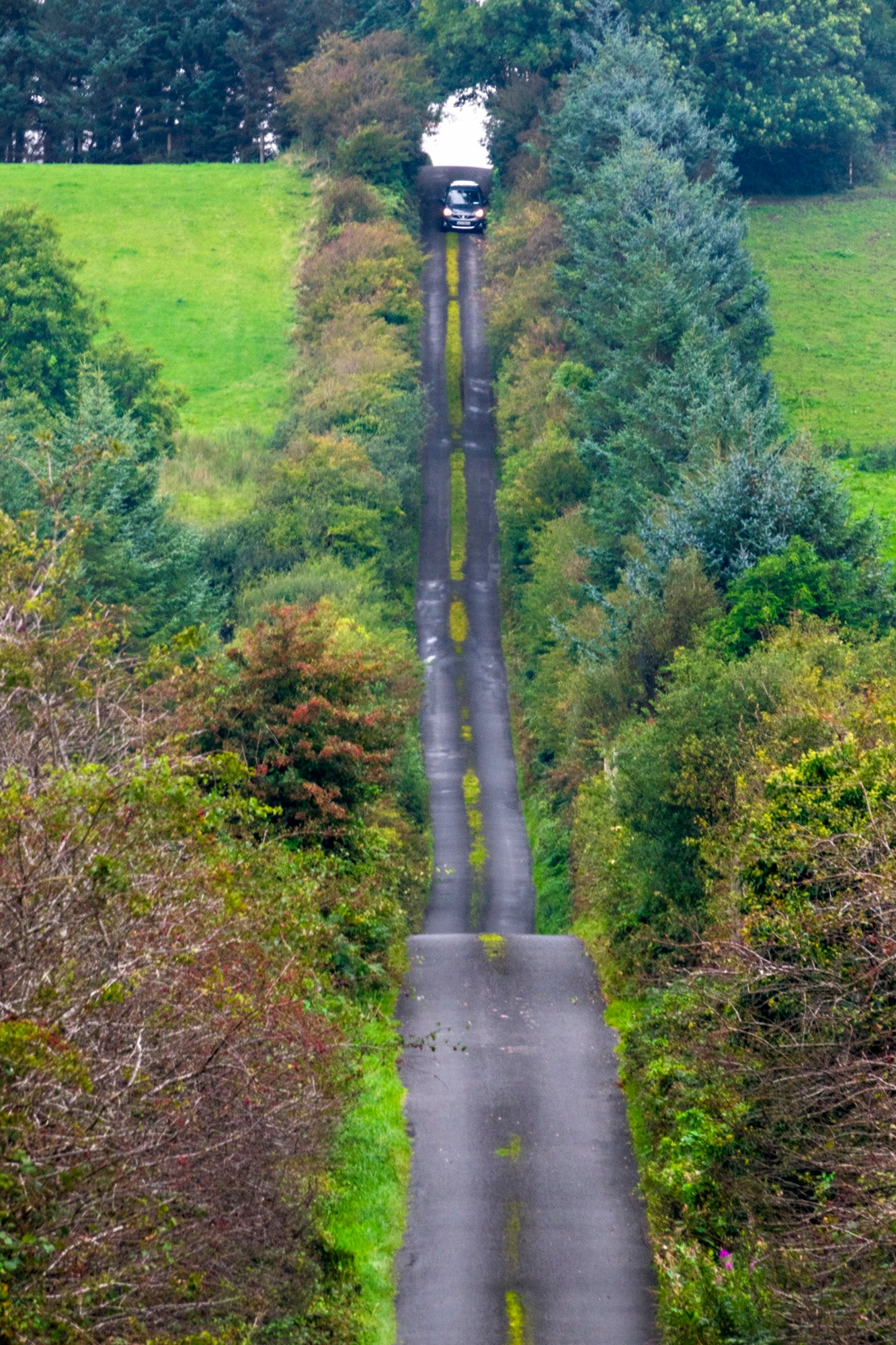 Sony RX10 III at 125mm (35mm equiv: 341mm). 1/25-sec., f/11, ISO 500
Without question, this is my favorite capture from our trip. We were taking in the Irish countryside, following directions north to the Cliffs of Moher and we found ourselves on this narrow country road. We came over a small hill and without hesitation I said "Stop!" We stopped on this one-lane road because the scene simply had to be captured. We must have stood there, stopped in the road, for 5 minutes taking in this view and of course snapping pictures. I shot wide as well as I zoomed in taking advantage of the telephoto compression to make the roadway appear ribbon-like. In my last few frames, the car in the distance crested the hill, adding to the story. We got back in our car and proceeded forward meeting in the middle like two Sneeches in a Dr. Seuss book. What were we going to do? I got out of the car hoping to gain some local Irish wisdom. Ironically, the driver was another American in a rental car following the navigation of their map app. We eventually found a place in the road where we could barely pull far enough to one side with barley three to four inches in-between door handles and passed by one another. We all laughed and came away with a travel story to share.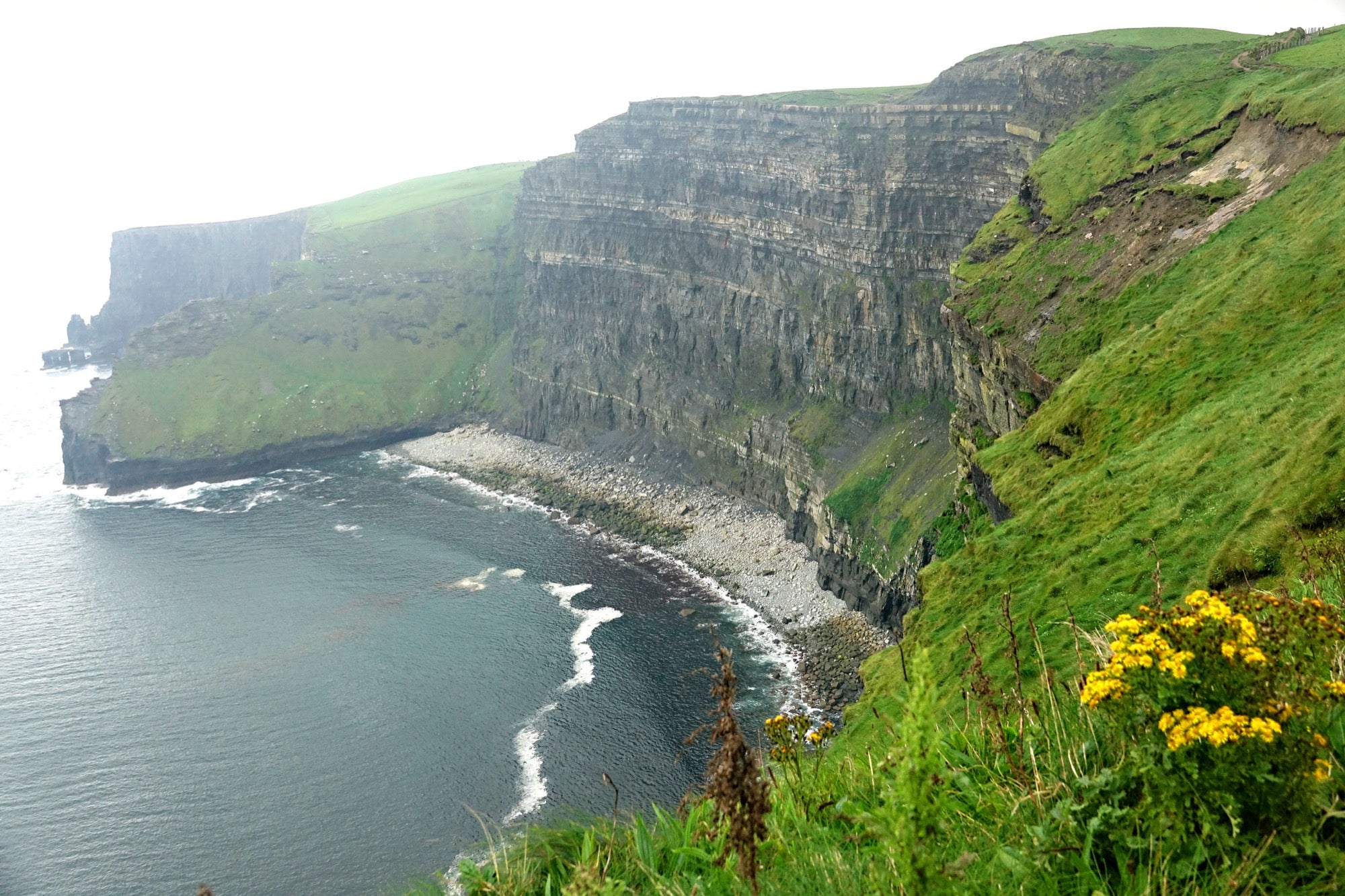 Sony RX10 III at 12mm (35mm equiv: 31mm). 1/500-sec., f/2.8, ISO 500
Speaking of the Cliffs of Moher, I'd better share a shot from there with you. As you can see the wide end of the RX10 III lens can produce spectacular scenic and landscape images, too. The sensors in Sony cameras are the best I have ever seen.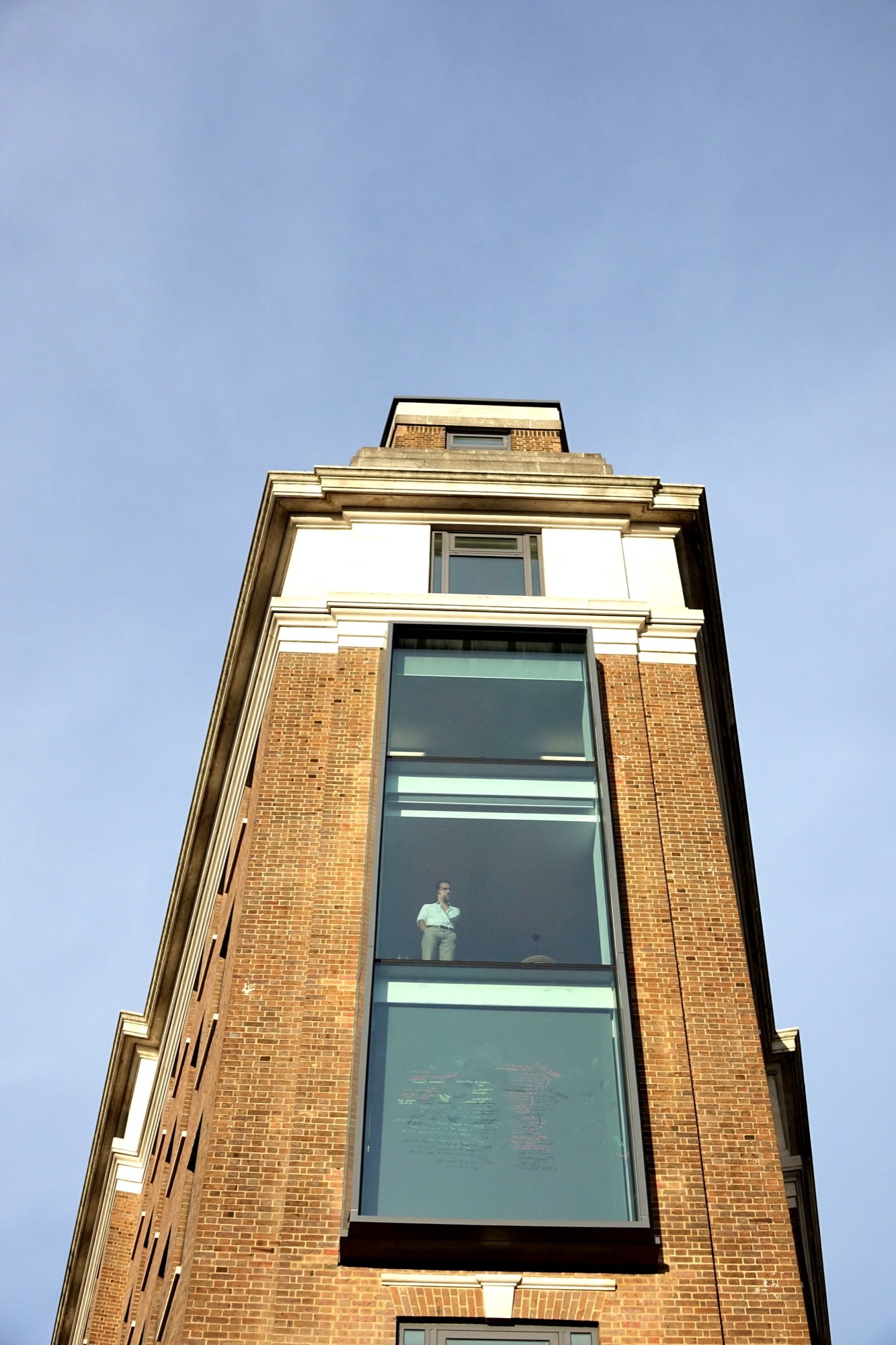 Sony RX10 III at 26mm (35mm equiv: 70mm). 1/4000-sec., f/3.5, ISO 400.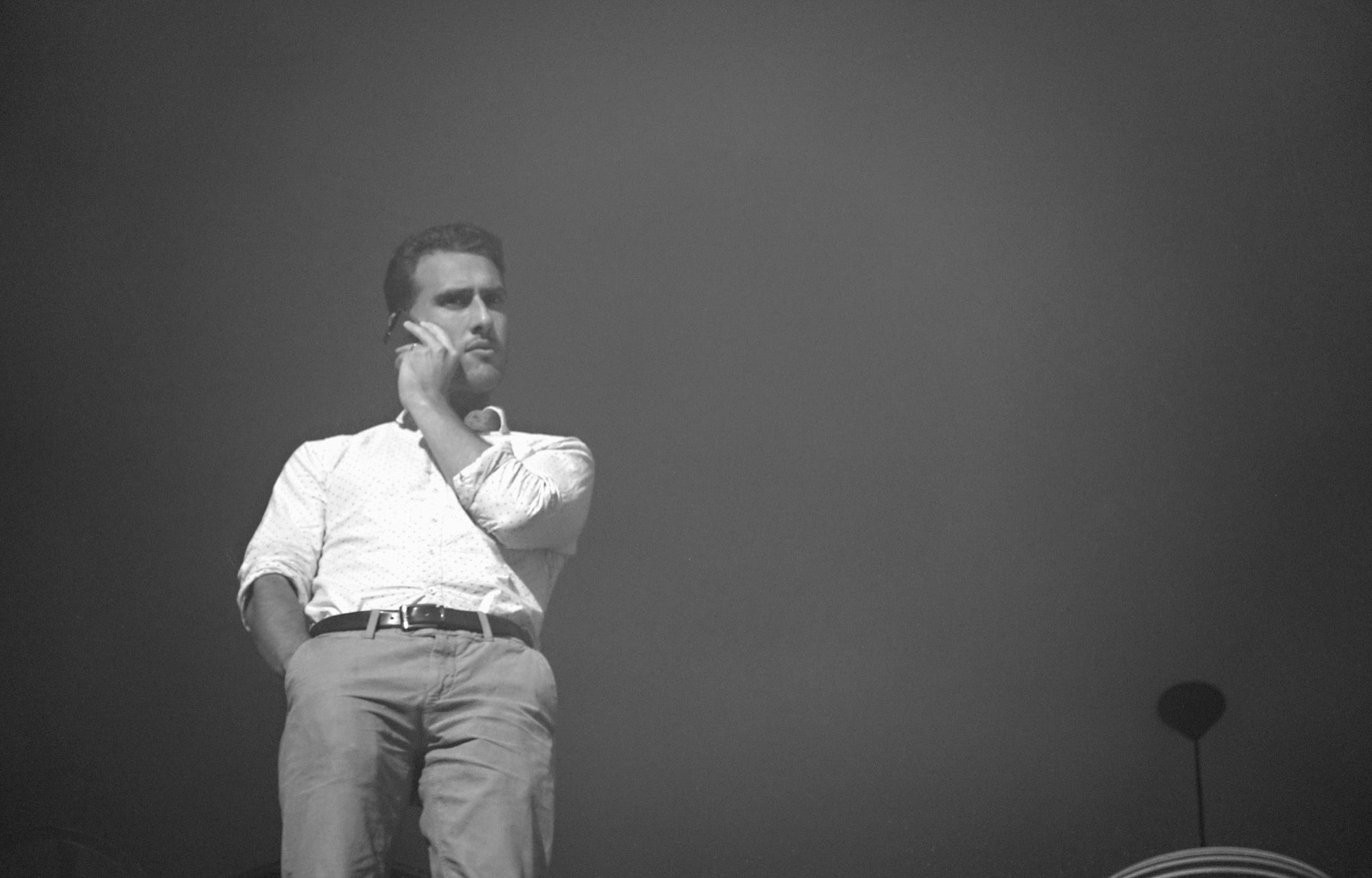 Sony RX10 III at 187mm (35mm equiv: 509mm). 1/3200-sec., f/4.0, ISO 400
These two images show you just how awesome it is to have up to 600mm lens with you at all times. Standing on a street corner I saw this business man in his office with a view high above the sidewalk below. The fist image was shot nearly as wide as the camera would go giving a good perspective of the what my eye saw even before taking a picture. Then I zoomed in and snapped the close up image of the man while he continued to talk on the phone. Pretty impressive.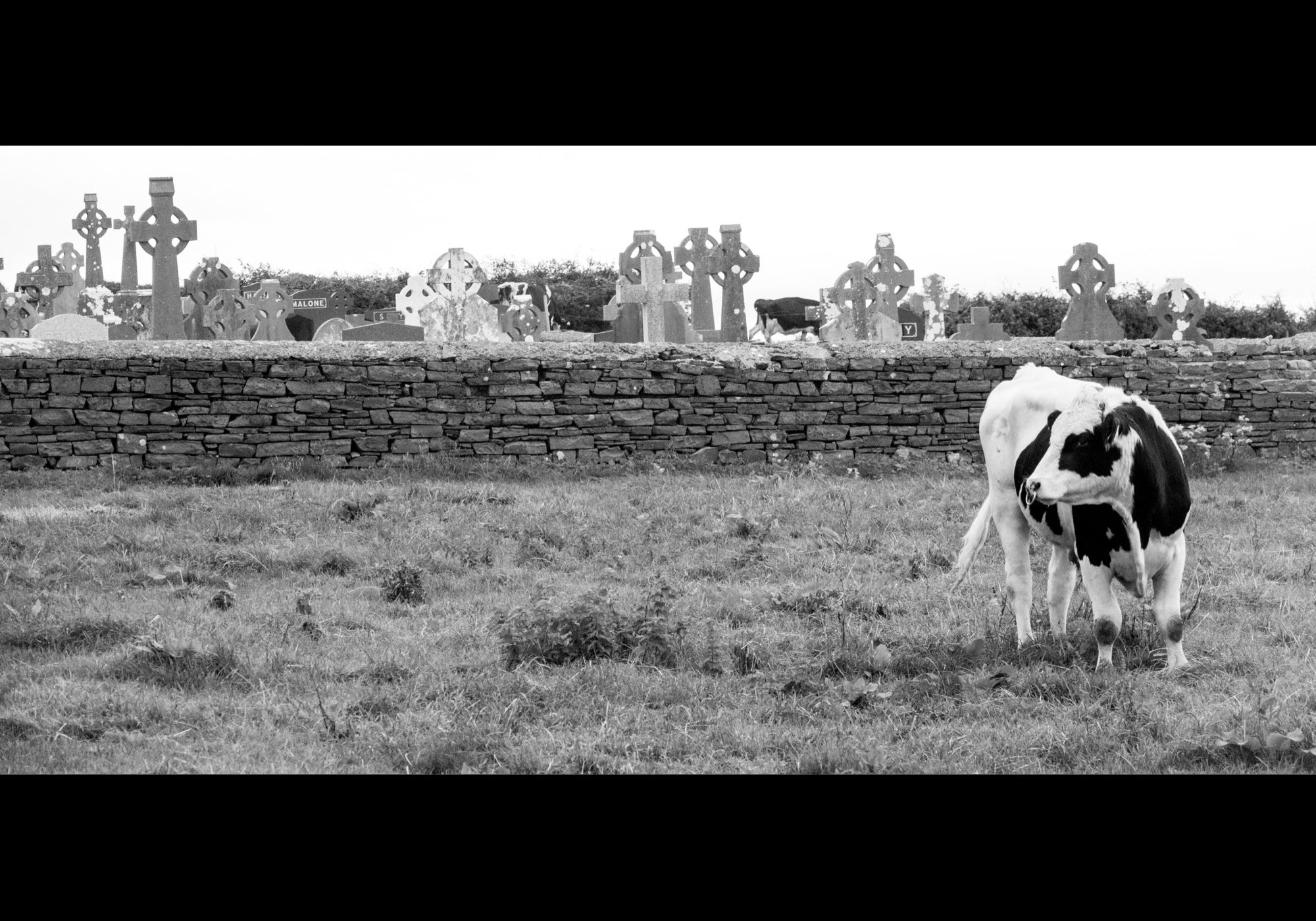 Sony RX10 III at 53mm (35mm equiv: 144mm). 1/80-sec., f/4.0, ISO 1000
What would Ireland be without its cows and sheep? The image of the cow, or bull as I quickly discovered, captured my attention. I love the juxtaposition of the cow in the field to the cemetery behind. My intention was to jump the fence and put what I first thought was a cow, in the foreground and the cemetery in the background. When I saw the ring in the bull's nose and took a gander at his neither region, I quickly changed my mind. I did however do my best to frame the shot like my original concept. What really makes the photo for me is the second cow in the shot (behind the cemetery). Bonus!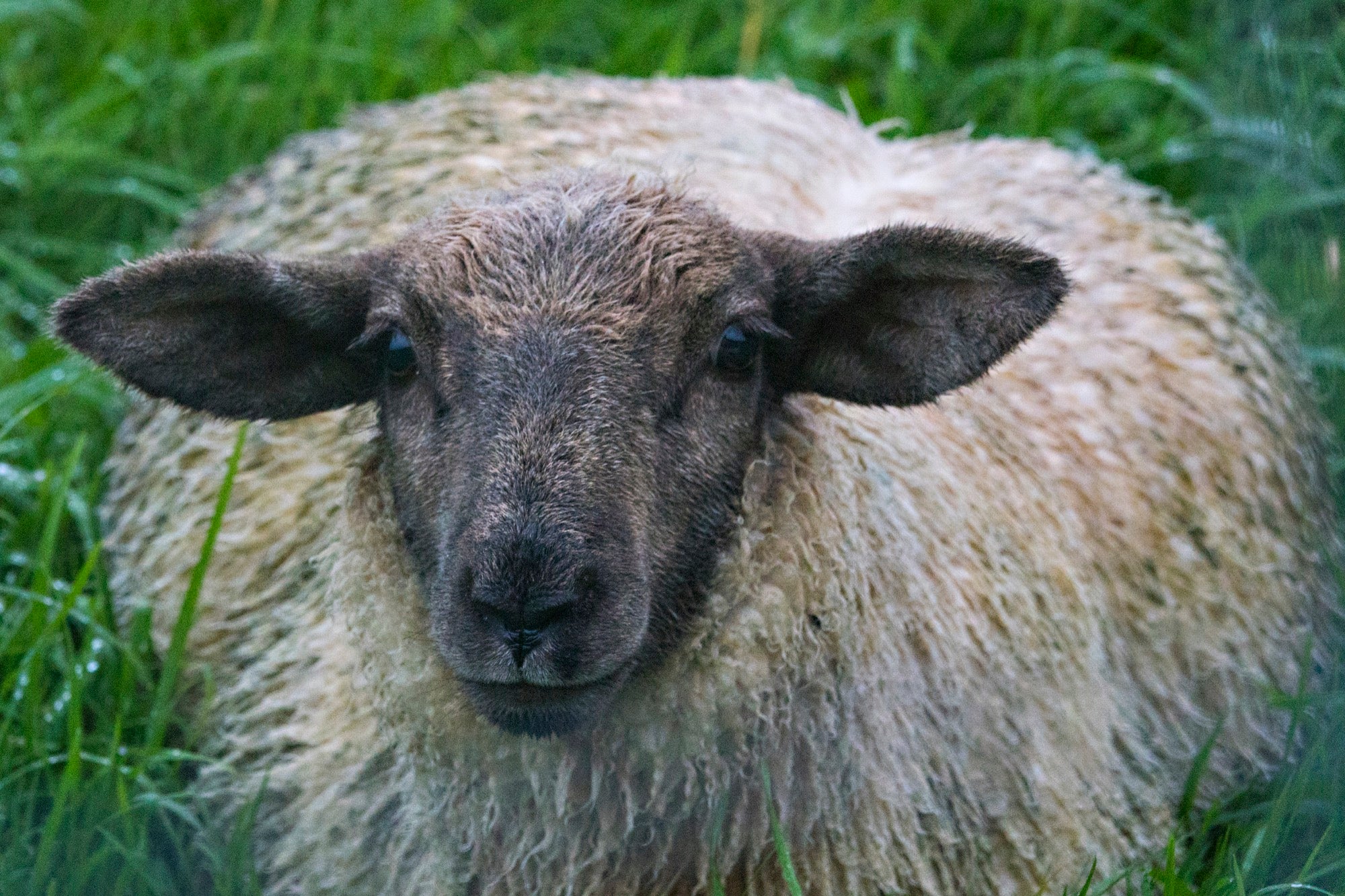 Sony RX10 III at 97mm (35mm equiv: 266mm). 1/160-sec., f/4.0, ISO 1600
Sheep portraiture is a new business idea I'm considering, due to the fact that I really love this image. Again, taking advantage of the RX10 III's focal range allowed me to get my wary friend to cooperate for her impromptu portrait session. The lens on this camera is amazingly sharp!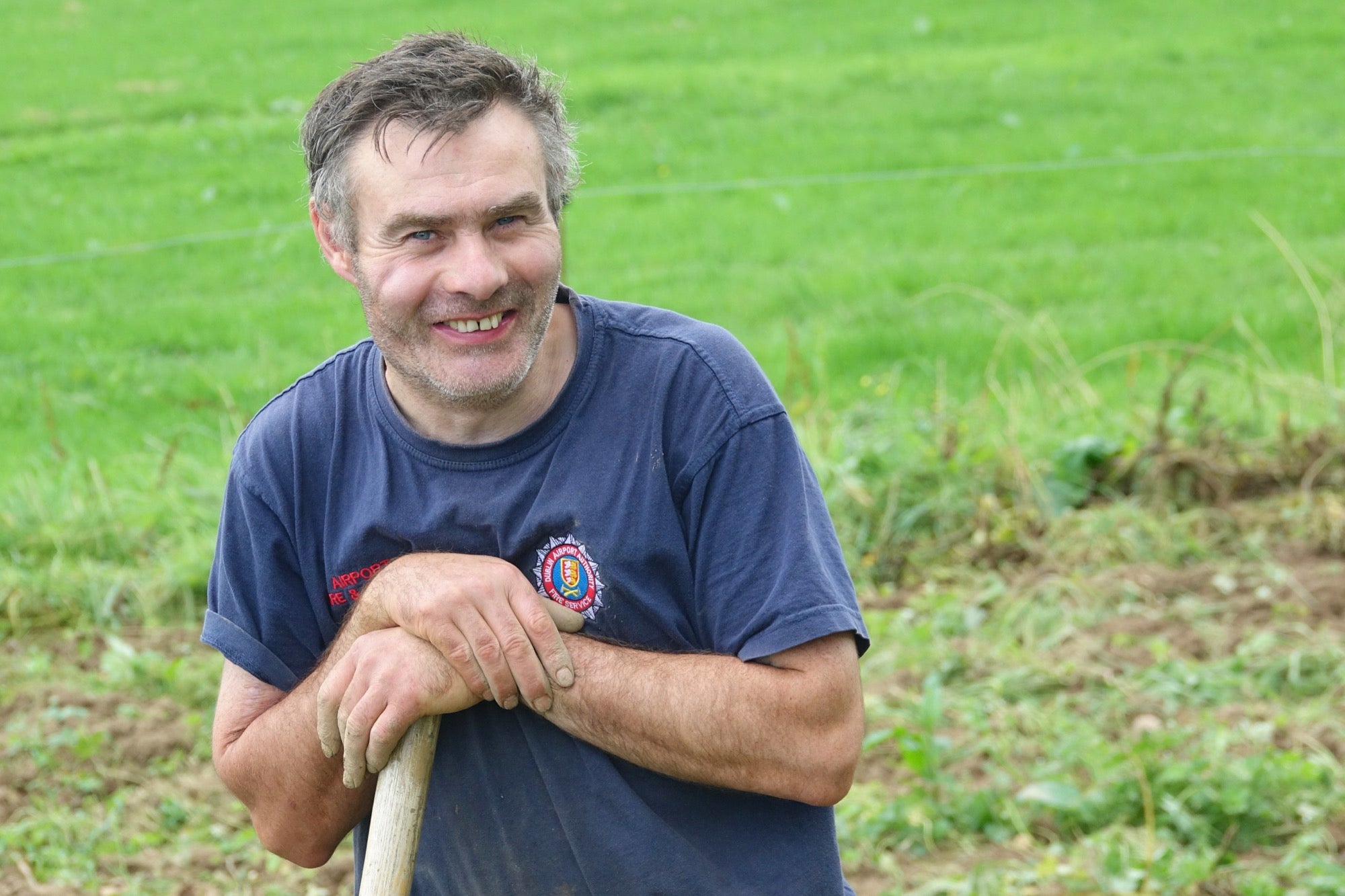 Sony RX10 III at 51mm (35mm equiv: 139mm). 1/400-sec., f/4.0, ISO 400
What would a trip to Ireland be without a spontaneous Irish farmer portrait. I was inspired by Jeff Berlin who did his own portrait session with an Irish dairy farmer and his son the day before I took this photo. My Irish potato farmer was along the side of the road near the B&B we stayed at in Laebasheeda. As we were leaving that morning on our way to Belfast, I saw this man and had to seize my opportunity. This whole thing took no longer than two minutes. I walked up and took a few images of him working and then engaged him in conversation. The smile on his face is common in Ireland because everyone you meet is so nice. Shot at an f4.0 aperture the background is nicely out of focus while the eyes are tack-sharp.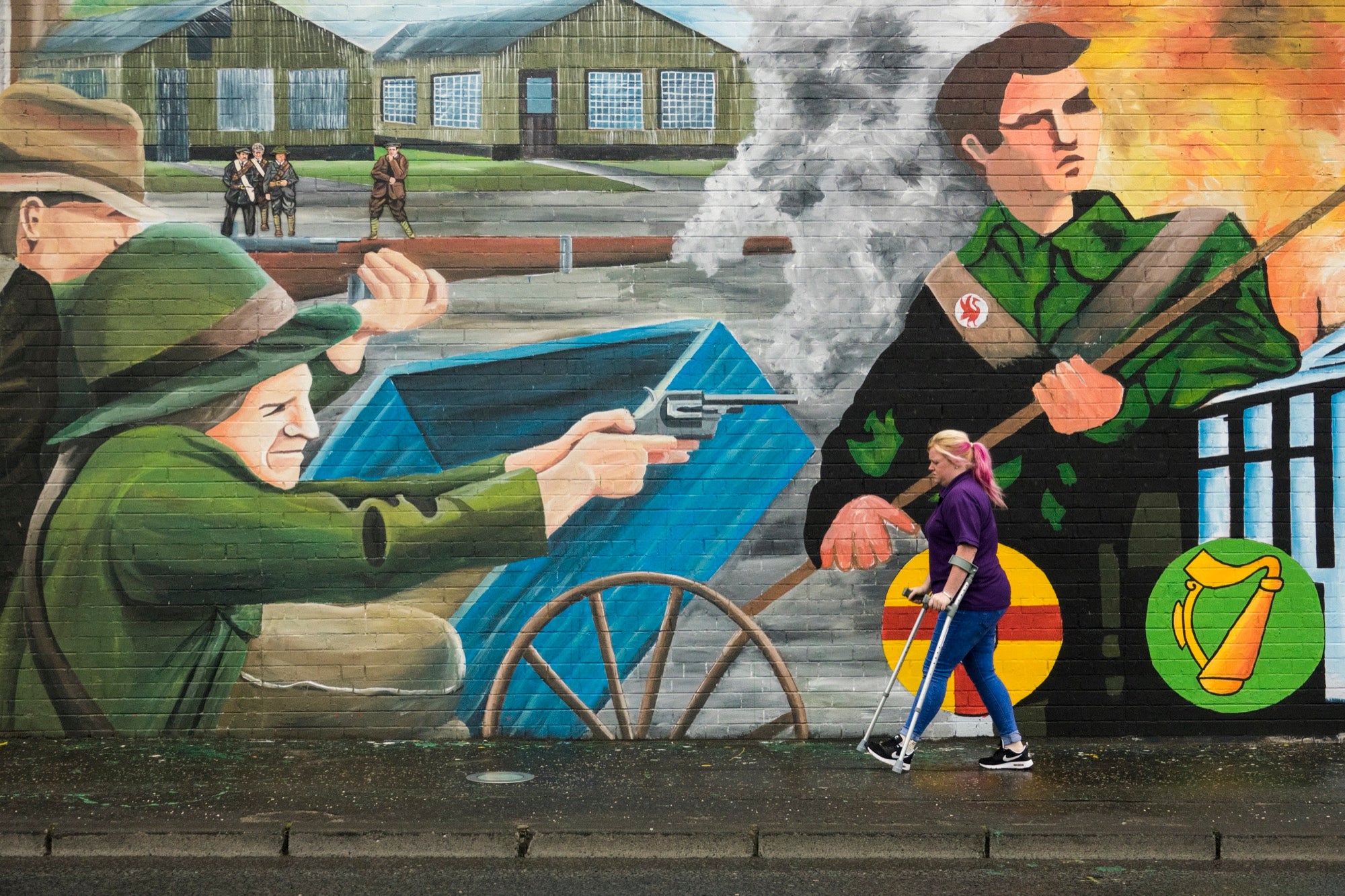 Sony RX10 III at 25mm (35mm equiv: 68mm). 1/1250-sec., f/3.5, ISO 640
This is my favorite image from Belfast because I think it tells the whole story of city that is still recovering from a history that's been marred by violent conflict. Many working-class areas of the city are split into Catholic and Protestant areas. For those of you who haven't been to Belfast, there are murals all over depicting the conflict. I happened to be just across the street from this mural when I saw this woman headed down the sidewalk. I waited for her to arrive in this exact position before taking the picture. They say a picture says 1000 words I think this image might say a few more.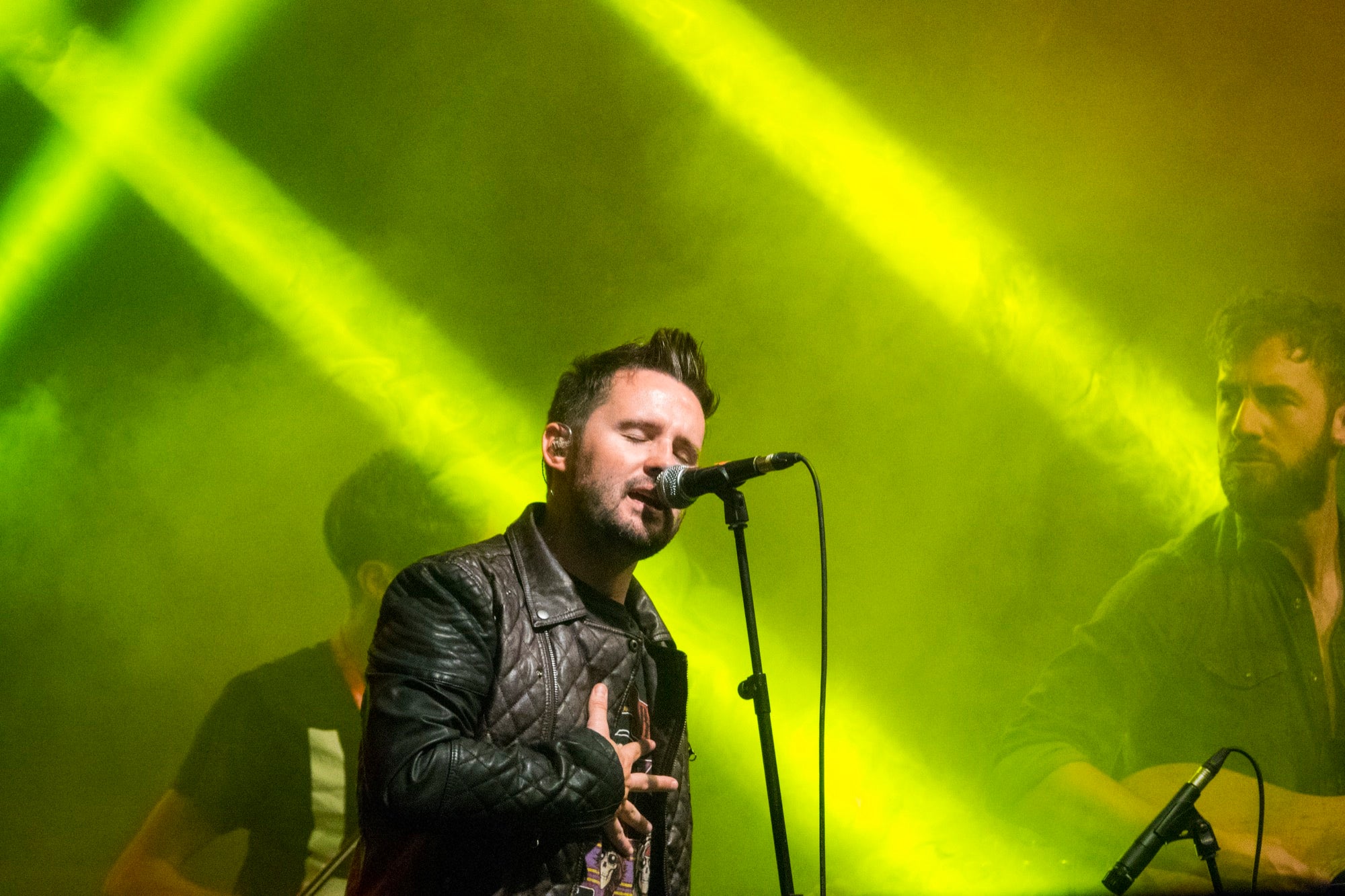 Sony RX10 III at 196mm (35mm equiv: 534mm). 1/250-sec., f/4.0, ISO 4000
I choose this last image to illustrate just how powerful this camera really is and why it's a must-have in my camera bag. You might think I was in the front row or even on stage with this musician, but the truth is I wasn't even at the concert. I was across the street standing on a stoop on the top step shooting over the wall at an outdoor concert venue on the streets of Belfast. Not only do you get the impression I was right there, but the low-light capabilities in this camera and many of my other Sony cameras are second to none. The color is stunning and the ability to shoot an image like this handheld is quite impressive to me. The technology Sony is putting in its cameras are remarkable to say the least.
Of course, I took hundreds of images on my trip and these are just a few I especially wanted to share. I am so excited by this camera. Whatever kind of photography you do, add this bad boy to your collection.
You can follow Robert Evans on Instagram @robertevans.