Back in mid-November, my buddy invited me on a road trip to Oregon along with three other guys on what would be a jam-packed photo adventure over the course of one weekend. After working a half-day on Friday at my regular job, I would meet the group in San Francisco to begin our rapid expedition. The plan was to return by Monday evening and hit as many photogenic spots day and night, with only pit stops for food and a few hours of sleep each night. We knew we couldn't feasibly make it to the well-known natural attractions of Northern Oregon in the matter of a weekend, so we decided to cover as much ground from the southern coast to the middle of the state as we could with what little time we had.
For this trip, I used the Sony α9 and I had the 16-35mm f/2.8 G Master, 24-70mm f/2.8 G Master and the 70-200mm f/2.8 G Master lenses.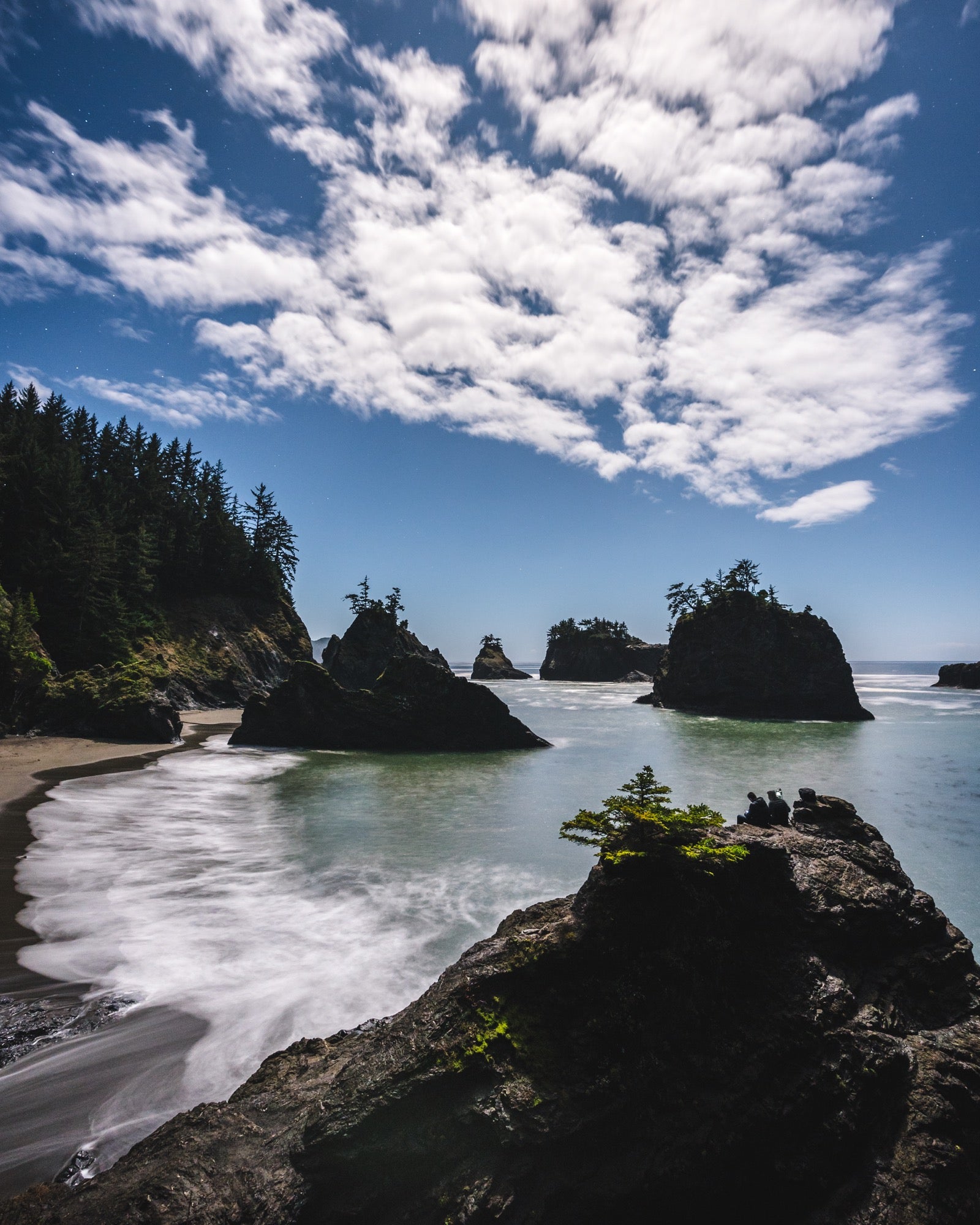 Sony α9. Sony 16-35mm f/2.8 G Master lens at 16mm. 10-seconds, f/4, ISO 1000
We arrived at our first stop of Samuel H. Boardman State Park in Brookings, Oregon around midnight. It was close to a full moon on a mostly clear night and we didn't want to miss such great conditions, so we ended up pulling off to the side of the highway. Just a short walk away was this beautiful scenic coastline.
My friends had made their way onto a rock a good distance from me while the clouds slowly started creeping over us heading back toward the ocean. I set the camera for a 10-second exposure, just hoping my buddies wouldn't move too much and be blurry. It took a few tries, but you can see their silhouettes are pretty sharp so they must have been having a good conversation!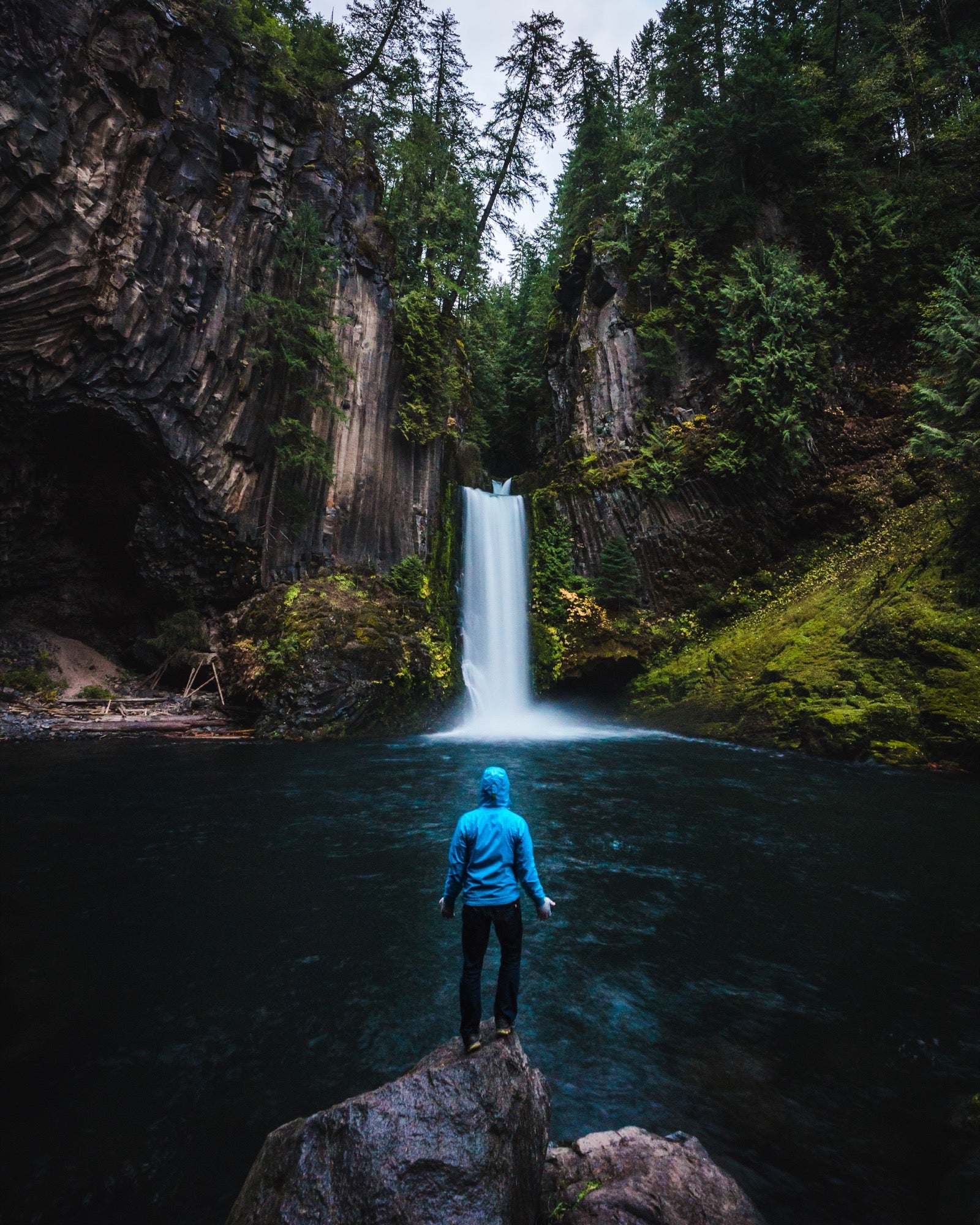 Sony α9. Sony 16-35mm f/2.8 G Master lens at 16mm. 2-seconds, f/6.3, ISO 1000
The next day we headed east and ended up at Toketee Falls just before the sun went down. My buddy Marcus had the brightest-colored jacket and is no stranger to rock climbing, so he volunteered to pose on the ledge. I could tell his feet were in an awkward position that could cause him to move slightly, so the two-second exposure worked well to keep him sharp and also captured the flow of the water.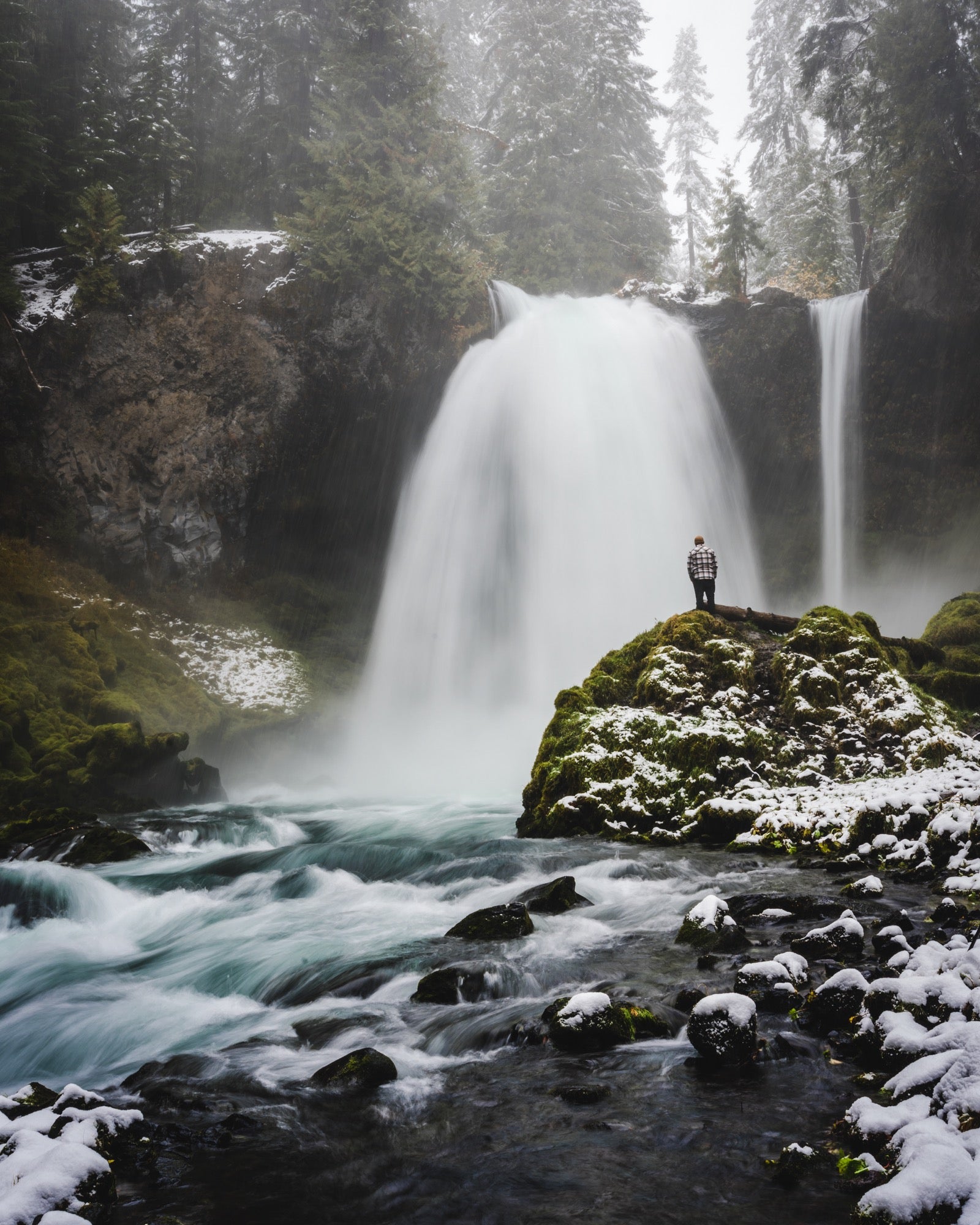 Sony α9. Sony 16-35mm G Master lens at 34mm. 1/3-sec., f/22, ISO 50
This was the most epic stop we made on our trip as we headed to Sahalie Falls on a whim and with no idea that it was snowing pretty heavily there. We could have used the chains in the trunk for the Honda Accord, but still made it safely and were extremely thrilled to see the falls while it was snowing. I remember yelling with excitement as we shot it from above and then eventually made out down to this spot.
One of my friends, Mike, braved the conditions to climb the rock and eventually got drenched by all the cold mist. For this shot, I stopped down the aperture all the way and zoomed in with the wide angle for a tighter crop. My goal was to capture the flow of the water while still being able to see the snow falling, so I exposed for 1/3 of a second on a tripod.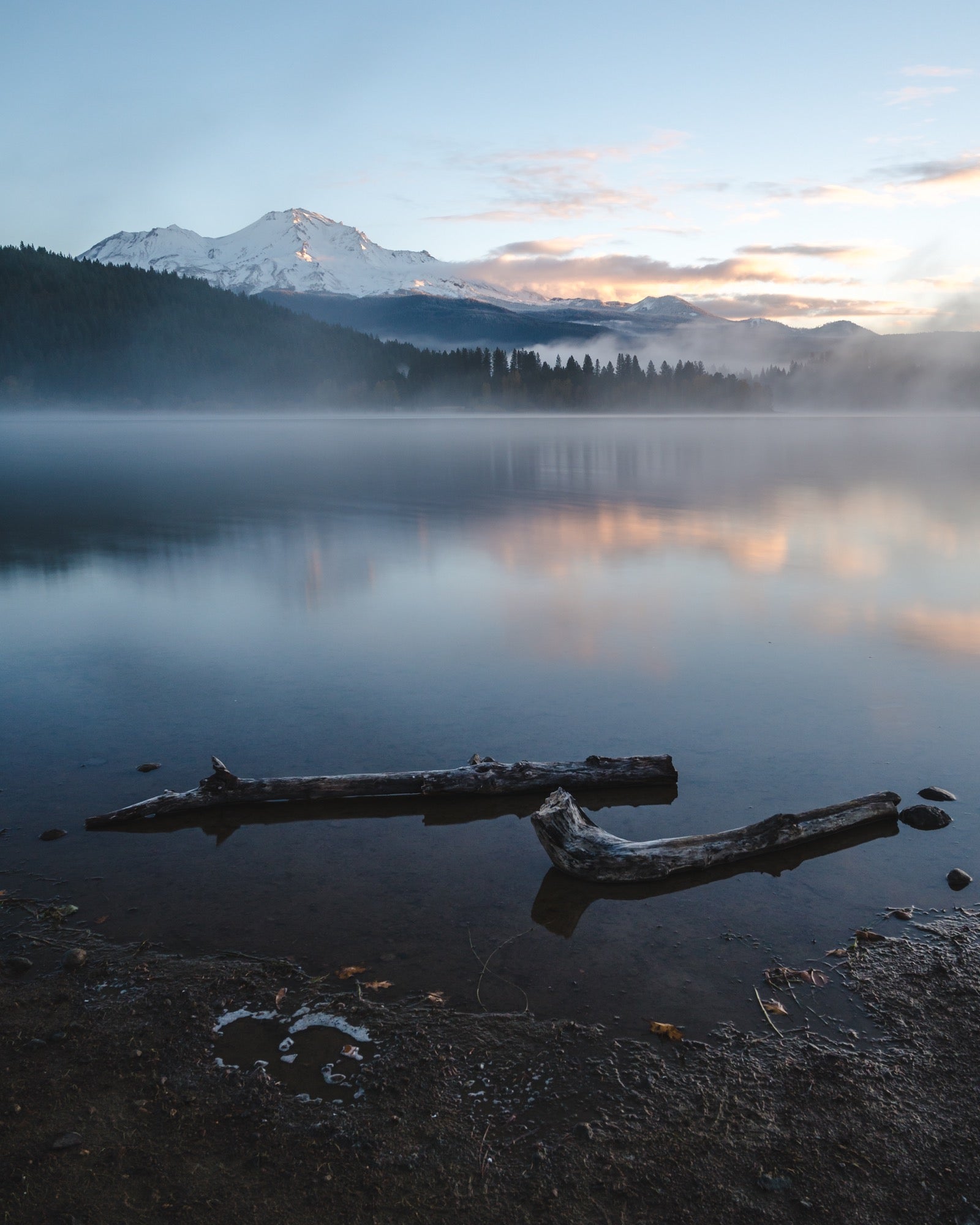 Sony α9. Sony 24-70mm G Master lens at 24mm. 13-seconds, f/9, ISO 320
We made our way back into California on the trek home with the plan of stopping in Dunsmir for the night and shooting Mount Shasta at sunrise. It was a cold morning at Lake Siskiyou and I used an inexpensive, screw-on 10-stop ND filter to make the calm water appear smooth. The sky didn't explode with color, but we were lucky enough to get some warmth on the clouds hovering closer to the mountain. These two logs were sitting in the water and we didn't even need to pose them for the shot!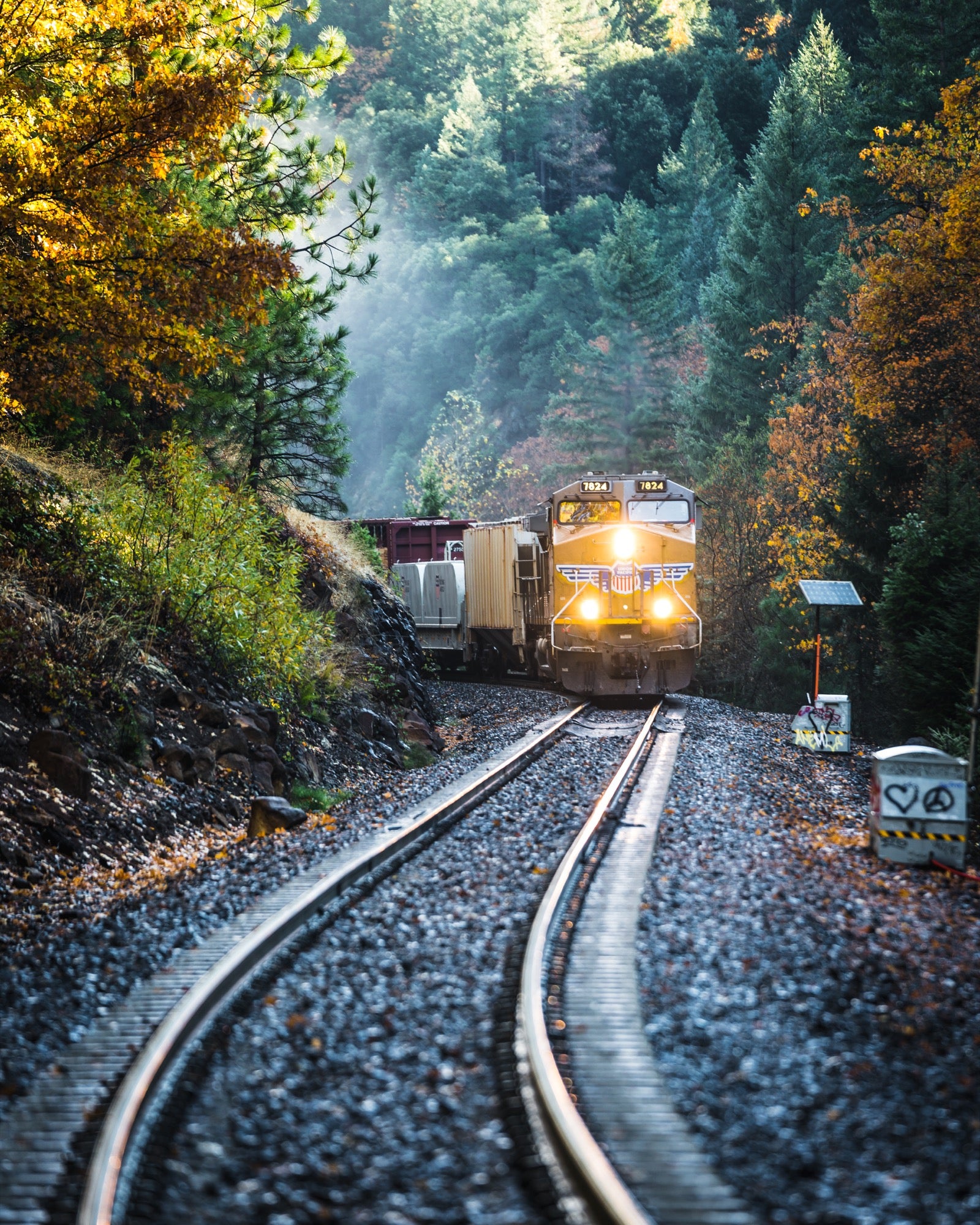 Sony α9. Sony 70-200mm f/2.8 G Master lens at 200mm. 1/160-sec., f/2.8, ISO 250
The trip would not have been complete without a stop at Mossbrae Falls and a hike along the train tracks to get there. Always be careful while hiking along any active railroads, as we saw two trains go by us on our walk to the falls. The train in this photo happened to be stopped when we first saw it and I snapped this photo fully zoomed in on the 70-200mm GM lens. My goal was to use the f/2.8 and focus on the front of the train to blur out the tracks in the foreground.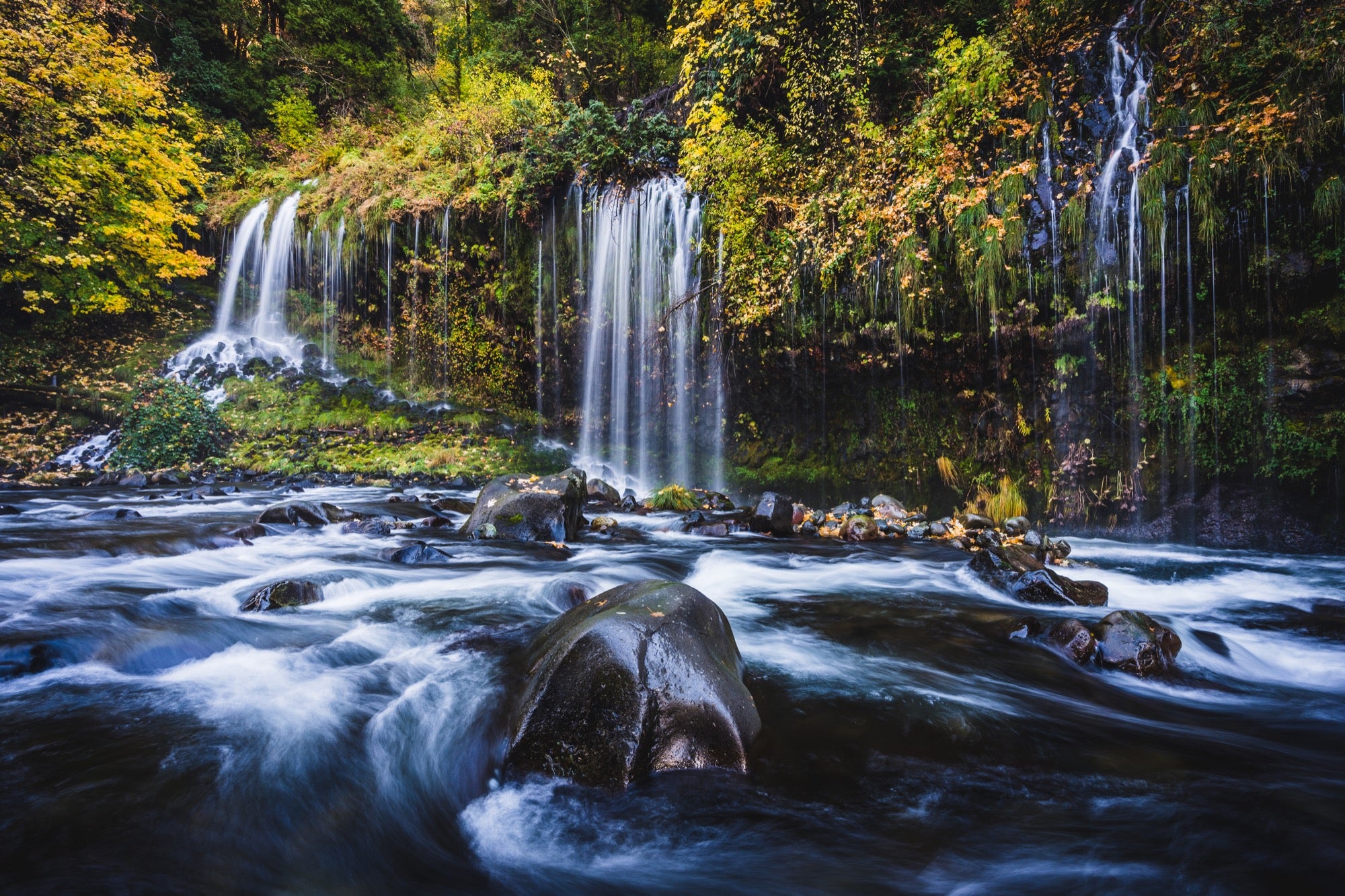 Sony α9. Sony 16-35mm f/2.8 G Master lens at 16mm. ½-sec., f/16, ISO 200
There were still fall colors and plenty of water making its way downstream at this scenic spot. It was early morning when we got there and the sun hadn't made its way over the trees, so it was dark enough for a half-second exposure on a tripod. The vibrant yellow leaves really stood out and it made for a great last stop on what was an immensely fun and efficient trip to Oregon and back.
While we weren't at parks that one usually thinks of as major photo destinations, these smaller and lesser-traveled parks in Oregon provided more than we could have asked for during such a time-constrained trip. Sometimes you just have to look outside of the ordinary, popular attractions and find the lesser-known scenic wonders of the world to explore. You have to do what you can, where you can, with the time that you have. No matter what, don't let your location or availability inhibit your desire to get out and take beautiful photos!
Andrew Eggers is part of the Alpha Imaging Collective. You can follow him on Instagram @andreweggers