Brothers Boris and Sandro Erceg post dreamy cityscapes and urban environments to their popular Instagram account @brotherside. Using their Sony Alpha cameras and lenses, they uniquely capture the light, water and architecture of each city they are photographing. We talked with them to learn more about the gear they both carry around to create such beautiful images that have gained a following on social media.
We've used this camera in a wide variety of situations and we'd be hard pressed to find any major flaws in its performance.
We are Boris (29) and Sandro Erceg (32), photographers and videographers originally from Croatia, currently based in Hamburg, Germany, where we also work as research scientists on the design of arctic icebreaking ships. Our main artistic focuses are cityscapes and urban environments. We find inspiration in natural light, water, architecture and people that shape the city. We love to utilize the soft morning and evening light and shoot at lower shutter speeds, often using ND filters to create daytime long exposures.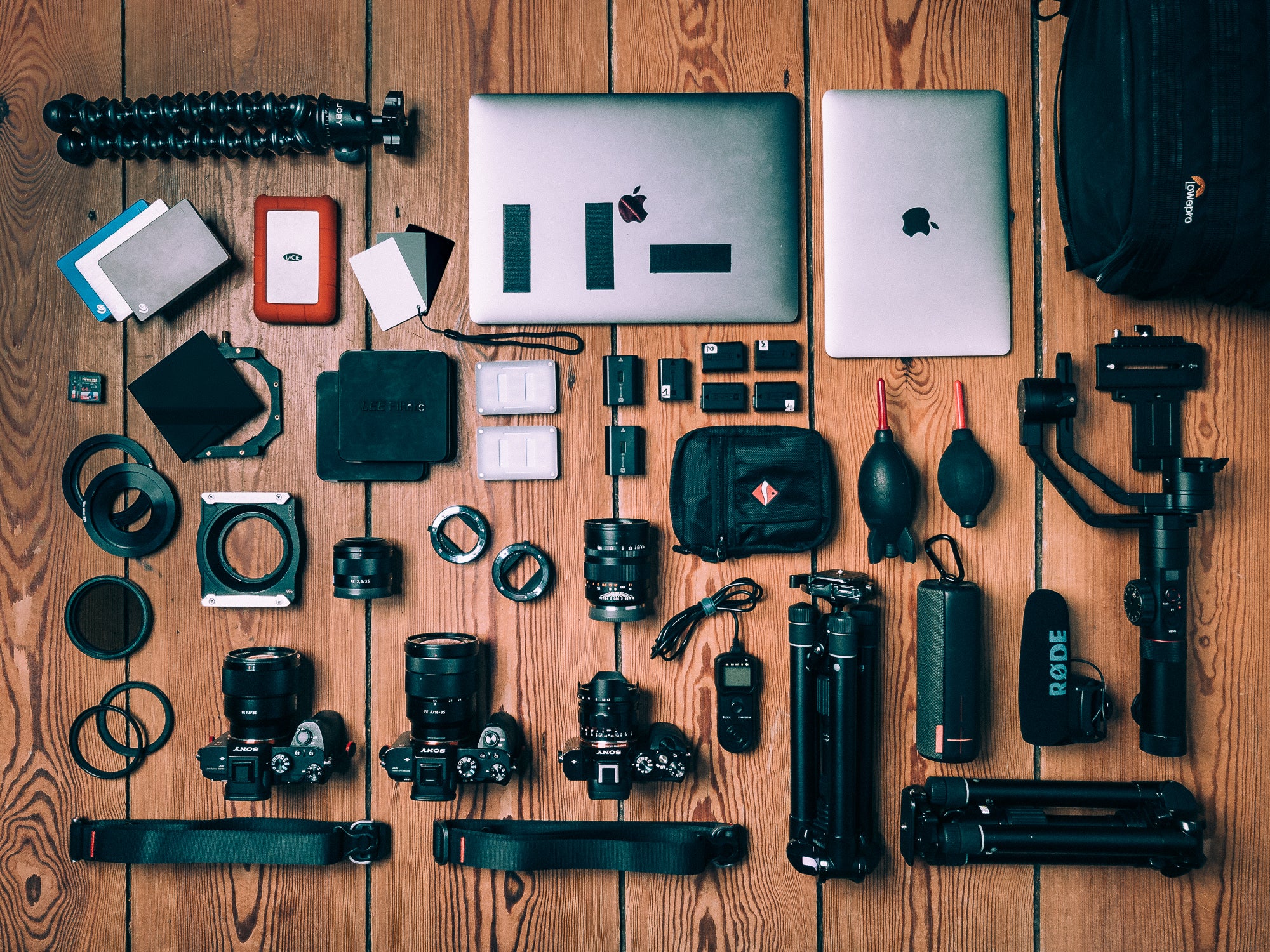 Of course, as colleagues and brothers, we share all our equipment, so this list covers both of our bags.
Cameras
Sony α7 III: Our primary photo and video camera. With 24 megapixels it has enough resolution for larger prints, and it allows filming in Super 35 mode, which basically means increasing the focal length without compromising the quality. It is also a great low-light performer. The eye autofocus is phenomenal and the new Z battery is a significant improvement. We've used this camera in a wide variety of situations and we'd be hard pressed to find any major flaws in its performance. In our opinion, the α7 III is currently the best value for money photo+video camera on the market.
Sony α7S II: The first Sony camera we owned. Despite being a generation behind, it is still a brilliant video camera with ridiculous low-light performance. On the downside, the 12-megapixel sensor often doesn't offer enough resolution for photography and the ergonomics could be better. Other than for video, we use α7S II for timelapses and hyperlapses due to the smallest raw file sizes of all cameras we own.
Sony α7R: We have taken some of our favorite photographs with this camera, but as we started flirting more with video, the α7 III took its place, and these days we use our α7R only if high-resolution photographs are required by the client. Additionally, we use it in our commercial work to produce ultrahigh-resolution photographs by stacking multiple images in Photoshop.
Lenses
Sony 16-35mm f/4: Our most reliable and heavily used lens, ranging from architecture photos to food videos. We bought it with the idea of eventually upgrading to the G-Master, but its robustness, built, and image quality across the board haven't really given us a valid reason for it. Sure, the extra aperture stop would sometimes be nice to have, but for the price, this lens is a steal.
Sony 85mm f/1.8: I don't even know where to start. Sharp, fast autofocus, lightweight, inexpensive… — it has quickly become our favorite lens. Obviously, this is an amazing portrait lens (especially combined with the α7 III's eye autofocus), but we also utilize it for details and close-ups in our video work.
Sony 35mm f/2.8: Our first Sony lens and still one of our favorites. Being so small and lightweight, and in combination with silent shooting mode, this lens is ideal for street photography and street contextual portraits, as well as for travel in general.
Voigtländer 15mm f/4.5 Super Wide Heliar III: An extremely small manual focus prime, super sharp across the frame. Due to its asphericality, it is ideal for architecture and real estate photography. This lens, paired with our α7R, is responsible for some of our best architecture imagery.
Zhongyi Mitakon 50mm f/0.95: A special lens for special occasions. Shooting with it outside controlled environments can get quite difficult, so we mostly use it for studio portraits and product shots. Some photographers argue that using this lens at any aperture smaller than f/0.95 doesn't really justify the investment, but we love its beautiful creamy bokeh at any aperture. Oh, and it also weighs like a tank.
Accessories
Velbon UT53D: We shoot a lot of long exposures, so a sturdy tripod is a must. I don't really know how we stumbled upon these tripods, but they have never let us down.
LeeFilters Big Stopper (10-stop ND filter): We like everything about these filters except for their price. We use them mainly in our daytime long exposure photography to blur out people and vehicles and capture water and cloud movement.
JJC TM-F2 Intervalometer: A simple device that enables to set timer delays, exposure times, and intervals. A must-have for shooting long exposures over 30 seconds, as well as timelapses, or if you just want people to think that you know what you're doing. We bought these more than 3 years ago and changed the batteries for the first time only a month ago.
Joby GorillaPod: A small tripod for places that our main tripods can't reach.
Peak Design Slide Lite Camera Straps: An outstandingly designed camera strap that can be worn around the neck, as a shoulder strap, or as a sling. In addition to quick camera access and a fast mounting system, its ergonomics make long days of shooting much more bearable. We only wish that we had bought them earlier.
LowePro ProTactic 450 AW backpack - these backpacks are robust, comfortable, and large enough to fit all our gear and clothes when traveling. They have a bunch of dividers and modular accessories which makes it super easy to organize stuff exactly how we want it.
64 & 128 GB Extreme Pro SD Cards: Fast and reliable. Hope that doesn't change.
Lacie & SeaGate Hard Drives: Same.
MacBook Pro 15": No matter how much we despise its price, the MacBook Pro has continuously proven to be faster and more reliable for editing than our (equally strong) Windows machine, especially with 4k video.
When traveling, we also use the ultra-light and portable MacBook 12" as a secondary machine.
Additional Video Gear
Tiffen Variable ND filter: A must-have item for video work. It allows us to film at wider apertures in bright conditions, while maintaining the shutter speed at 1/50, 1/100, or 1/200-sec, depending on the frame rate we shoot in.
Zhiyun Crane 2: A great addition to our video work. One huge downside of using this otherwise great gimbal with Sony cameras is the incapability of using its Follow Focus function, which we can only hope will be resolved in the near future.
Røde VideoMic Pro Rycote: Just a great shotgun microphone that we unfortunately still sometimes forget to turn on while recording.
Aputure AL-M9 portable LED light: Versatile, rechargeable, and pocket-sized, it is ideal as a fill or rim light, or to light small shooting environments.
Macro extension tubes: A cheap way to turn any lens into a macro lens.
Non-Technical Equipment
Animal food: Hamburg is full of photogenic squirrels so we always have a bag of nuts ready. Also, we love the dramatic city feel that pigeons add to the shot, so we carry bird food too.
Bluetooth speaker: A perfect addition for portrait shoots and our photowalks. Germans are usually reserved in the beginning, so music (and beer) helps out to break the ice.
Padlock: You can never rely on a hostel to have a padlock.
See more of Boris & Sandro Erceg's work at brotherside.com and on Instagram @brotherside.