Sony Alpha Imaging Collective member Charly Savely (@charlysavely) creates dreamy and moody wildlife, portrait and travel photographs. With 10+ years experience in photography, styling, creative direction, graphic design and social media, Charly has become a jack-of-all-trades, able to adapt to most creative situations. The current creative situation being the #AICdoesNewZealand trip with the #AlphaCollective, where she's exploring the diverse natural beauty of the country and documenting it along the way. We reached out to find out more about the gear she's using to create her work and why she chooses Sony Alpha mirrorless cameras and lenses.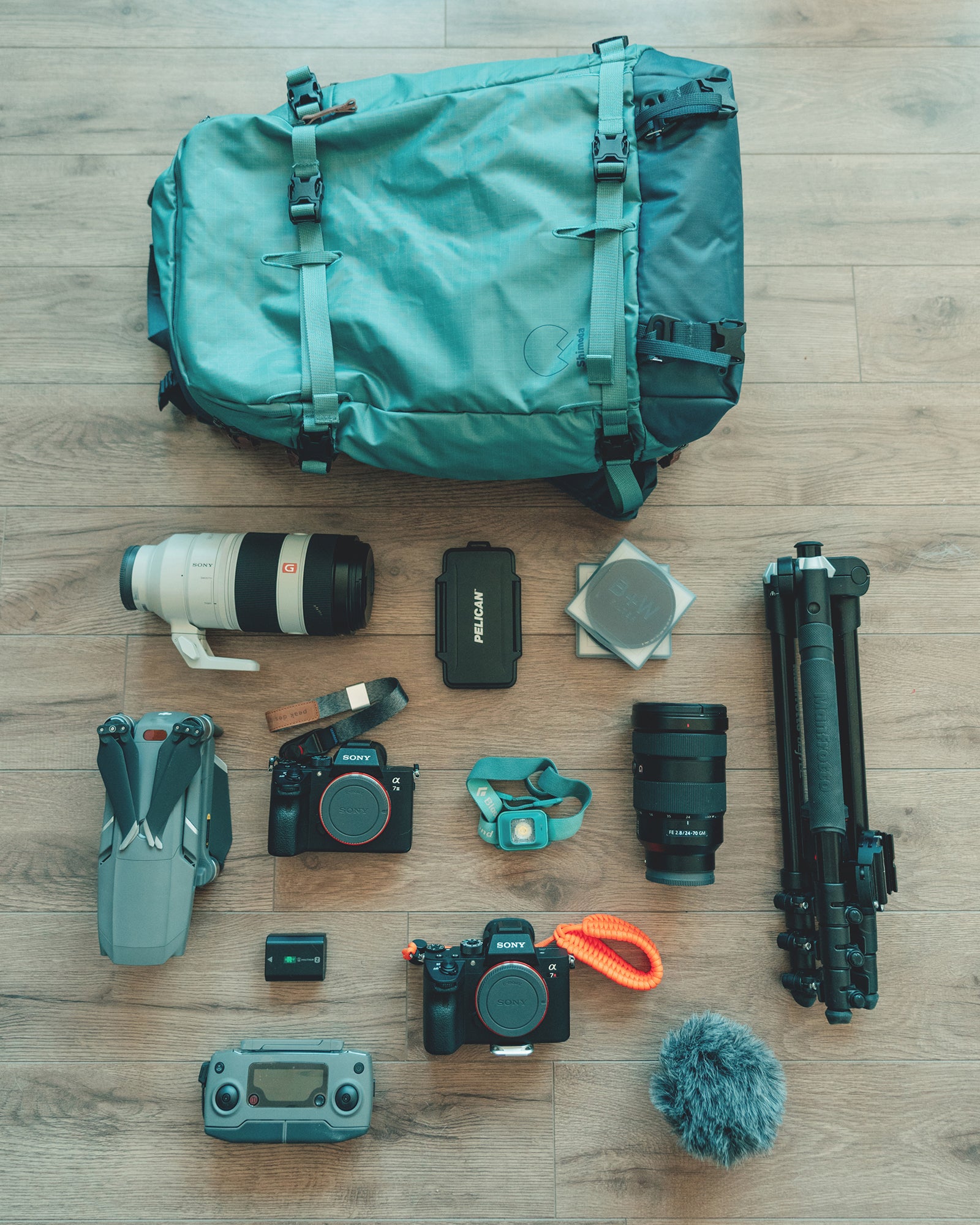 Cameras
I switched from Canon to Sony in 2017 and I'm SO glad I did. The cameras fit great in my small hands and are lightweight for hiking. I'm in love with the focusing! With human and animal eye focus, I can shoot portraits and wildlife at f/1.4 and never miss focus.
Sony α7R III: What I love about the α7R III is the resolution. I tend to crop in on many of my images, and the high resolution of this camera helps to keep the image quality and is great for printing.
Sony α7 III: I also swear by the α7 III. For what this camera can do, it's extremely worth the price. It's on par with the α7R III in many ways – I'd even say it's even a bit faster and can handle low light better.
Lenses
Sony 24-70mm f/2.8 G Master: This is my go-to-lens. It's the perfect lens for hiking and longer adventures. Sometimes, it's the only lens in my bag, since I don't like carrying loads of lenses. You can get a nice wide shot and a decent zoom all in one lens. I primarily shoot on f/2.8 to get that dreamy effect and it's still unbelievably sharp.
Sony 100-400mm f/4.5-5.6 G Master: This is my secret weapon. I'm obsessed with it. I love that I can get a different or minimalistic perspective by zooming in and cropping out mess. It's great for mountain tops and wildlife. Even though it's f/4.5-5.6, I still get tons of bokeh and compression.
Wish List: I'm actually a big fan of primes, even though I sadly don't own any right now. While they aren't as good for hiking or long adventures because of their weight, I love how sharp they are. My next lenses I'm dreaming of are the Sony 135mm f/1.8 GM and 24mm f/1.4 GM.
Accessories
Shimoda Camera Bag: I swear by this camera bag. I've really struggled to find one that I can wear all day and not be crippled in pain at the end. It even has customizable straps built for petite women!
Pelican Memory Case and Memory Cards: I believe this little case is waterproof which is always a massive plus. It's super efficient for carrying all my extra memory cards with me. I use the Sony TOUGH memory cards. They're fast and there's no way they're going to break.
DJI Mavic Pro 2 Drone: My new best friend. I'm not very good at flying right now, but I'm loving the unique angles it brings and am always enjoying learning and improving.
ND Filter and Polarizer: Pretty straight forward, I used black and white NDs if I need to do long exposures during the day, which I rarely do. Polarizers also act as a second lens cap, helping to avoid water and glass glare.
Manfrotto Tripod: I mainly use my tripod for self portraits or low light landscapes. I encourage all the creators out there to ditch their Instagram husbands or wives and learn to take your own selfies!
Lens Cloth and Air Blower: I've become borderline OCD about keeping my camera and lenses clean after each time I use them. My vision is very poor, so I don't notice those dust spots until it's too late.
Headlamp: A necessity for hiking in the dark.
Peak Design Backpack Clip: This little device has been a life-saver and game changer for me. I can clip and unclip my camera to my backpack strap so I don't have to take off my pack and open it up every time I need to shoot. The clip also attaches to my tripod mount, so I don't have to change those out anymore either!
Card Reader: I have a cute compact one from Sony that they gifted me. It's efficient and gets the job done!
Extra Batteries and Charger: Always smart to have.
My trusty beanies: My mint one is my favorite. I have too many, it's shameful. But I love the pop of color they can add. Some have asked me if I'm secretly balding because I'm always wearing one haha! It's actually the opposite, I have so much hair, the beanie keeps the hair out of my face while shooting.
Attitude: Be present and sometimes, put the camera down. So many times when I travel or am with a group of photographers, I see them become flustered, running frantically around, pushing people out of their way, or complaining about the conditions. I myself, am guilty of this. it is so easy to get caught up in getting the shot. And this is the one thing I don't like about photography: it can keep you from taking an experience in, enjoying the moment or the people around you. Sometimes I can barely remember a place, because I was so busy seeing it through a lens. Each time you shoot, try to remember to take a big moment to put the camera down, and be present with your experience – you might not ever have it again.