Kyle Huber (@asenseofhuber) is an obsessive creator and idea innovator. With a strong eye for detail and a love for symmetry, Kyle produces work that is creative, colorful and clean. He's one of the Sony Alpha Imaging Collective members currently in New Zealand on the #AICdoesNewZealand trip, where they are road tripping from one beautiful destination to the next to capture the breathtaking scenery. We caught up with him to take a look at the Sony Alpha cameras and lenses he would pack, plus other essentials, for such a road trip excursion.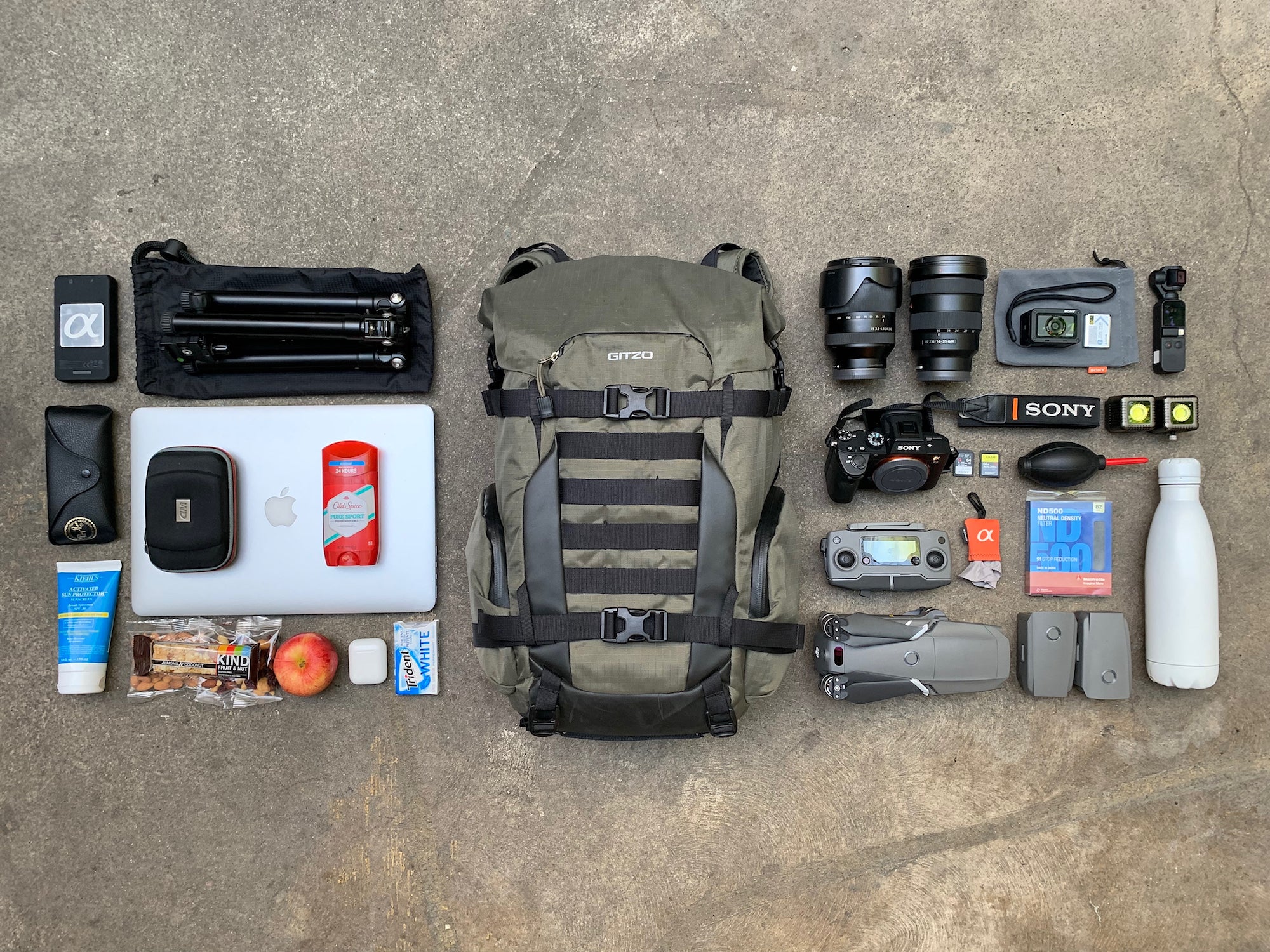 Here's a look inside my photo backpack for a typical road trip adventure. These are the items that make me both comfortable and efficient while I'm out on the field creating. I like to be as productive as possible, so I tend to bring several camera options on my trips. This full setup includes my computer, in case I might have some down time to edit on a long car ride.
Cameras
Sony α7 III: This is my current camera setup and I'm absolutely loving it. There's not much more I need in order to do what I do as a photographer and I'm feeling confident with this powerful machine in my hands. *I do keep the Sony strap on for easy carrying when my hands are full and I don't want to put the camera away. For extra support, sometimes I also leave it around my neck while shooting.
Sony RX0 II and Extra Battery. This little guy has become a handy tool for me when I'm in need of something pocket friendly, yet professional. I love the size of this incredibly well designed camera. On a recent trip to Hawaii, we used the RX0 II to capture a beach scene with a foreground palm tree and me walking across in the background. The camera's auto focus and sharpness really impressed me in this shot.
It's durable and the glass seems to stay clean easily. There's nothing worse than streaks and droplets staying on the device after contact with water, so I'm happy to say this one does a good job of staying clear. I love how it has the same settings and user interface design as the larger Sony cameras. Recently, I found myself exploring a dark cave in Arizona without anything but this tiny gadget. As my friends and I made it deeper in, our visibility got very low and I was about to panic. Luckily, I was able to power on the RX0 II and find a bright image on the camera roll to use a light source. While it seems simple enough, this was very helpful for me in that situation. I held the device like a flashlight and made my way through the incredible location with ease!
Lenses
Sony FE 16-35mm f/2.8 G Master: I use this lens paired with my α7 III for the majority of my shooting. The wide-angle helps me capture more of a scene when space is limited and so I choose this lens when I don't need the extra scale of my telephoto.
Sony FE 24-240mm f/3.5-6.3: This was the first lens I bought when I first joined the Sony family with my first camera purchase in 2015. I like having the 24-240mm as a telephoto option for situations where I really want to zoom in to a scene. Sometimes the subject is far away from me and it's important to have a lens that can handle the need to see closer. In fact, some of my favorite shots I've ever taken were with this lens while shooting sunset in Los Angeles and South Africa.
Accessories
MeFOTO BackPacker Air Lightweight Tripod: For setting up shots that can't be done handheld. While it's rare that I actually need one, I have used countless different tripods over the years and have more bad luck with them than good! This one has enough weight to keep steady in a windy situation and folds up to be very compact. It also hasn't fallen apart on me yet, so that's a plus! Lots of designs I've tried come with annoying flaws that can ruin the mood when you're trying to set up or destroy the product all together, like unscrewing too far and having the legs fall off. I've had a few do this to me and they never reassemble quite the same due to how they were manufactured. I tend to shoot a lot on the beach, so it's also important to have a durable tripod that can handle plenty of sand and clean up afterwards!
MacBook Pro With Portable Hard Drive: This is for all of my editing and backup needs. Ever since my first year at the Kansas City Art Institute in 2006, I have always been an Apple guy when it comes to my computer use. I particularly love this 2016 model of the laptop because it still has the multiple USB ports and built-in card reader, making my life a lot easier. I actually bought a brand new MacBook Pro in early 2018, but ended up returning it because of various issues that version caused for me. Using a card reader dongle while flying or on the road can prove very risky when importing files. The port disconnected on me multiple times while I was working in bumpy conditions and that was enough to make me give up on the TouchBar model of the current MacBook Pro. I'm really hoping the new version that comes out has more built in features that make photo importing more practical, reliable & convenient. I do not want to buy or tote around accessories to have a normal workflow, but I have a feeling that might be how it has to be. Meanwhile, I'm hanging onto this computer for as long as it lasts!
Gitzo Backpack: This highly durable bag really grew on me over the past year while I've used it on countless travel jobs around the world. To be honest, I didn't love the look of it when I got it. I didn't think it was "my color" and wasn't sure how much I would be using it. I gave the bag a try one trip and quickly changed my opinion! I ended up loving all of the exterior straps this design has on it. These make it easy to attach a refillable water bottle, hold a tripod and handle anything else I might want to clip on for quick access. The interior portion of this pack has one large removable section that zips up and safely separated all of my gear inside. The interchangeable pieces made with Velcro make it really easy to adjust the sections within. I like how it has both a compartment for my camera setup and one equally sized that fits my drone & it's controller. There's plenty of room for an extra lens, drone batteries, charger cables, laptop charger, external hard drive, etc. This bag also has a perfect compartment for storing your laptop, with a quick grab option that is super convenient at airport security. Sometimes, I'll even remove the entire gear compartment out of the bag and set that in the tray directly. Some security is more strict than others, but when they do ask you to reveal all of your cameras and small electronic devices, this feature is clutch!
DJI MavicPro 2 w/ controller and 3 total batteries. This is my current go-to drone for most situations and I think it's the most reliable product on the market. I love it's compact design, incredible camera and powerful features that allow me to create high quality aerial content better than ever before. I've flown every model of the DJI Phantom and own all of the Mavics. While I do have fun using the Zoom version of the Mavic Pro, I think the lens on the 2 outweighs the built in dolly-zoom feature that I'm kind of obsessed with. The downside of using that awesome effect is that it only saves the automatic video as a 1080HD file instead of 4K.
Portable Wireless Mophie Battery Pack: For charging on the go.
Sony Lens Wipe: An absolute must for me. I am such a clean freak and super OCD about having dirty glass. I use this cleaner on my lenses often, not to mention my iPhone!
Generic Blower: To keep dust off the glass.
ND500 Neutral Density Filter With Nine-Stop Reduction: I love having this with me when I know that I'll be photographing water and have a tripod packed. It's essential to use a filter like this one for creating long-exposures during daylight. I love the effect of smooth water and have used this filter to photograph many waterfalls.
Sony Memory Cards: I only like to use cards with 64GB of storage or larger. These kind I'm using now are the Sony Tough cards. They're waterproof and long lasting. I love how fast they transfer files to my laptop and I can rely on them for quick shooting, too.
(2) LumeCubes: For night time shooting and/or backup flashlight. I love having these little, yet powerful, cubes with me in case I ever need to add a source to a scene that I'm capturing. They really do wonders in dark spaces and I've also used them during long exposure astro shots to cast a quick light on the foreground subject matter.
DJI Osmo Pocket: For smoothly filming scenes with movement and the occasional time lapse. I like having more than one camera with me so that I can multitask and make the most out of the location I'm shooting at. Sometimes I'll set up the Osmo to film a time lapse during sunset or on a cloudy day at the beach while I'm walking around taking pictures with my Sony.
Refillable Water Bottle: I pack this to keep me hydrated. I try my best to not buy single-use plastic and I find it really easy to find places to refill this one. It's durable, keeps water cold and is one of my essentials for any adventure.
Other essentials I don't go anywhere without:
Sunglasses

Kiehl's Lightweight Sunscreen

Deodorant

Fruit & Nuts (natural sugar & protein to tide me over when hunger hits)

AirPods

Chewing Gum