After going to a portrait session with Sony Artisan Chris Orwig (on Instagram @chrisorwig), we wanted to learn more about how he works. Watching Orwig in action, we saw how effortlessly he used his Sony α7R III and a small selection of lenses as he worked with his subject. He was never distracted by his camera's settings and he moved from one lens to another so smoothly, that we barely even noticed. We reached out to Orwig to learn more about the cameras and lenses he uses for portraits and how he uses them to make his revealing portraits.
There's a lot of hype surrounding how awesome the Eye AF is for portraiture, and all the hype is right. This feature alone has helped me to capture portraits that otherwise would have been impossible.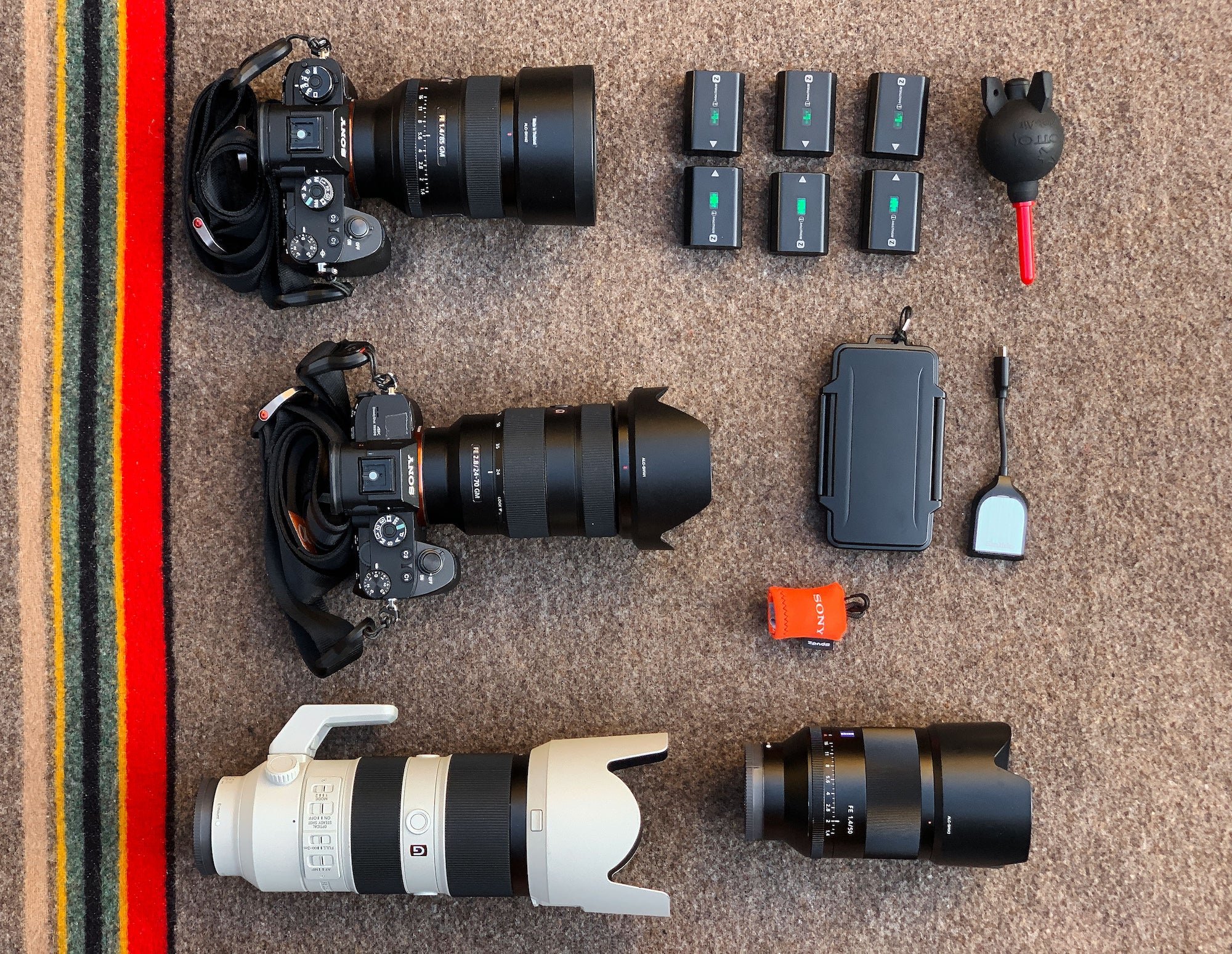 The poet Charles Baudelaire put it this way, "A portrait! What could be more simple and more complex, more obvious and more profound." So true. And the craft of capturing a portrait seems like a simple task, which it is, but at the same time it's incredibly hard. What I'm trying to get at is this idea that portraiture is full of paradox. Capturing a portrait really is about making visible what no one else can see. So when it comes to gear, I like to keep it simple and use a limited amount. Sometimes this means I'll show up to shoot with only a single camera and lens, yet, most of the time, I bring what's pictured here. Let me break it down for you.
Cameras
Sony α9 & Sony α7R III: The only two cameras I use are the Sony α9 and the Sony α7R III. I love the image quality, silent shooting option and the Eye AF. There's a lot of hype surrounding how awesome the Eye AF is for portraiture, and all the hype is right. This feature alone has helped me to capture portraits that otherwise would have been impossible.
Lenses
Sony 85mm f/1. 4 G Master: The lens I use the most and on every shoot I've done since I bought it is the 85mm f/1.4 G Master. The quality, look, color, contrast, mood and feeling this lens creates lights my fire. If I could only have one lens, this would be it. The 85mm f/1.4 G Master is my most favorite lens I've used in my entire life.
Sony 24-70mm f/2.8 G Master: When striving to capture a more environmental portrait, I go with this lens. It's a workhorse and always delivers without fail.
Sony Planar T* 50mm f/1.4: I switch to the 50mm f/1.4 lens when I'm searching for a more "genuine" look. I've always thought of the 50mm focal length as the most honest lens.
Sony 70-200mm f/2.8 G Master: When I want to add a little magic to the scene, I'll reach for this lens. It delivers such stunning results, it's out of this world. But, sometimes this lens can be overwhelming to someone who isn't comfortable having their portrait made. So I only break out this bad boy when I can tell that the vibe is right.
Accessories
Peak Design Slide Lite: I have a Peak Design Slide Lite attached to each of my cameras. I love these straps!
Extra Batteries & Memory Cards: When it comes to batteries and media cards, I'm always over prepared. I bring lots of extra Sony SD cards (stored in a Pelican Memory Card Case) and batteries (stored in a small zipper pouch) because I never know when one shoot will lead to the next.
Lens Caps? Nope: When I head out to shoot I leave my lens caps at home and consider the lens hood the only protection I need. You need to take extra care if you're going to do this, but I feel like it enables me to have more creative freedom and to work fast on set.
Lens Cleaning Kit: Just because I don't have a cap on my lenses doesn't mean I'm cavalier about keeping them clean! I always bring some essential lens cleaning supplies.
With a setup like this I feel like I could go out and conquer the world. That's what good gear does - it fuels your passion and gives you the needed confidence to step up your game. And in sum, the cameras and lenses cover all the bases and with this I'm ready to go anywhere and capture images right away.
Yet, portraiture isn't just about the gear that you use, it's about connecting with the subject in a genuine way. So apart from your gear, the most important thing to bring to a shoot is a mixture of your own point of view, a willingness to listen, the truth of who you are and a raw, vulnerable and open heart. Combine that with the top notch gear, and you are bound to create portraits that stand out from the crowd.