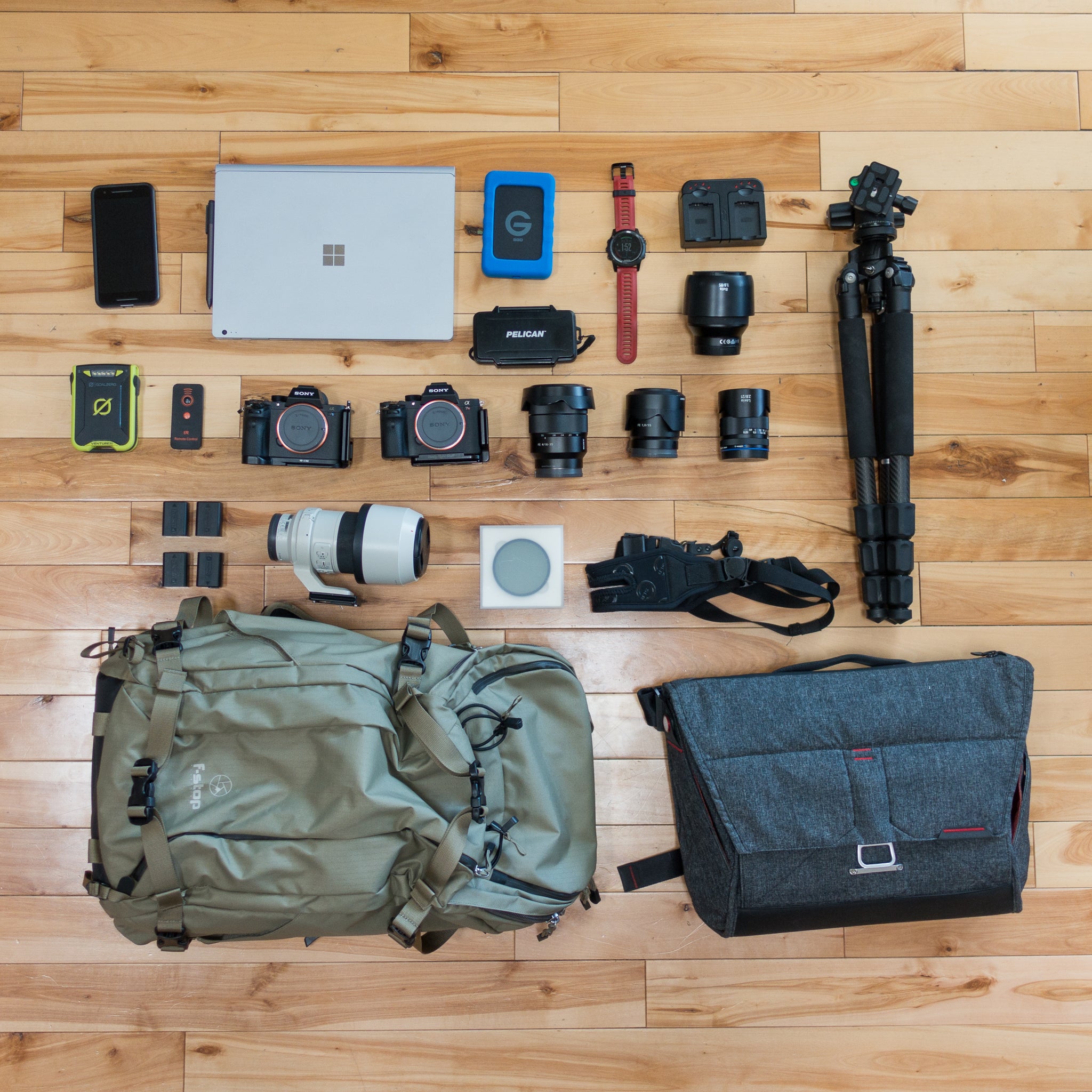 When heading to a place like Cuba for a photography project, one has to be smart about how much gear you plan to pack. I'm flying out of Miami, so I have a fairly strict weight limit of 42lbs and they'll be weighing my bags at check-in. The good news is that I can pay for the extra weight if needed.
While I'm known predominately as a landscape and adventure travel photographer, this trip will be focused on the humanitarian side of the work that I do. I will be leading a team of 12 photographers on a unique adventure through Havana and Trinidad for my humanitarian focused photography company, The Giving Lens. Because of this, the gear I am taking has a slight focus on portrait and street photography, although I am still bringing some of my staple landscape lenses as well.
Cameras
Sony α7R II: As the flagship Sony mirrorless camera, the Sony α7R II goes on every single trip with me around the world. With an insane 42MP sensor with close to 14 stops of dynamic range and a robust AF system...there is a lot to love about this camera.
Sony α7S II: Whenever I find myself working in dark lit situations where I have to pump up the ISO, I make sure my α7S II is in my gear bag with me. Having the ability to shoot clean photos above 10,000 ISO with a great low light AF system certainly does come in handy, especially when hand holding the α7S II while walking around the streets of Havana at night.
Lenses
Sony Vario-Tessar T* FE 16-35mm f/4 ZA OSS: Probably my most used lens, the Sony 16-35 f/4 is a landscape and cityscape photographers dream. It is small and lightweight but incredibly sharp. It also produces great sun-stars which can make those night time shots of Havana or Trinidad stand out even more.
Sony FE 70-200mm f/4.0 G OSS: A great lightweight telephoto option for Sony mirrorless shooters, I am constantly impressed with this lens. Great for portraits or scenes when you need a little extra reach to capture that candid moment, the Sony 70-200 f/4 FE sits along side my Sony 16-35 f/4 FE on nearly every trip.
Sony Sonnar T* FE 55mm f/1.8 ZA: The lightweight and portable king of Sony's FE lens lineup, the 55 f/1.8 FE is a must for street and portrait photography. It is super small and can easily fit in any gear bag.
Zeiss Batis 85mm f/1.8: One of the best portrait lenses I have ever used is the Zeiss 85 f/1.8 Batis. It has nice creamy bokeh, is tac sharp and works great when combined with the resolution of the a7R IIs impressive sensor.
Zeiss Loxia 21mm f/2.8: New to my gear bag lineup, the Zeiss 21mm f/2.8 Loxia is a manual focus lens geared and landscape, architecture and street photography. With corner to corner sharpness, it is a great wide angle lens that is very portable.
Accessories
Induro Tripod CLT-104 For a lightweight travel tripod, the Induro CLT-104 is a solid choice. It packs well, is light and very sturdy.
Microsoft Surface Book: For all my photo editing and business needs, the Microsoft Surface Book is an excellent device. It doubles as both a laptop and a tablet, allowing me to get the best of both worlds. It also comes with a pen stylus, which is a must for post processing.
Nexus 6P Android Phone: As an Android users, it doesn't get any better than the Nexus 6P. With a beautiful screen, great camera and the latest updates straight from Google, the Nexus 6p is a solid choice for a smart phone.
1TB SSD evRaW from G-Technology: For all my backup needs on the road, I use the newly released 1TB SSD evRaW HD from G-Technology. They work on PC's or Macs, are durable and super reliable. Can't ask for much more in terms of storage options.
Pelican Hard Case for Flash Memory: It's always good practice to keep your SD cards in a safe place. I have all of my 32GB and 64GB cards in this Pelican hard case that can take a beating.
Formatt Hitech 72mm CPL: For all my filter needs, I use Formatt Hitech filters. For this trip I will bring a 72mm CPL to use with the 16-35 f/4 for any landscape scenes I might come across. I might through in a few ND filters as well.
(6) Sony NP-FW50 Batteries: Mirrorless cameras are small by nature, which means their batteries are pretty small as well. I always carry a few extras in my camera bag. In this photo you can see 4, but my a7R II and a7S II both have batteries in them as well.
Opteka Dual Battery Charger: In order to charge two Sony NP-FW50 batteries at once, I picked up an Opteka Dual Battery Charger. You can find them on Amazon or ebay. Just make sure you find one with the right interchangeable plates for the NP-FW50 batteries.
Photo & Tech IR Wireless Remote: I wanted something small and simple for my wireless remote. The $9.99 Photo & Tech IR remote is a great find on Amazon.
Goal Zero Venture 30 Battery Pack: When ever I am working in a location that is either off the grid or in a country that has power outages, I am always sure to pack my Goal Zero gear. For this trip I am opting to bring my Venture 30 Battery Pack which is great for charging phones and tablets as well as my Sony cameras right from the micro USB port.
Custom SLR Camera Strap: Having used a number of camera straps over the years, my favorite is the CSLR Glide Strap. Simple, lightweight and comfortable, it is hard to ask for much more in a camera strap.
Garmin Fenix 3 GPS watch: While I am not a fan of the current generation of smart watches, I do love my Garmin Fenix 3 GPS sport watch. Not only does my battery life last for weeks, but the watch itself saves GPX log files so I can make sure my Sony images are GPS logged when I sync that file with Lightroom.
F-Stop Anja Photo Backpack: When it comes to lightweight rugged travel photo bags, it doesn't get any better than F-Stop Gear. Because I am going for a more low key look, I opted for the F-Stop Anja pack. It holds just shy of 40L of space, cinches down pretty small and looks like a regular backpack. In it my Medium Pro ICU holds all my gear gear when going from A to B.
Peak Design Everyday Messenger Bag: My new favorite messenger bag is The Everyday Messenger by Peak Design. It is well built, has tons of pockets and zippers in all the right places and works well on the road. I don't always use it solely for camera gear but it can handle a light load with ease.