To shoot fast action stills and video in the mountain backcountry, adventure-sports photographer Gabe Rogel has a specific group cameras, lenses and accessories that he's come to rely on. It's a tight kit designed around getting to untouched slopes where he and the athletes he's with can shoot all day.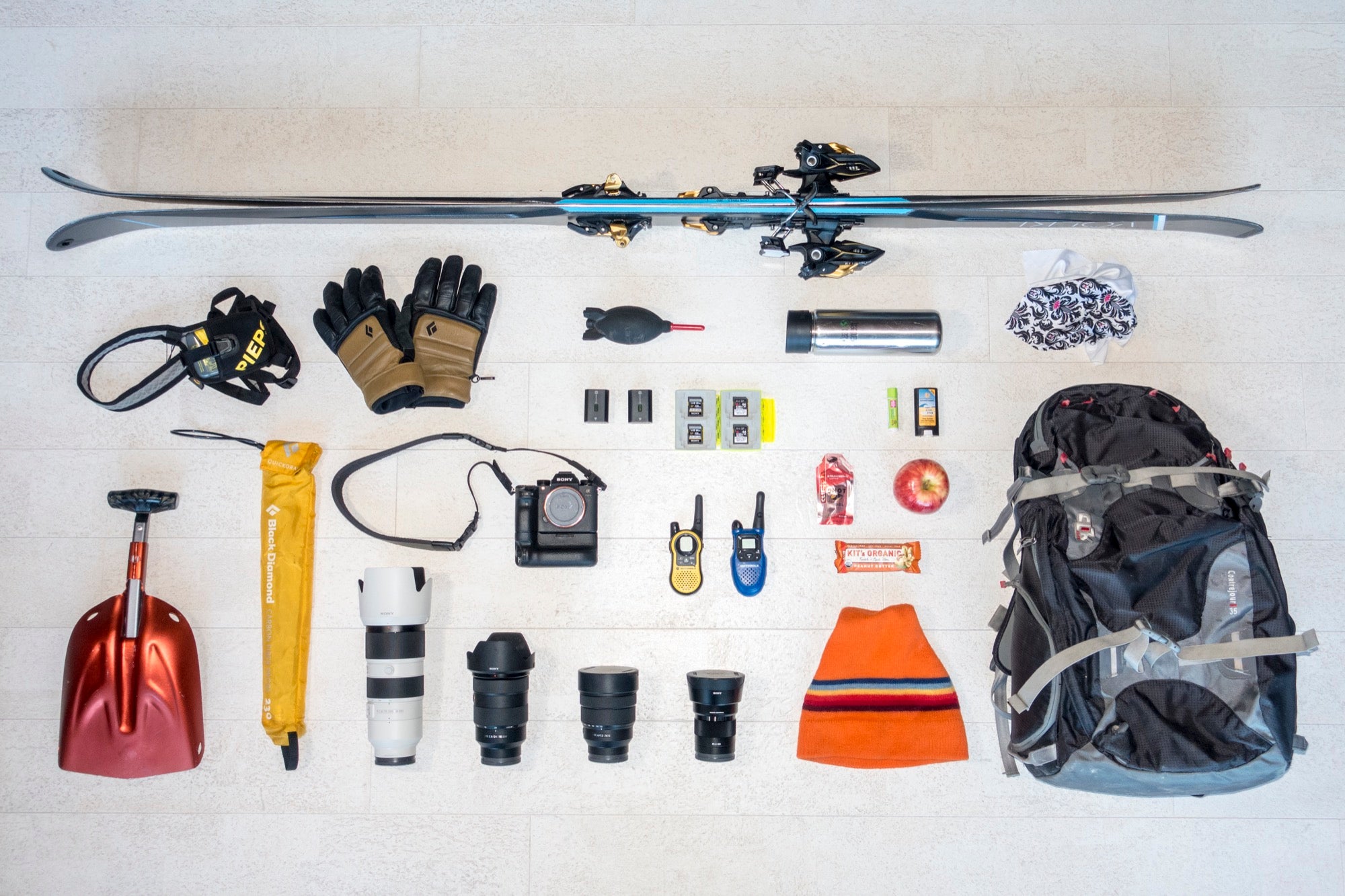 Cameras
Sony α9: What can I say? With the backbone of my photography business being adventure sports with fast-moving subjects like skiers in the mountains, the α9 is THE camera I've been waiting for. With incredibly fast auto focus and a full-frame sensor that records up to 20 frames per second, the α9 is an absolute workhorse. I'm also a huge fan of the new ergonomics of this camera, mainly the auto focus point toggle switch. Seeing as I'm constantly changing focus points in between scenes, this feature is ultra-convenient. On a side note, although there are many cameras that have more megapixels than the α9, I'd much rather have more speed (frames per second) than giant image files. Personally, I find 24 megapixels to be more than ample for 2-page spreads, magazine covers, billboards, etc.
α7S II: The Sony α7S II along with the Sony FS5 are my go-to video cameras. With the slog-3 color profile and incredible low-light capability, the α7S II really excels at providing beautifully cinematic footage in a tiny camera.
Lenses
Sony FE 70-200mm f/2.8 G Master: This lens is simply indispensable. The telephoto qualities, of course, allow me to reach into the scene and bring objects closer, while the wide aperture provides gorgeous shallow depth of field. Not only do I generally prefer the look and feel of shallow depth of field, shooting at or near f2.8, lets me to use faster shutter speed, which is perfect for shooting action.
Sony FE 24-70mm f/2.8 G Master: This is my most-used lens when it comes to shooting lifestyle and portraits. At a glance, these mid-range focal lengths don't seem terribly exciting, it's a real workhorse. The maximum f/2.8 aperture and incredible sharpness make this one of my favorite lightweight video lenses. If I could only bring one lens with me in any given situation, the 24-70mm f/2.8 G Master would be the one.
Sony FE 12-24mm f/4 G: Are you serious? A full-frame zoom lens capable of shooting at 12mm?!? Simply awesome! So far, I have used this lens most while shooting from a drone. Whether video or stills, being able to take an entire scene in at 12mm, is just plain cool. Seeing as the lens doesn't get physically longer when zoomed, I love using this lens while shooting video from a hand-held gimbal.
Sony FE 28mm f/2.0 with Fisheye Adaptor: A fisheye lens has lived in my pack 95% of the time I've been in the field. Fisheyes can get a bad rap for the distortion they create, but hear me out on this; both fisheyes and traditional rectilinear lenses create distortion. It's just a matter of which type of distortion works best for your subject matter.
Accessories
Sony 128GB SF-G SD cards: These cards are big enough that I normally only use one or two per day, but I'll bring four on most shoots. These cards have the fastest read/write speeds I can buy, which is key for shooting 20 fps with the α9, or 4K video.
LaCie 2TB Rugged hard drives: I normally travel with three of these drives. 1, For new RAW/video files, 2, For backing up the new RAW/video files, and 3, A drive with my master photo library on it, so I can submit photos from the road.
Gepe waterproof memory card case: I always buy memory card cases in very bright colors, so if it gets set down somewhere, it's easy to spot. Out of all the equipment on a photo shoot, this little plastic case and the millions of zeros and ones it holds, can be the most valuable item I have.
Extra batteries: I normally carry two or three camera batteries in my pack and bring anywhere from six to ten on a trip, depending on where I'm shooting.
Rocket Blower: Snow is dust until it melts. The rocket blower lets me keep snow and dust off my lenses and bodies and it's nearby when I'm switching lenses.
Manfrotto 055CXPRO3 Carbon Tripod with ball head: With the fast-moving subject matter I shoot, I don't use a tripod very much. However, when I do, I've found this one to be a great mid-sized one that seems to strike the perfect balance between weight and stability. For video work, I use the Manfrotto 535 MPRO with a fluid head.
Clik Elite Contrejour 35 pack: Although this pack is built as a ski photography pack, it accompanies me on almost every shoot. Sometimes I feel like I live out of this pack. Among other features, it has a nifty little rain fly that tucks away in the bottom of the pack.
Skis: Well, I have to be able to chase my athletes around and sometimes get into some precarious places. Although I have a little quiver of skis to pull from, depending on the adventure, the Volkl Two is my everyday tool. Hands down the best ski I've ever ridden.
Beacon, Shovel, Probe: Almost all of the best ski photography you see in the magazines and catalogs, comes from the backcountry. These 3 items are essential to traveling in the backcountry, but much more important, is avalanche knowledge, as in proper Avy 1 and Avy 2 courses. Along with this, is the need for competent ski partners, ideally with a solid background in backcountry skiing. I've lost way too many friends to avalanches. Always be smart about going out of bounds.
Calories: I've probably eaten enough Clif Bar products to last a lifetime. I seem to always throw a Clif Shot and some other type of Clif Bar into my pack. I try to sustain most of my caloric needs with "real" food, but for the quick hit in the mountains, these get me to the next shot.
Motorola Walkie Talkies: For the most part, the basic (under $75/pair), light walkies do the trick. I don't use them a ton, but when I need them like when the athlete is far away, they're key.
Funky Hat: I don't have time for people who take themselves too seriously. Never have. Never will. Since I was about 14, I seem to have committed myself to a lifetime of funky hats, such as this wool one I found in thrift store many years ago.