I photograph nothing but landscapes, but the content of my bag varies with the location, whether I'm driving or flying, the amount of hiking/scrambling the trip will require, and my overall objective for the shoot (standard landscape, moon, stars, lightning, macro, and so on). I have a core group of equipment that is always with me, and an assortment of specialty gear that I add or subtract as the situation dictates.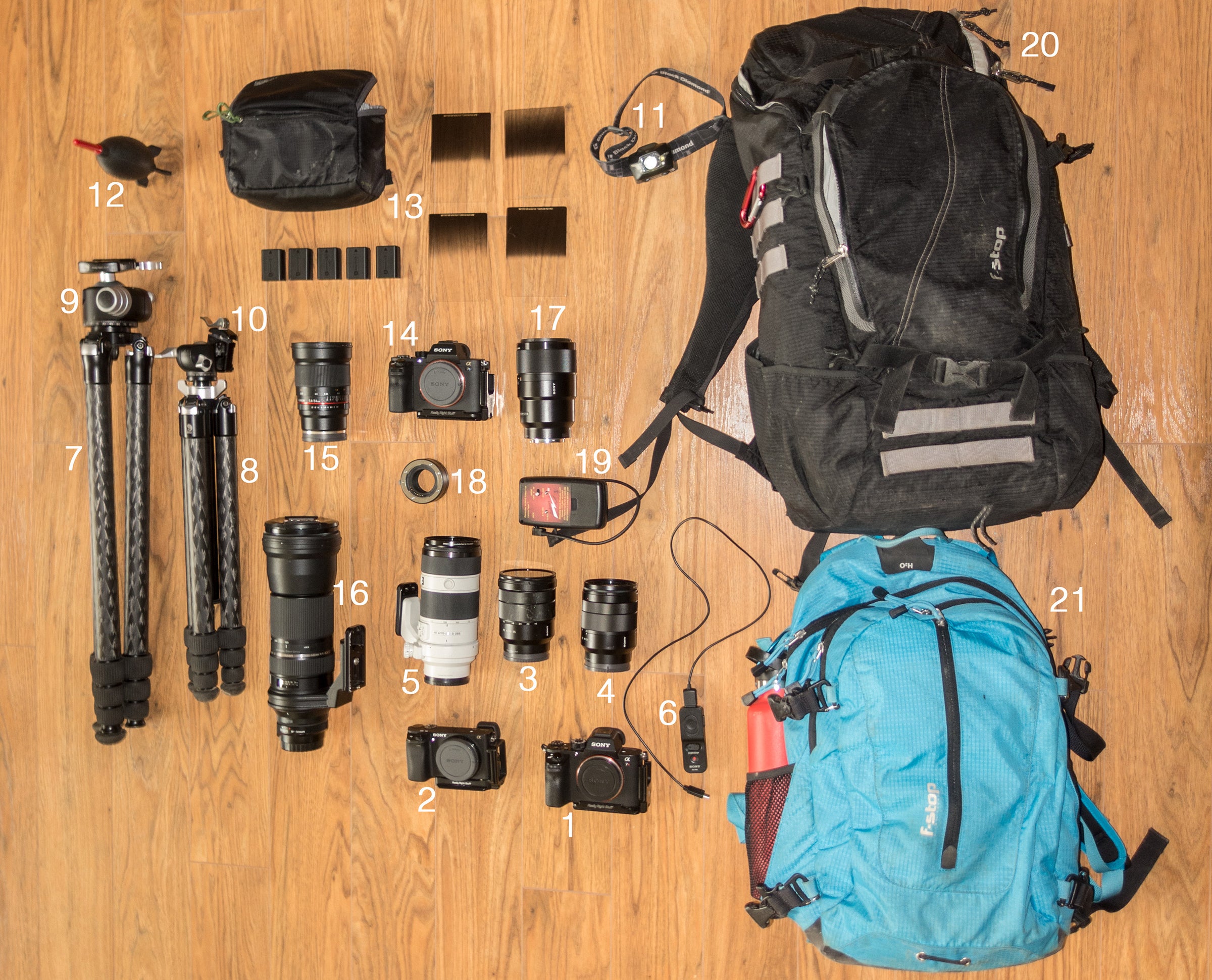 Core Gear (always with me)
1, Body: Sony α7R II with Really Right Stuff L-Plate
2, Body: Sony α6300 with Really Right Stuff L-Plate
My Sony mirrorless system is the lightest, most compact core gear selection I've ever carried. The α7R II is my primary body—compact, sturdy, with a pre-click histogram, highlight alert, and focus peaking, plus dynamic range that's off the charts and high ISO performance better than any camera that doesn't begin with α7S, is the perfect landscape camera.
Since my primary bodies are always full-frame, I've always preferred the flexibility of a backup body with a crop sensor. The α6300 is ridiculously compact, and I'm so happy with the image quality that I don't hesitate to use it as my primary body when I want the extra reach its 1.5-crop sensor provides.
3, Lens: Sony Vario-Tessar T* FE 16-35mm f/4 ZA OSS Lens + Singh-Ray low-profile neutral polarizer
4, Lens: Sony Vario-Tessar T* FE 24-70mm f/4 ZA OSS Lens + Singh-Ray neutral polarizer
5, Lens: Sony FE 70-200mm f/4 G OSS Lens + Singh-Ray neutral polarizer
As a 100 percent landscape shooter (nothing that moves), I'm always on a tripod and have very little need for f/2.8 glass. Sony's f/4 glass provides the perfect combination of compactness and image quality that allows me to travel light with all my core gear, or fully armed with extra gear.
6, Sony remote release
7, Tripod: Really Right Stuff TVC-24L, or…
8, Really Right Stuff TQC-14 (I always carry one tripod, but rarely both)
9, Ball head: Really Right Stuff BH-55 (with the TVC-24L), or…
10, BH-30 (with the TQC-14)
My primary tripod/ball-head choice is the RRS TVC-24L and BH-55 for its combination sturdiness and height in a relatively light configuration. I got the BH-55 before switching to mirrorless—if I had to get a ball head today, it would be the lighter RRS BH-40.
When I fly and weight is a concern, or if I know I'll be doing some serious hiking, I opt for the RRS TQC-14 with the BH-30. While not quite as tall as I'd like without extending the center-post (something I try to avoid), this combo is much lighter and plenty sturdy enough for all my body/lens combinations.
11, Black Diamond headlamp
12, Giotto Rocket blower
13, Filter bag: MindShift Gear Filter Hive—attaches to my tripod (but I wish it opened on the other side) and carries…
Singh-Ray 3-stop hard graduated neutral density filter
Singh-Ray 2-stop hard graduated neutral density filter
Singh-Ray 3-stop reverse graduated neutral density filter
Singh-Ray 3-stop soft graduated neutral density filter
5 Sony batteries (I've never used more than two in a day, but they're light)
Specialty Gear (with me as needs dictate)
My specialty gear comes with me when I have a specific objective outside the typical landscape scenes I encounter (and that are well-handled by my core gear). Whether I've planned a moon rising above Half Dome, the Milky Way above the bristlecone pines, lightning on the rim of Grand Canyon, or wildflower or fall color creative selective focus, I have the body, lens, and accessory combination to handle it.
14, Body: Sony α7S II with Really Right Stuff L-Plate
15, Lens: 24mm f/1.4
16, Lens: 150-600 w/ Metabones IV adapter + Singh-Ray neutral polarizer
17, Lens: Sony FE 90mm f/2.8 Macro G OSS Lens
To capture a huge moon in my moon rise/set shoots, the 150-600 lens with the α6300 gives me 900 full-frame-equivalent millimeters of reach. For my wildflower or fall color creative selective focus shoots, I combine the 150-600 or Sony 90mm macro with the α7R II or α6300, often with extension tubes to focus even closer.
Night photography is another personal joy. While the α7R II gives me all the high ISO performance I need for moonlight photography, the α7S II's ability to virtually see in the dark is ideal for the moonless Milky Way shoots I love so much. Paired with my 24mm f/1.4 lens, I'm able to pull clean detail out of the darkest shadows on a moonless night. Equally important, the α7S II/24mm f/1.4 combination and focus peaking, enables me to focus effortlessly, in seconds, on the darkest nights, something I never imagined would be possible.
18, Extension tube set: 10mm & 16mm
19, Lightning sensor: Lightning Trigger LT-IV

As a long-time daylight lightning shooter, both on my own and leading photo workshops, I have accumulated many years of lightning photography trial and error (not necessarily in that order). More than enough, in fact, to know that shutter lag is death to lightning photography, and that any Sony mirrorless body with an electronic front curtain shutter (including all three of my Sony mirrorless bodies) has the fastest (best) shutter lag of any camera available. Any of my Sony bodies paired with my Lightning Trigger (the only lightning sensor I trust) give me the best chance for lightning success.
Camera backpacks
20, F-Stop Gear Tilopa
21, F-Stop Gear Guru
I like the F-Stop bags because they're the perfect combination of roomy and comfortable (for long hikes), yet compact enough for an airline overhead bin. I can fit virtually all of my core and specialty gear in my Tilopa, plus a down jacket, gloves, and hat, and (with the tripod in my suitcase) still fit the bag into any overhead bin I've ever encountered, including the puddle-jumpers. When I want to travel light, I opt for the Guru, which handles all of my core gear and some of my specialty gear.
Since I always want my bodies and lenses with me (not in my checked luggage), sometimes I fly with the Tilopa stuffed with gear and the empty Guru packed in my large suitcase; at my destination I load the Guru with whatever gear I need for the next shoot. And if limited overhead space ever forces me to check my bag at the gate (which has never happened, fingers crossed), I can remove the ICU (Internal Camera Unit) and store it at my feet, leaving the mostly empty bag for the flight attendants to store.