In addition to being an accomplished filmmaker and renowned fashion photographer, Sony Artisan Jeff Berlin has a passion for the Rodeo. What started as a personal project has blossomed into full-blown professional gigs.
While many photographers train their lenses on the action in the ring at the rodeo, Berlin is more into catching the people and behind the scenes of these distinctly American events. As such, his gear is less about long lenses and more about being unobtrusive and working in the challenging lighting away from the ring without sacrificing image quality.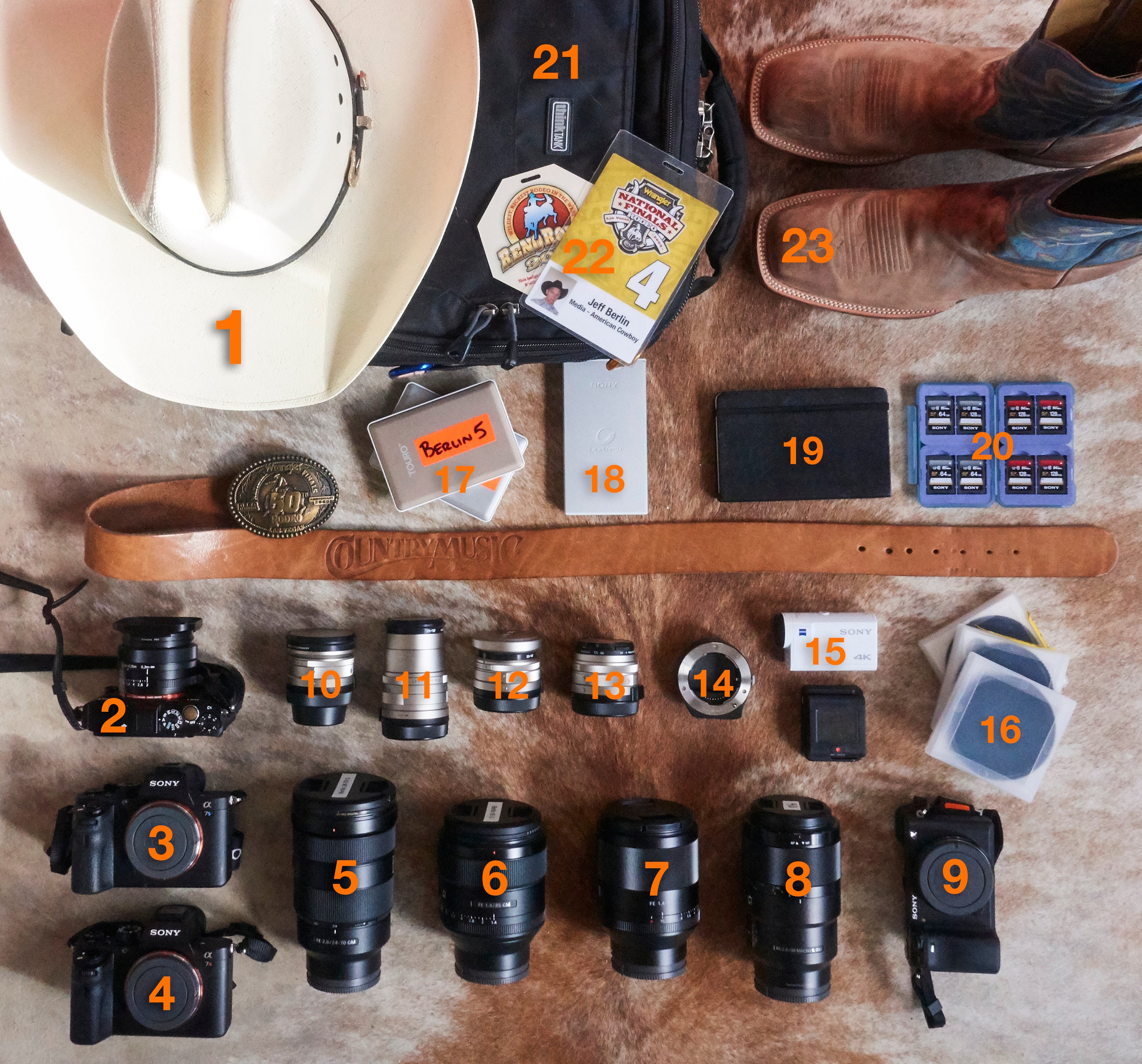 1. Cowboy hat: Required dress code by the PRCA, the governing body of Pro Rodeo.
2. Sony RX1R II: My current favorite rangefinder-style camera. I prefer to maintain a small footprint when working at the rodeo. As such, I like shooting with smaller cameras, so rangefinders and Sony mirrorless are perfect for me when I'm in this world. I think smaller cameras inherently and organically put my subjects at ease and allow me to take portraits that are more natural and real.
3. Sony α7S II: I love the image quality of still photos from this camera. And since rodeo performances usually start in the evening and go on into the night, there's no better camera anywhere for shooting in the low-light conditions in and behind the arena. This camera has allowed me to continue shooting long after my other cameras in years past would be back in my bag. It allows me to get shots that were never possible when shooting film or with other digital cameras.
4. Sony α7R II – My main work camera. So much has been said about this camera that all I'll add is that its compact form-factor paired with one of my Sony GM, Sony-Zeiss, or with one of my Contax G film-camera lenses gives me unparalleled image quality in a very small, unintimidating footprint.
5. Sony FE 24-70mm f/2.8 GM lens: Sharp and versatile all-around lens.
6. Sony FE 85mm f/1.4 GM lens: Extremely shallow depth of field. Amazing for portraits and beauty photography.
7. Sony Planar T* FE 50mm f/1.4 ZA lens: This along with 35mm and 85mm are my favorite lens focal lengths. Until the 24-70 GM came out, I rarely shot zoom lenses and I frequently still default to primes.
8. Sony FE 90mm f/2.8 Macro G OSS lens: It's just super sharp.
9. Sony α6300: Fast, though I rarely if ever shoot rodeo action. For me at the rodeo, this camera is more of a backup than part of the regular rotation.
10. Contax G 21mm f2.8
11. Contax G 90mm f2.8
12. Contax G 35mm f2.0
13. Contax G 45mm f2.0
Contax G lenses: I first started to shoot rodeo with my Contax G2 35mm film cameras about 10 years ago. Today, for the rodeo, I still use my Contax G lenses. Perhaps it's out of nostalgia a bit that I still use them at the rodeo, but I've shot some of my favorite pix with them at the rodeo and they just feel good on my Sony camera.
14. Techart Contax G to Sony E Adapter
15. Sony FDR-X3000 4K Action Cam and Live View Remote: Brand new. Amazing image quality. I always like to have one of these with me because, well, action.
16. ND Filters: I like big apertures and I cannot lie…
17. Portable hard drives: 1TB – Card backup.
18. Sony cellphone charger: Not a lot of outlets at rodeos.
19. Molskine notebook: For names and numbers.
20. Sony SDXC Memory cards: fast, robust and reliable.
21. Think Tank Airport Commuter Photo Backpack: Versatile and rugged.
22. Rodeo Photo Credentials: How else would I get the access I need?
23. Cowboy boots: Required dress code.
Follow Jeff Berlin on Instagram @jtberlin