While I divide my time between being a portrait and landscape photographer, my first passion however is the landscape and this bag is representative of what I carry in my standard kit. Tripods, tools and cables go in my suitcase, the rest goes in my bag. Here's my essential gear for all my landscape trips and workshops.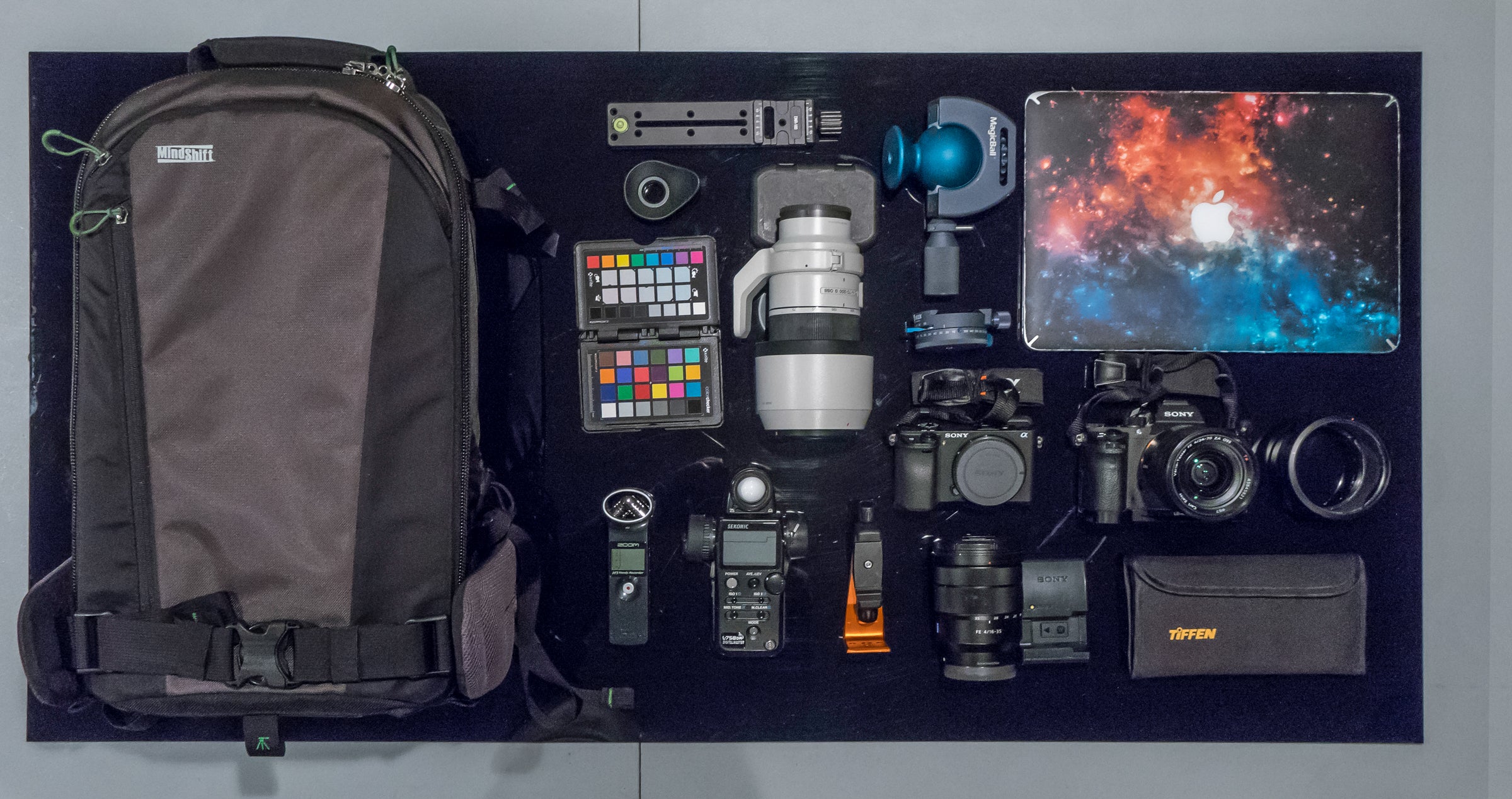 Sony α7R II: My primary camera. As a landscape photographer, the size and weight of the camera and its wonderful lenses combined with 42MP resolution make this my go-to camera for all of my serious landscape work. The electronic viewfinder lets me see the histogram live right through the eyepiece, and I get to see color and exposure before I ever press the shutter. After that, I can review my shot right through the eyepiece to be sure I got what I was after—no trying to shade an LCD display in bright sun to try and see if I got the best capture possible.
Sony α6300: Camera 2. Depending on the landscape I'm working in, the α6300 gets a slightly longer lens than the one on my α7R II. Since the α6300 is an APS-C camera, I use this combination for details in the scene and for a bit more telephoto reach. The small size and light weight make it easy to carry a second camera with no trouble and I'm not sacrificing quality with great lenses and 24MP.
Sony FE 16-35mm f/4 ZA Lens: One of my two go-to lenses for landscapes, I choose this lens when the scene requires more width if it just isn't feasible to get further back. Zion National Park with its deep canyon and high peaks requires a wider lens because otherwise I simply can't back up enough to capture everything. The same goes for places like the slot canyons in the desert southwest. This is also the lens I use for capturing up-close foreground elements while keeping distant features in focus.
Sony FE 24-70mm f/4 ZA Lens: My most common "walking-around" lens that I use on both the α7R II and the α6300. I commonly use this lens around 50-70mm for panoramic stitching on the α7R II and use it with the α6300 when the 16-35mm is mounted on the α7R II.
Sony FE 70-200mm f4 G Lens: I love the weight and size of this 70-200mm f/4 when I'm packing everything into one backpack and particularly when flying to a location. It's great for isolating details or simplifying my composition.
Mindshift FirstLight 20L: I've tried a lot of bags over the years and had a few favorites, but for my Landscape work, which usually involves a combination of hiking, walking and flying on planes, I recently found my new backpack camera bag. The Mindshift FirstLight 20L is both incredibly light, very comfortable and well made. It's narrower than my previous backpacks so that I barely notice I'm carrying it. Like every other bag I pack (including my suitcase) I generally fill any open space with stuff I might, but often don't need. Two camera bodies, three lenses, my tripod ball head (for the flight - my tripod is in the suitcase, but the head stays with me), my light meter, batteries, tools, memory cards and filters. I also use it to carry my 13" MacBook Air when traveling. When I arrive on location, the tripod and head get attached to the outside carrier of the bag if a long hike is involved. My new favorite bag!
Novoflex Magic Ball Tripod Head: In my opinion this is hands down the best all-around tripod head available. There are some nicely machined heads out there, but the single action of the Magic Ball, its ability to rotate freely with a simple, single twist and then lock firmly in place is just amazing. I have the largest model (supports up to 22 lbs.). While I do use a gimbal head for birds in flight, for landscapes, the Magic Ball is number one.
Novoflex Panorama Q 6/8 II Panoramic Plate: The small but amazing accessory goes on top of the Magic Ball and allows me to create perfectly-spaced panoramic captures. It's not cheap, but with the simple flick of a lever I can change how many shots I want as I rotate around the axis. Adding an extension plate lets me position my camera rig either horizontally or vertically and rotate over the center of the column while finding the nodal rotation point for perfectly lined-up panoramic stitches. While Lightroom and Photoshop can now spread out panorama-stitched images into rectangular shapes, they do it by distorting the image. With this head I create a perfectly lined up set of panorama shots which results in seamless, distortion-free images that enlarge beautifully.
Tiffen ND and Polarizer filters: I carry circular polarizers in sizes for each of my lenses along with 3 and 10-stop ND filters. I'm not a fan of graduated ND filters for most of my landscape work and rely instead on capturing the best digital capture possible and using all the tonal range capture ability of my Sony cameras. My light meter helps me do this.
Sekonic L-758DR Light Meter: As useful as the live-view and live histogram are in the Sony cameras, when I want to be sure I'm squeezing out the most tonal range possible in high contrast scenes, I pull out my Sekonic. By spot-metering on the brightest place that requires detail (usually white clouds in sun) and opening up 3 1/2 stops from that reading, I get a histogram that goes right to the right edge without clipping any highlights. I also find using the incident meter to be very handy in fog, solid overcast and snow because the meter measures the amount of light illuminating the scene, not the brightness of the objects being photographed.
X-Rite ColorChecker Passport: I don't go anywhere without this! The ability to create custom camera color profiles along with having a perfect white balance reference saves me hours of image processing time. While white balance is important, custom camera profiles eliminate color "pollution" when the environment is reflecting a certain color cast (think the red sand/dirt of Monument Valley in the bright sun or lots of green grass reflecting into faces). With the Passport I can fix these color problems with a couple of clicks in Lightroom or Photoshop.
MeFoto SideKick360 iPhone Adapter: This sweet little accessory allows me to mount my iPhone directly onto my tripod plate. It securely grabs on the phone and its Arca-compatible base plate mounts to all my tripod heads. I primarily use this for recording short video clips on location.
Zoom H1 Audio Recorder: Since I record a lot of video on location including times when I'm on camera, I need a better way to record audio. With the Zoom H1 I can either hide it on me and use a lapel mic or I can mount it to my camera hotshoe and run a cable into the camera's audio-in for great stereo sound.
Christopher Engell EyeCup: I met Chris on a landscape workshop in Utah and he introduced me to a custom set of eyepieces and button accessories he makes for Sony cameras. This eyecup fits so perfectly to both the camera and eye that I can't imagine not using one. It makes both video and still recording better.
MacBook Air: I don't go anywhere without my 13-in MacBook Air! I chose this computer for size and weight and it fits perfectly on an airplane tray table. It also fits perfectly into the front pouch of the Mindshift bag.