Depending on what I'm shooting will determine the camera gear I bring. "What's in my camera bag for portraits?" is something I get asked all the time. If I'm working with babies or families, I bring specific lenses and cameras to set me up for success. Below is all my favorite portrait lenses and camera bodies to must-have lip gloss and headbands (of course!).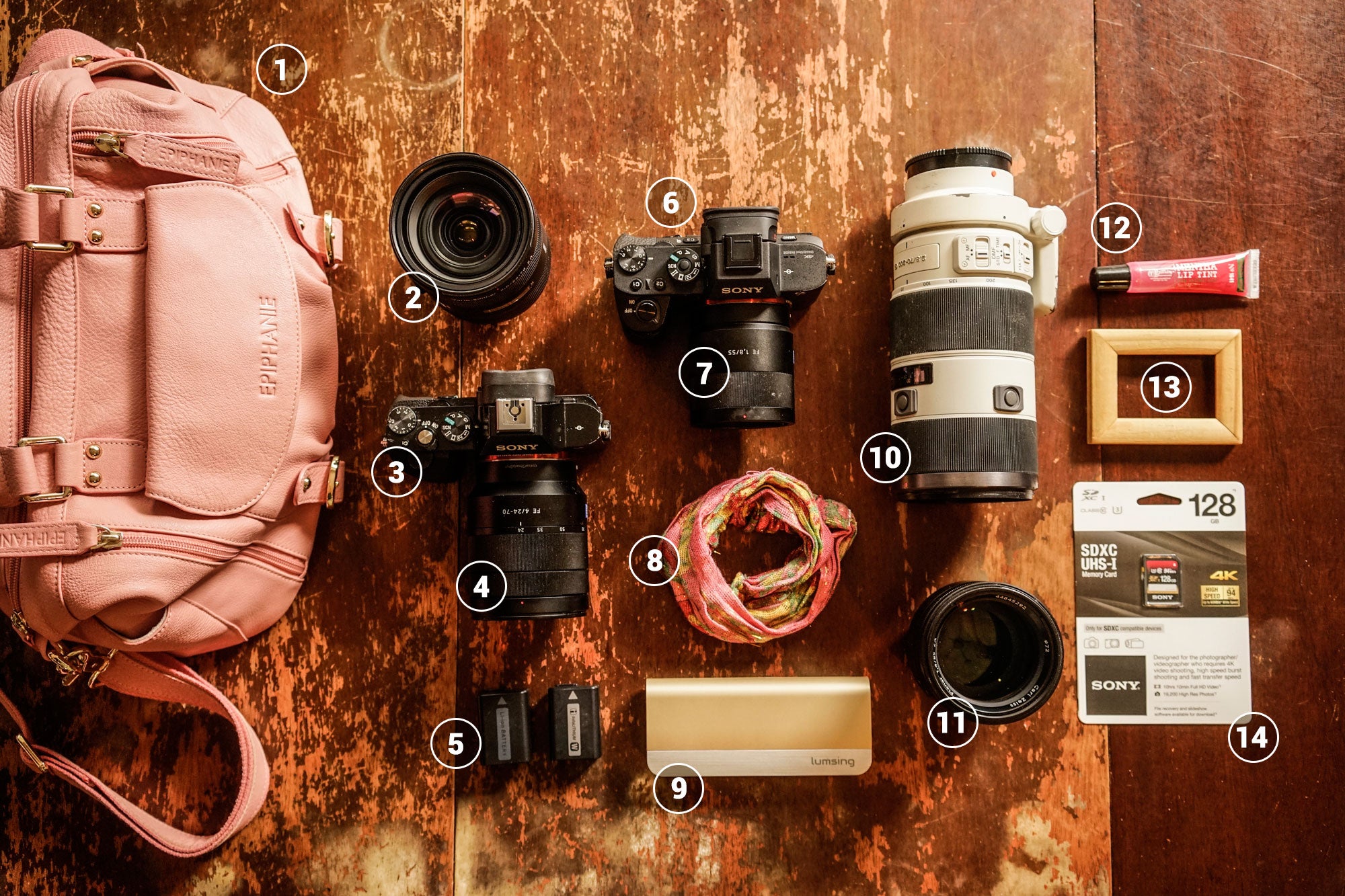 1. Camera bag: Epiphanie "Florence" Bag
I LOVE this pink camera bag! I mean it's PINK!!! What else is there to say? Epiphanie makes the most wonderful, stylish, roomy, fine leather camera bags. Straps are a big thing for me because the wrong strap can kill your shoulder, and Epiphanie straps are wonderful. (But no camera straps for me. Just my thing. :) The inside of the bag has padded sections to protect all your gear.
2. Lens: Sony FE 24-70mm f/2.8 GM
My "work horse" lens. People often ask me "If you could only have one lens for portraits, what would it be?" Without question, the 24-70mm f/2.8 lens. The 24-70mm zoom range gives you a ton of versatility for shooting portraits or group shots. Whether you're zoomed in or out, you can always stay at the f/2.8 aperture for what I call a "buttery, blurry background". Take the time to save the money for a G Master version of this lens. It's a chunk of change but the quality of glass plays a HUGE role in your colors, light, and sharpness. This lens is worth every penny!
3. Backup camera: Sony α7R
Every camera bag for portraits needs a backup camera body. If you're starting to shoot more paid portrait sessions, and the α7R II (see below) is out of your price range, this is an AWE-some camera body to consider! I LOVE the mirrorless Sony camera, full-frame bodies. I especially LOVE the α7R and α7R II models. With the mirrorless system, you're able to see exactly what your photo will look like from the Live View display on the back. No more guessing on whether or not you have enough light.
Why do I love the two r models in the α7 lineup? Dynamic Range. I love capturing photos with both shadows and bright light. But I want to make sure I retain as much detail as possible. That's what Dynamic Range gives you. Its sole purpose is to make sure that highlights aren't blown out and shadows are inviting with all the detail and depth. The ISO goes up to 25,600. For those of you who are sick of grainy photos when you're at ISO 800, you'll pretty much be in heaven with this camera body. Just a word about the video component. When we were filming our family travel show, the α7R II model wasn't released so we used this camera for a lot of our filming. The quality is broadcasted TV quality. Just ask the networks! Pretty AWE-mazing!
4. Lens: Sony FE 24-70mm f/4 Vario Tessar T*
If you don't have the money for the 24-70mm f/2.8 GM, and you don't want to wait to save up your pennies, this is a less expensive option.
5. Extra Batteries
Even if I charge my batteries the night before, I always bring extra batteries in my camera bag for portraits. I'm kind of Type A that way, and I can't tell you how many times I was glad I did.
6. Main camera body: Sony α7R II
This camera body is my baby. This is Sony's flagship camera, and its performance is unbelievable. Dynamic Range is off the charts with this camera. It reminds me of the old days when I used to shoot with film--all the incredible depth I'm able to capture. It's 42.4 Megapixels with 5-axis in-body image stabilization (say goodbye to motion blur and hello to low light!) and 4K movie recording. This camera body is phenomenal! Both of these camera bodies have a tiltable Live View screen. I rarely ever look through the View Finder anymore because I want kids to be able to see my eyes, my smile and overall energy. I'm often holding the camera at hip height so they can stay engaged with my facial expressions.
7. Lens: FE 55mm f/1.8 Sony Sonnar T*
People often ask me what my favorite lens is. That's a different question than what is your portrait "workhorse" lens. A workhorse lens needs to be as versatile as possible. But my favorite lens, the one I LOVE to shoot with the most, is the 55mm f/1.8. I'll always choose a fixed prime lens over a zoom lens. The fixed prime lenses allow me to go down to f/1.8 in aperture. This makes all the difference with capturing buttery, blurry backgrounds! I also love how small and lightweight it is too!
8. Me Ra Koh Signature Headband
Why the headbands? It all started in Thailand. It was during one of our trips with the kids, and the weather was so dang hot that I needed to get my hair off my face. I loved how their headbands sparkled (I tend to like things that are pink and sparkle.) But I also LOVED how it kept my hair out of my eyes when shooting. When we got home, I wore one to a portrait shoot...and something magical happened. By having my hair off my face, kids could see my facial expressions, my eyes, and feel my energy that much more. I LOVED it! One little girl loved my sparkly headband so much, she was convinced I was Ms. America. Somehow sparkly headbands and big smiles meant Ms. America. I didn't have the heart to tell her otherwise.
Years later, she still calls me Ms. America. When I started doing TV segments for The Nate Berkus Show, I decided to wear my signature headbands to help people remember me that much more. And the best part, it doesn't matter if you're having a bad hair day...no one can tell! It's the BEST! In November, we do a special holiday campaign and sell my signature Thailand headbands. (You can subscribe to Me Ra Koh's newsletter to get your own in November.)
9. Batter charger: Lumsing Harmonica Portable Batter Charger
Battery chargers are a girl's best friend! There must be some mystical dynamic of energy being depleted when you do a portrait shoot. Anyone ever notice this? Whenever I finish a portrait shoot it always seems like my smartphone is almost dead! I LOVE this gold brushed, lightweight battery charger for smartphones and tablets. It comes with me everywhere!
10. Lens: Sony 70-200mm f/2.8 G
When you're taking portraits of kids, you want to start by staying close to them. But at some point, after you have all the shots you know you need, it's fun to photograph them from a distance. I love this telephoto zoom lens for taking photos at the beach, in a city/alley area or in a field. I get to stand farther back and let the kids engage more with each other, not being so "camera aware". If you're shooting weddings, your first two lenses should be the 24-70mm f/2.8 and this lens. That way you have 24-200mm covered at f/2.8. If you were to buy this kind of coverage in one big lens, the lens won't be able to go down to f/2.8 which means no buttery, blurry background results.
11. Lens: Sony 85mm f/1.4
Prime, fixed lenses are my love language. I LOVE the bokeh of the prime lenses, whether it's the 55mm f/1.8 lens above or the amazing 85mm f/1.4 lens. Before the 55mm f/1.8 lens came out, this lens was definitely my favorite. I've shot whole weddings with just this one lens. You can't go wrong.
12. Lip gloss: C.O. Bigelow Mentha Lip Tint
I don't wear a ton of makeup unless I'm doing TV or speaking. But I always have this brand of lip gloss with me. It's the BEST! Enough said. :)
13. Miniature wood frame
Okay, I had to share this because I still carry this in my camera bag after years and years. When I first started taking photos, with no real goal of becoming a professional photographer, I was overwhelmed with the idea of trying to see the world through a frame. I wondered if I could condition my mind to develop a photographer's eye. So I went to IKEA and bought this miniature wood frame. I took out the backing so I could see through it and always had it in my car. Whenever I came to a red light, I'd hold up that wood frame and try to frame a scene of the old woman at the bus stop or the kids walking home from school. I thought about where they should go in the frame, should I off-center them and why, and would a landscape or vertical image be better? And through all these little mental exercises, I started to see the world in frames.
I still carry the same frame with me wherever I go, as a reminder that the simplest creative exercise can lead to dreams we never imagined possible.
14.Memory cards: Sony 128GB Class 10 UHS-1/U3 SDXC (94MB/s)
Last item in my camera bag for portraits is extra memory cards. They're important, but FAST memory cards are even more vital. Have you ever sat down to move your images from the card to the computer and felt like it took forever? Or even worse, have you ever been shooting and had the camera stall on you? You thought you bought a fast camera, but it can't keep up?! Sometimes this is because your memory card is too slow. A lot of people don't even know about the speed factor when buying memory cards. They're often price shopping instead. Next time you purchase a memory card, make sure the speed is 94MB/s. It will often say on the front of the card and packaging.
Go to Me Ra Koh's website to see how you can sign up for her workshops.