When I have a video assignment that requires me to be mobile and shoot from unpredictable places, I need to pack much lighter than I normally do while still being prepared for whatever gets thrown at me.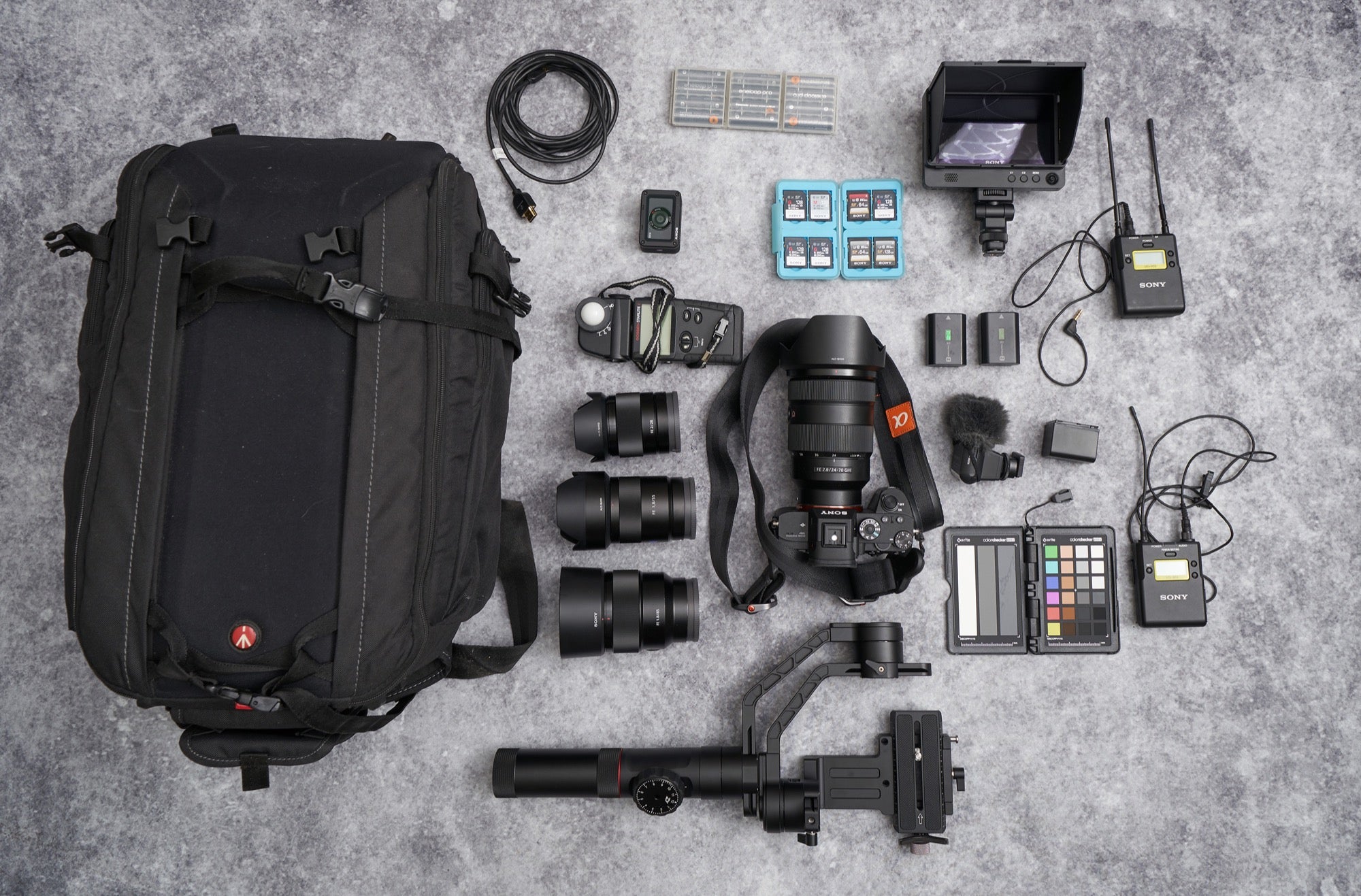 Cameras
Sony α7R III. The α7R III is an amazing camera, super-fast, high resolution, great autofocus. I use it for video because I like being able to shoot 4K in both full frame and Super 35 and it's great to have S-log and the Face Detect AF. I typically shoot 4K, Super 35/APS-C, 24p, 100M.
Sony RX0. The new ultra-compact RX0 is a great B camera or for behind the scenes because of its super small size.
Lenses
For video I like having the choice between fixed and zoom lenses, I also have the advantage of these prime lenses being fast and tiny.
With my prime lenses (my 28mmm, 55mmm and 85mm) it's much easier to balance a gimbal since they don't really change size the way a zoom can, plus they are small and light.
Sony 24-70mm f/2.8 G Master: The 24-70mm GM is great for its versatility, I can shoot wide open at f/2.8 and have a wide range of focal lengths.
Sony 28mm f/2: The 28mm f/2 is a great, sharp lens. It's especially good on a gimbal because it's so small and easy to balance.
Sony 55mm f/1.8: The 55mm f/1.8 is crazy sharp, and a perfect portrait lens when shooting in super 35.
Sony 85mm f/1.8 : The 85mm f/1.8 is another great, sharp, small lens. It's perfect for using on a gimbal and for getting tights shots in low light or when I need to blur the background.
Accessories
Extra NP FZ100 batteries: Always bring extra batteries!
Sony CLM-FHD5 5" monitor: It much easier to compose video on a larger monitor, plus it makes the client happy when they can see what I'm doing.
Sony UWP-D11 Wireless Lavalier Microphone System: It's important to have good sound and the Sony wireless lavs are great.
Sony ECM-XYST1M MIS microphone: This mic mounts on the MIS shoe on the α7R III. It's great as a secondary audio source.
Micro HDMI to HDMI cable (for the monitor)
Rechargeable AA batteries
Sony G SD Cards: The fastest cards available. It's really important for 4K video to have fast cards.
X-Rite Color Checker Passport Video: Color is always important!
Gossen Star-Lite 2 meter: A handheld meter is useful to be able to quickly meter different light sources.
Zhiyun-Tech Crane 2 Gimbal: The handheld gimbal allows me to move around and still have steady shots.
Manfrotto Pro Backpack 50: A great, comfortable backpack that can handle all this gear and more.
Tony Gale is a Sony Artisan Of Imagery. See more about him here. Follow him on Instagram @tonygalephoto