Hi, my name is Kenneth LeRose (@krl_photo) and I'm a nature photographer who specializes in landscape and astrophotography. I'm also a full-time traveler and live in a very tiny Airstream. My home is the smallest Airstream they make at a whopping 96 square feet. I've learned a thing or two about maximizing my space from this tiny house lifestyle. My camera bag, equipped with a Sony Alpha mirrorless camera and Sony Alpha lenses has to be efficient and able to go everywhere I go. Here's what I pack in my gear bag for life on the road.
See how this landscape and astro photographer lives the Airstream dream with a minimalist Sony Alpha kit.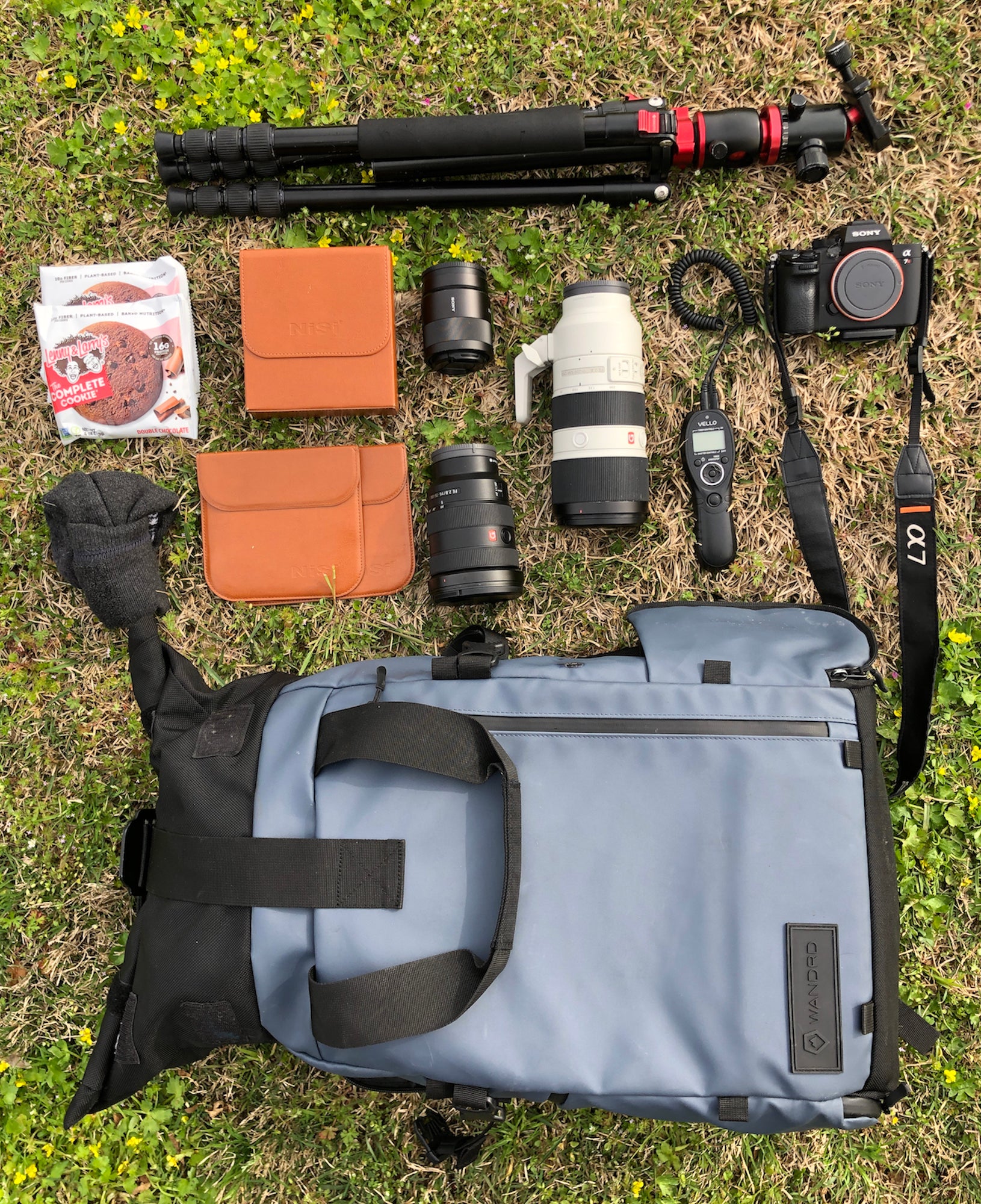 Camera
Sony α7R III: I absolutely love this camera. Mirrorless is the way to go for me. It helps keep things small and compact. This camera has faired through every type of weather imaginable and still clicks. I find it to be super dependable from the frozen -30 degree temperatures I've recently experienced in Sweden to 100 plus degree days in the sand storms of Death Valley. Oh, and the focus peaking capability is a time saver when finding a bright star in the sky and fine tuning your focus in a matter of seconds to never miss a night shot. I couldn't imagine the dinosaur ages when I didn't have focus peaking.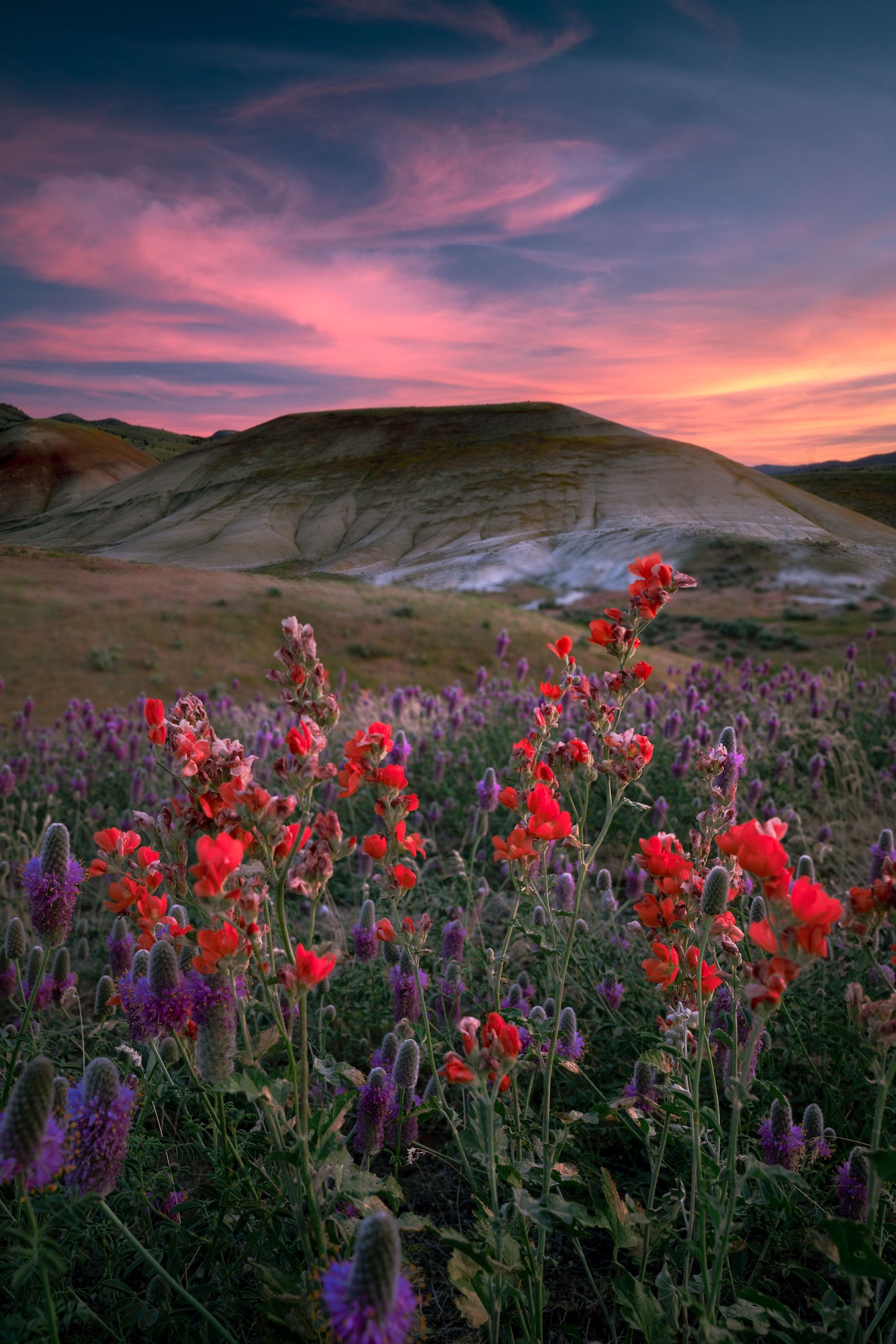 "An incredible sunset over the Painted Hills in Oregon. Going super wide to get as many flowers into this scene as I could." Sony α7R III. Sony 16-35mm f/2.8 G Master. 1/10-sec., f/9, ISO 500.
Lenses
Sony 16-35mm f/2.8 G Master: This was my very first Sony Lens and undoubtedly my workhorse! Sharp from corner to corner and delivers the best sunstars. Its versatility allows me to keep it on for sunrises and sunsets and never have to take it off for my night time astrophotography adventures. So many amazing memories captured with this bag time favorite of mine.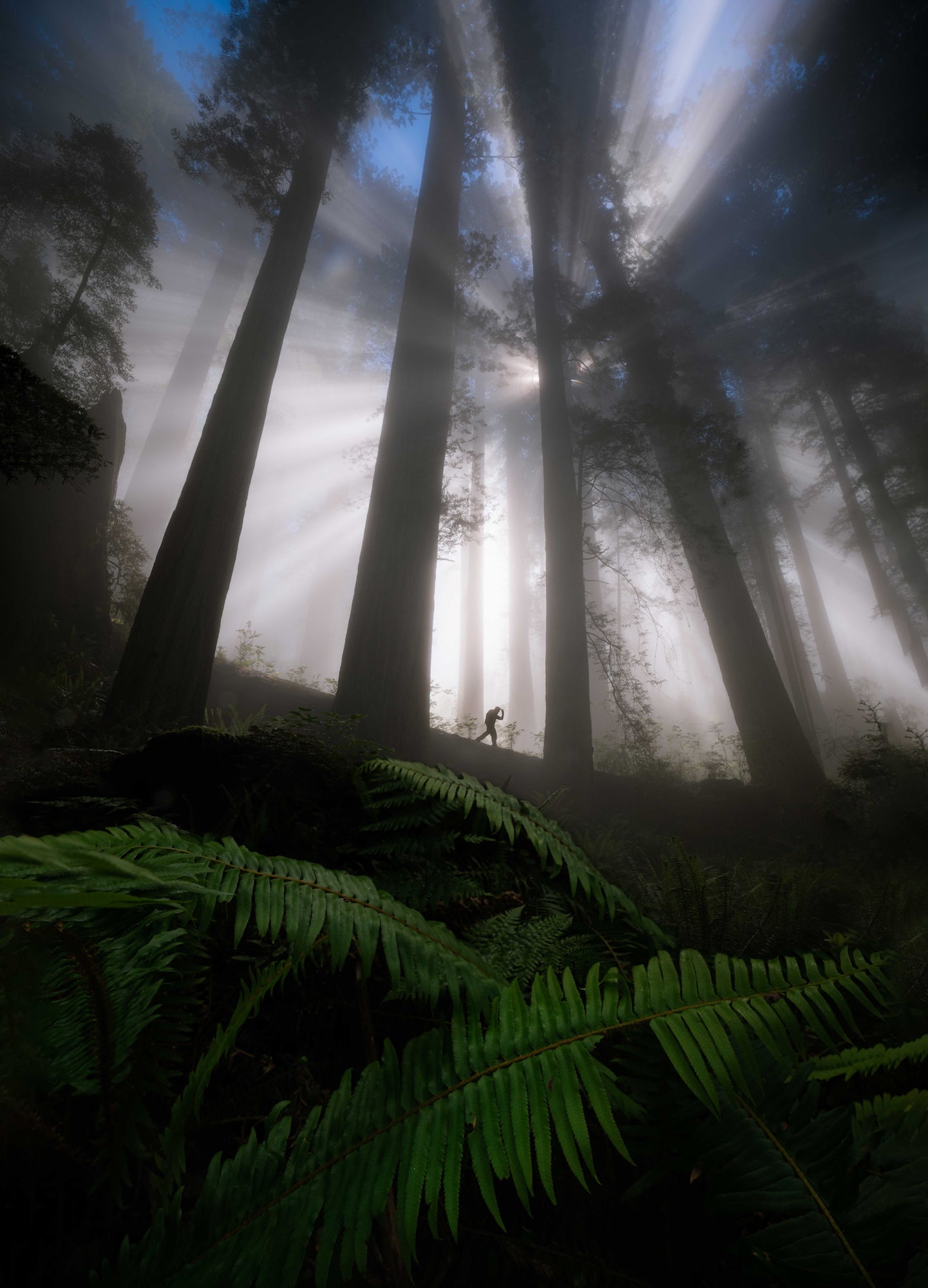 "One of the most incredible mornings I've ever spent in the Redwoods. The versatility of my 16-35mm allowed me to get super creative with so many different focal lengths that morning. This fog lasted for seven hours, it was insane!" Sony α7R III. Sony 16-35mm f/2.8 G Master. 1/10-sec., f/9, ISO 500.
Sony 55mm f/1.8: I love doing panos with this lens and occasionally when I want a little compression in my shots, this gives me that little extra punch. Also, it is crazy lightweight and takes up next to no space in my bag. This bad boy is a dream to manually focus on the stars and is without a doubt my sharpest lens overall. A no-brainer as it's earned its permanent spot in my bag.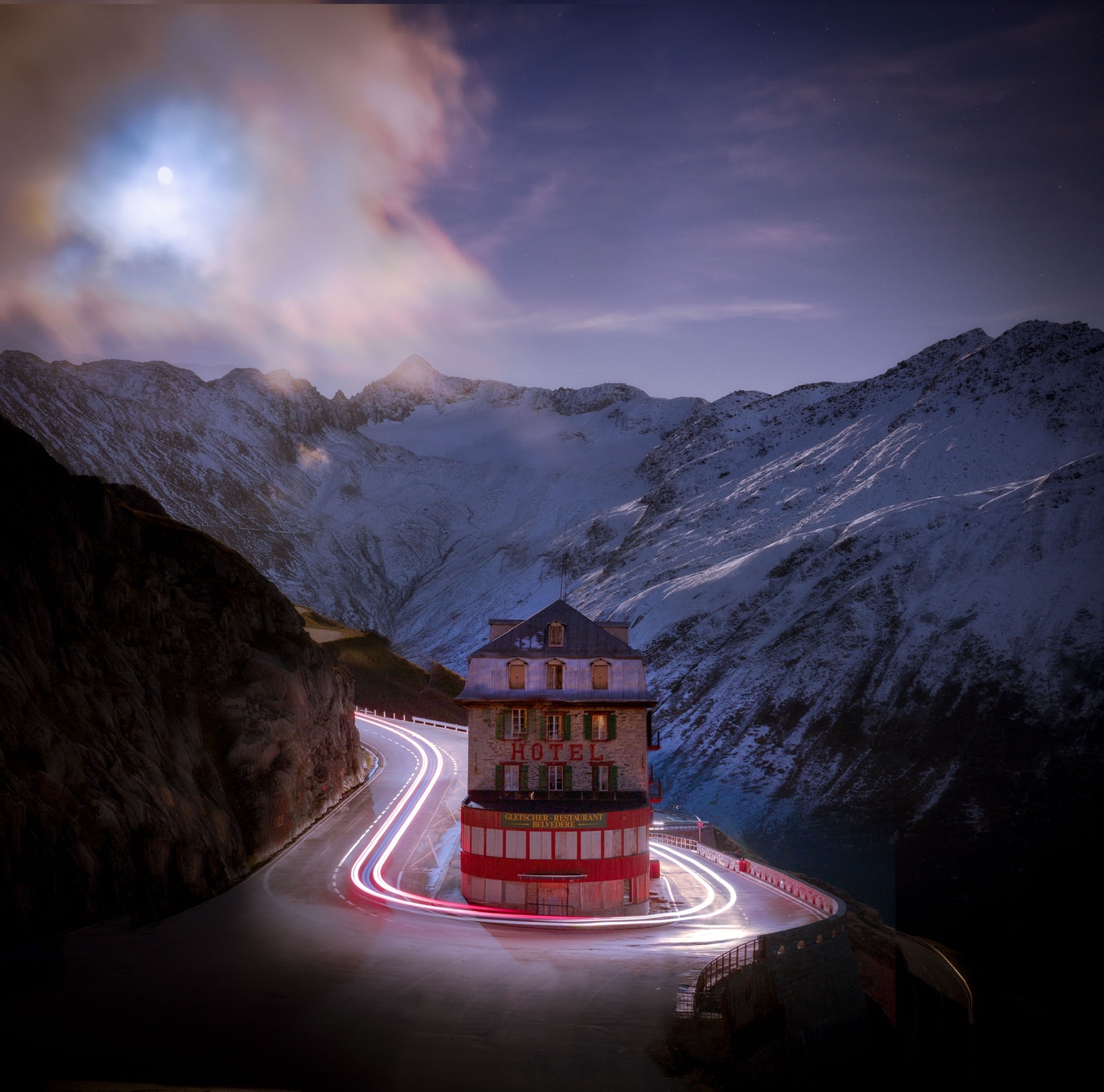 "I love this lens for panos and a lot of what I shoot with this 55mm ends up being processed as panoramic shots. This was a closed hotel that does open seasonally. It was such a treat to watch the moon rise and light up these beautiful Swiss mountains with two cars going up and down at the same time to create these long-exposure light trails." Sony α7R III. Sony 55mm f/1.8. 4 sec., f/2.2, ISO 1000.
Sony 70-200mm f/2.8 G Master: This telephoto zoom lens is fast and sharp. If I'm planning on taking any portraits or action shots of my dog, then I'll bring this one along. It's also great for photos where my Airstream is the subject like the one below.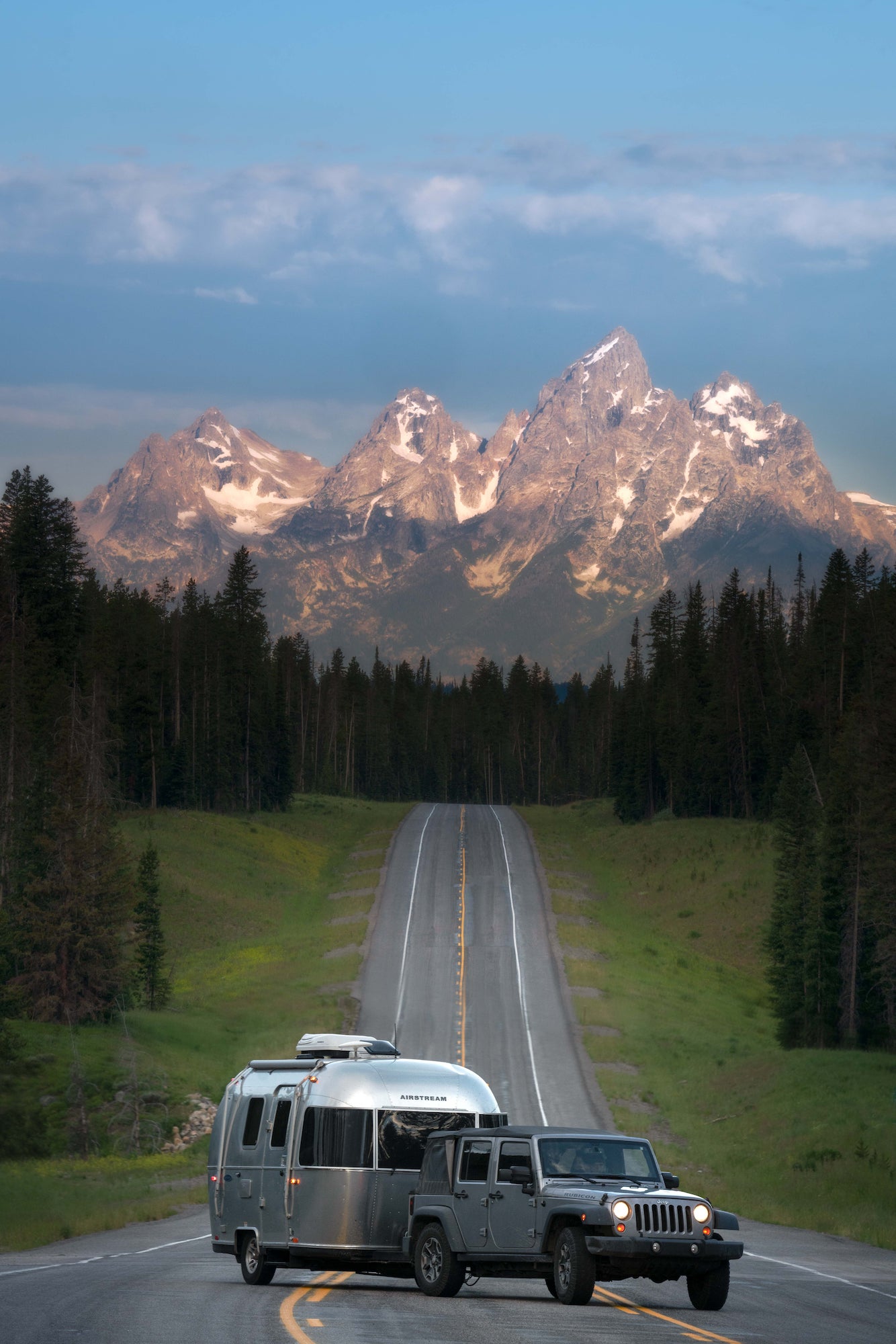 "One of the many amazing roads my home gets the pleasure of rolling on. I took this by setting up my tripod and intervalometer to continuously shoot and rolled down and up the road. It was sunrise so the road was completely dead of any traffic." Sony α7R III. Sony 70-200mm f/2.8 G Master. 1/200-sec., f/11, ISO 800.
Accessories
Wandrd Prvke 21L: I've been using this bag for a little over a year and it seems to do the trick. It definitely fits the needs of my everyday photography adventures. Heck, I've even used this to cram some backpacking gear in while traipsing through Switzerland and Italy. Not the most ideal for backpacking but it held more than I expected and a bit more comfortably than expected as well. I wouldn't recommend it for that purpose but I managed to make it work.
Nisi Circular Polarizer: Great for creating more contrast in the sky with snow capped mountains as well as cutting glare and reflections in water filled foregrounds. A 3-stop soft grad filter gets some use every once in a while as well as my 10-stop ND filter for those silky smooth long exposures.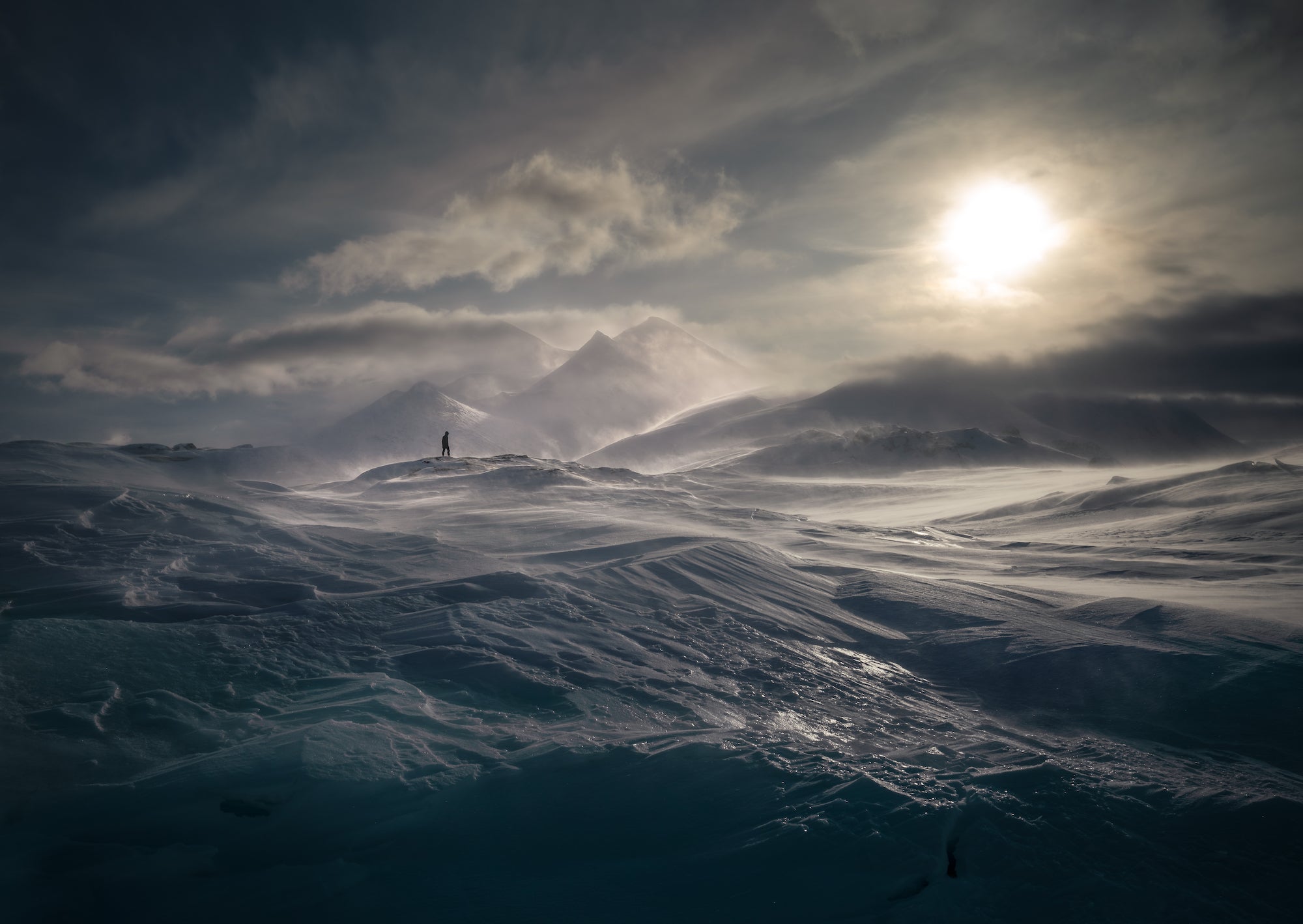 "One of my most recent and favorite photos of my trip to the Swedish Lapland. 16mm allowed me to capture this incredible atmospheric wind blowing the snow on top of all this frozen ice." Sony α7R III. Sony 16-35mm f/2.8 G Master. 1/160-sec., f/22, ISO 80.
Tripod, lens cloths, headlamp, two Sony Camera batteries and a shutter trigger are items I use on a daily to weekly basis. Anyone who knows me, knows I eat A LOT! I am never without food and protein cookies – they are what have kept me alive quite often on the trails! I've also found myself on tough hikes and always keep spare electrolytes in there as well.