Philip Lemoine lives in Honolulu, Hawaii and has been shooting video full time since 2010. His background in video is actually in wedding cinematography, but once COVID hit he used the time off from weddings to film cooking videos and share them on YouTube. He even combined his passion for food and cinematography to help other home cooks and chefs make professional cooking videos with the educational tutorials on his YouTube Channel. "One thing I love to tell my viewers is that you don't need a ton of fancy and expensive gear to make great looking content. I'm still using Sony Alpha 6400 [plus a ZV-1] bodies to shoot all my videos and they're more than enough camera to get the job done." We connected with him to learn more about the Sony Alpha gear in his bag for creating his popular cooking videos.
Wedding shooter turned cooking vlogger Philip Lemoine cooks up a steady diet of delicious content. See how he uses a pair of APS-C Sony Alpha cameras & a ZV-1.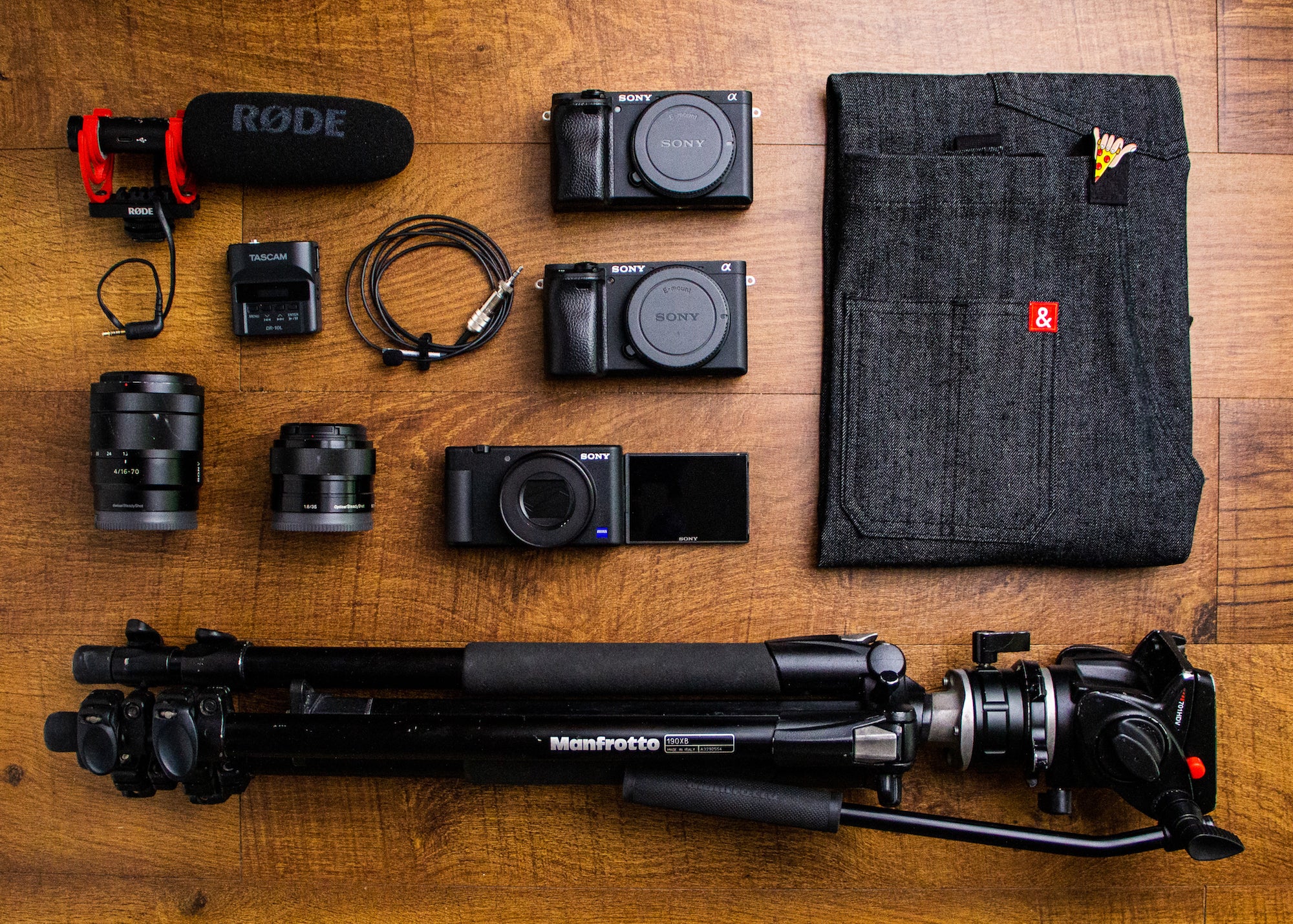 Vlogger Philip Lemoine shares the Sony Alpha gear he uses to create his popular cooking videos on YouTube.
Cameras
Sony Alpha 6400 (2): This camera is perfect for any food content creator or YouTuber in general. The flip up screen is what sold me and I actually switched from an Alpha 6500 to the Alpha 6400 for this feature alone. Having the ability to shoot 4K is great as well because I'm able to film horizontally for YouTube but also crop my videos for vertical content that I share on Instagram and TikTok. The face tracking AF is also super on point and helps keep me in focus while I'm talking to the camera and giving directions to the viewers. I actually have two of these bodies to run multiple cameras at a time while cooking.
Sony ZV-1: I recently picked this camera up after borrowing my friend's for a week to give it a spin. This camera is honestly the perfect portable vlogging camera. It has all the bells and whistles you'd want plus a built-in 24-70mm! I love that I can literally pack it in my pocket but still bust it out to get some quality content without attracting any attention like I would with a larger camera. I use it to shoot more vlog style content when I'm out and about or filming content of our foodie adventures when we go out to eat. Yeah, I'm that guy filming his food with a camera.


Lenses
Sony 35mm f/1.8: This lens pretty much lives on my camera. It was such an affordable lens and the focal length is close to 50mm if I were shooting full frame. I love that I can get nice and tight shots of when I'm prepping or cooking but still keep my camera a few feet back so that grease or sauce doesn't go flying on my lens. The fast 1.8 aperture is great at adding depth to my shots and blurring out the mess in my kitchen when I need it to (haha).
Sony 16-70mm f/4: I shoot mostly primes but this zoom lens is awesome because it's small, compact and sharp. This lens has gone to war with me at a ton of weddings and survived a trip across the parking lot when it fell out of my bag and rolled ALL the way down the steep driveway. This is my g- to lens when mounting my camera overhead because it's super light so I'm not worried about my C-stand tipping over. Because it's a zoom lens, I can easily punch in or out to fine-tune my composition when shooting down during my prepping or cooking without having to adjust the height of my C-stand.

Accessories
Tripod: I use a Manfrotto 190XB Tripod with a 701 HDV Head. I have owned this tripod for over 10 years now I think and it's still my go-to. It's small, light and solid! I love the adjustable center column because it allows me to quickly adjust the height of my camera to switch my angles up on the fly when I'm cooking and need to move fast. The legs are also adjustable with lock levers instead of those ones that tighten and loosen by screwing and unscrewing, which makes adjusting the tripod fast too.
Shotgun Microphone and Stand: I'm using a Rode Videomic NTG which helps me capture awesome natural sounding audio that I love to include in my cooking content. I actually mount the microphone off camera with a microphone stand to get the mic as close to the action as possible. I'll connect the mic to the camera with a long 10-foot cable.
Lavalier Microphone: I use a Tascam DR10 and lav mic to capture any audio of me talking to the camera. I prefer to wear a lav mic because I'm often moving around a lot in the kitchen so i'ts easiest to capture my talking when it's attached to my body.
Apron: My Hedley and Bennett Apron has become my "uniform" for my cooking content. Aside from looking cool it makes me feel a little more official in the kitchen. It also helps keep my clothes clean when I'm cooking and I love that I can clip my lav mic to the neck strap and tuck the wire behind it nice and clean.
See more of Lemoine's work on his Alpha Universe Profile, YouTube Channel and on Instragram @philip_lemoine.