Drew Simms (@drew.simms) has spent the last three years living full time out of his Jeep Wrangler as a professional photographer and filmmaker. He spends his time on the road exploring National Parks, forests and public lands in the United States, and shares his adventures in his vlogs and through stunning images and videos. Inspired by Sony Artisan of Imagery Chris Burkard, Simms switched from a Nikon DSLR to Sony Alpha cameras and lenses for the savings in size and weight and the system's versatility for still and video. When we came across his Alpha Universe Profile we knew we needed to connect with him to learn more about living life exploring and vlogging from a Jeep. Create your own Alpha Universe Profile HERE for a chance to be featured on Alpha Universe.
We connect with photographer and filmmaker Drew Simms who has lived out of his Jeep full time for three years & documented the experience with his Sony Alpha system.
Career Snapshot
Simms first started doing photography for fun, but his passion for landscape photography and being in the outdoors really struck after a trip to Mount Kilimanjaro with his dad while still in college. Throughout the rest of college he made several trips out West and knew after graduation he wanted to go that way.
"I actually graduated with a real estate and finance degree, which I'm putting to good use now, obviously, living out of a Jeep," jokes Simms. "But I graduated in summer of 2018 and sold about 90% of my belongings and put what was left into my Jeep and headed out. My Jeep has pretty much stayed west of Colorado for the last three years. So I've done the whole West, like Arizona, New Mexico, Colorado, Wyoming, Montana, Washington, Oregon, California, Nevada, and Utah, and I did a little bit of Canada when I first started on the road as well."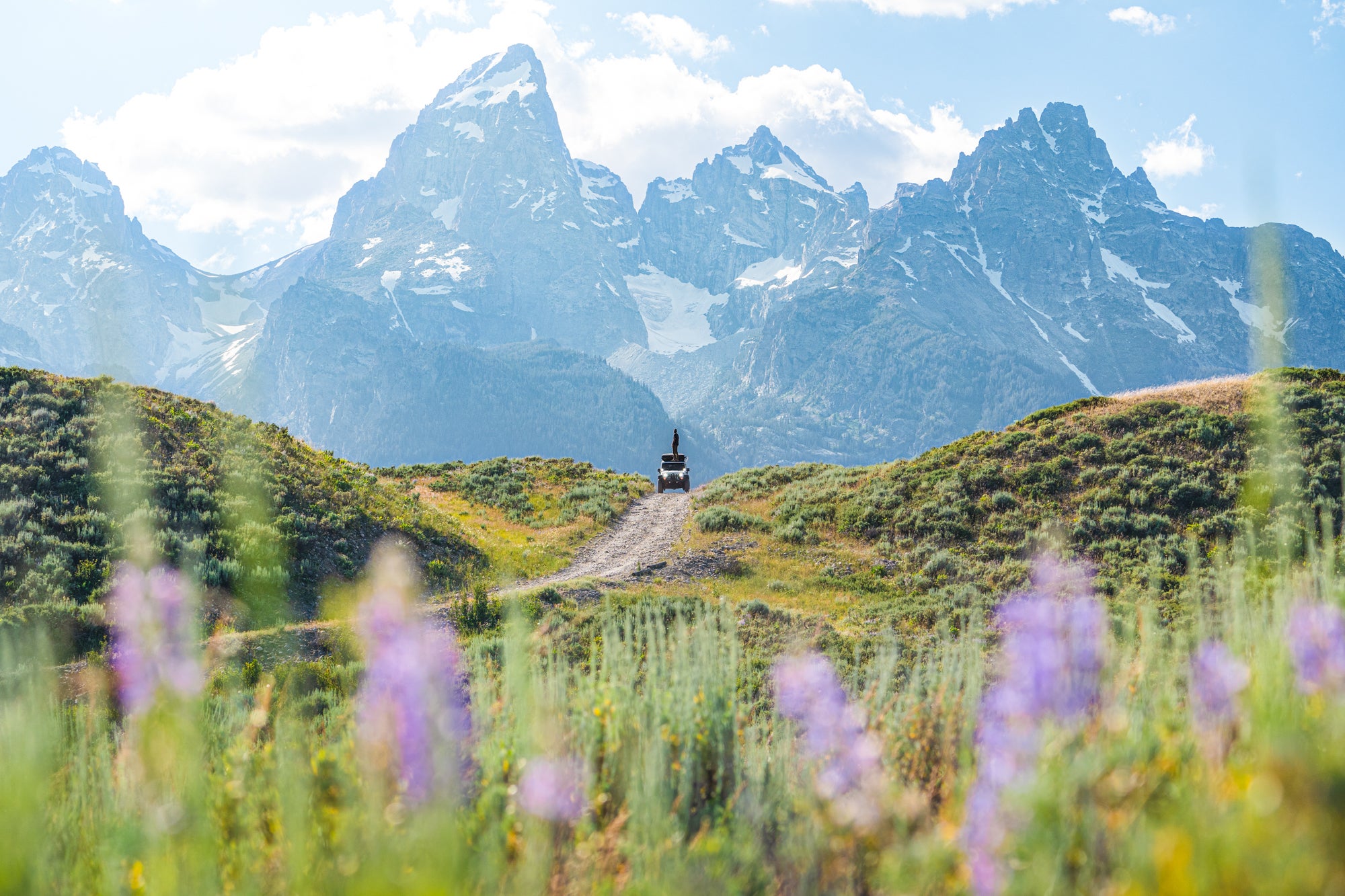 Photo by Drew Simms. Sony α7 III. Sony 16-35mm f/4. 1/320-sec., f/6.3, ISO 320
"And that's how photography came more into the picture and living out of the Jeep pushed me more and more into that. I wouldn't say I was a photographer when I first started. I wouldn't say I knew anything about overlanding or living on the road or anything about cars or anything like that, but it just all kind of snowballed on itself over the last three years on the road."
The Ups & Downs Of Being A Creator On The Road
Being a creator on the road can obviously have its difficulties, especially as Simms grows his portfolio and takes on larger jobs. "For me recently the biggest challenge has been being able to work on bigger projects," he says. "The more I get into the photography and filmmaking space, the more difficult it's becoming to live full-time out of the Jeep and to go through the editing process. I chose a Jeep because it would push me to be outdoors more instead of if I were to have a big van. I didn't want the comfort of being able to sit inside of the van so the Jeep pushes me to go more and sit outside and spend my time on the road outside. But the big downside of that is I just don't have a big workspace, so I spend plenty of time in coffee shops and libraries."
Working on the road can be a lonely job, but Simms knows it's a special opportunity and is enjoying his time in this lifestyle as much as he can. "I'd say the question I'm asked most about my lifestyle and what I'm doing is if I get lonely. I spend 90% of my time on the road by myself and I do meet up with a lot of other photographers. I think that's also a great aspect of just social media and content creation in general, especially being on the road, is that you meet a lot of people that are doing things very similar and it's nice to meet up and shoot with them."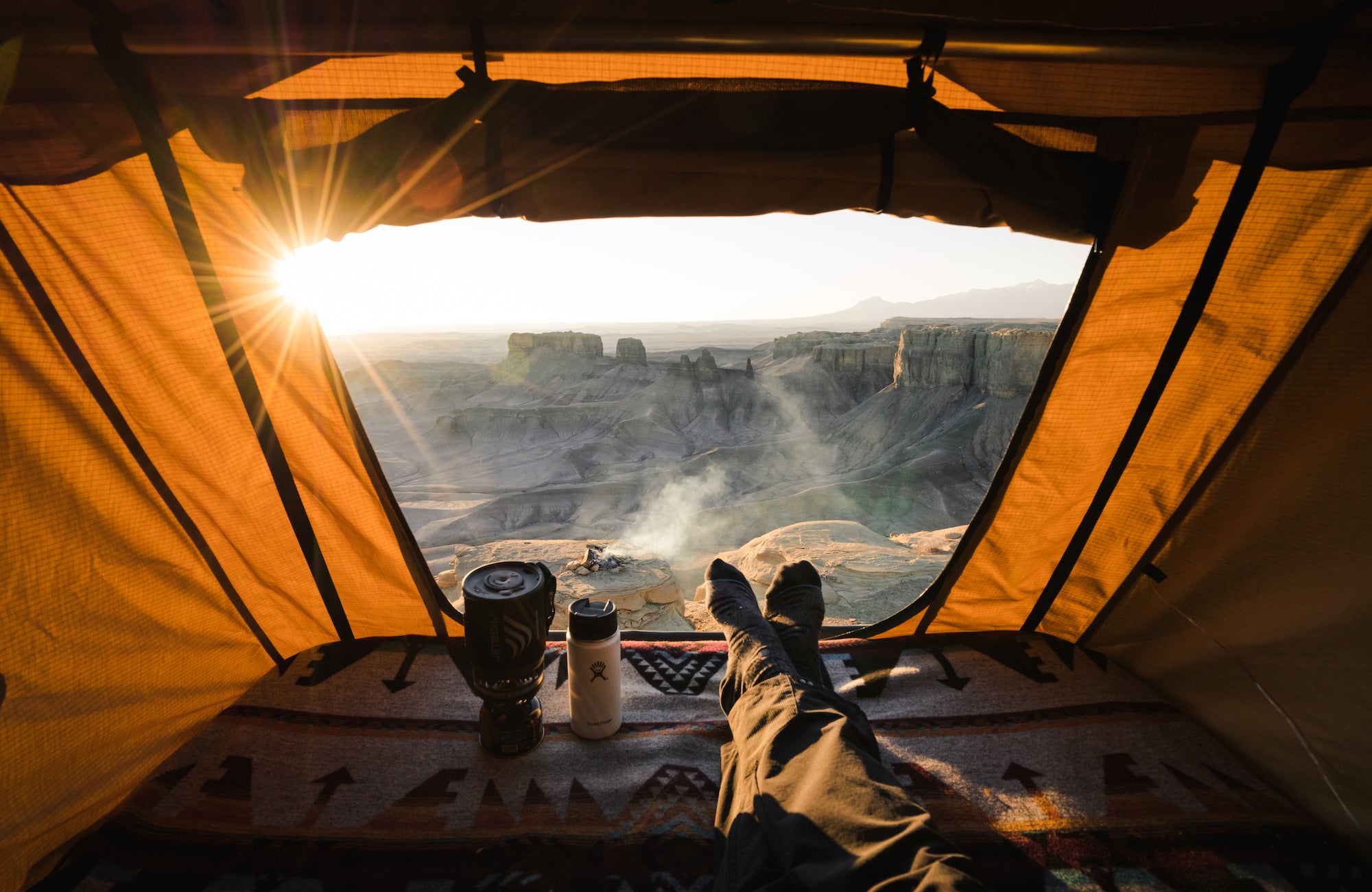 Photo by Drew Simms. Sony α7R II. Sony 16-35mm f/4. 1/400-sec., f/9, ISO 1600
"Of course I'm still by myself most of the time so I definitely feel lonely, but I know it's just temporary. And I think what kind of drives me to get past feeling lonely or wishing I had a full kitchen or an indoor bathroom and stuff like that, is just that this lifestyle isn't permanent for me, but it's the only time in my life I'm going to have the freedom that I have and be able to have these experiences without being tied down to a family or a more steady full-time job. So yes I'll feel lonely, but I just kind of soak it up because it's the only time in my life I'm going to be able to feel and have these experiences the way that I do."
Why He Shoots With Sony & His Current Go-To Gear
"I started out shooting with Nikon, and one of the big photographers that I first started following was Chris Burkhard who is obviously a big Sony shooter. And I feel like he was one of the first people to really shoot landscapes a lot with a mirrorless camera. And the whole appeal of it to me was just how lightweight it was, and I think the user interface, for me, was much easier than shooting with the Nikon so I made the switch."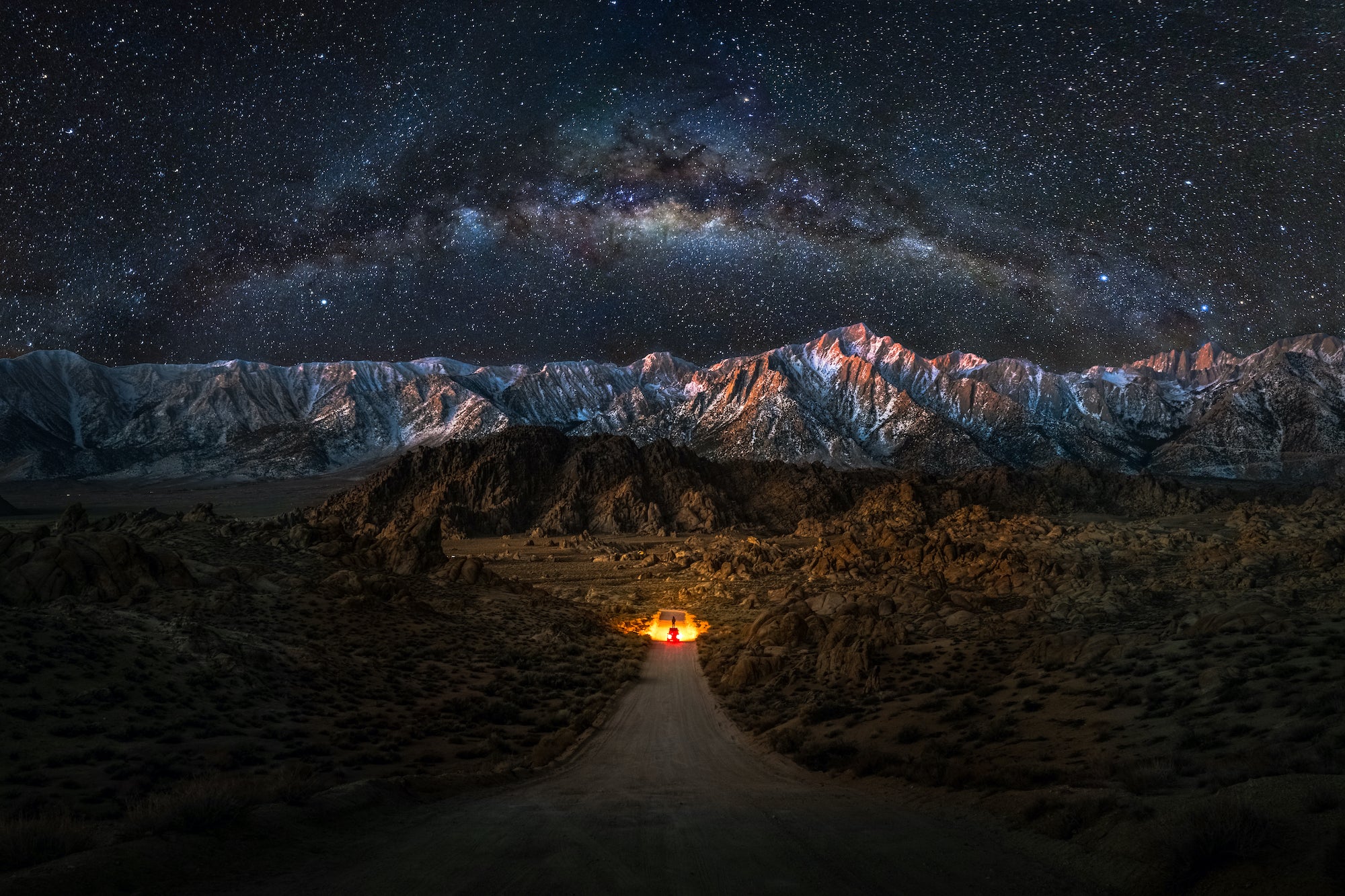 Photo by Drew Simms. Sony α7 III. Sony 16-35mm f/4 at 16mm. 15 Images.
"For the past two and a half years, I've had the Alpha 7 III, and I've been shooting both photo and video with that. I absolutely love that camera because it's so versatile, but I just upgraded to having the Alpha 7S III for video, and an Alpha 7R III for photo. So now if I do jobs, I have two cameras, which has been great."
As for lenses, Simms relies on a combination of the Sony 20mm 1.8 G, Sony 16-35mm f/2.8 G Master, Sony 70-200mm f/2.8 G Master. When it comes to video, the fixed wide angle of the Sony 20mm 1.8 G captures most of his footage.
His Advice For Other Creators Wanting To Hit The Road
For other creators out there who have thought about life on the road, Simms has some advice. "I say, go for it. When I started I really knew nothing about camping. I only went camping two times before I moved into my Jeep full-time. I'd only been camping once out West on a solo trip. And then one more time with a buddy for maybe 10 days. And that's when I decided to move full-time into my Jeep. I really knew nothing about overlanding and not even much about photography at the time but I was just learning through YouTube videos and trial and error. I think anyone can do it and it doesn't take an expert. I don't think you need to understand cars or be an expert at camping. I just think it's more so getting out there and doing it. I'm a big believer in learning by experience versus reading. I hated school, so I'd say I'm much more of a hands-on learner."
He's also realized that the more he gets into the photography and filmmaking space, the more stress that can come on with feeling the need to capture and post everything. In order to combat that feeling and to still fully experience his surroundings, he makes it a point to step away from the camera at times. "Sometimes I just leave the camera in the Jeep and focus on just enjoying and not worrying too much about trying to capture every single moment," says Simms. "I think a big thing that I tell myself when I'm on the road is that I can't capture everything. You can't film every moment. You can't take a photo of every moment. And for me, a lot of the big moments, some of my favorite moments on the road, have definitely been moments for myself that I don't capture with a camera. I think it lets me disconnect from the moment of trying to shoot and just enjoy where I am, which is very difficult to do, I would say."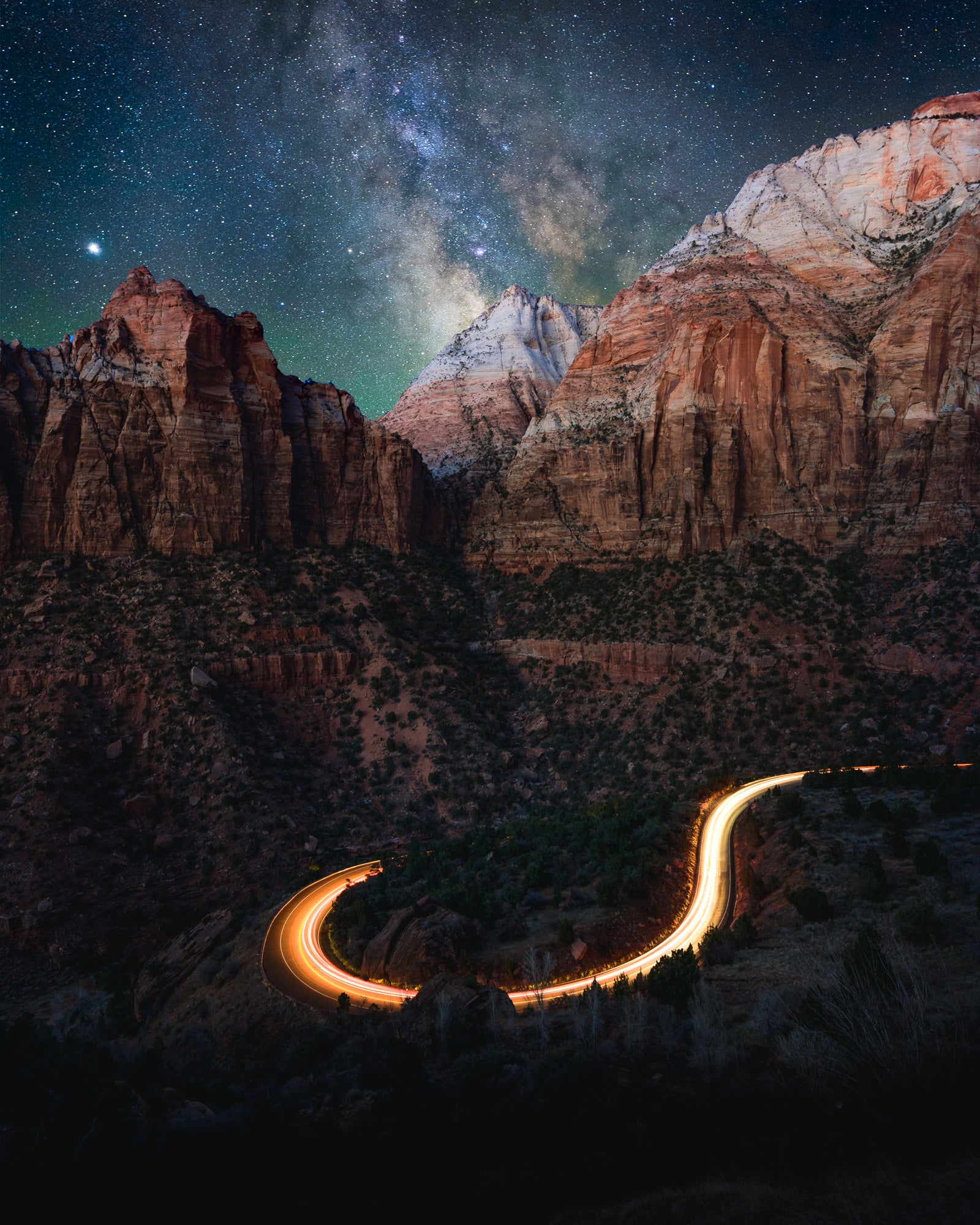 Photo by Drew Simms. Sony α7 III. Sony 16-35mm f/4. 30-secs., f/8, ISO 250
Join Alpha Universe and complete your public profile. It's free and you'll have a chance to be featured on Alpha Universe! Click here to learn more.