Natascia Mercurio (@natybtw), also known as Naty, is an art director, photographer and filmmaker born in Italy. Her love for art has helped her try out many creative forms including illustration, photography and directing. She defines herself as a storyteller, since she aims to convey emotion through everything she captures. After graduating with a degree in graphic design and experimenting with many genres of photography, she began working as an art director near Milan. After four years of curating for clients like Mercedes, Etro and Teatro alla Scala, she decided to leave her full-time job to dedicate all of her time to photography and videography.
Art director, photographer and filmmaker Natascia 'Naty' Mercurio takes us through the Sony Alpha cameras and lenses she uses to create mood, emotion and story.
A large part of her creative vision comes from playing with light and color to define feelings of warmth (happiness, joy, serenity) and cold (sadness, closeness, calmness) together. People would define her color palette as the usual "teal & orange," but she has made such a classic cine-color into something so personal and recognizable. She has found that her characteristic aesthetic allows her room to roam across genres without risking her consistency. We caught up with Naty to learn more about the gear she uses to achieve her creative style. See more on what's in her bag below.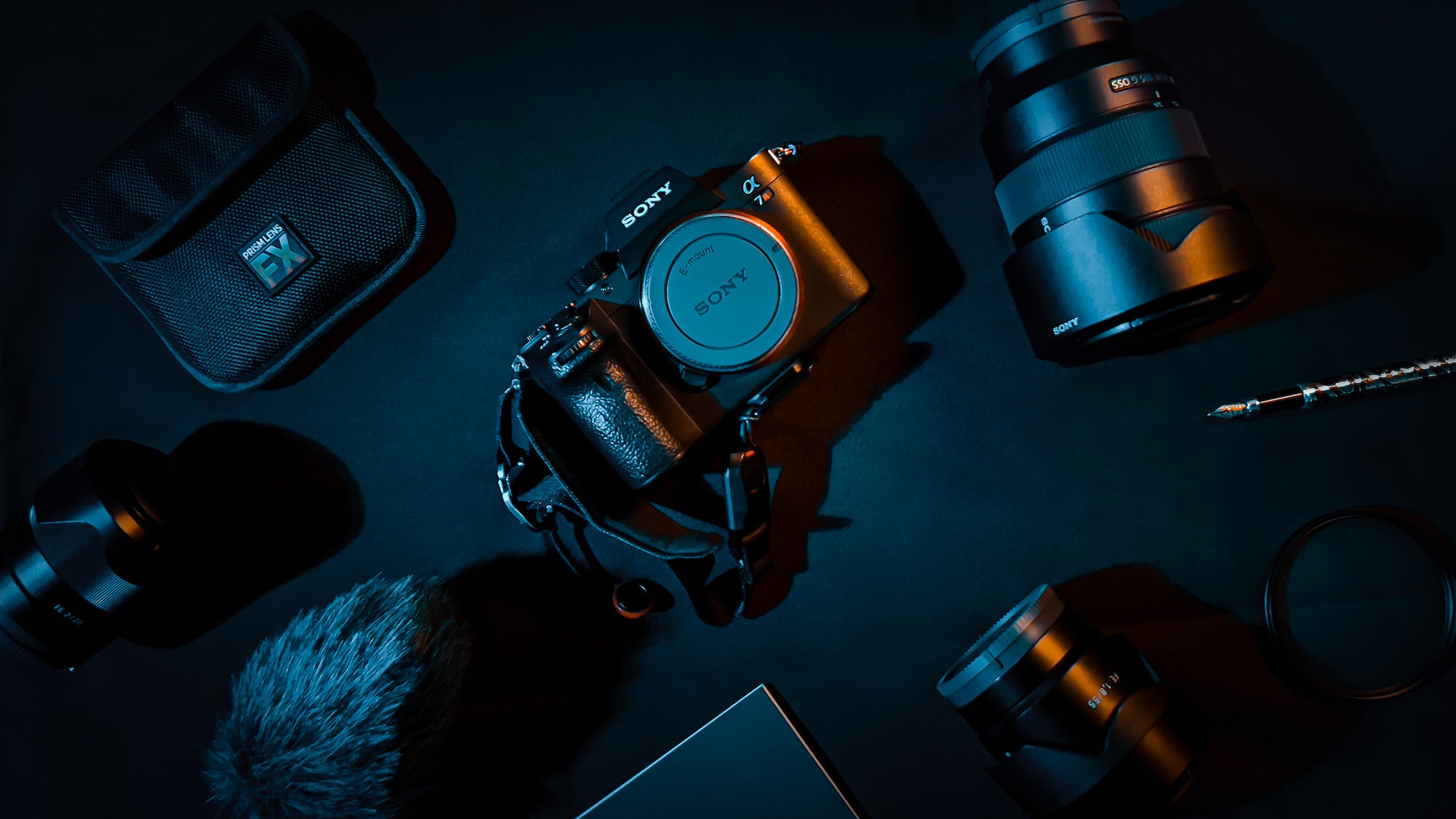 Camera
Sony Alpha 7R III: This is my most favorite camera. It is the perfect size and has incredible dynamic range and super fast autofocus. It is so versatile that it works for all genres of photography I work in, fashion, portrait, and street photography, it also performs incredibly well for video. I always have this camera with me, and I never wish I had something else, it is truly irreplaceable.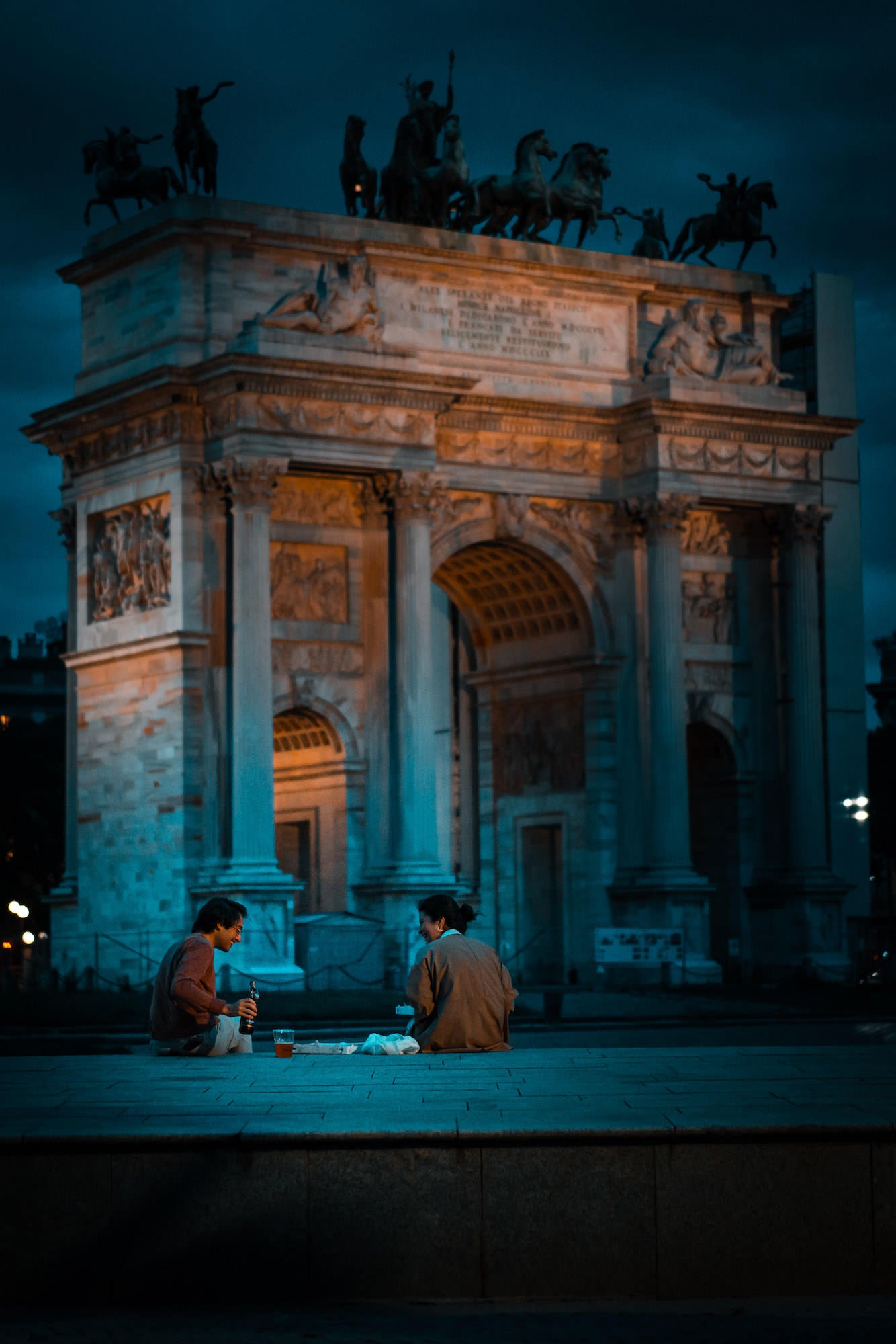 I took this photo with my Sony Alpha 7R III in 2020, right in the midst of the early stages of the pandemic. The sun was setting and this lovely couple was having a romantic dinner under The Arc of Peace in Milan. It was an incredible and heartwarming moment to experience. Photo by Natascia Mercurio. Sony Alpha 7R III. Sony 55mm f/1.8. 1/320-sec., f/1.8, ISO 1250
Lenses
Sony 55mm f/1.8: My most-used lens of all the time. Using prime lenses has definitely helped me to grow as a photographer and visualize the shot before pressing the shutter button.
Fast and perfect focus, extremely sharp and the fact that it doesn't miss the focus even in backlit conditions makes it even better. It's the perfect lens for every situation.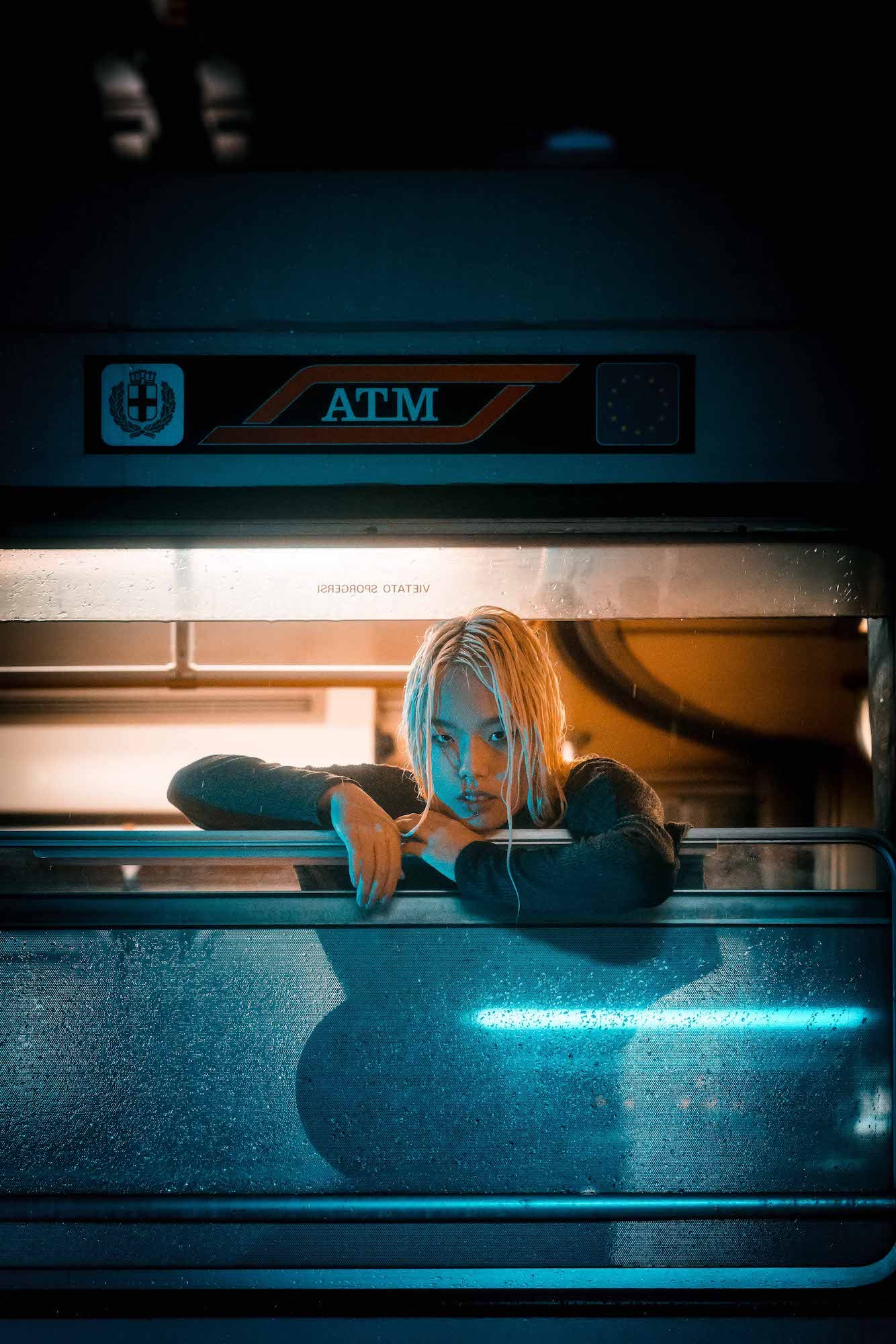 I like to shoot in extreme weather conditions and the fact that I never have to worry about my gear makes the whole process a beautiful and smooth experience. Even during heavy rain, I have been able to capture many fantastic portrait shoots. Photo by Natascia Mercurio. Sony Alpha 7R III. Sony 55mm f/1.8. 1/400-sec., f/2.2, ISO 2500
Sony 24-105mm f/4 G: The most versatile zoom lens ever. I've found that you can't really live without it. The image quality is absolutely stunning. I have rarely been in a situation where I wished I had something else.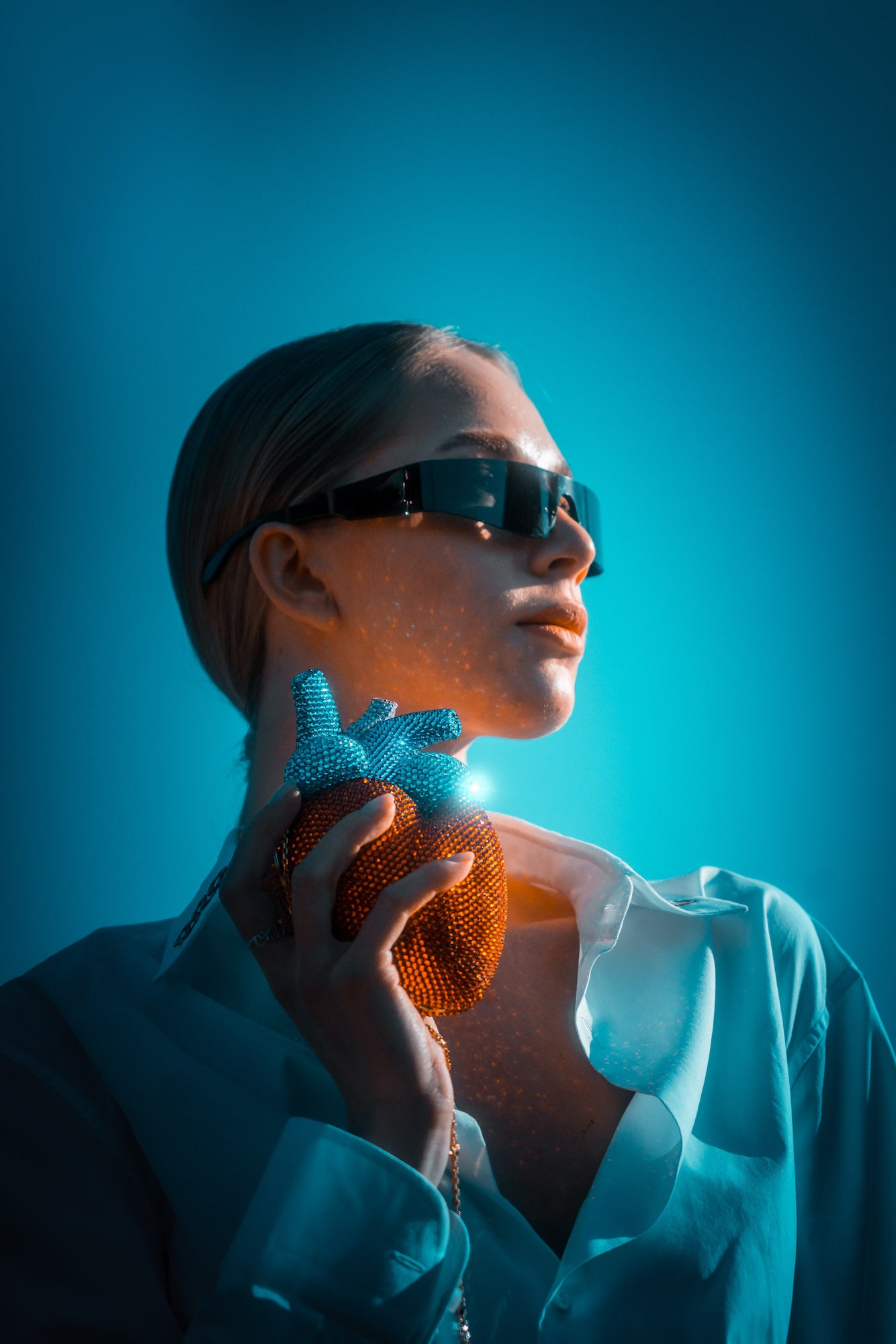 Sunrise, sunset, blue hour, night: with this lens you can't go wrong. Fashion photography is always so hectic and with this lens I never have to worry to change lenses in-between shooting, it covers a variety of wide angle shots and also full on sharp closeups. Photo by Natascia Mercurio. Sony Alpha 7R III. Sony 24-105mm f/4 G. 1/5000-sec., f/4, ISO 400
Sony 28mm f/2: The most compact and lightweight lens I've ever owned. Makes you want to carry it everywhere and that's also why it never leaves my bag.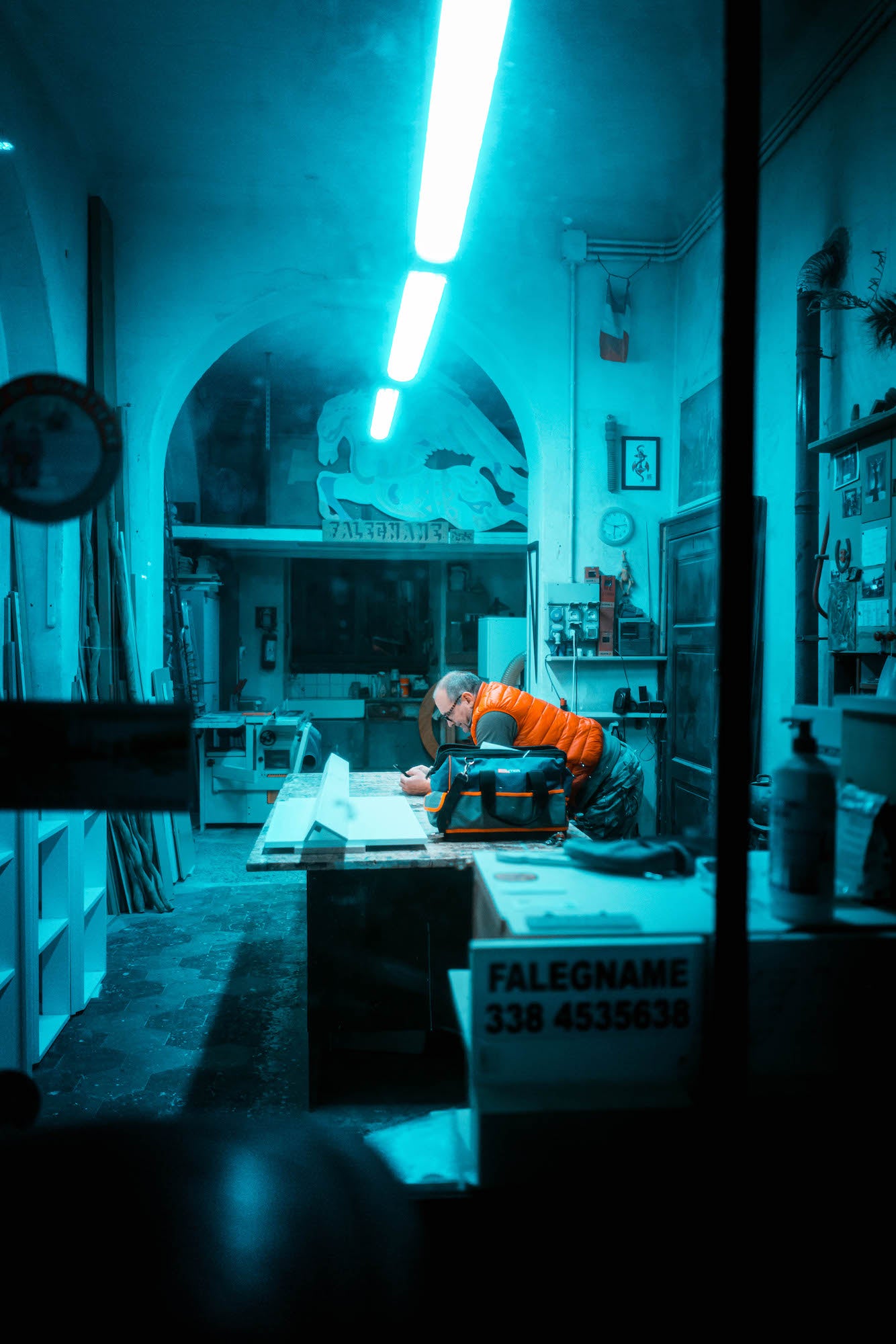 Perfect for street photography and fashion shots due to its ability to be wide enough to capture the whole scene. Photo by Natascia Mercurio. Sony Alpha 7R III. Sony 28mm f/2. 1/320-sec., f/2, ISO 1000
Accessories
Sketchbook + Stylographic Pen: I'm such a technology freak but not when it comes to sketching. I love writing down and drawing my next projects so I always carry with me a sketchbook and my stylographic pen.
Rode Microphone: since I also make videos, one of the most crucial parts is getting the sound right. So I always carry a microphone with me to get the best sound possible.
Prism Lens Fx Dream FX & Flare FX Filters: I love experimenting with my photography and videography so I always add an extra touch by using filters. I have so many I experimented with.
PeakDesign Clutch Hand Strap: Having all my gear safe is the most important matter for me.I always use this incredible hand strap so my camera won't slip away. So useful and comfortable.
See more of Naty's work on her website or her Instagram @natybtw.