Christina Adele Warburg-Hon (@christinaadelephoto) is a nature and elopement photographer and a who spent most of a decade as a Ranger living in different national parks. "After years in Grand Teton, Grand Canyon, Yellowstone, Yosemite and Zion National Parks, I have lived in and near in Glacier National Park since 2018," she explains. "To me, the national parks are everything. They are my career, home, family and friends. They are so much more than a pretty place to vacation. All the important memories of my life are tied up in the parks. I want other people to see how special they are, for other people to care about them the same way that I do, to be motivated to visit a park and develop their own connection to it, and in turn, to maybe work as hard at protecting the parks as I do. Maybe then, they will be around for my children's children to experience the same way that I have."
Christina Adele Warburg-Hon has been living in and near national parks for most of the last 10 years. See the Sony Alpha gear she uses for her nature and elopement photography.
That's why she started photography in the first place – she needed to show her friends why she left them behind in California, and why they needed to visit her. She needed to capture how special these places were, and that is what she is aiming for every time she looks through the lens of her Sony Alpha 7 II. Christina spent years focusing solely on landscape photography. However, after her own Glacier National Park wedding in 2018, she started to see that one way to help people establish deeper bonds to the landscape was to help them plan and capture the most special moments of their life inside the park, and what day is more special than a wedding day? In addition to her landscape photography she now plans and photographs elopements throughout the park. See more on her kit for nature and elopement photography below.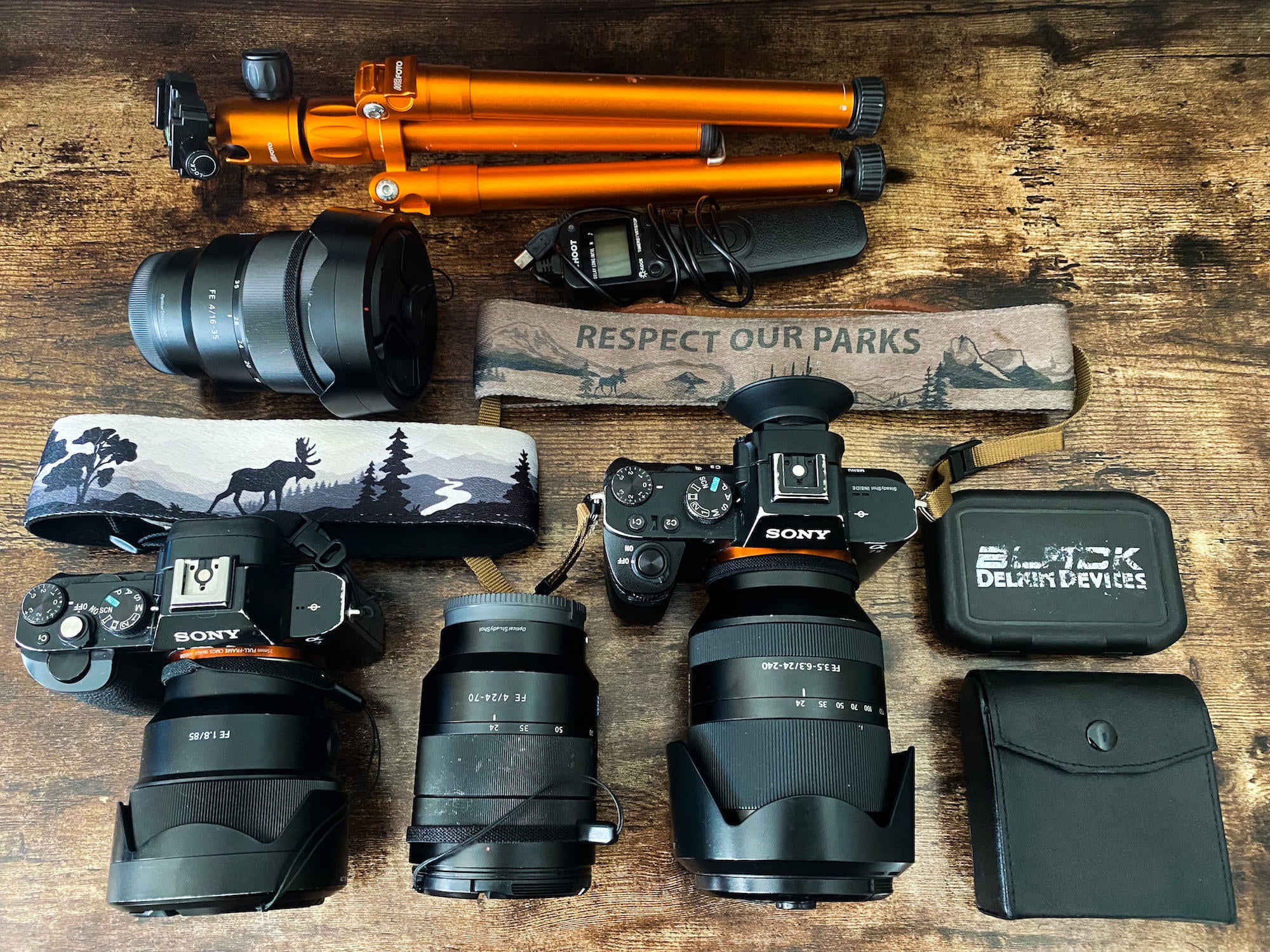 Cameras
Sony Alpha 7 II: In December 2015, I switched to the Sony Alpha 7 II from a Canon Rebel. It was my first full frame camera and I saved up for a long time for it. At the time I was in between seasons as a park ranger in Grand Teton and Yosemite National Parks, and money was short -but to me the switch to Sony was worth it. Time flies when you are having fun and somehow 6 years have passed since then and I have never looked back. It's probably time to upgrade soon, but my trusty Sony Alpha 7 II has not let me down yet. I have a long list of favorite things about it, but to narrow it down -I love the live view display and autofocus capabilities. But I think my favorite thing about it is the ability to pull out colors and details from the shadows. My favorite times to shoot are at sunrise and sunset and oftentimes the foreground is in the shadows to get the colors of the sky correct. However, with my sony I have always been able to pull out the shadows and have the image reflect what my eyes actually saw.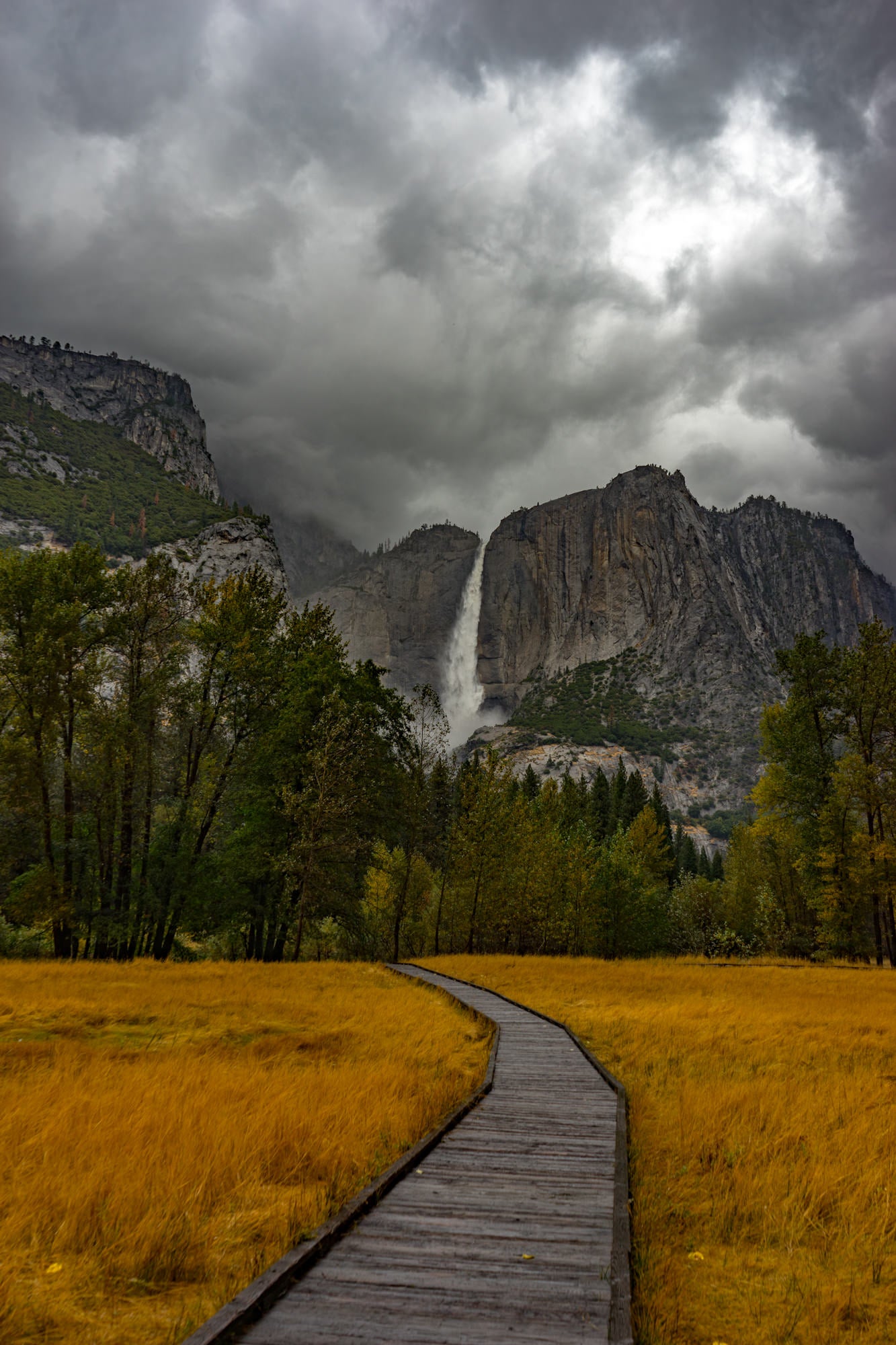 I took this photo the first year I had my Sony and I was happy to be able to pull out the details in the cloud which would have been impossible with my Canon. Photo by Christina Adele Warburg-Hon. Sony Alpha 7 II. Sony 28-70mm f/3.5-5.6. 1/80-sec., f/7.1, ISO 100
Alpha 7: After I got married in 2018, I thought it was important that my husband have a camera he could use as well so that he wasn't just stuck with his phone. I figured it didn't need to be as nice of a camera as mine and got him a Sony Alpha 7, just one step down from my camera. However, this camera still does the trick and I find myself using it more often than he does. It's perfect for when I want to capture the same scene in different ways with different lenses -for example those rare nights when the Northern Lights make an appearance in Glacier, or when we are photographing an elopement together. Despite being a step down from my primary Sony Alpha 7 II, it has all of the same features I love so much.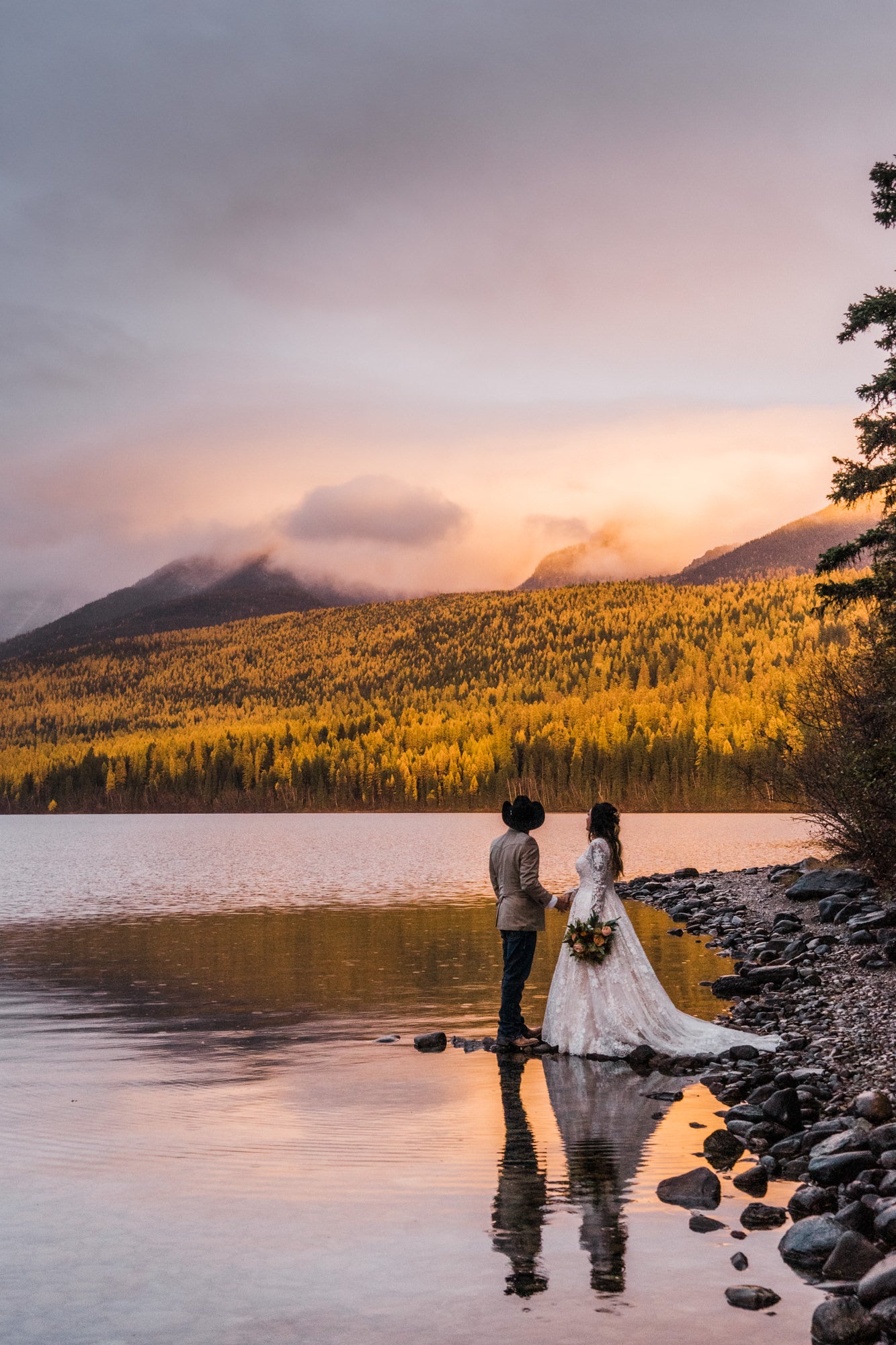 I took this photo while shooting an elopement with my husband. He was using this camera as a second shooter, but I decided I wanted to use the lens that was on it and didn't have time to change lenses to my primary with the fleeting lighting. I am very thankful to have not missed this moment changing lenses. Photo by Christina Adele Warburg-Hon. Sony Alpha 7. Sony 24-240mm f/3.5-6.3. 1/60-sec., f/7.1, ISO 3200
Lenses
Sony 24-240mm f/3.5-6.3: My go-to everyday lens is the Sony 24-240mm f/3.5-6.3. A lot of my photography is done on the fly as I go about my regular life living in Glacier National Park. Heading over for game night at a friend's house and seeing an awesome sunset, seeing a bear or mountain goat on my way to church, or rainbows appearing on my way home from work. I never know what I am going to see. Sometimes the moments are so fleeting, that if I took the time to change lenses, I would miss them. So I want to be prepared for anything. The range of zoom on this lens is perfect for this, even if it doesn't have the widest aperture. ANother reason I love the range on this lens is because it allows me to capture the full wide scene during sunset, but then also zoom in on individual and distant peaks, of which we have a lot in Glacier.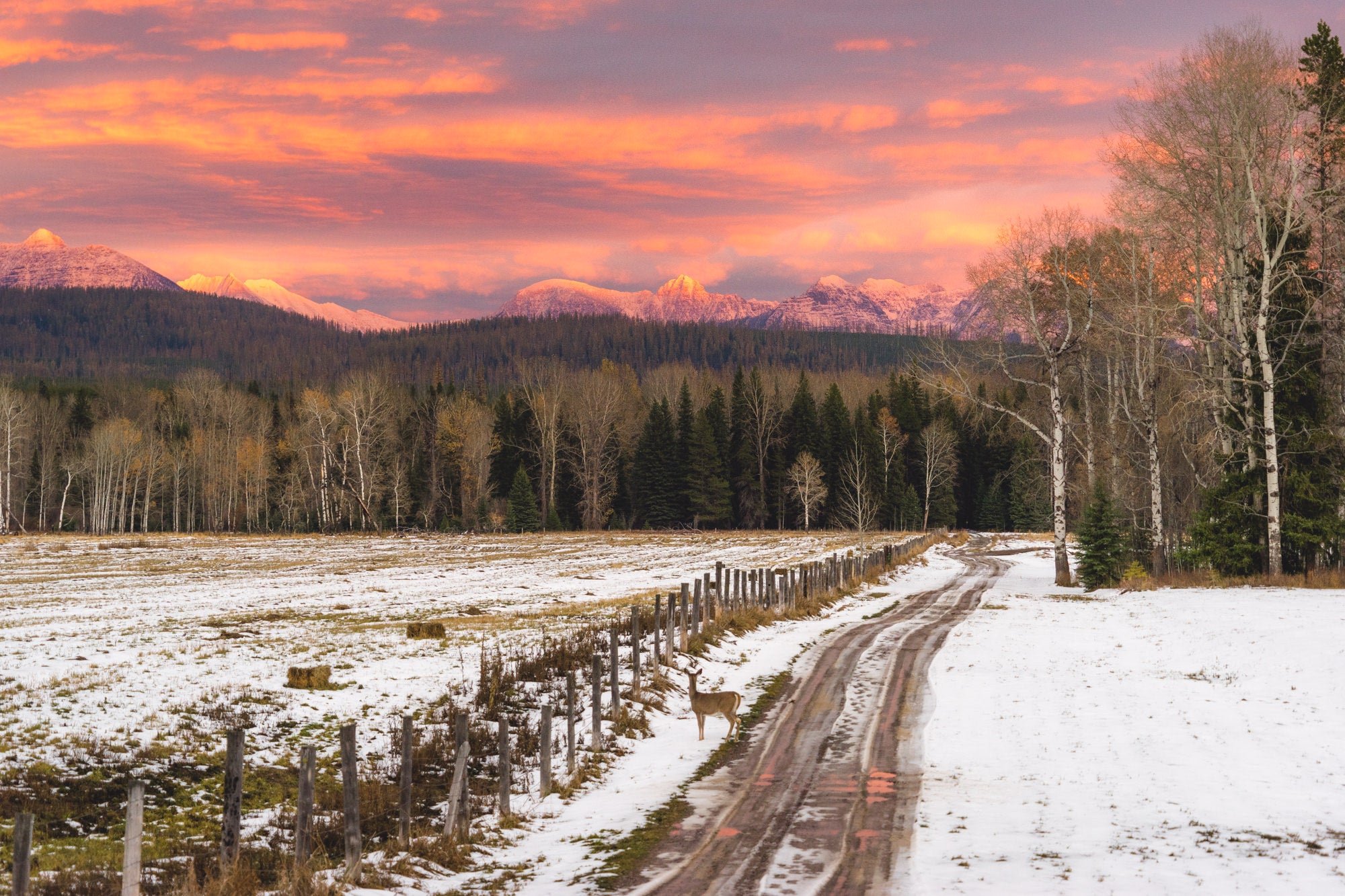 I took this photo on the way home from dinner with my friends when the sunset took my breath away, however on our way to dinner we had two wolves circle our car for about 10 minutes. I was glad to have this versatile lens to be able to capture both the wolves and this sunset on the same night. Photo by Christina Adele Warburg-Hon. Sony Alpha 7 II. Sony 24-240mm f/3.5-6.3. 1/100-sec., f/5.6, ISO 800
Sony 24-70mm f/4: Prior to purchasing my 24-240mm lens, this lens was my go-to everyday lens. Overall it's a sharper lens but it doesn't have the range of the 24-240mm, so I don't use it quite as much. However I still carry it with me and use it when I want my images to be a little sharper, or when I want to use my second camera to capture the scene in a different way than simply taking photos – such as recording video or creating a timelapse.
Sony 16-35mm f/4: My second favorite lens is a new addition, but one I have admittedly been missing and never knew I needed until I had it – the Sony 16-35mm f/4. This wide angle lens is perfect for when I need just a little bit more in my scene than the 24-240mm offers. Like when I am on a mountain top, shooting an elopement in a smaller space, or maybe I just want to add in more elements (like a veil or rocks to the foreground of my scene) lMany of my favorite photos have been taken with this lens in the six months I have had it and I can't wait for more opportunities to use it.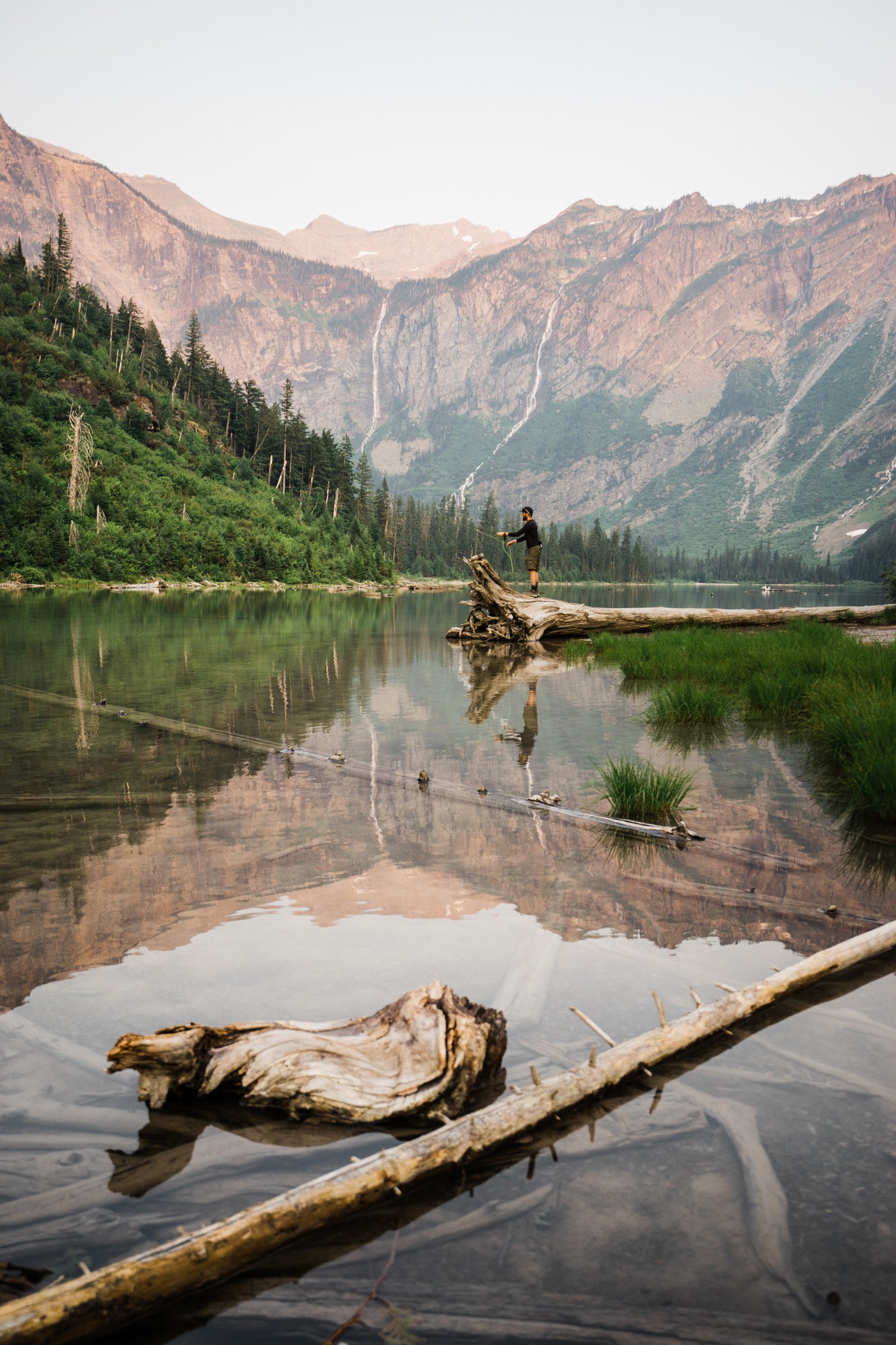 This was one my first photos taken with this lens and I was happy to include a bit more of the foreground in it. Photo by Christina Adele Warburg-Hon. Sony Alpha 7 II. Sony 16-35mm f/4. 1/60-sec., f/4, ISO 100
Sony 85mm f/1.8: My go-to portrait lens for elopements is my Sony 85mm f/1.8. This lens is amazing and has a fantastic compression when shooting my couples in landscape scenes. This lens has helped me step up my portrait game significantly.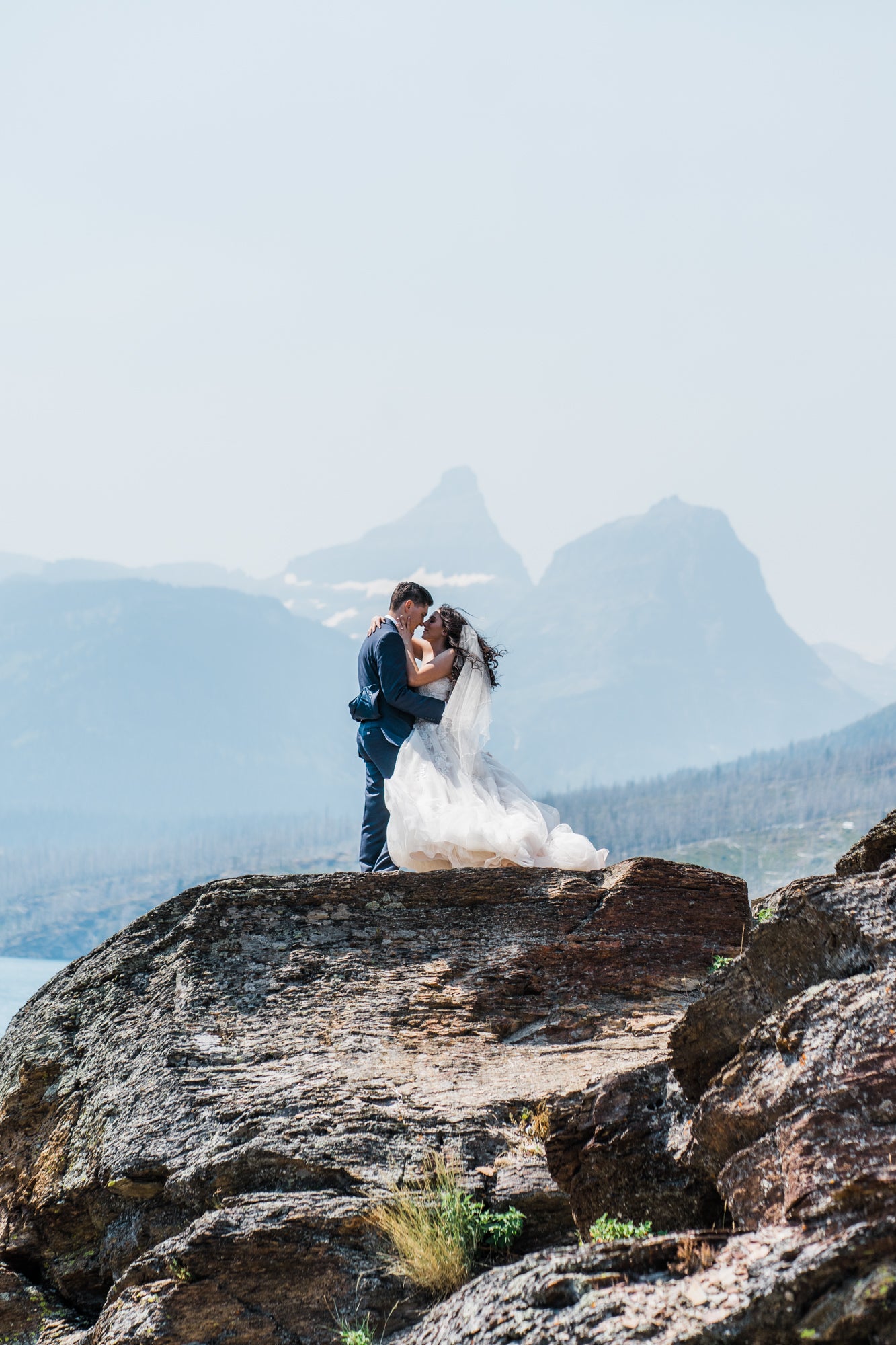 I absolutely love the compression on this lens allowing the mountains to appear large behind my couple. Photo by Christina Adele Warburg-Hon. Sony Alpha 7. Sony 85mm f/1.8. 1/2000-sec., f/3.5, ISO 100
Accessories
Camera Straps: I love my two camera straps from Wildtree Co. and get compliments on them all of the time.
Memory Cards: Extra memory cards are always a necessity.
Intervalometer & Tripod: My intervalometer and Mefoto tripod help me whenever I want to take photos of myself. The tripod is also a nice compact size that fits in my carryon when I travel or backpack when I hike.
Filters: Lastly I carry a set of filters, just in case I need help getting the lighting exactly how I want it, but to be honest it's never much of an issue with my Sony.
See more of Christina Adele Warburg-Hon on Instagram @christinaadelephoto.