Travel photographer Esteban Toro (@estebantorom) has documented more than 50 countries around the world with his camera. "I lead photo expeditions all over the planet, in different languages and I have 1000+ hours of experience in doors-off helicopters, capturing our home from the air. When I'm not traveling, I'm back in my studio in New York City, where I edit the endless RAW files that I have in my hard drives. I also teach at the School of Visual Arts in the city and I collaborate with magazines and brands to produce all kinds of creative imagery. Did I mention already that I create 3D worlds for Metaverse? Well, that's a story for another day. The bag of gear that I'm sharing with you today is what I'd take with me for a two-month-long trip. I know, I know, there are plenty of things that are left home, but this is just a starting point. Every trip requires its own planning, however, if I received a phone call that I have to leave in 15 minutes, this is exactly what I'd pack." Keep reading to see what's in Toro's Sony Alpha-based travel photography kit.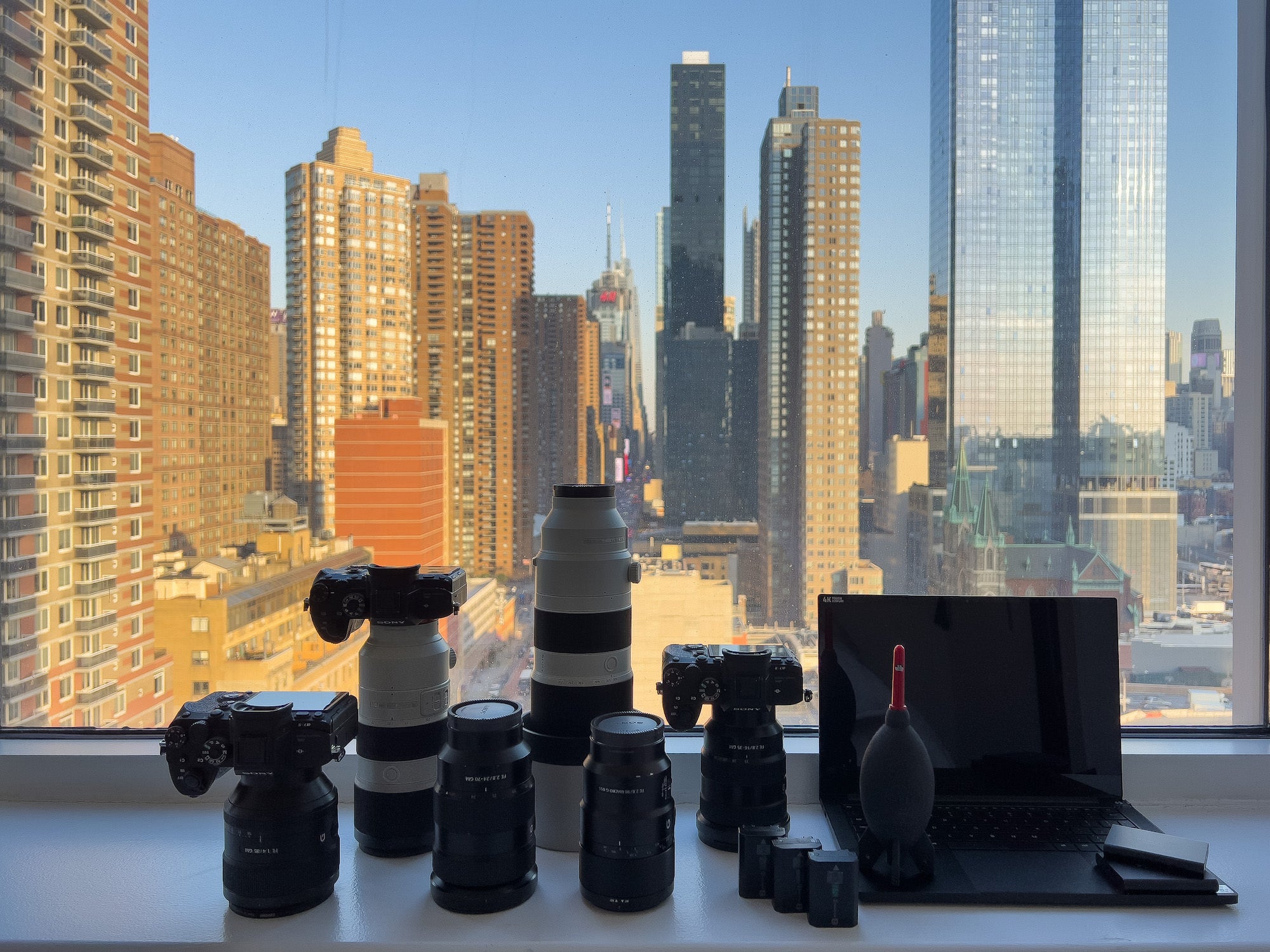 Two full-frame mirrorless cameras, four zooms and a prime…travel photographer Esteban Toro gives us a look at his grab & go Sony Alpha-based travel photography kit.
Cameras
Sony Alpha 7R IV: My first camera to pack would be the one I named Sony A7RIV-1. It was the first R4 that I had, so, that's where the name comes from. To me it is absolutely mandatory to have a gear that will allow me to print after. I print huge images, I love how they look. They inspire something special to me. Then, resolution is my number one priority. Besides its 61 megapixels, the 4K video quality, the eye-focus and the quick access to the silent-capture are those features that I adore from this camera.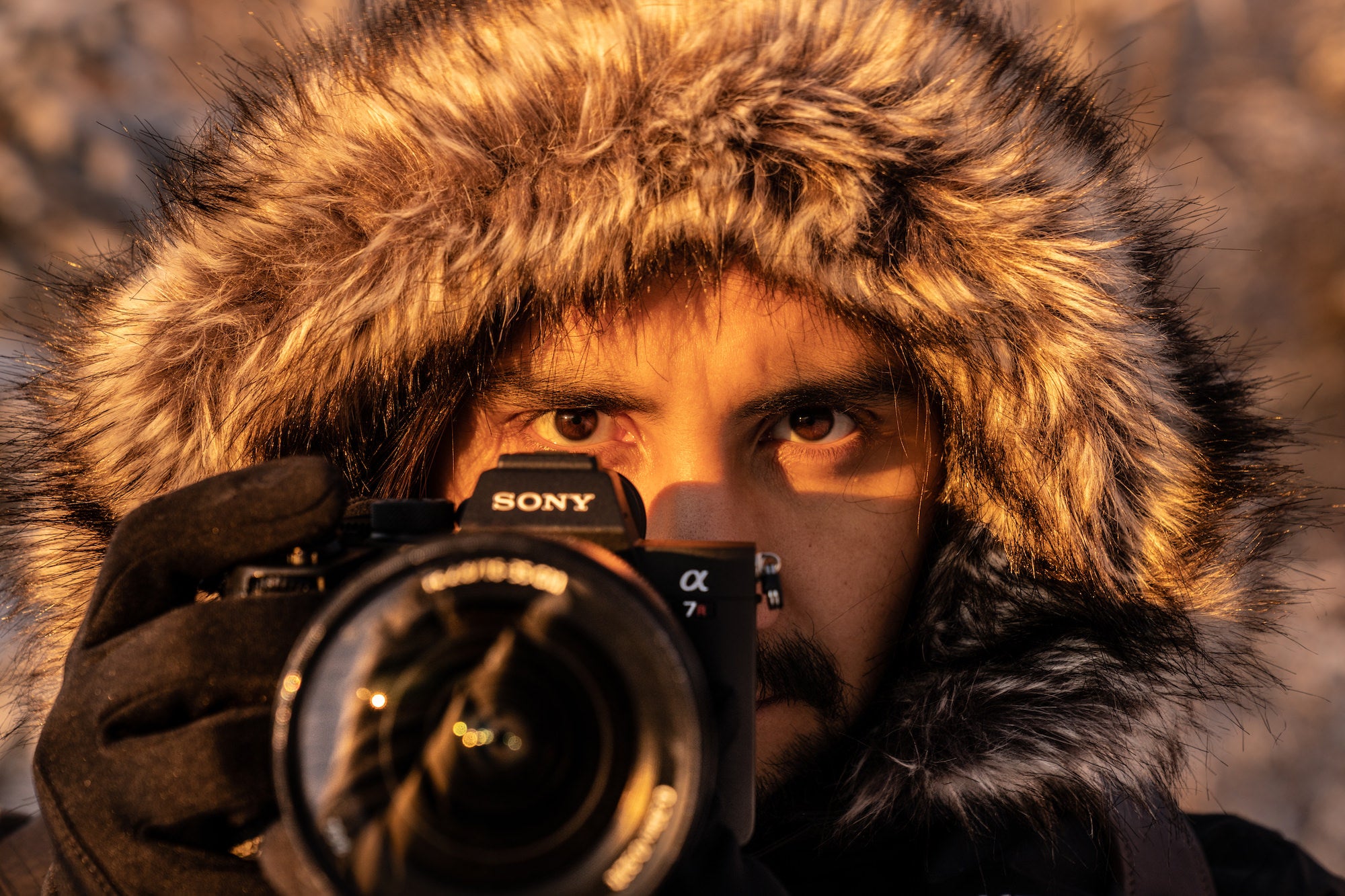 I need a camera that makes me forget that I'm holding a camera. It's got to feel like second nature to me, so, I will forget about the technology part and focus my attention on what's in front of my lens. However, technology makes my life easier. Eye-focus is one of my favorite features that I use all the time when I'm taking portraits.
Sony Alpha 7R IV: My second camera to pack would be Sony A7RIV-2. Yes, you're right. I didn't get very creative naming my cameras. Should I? And yes, it was the second R4 that I had.
I like to have twin cameras because it helps me to forget which one of the two ones I'm using. In the past, I used to have a mix of Alpha 7 III or Alpha 7S II with my Alpha 7R III, nevertheless, I always struggled when my favorite pictures were taken with the one that had the smaller resolution and I wanted the whole power of the almost infinite pixels in 'the' shot. Then, I decided to always have the same camera on both of my shoulders.
Why two cameras? Well, it looks cool, and makes me look like a 'real' photographer. I'm joking, or, maybe I'm not. The truth is that in some situations, like flying in a doors-off helicopter, I need to have a wide-angle lens such as the Sony 16-35mm f/2.8 G Master in one body and the Sony 70-200mm f/2.8 G Master on the other. Oops, I already started talking about lenses and we are not getting there yet. Well, long story short, it helps me to be more accurate with the focal length when the time to photograph is short and 'the picture' might be gone in the matter of a second.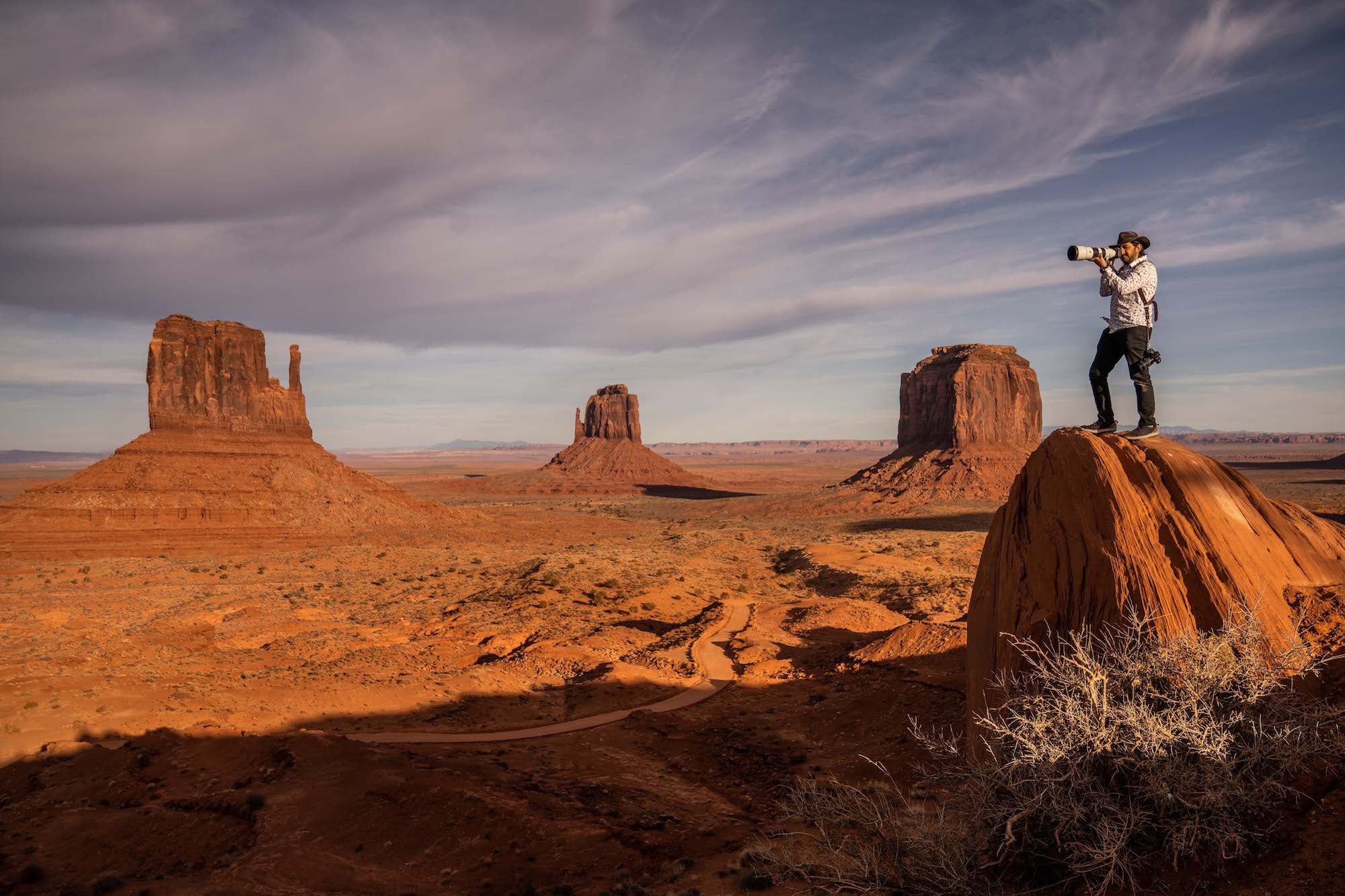 Perhaps I wasn't joking that it makes you look 'cooler or more pro', and you could get some 'respect' from peers when they see you holding two cameras. However, in my work, it would be distractive. People that I photograph would feel intimidated if they see a photographer with two pro cameras and giant lenses approaching. I keep it simple with one camera when taking portraits, the two lenses are for landscape, scouting and helicopter situations.
Lenses
Sony 16-35mm f/2.8 G Master: This is my first and favorite lens. Let me tell you a secret: before I started using Sony, my favorite lens was a 24-70mm and I wasn't sure that 16-35mm would be something that I like. Well, now, there's absolutely no way that I wouldn't take that lens with me to any adventure. The proximity that it gives me and how I can show many things happening at the same time is an incredible skill that you develop by spending days with a wide-angle.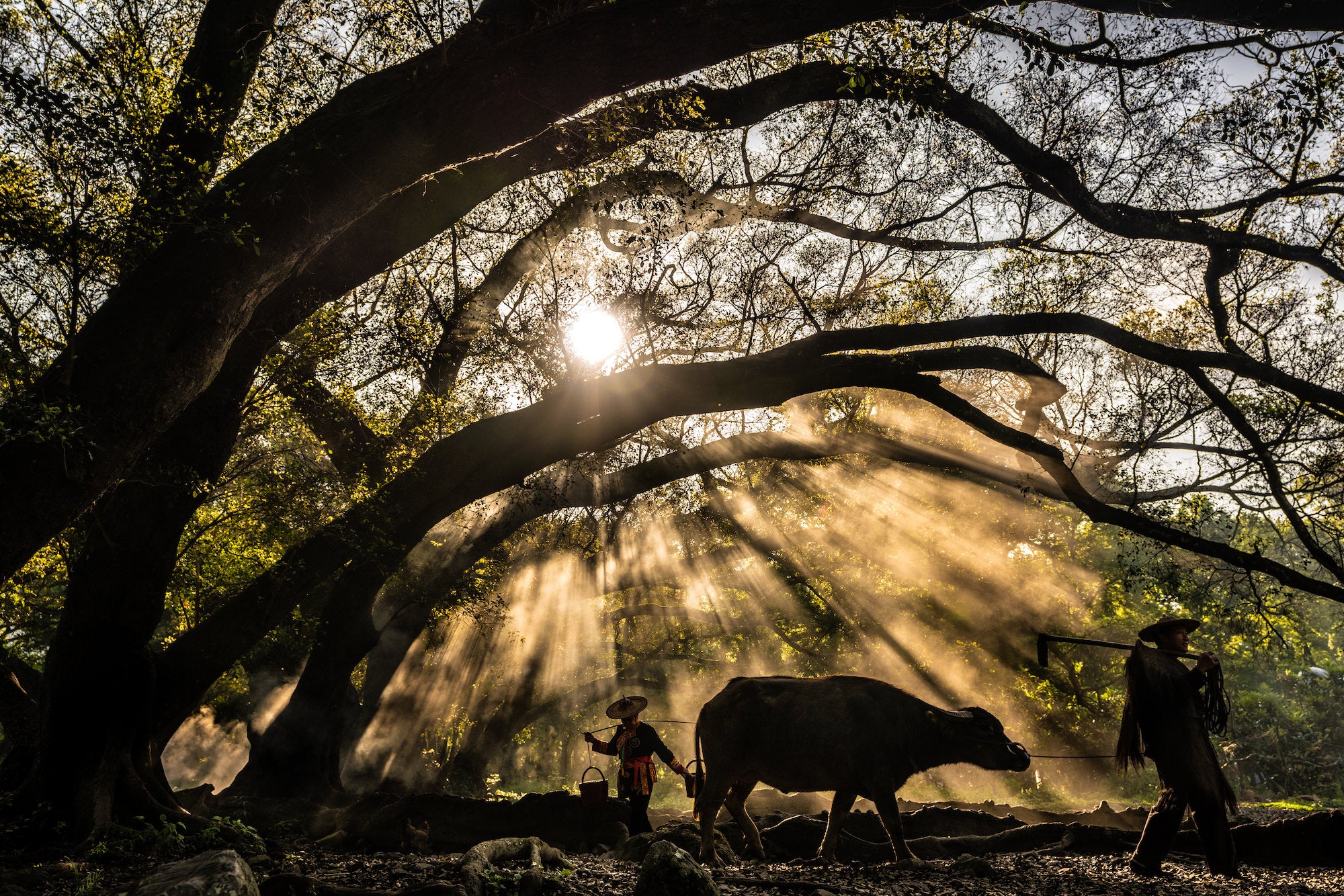 Photo by Esteban Toro. Sony Alpha 7R III. Sony 16-35mm f/2.8 G Master. 1/800-sec., f/4.5, ISO 200 "Thanks to the wide perspective I'm able to photograph the whole tree and the farmers walking in front. The curve of the tree guides the composition and the light takes the eye of the viewer to the person in the corner. Impossible to have done this without this wide-angle."
Sony 24-70mm f/2.8 G Master: This is my second lens to choose. The variety of angles that it allows me to have is unbeatable (after the wide-angle, you know). When I'm indecisive I just take this lens with me. It has helped me to photograph landscapes, nature, portraits and details. And of course, you don't have to carry multiple lenses with you. Only one lens and a great variety. Not bad when you're hiking up mountains.
Photo by Esteban Toro. Sony Alpha 7R III. Sony 24-70 mm f/2.8 G Master. 1/125-sec., f/2.8, ISO 1600. "When I heard that I could see how the women fix the nets in southern China I didn't know what to expect or how the location would look like. I thought that a wide-angle would be a better solution, but I was hesitant if I'd need something to capture some portraits. I'm glad that I chose this zoom; it helped me to be close to the scene without interrupting her activity."
Sony 70-200mm f/2.8 G Master: This is my third lens to carry. Whenever I need to compress any scene, this is my to-go lens. The background comes closer to the foreground and the shape looks beautiful. It is not as dramatic as the wide-angle, but it helps me to tell the story from a different perspective. I have to recognize that I have been exploring more and more the possibilities of using a telephoto lens for travel and it's unbelievable!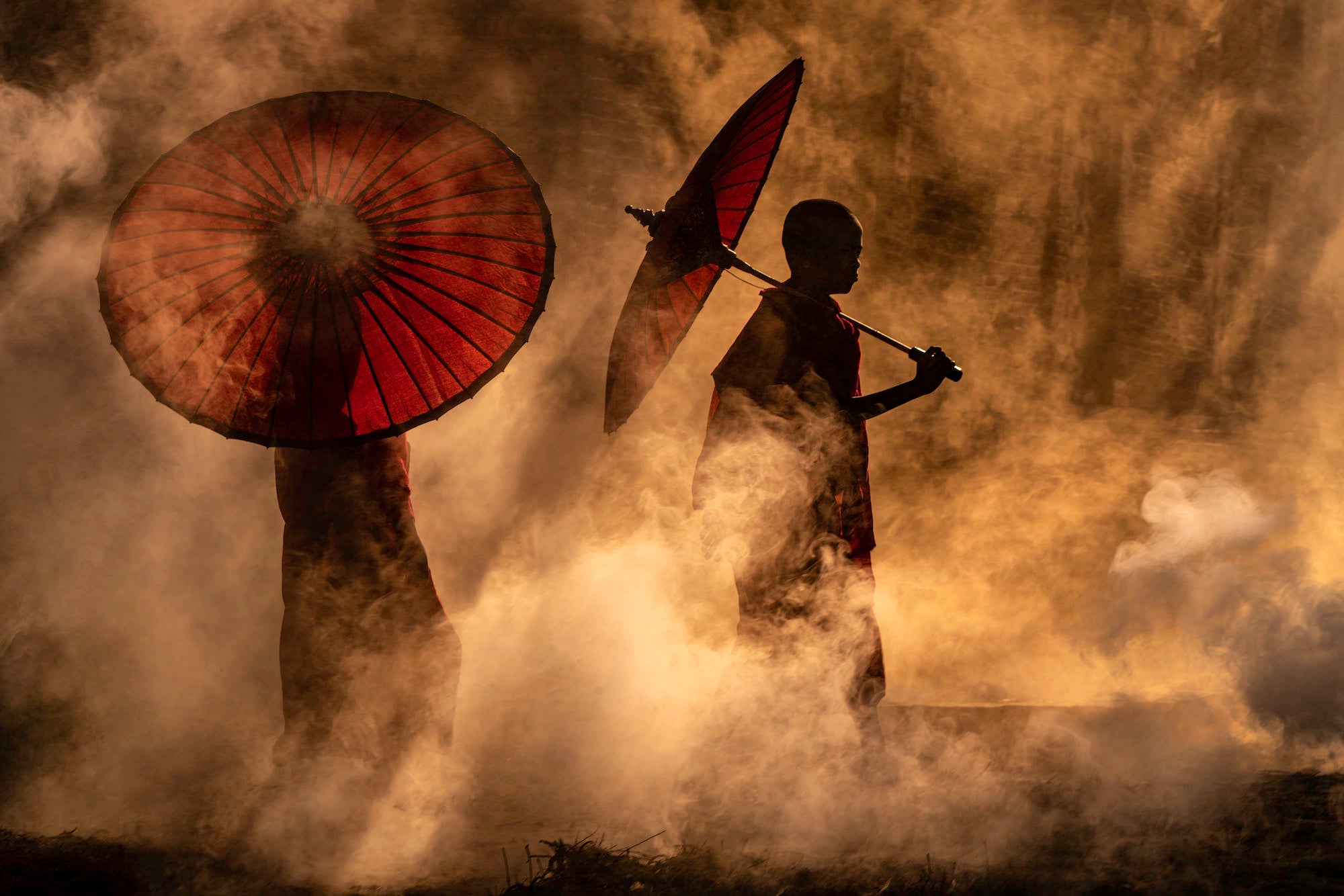 Photo by Esteban Toro. Sony Alpha 7R III. Sony 70-200mm f/2.8 G Master. 1/125-sec., f/13, ISO 100. "The morning was beautiful in Myanmar and as I was looking at the monks weeping in front of me, I decided that using a telephoto lens would add a more emotional feeling. Indeed it did for this one. This photograph has that surreal feeling where it's hard to locate the place or the situation; I love when my pictures have that kind of magic feeling."
Sony 200-600mm f/5.6-6.3 G: This lens has become one of my necessities when traveling. If the 70-200mm gives me a great compression, this one gives me a magnificent result. The subject comes super close to the background and everything looks just majestic. Colleagues say they love this lens for wild-life and I adore using it to create fine-art style imagery.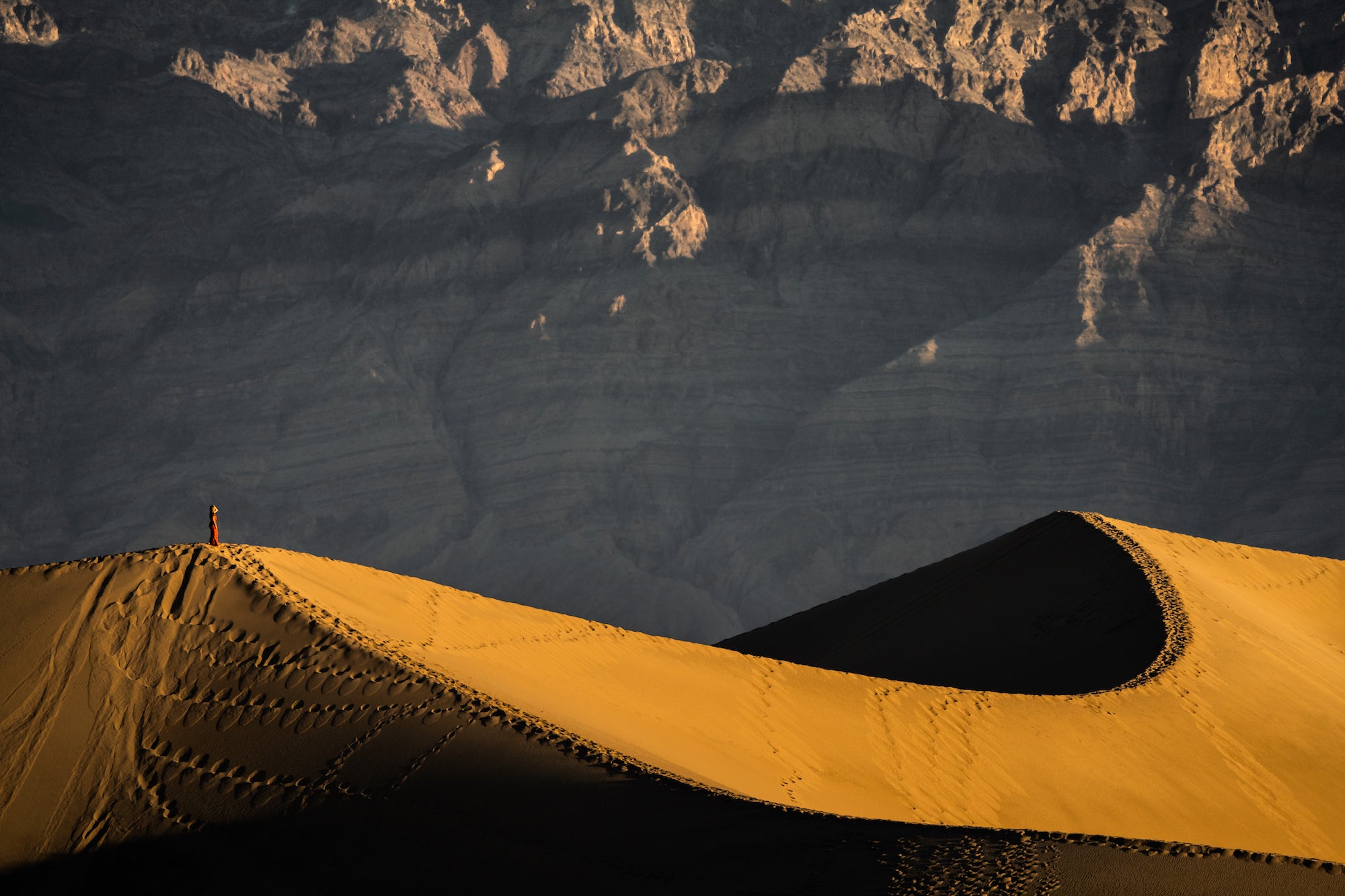 Photo by Esteban Toro. Sony Alpha 7R III. Sony 200-600mm f/5.6-6.3 G. "Death Valley, California. The sand dunes are very far away from me and my model is just standing at the top of the dune, waiting for the sun to hit. Thanks to the compression of this lens the mountains in the background look absolutely endless. Again, I create that surreal feeling by taking away the context of the place. Let's keep this secret between us!"
Sony 85mm f/1.4 G Master: This is my spoiled lens. I take it with me when I'm in a very good mood and I already feel that I captured the story. It's one of those lenses that I will wake up and feel like, "Well, why not use it today?" and I decide to focus only on creating portraits. The wide aperture allows me to create a delicate bokeh and is absolutely exquisite.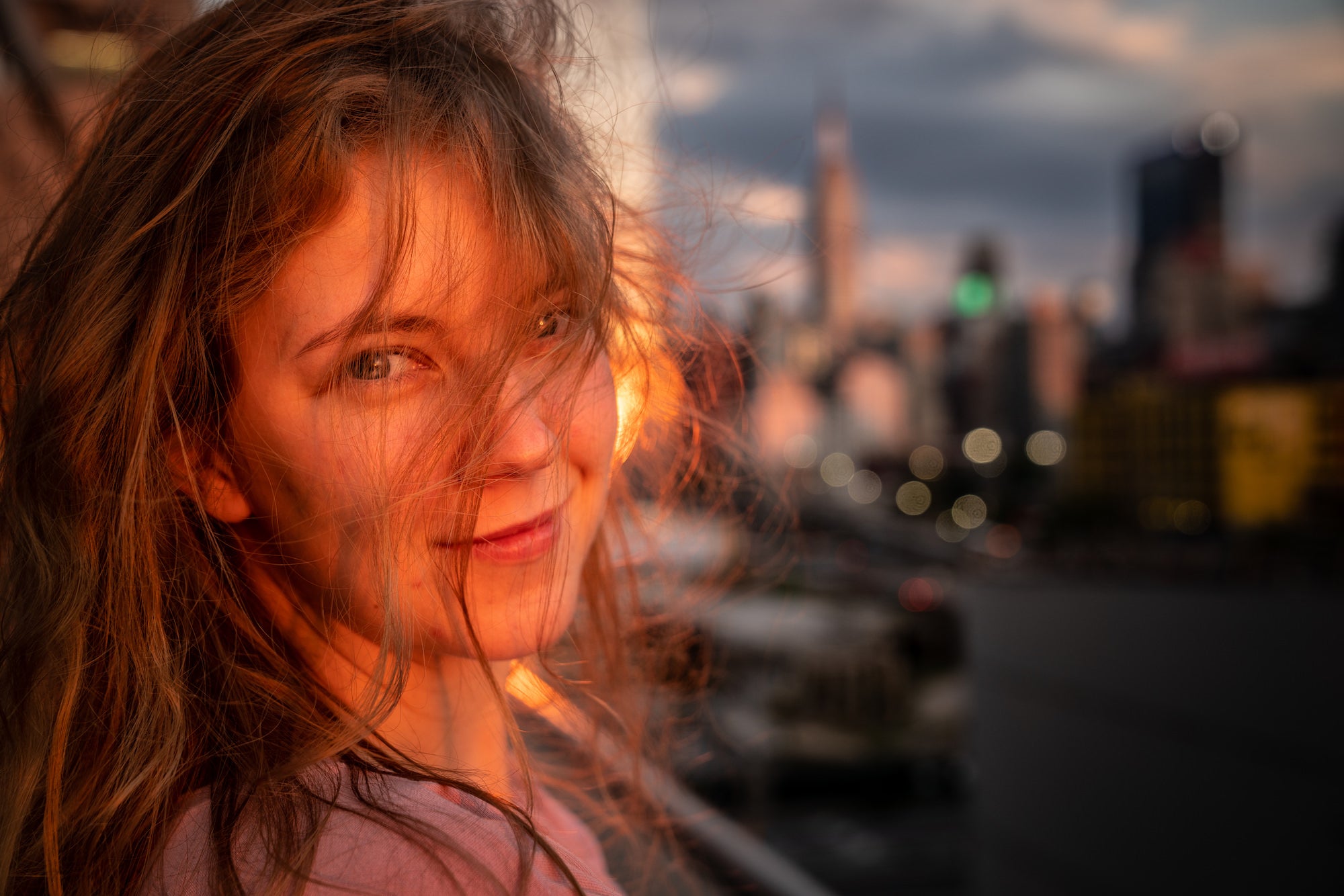 Photo by Esteban Toro. Sony Alpha 7R III. Sony 85mm f/1.4 G Master. "I was photographing Lera on our roof in New York, the light was precious on her and I wanted to give the context of the city, any big city. By opening the aperture all the way to f/1.4 I was able to get a gorgeous bokeh and keep a sharp beautiful light on her face."
Accessories
Pelican Case: Since I many times travel with all my gear, I like my gear to be protected. Some airlines will not allow you to take carry-on because the plane is full or some other reason, so even if need to check it, which I highly suggest you not do for multiple reasons, but even if you have to, this will help to make your gear safe.
Over-Shoulder Camera Straps For Two Cameras: Even though at first it looks a little bit strange, it's really comfortable if you want to hold two camera bodies. It helps keep them really protected. It also has extra clips so I can carry something really fast if I need to. It helps a lot with the weight of the camera, especially if you're carrying big lenses and heavy stuff. It helps you a lot.
Laptop: If want to download my pictures and review them at night and see how my work is looking. Or if I need to answer any emails or send pictures to an editor or a pitch to any project, this helps me a lot. So I always carry my laptop to download pictures every night. Every day that I'm on the road, I don't wait until the last moment. I just go directly to upload my pictures and make a safe backup of every picture that I take.
Hard Drives: This is another important thing to have with me. I just carry a bunch of them with me. I usually carry two, one is the original copy and one is the backup. Every night no matter how tired I am, I go to my computer and download my pictures.
Rocket Blower: This helps me to clean the sensor of my camera.
See more of Esteban Toro's work on Instagram @estebantorom.