I'm Sony Artisan Drew Geraci (@drewggiggity) and I'm a timelapse photographer and cinematographer. When there isn't a global pandemic happening, I travel around the world capturing dramatically lit landscapes, cityscapes and rolling vistas for feature films, television series and commercial productions. The majority of what I do revolves around shooting high-resolution content and high-speed 4k footage to be used in post-production/VFX. For my work, I frequently use several camera bodies simultaneously I've been using the Sony Alpha α7R IV for the versatility from its ultra-high resolution since it came out and this year I added the Sony Alpha α7S III to my kit for its unbelievable low-light capability. Here's a detailed look at all of the gear I'm using these days and why.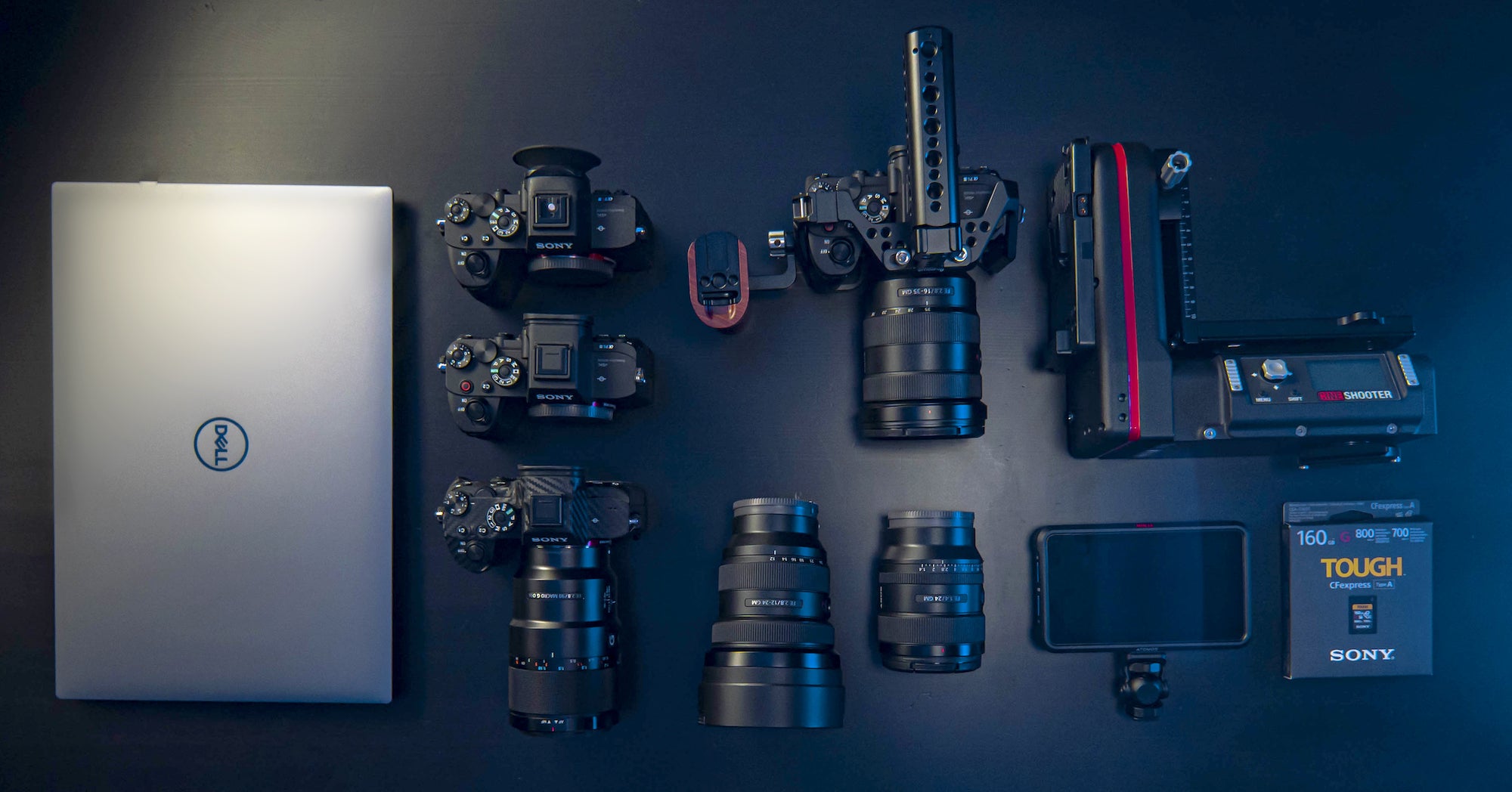 Sony Artisan and timelapse expert Drew Geraci shares the Sony Alpha cameras and lenses he relies on for his pro-level timelapse work.
Cameras
Sony α7R IV: The Godzilla of megapixels! I use the α7R IV in nearly all of my timelapse productions simply because of how incredible the resolution is, coupled with robust dynamic range and a crispy new viewfinder that allows me to see all of the detail in the shot without needing to take a photo first and zooming in. Since the resolution is nearly 10K I'm able to shoot what I need, crop out anything I don't need, and deliver a product to my clients that's 100% what they asked for. Oversampling in my field has helped me to be more creative with my shots when it comes to reframing, cropping, and composing in post-production.
Sony α7S III: My favorite camera yet! I shoot both photo and video for my clients and the α7S III has been (so far) the best all around camera I've used on set for both of those aspects. The 4K 10-bit color is exactly what I need for creating beautiful imagery without color banding and extended color-grading capabilities when it comes to post-production. It doesn't hurt that this camera also shoots at ridiculously high ISO levels so if I'm shooting astrophotography or low-light video I know I'm not going to miss the shot…in fact, I generally have to stop down because the α7S III allows so much extra light in! The new menu system and CFExpress A cards also make this an upgrade that's a must-have for my bag.
Lenses
Sony 12-24mm f/2.8 G Master and 16-35mm f/2.8 G Master: As a timelapse photographer I usually want to shoot as wide as possible so I can capture more elements of motion, whether that's clouds, people, cars, shadows, or changing light. The wider, the better! The new 12-24mm is without a doubt my new favorite lens and a must have in my bag. It's older brother the 16-35mm (which is still an awesome lens and one that I still use) used to be my go-to, but the 12-24mm has officially taken its spot now. That extra two stops (from the f/4 version) makes shooting astro/night photography that much easier. It allows me to shoot faster shutter speeds and intervals for timelapse photography.
Sony 24mm f/1.4 G Master: The 24mm is a lens that works great for both photo and video. I'm able to capture super juicy depth-of-field shots using this lens and I absolutely love it for astrophotography. It's tack sharp, super fast, and allows me to shoot the Milky Way at under 10-seconds while maintaining that sharpness at 1.4. The auto-focus is also lightning fast which makes it a great lens for video, especially if you're using it in an interview setting or trying to track a subject.
Sony 90mm f/2.8 Macro G OSS: For timlapse, I'm usually shooting wide, but there are times when a tighter focal length is necessary. The Sony 90mm f/2.8 G Macro lens is a stunningly sharp lens that I can use for macro as well as situations when I just need a slight telephoto. It's really an incredibly diverse lens.
Accessories
Kessler CineShooter: The newly released 3-axis motion control head allows me to capture incredibly dynamic and intricate timelapse/video scenes with 100% precision and accuracy. I use it for both my timelapse and cinematography work and it's a must-have to my bag!
Dell Precision 5750: Since I shoot high-resolution content for almost everything I do this laptop helps me chomp through those 8k and 10k frames without any issues or slowdowns. I need speed and performance and this laptop has no shortage of either of those things!
Kase – Internal ND Filters: ND filters are 100% necessary for most of my work. Since It can be cumbersome to switch lenses, apply filter adapters and then put in a filter this new internal ND filters make shooting a breeze! They attach directly above the camera's sensor (without touching it) and allow me to switch lenses and retain the same ND level without doing anything.