For content creator Karlie Place (@karlieplace), success is defined by the opportunities to travel. With one million followers on TikTok, Karlie is living her (and many others') dream of traveling the world and making photos and videos about her epic adventures. Karlie frequently travels with her partner Colin Ringas (@colinringas), who is also a talented drone pilot and content creator. Karlie's mission is to be a trusted source of travel information and inspiration, connecting people to the world's most amazing destinations and experiences while fostering a deeper understanding and appreciation of global cultures. To achieve this, she shares photographs and videos on her TikTok, YouTube and Instagram showcasing stunning locations, fun experiences and authentic slices of her everyday life. Her content are works of art and inspiration and we sat down with Karlie to learn more about her journey as a content creator and the gear she relies on to make her fantastic images. Keep reading to learn more about her shooting process, her skills with editing, the community she has built and how she works to support everyone who wants to learn.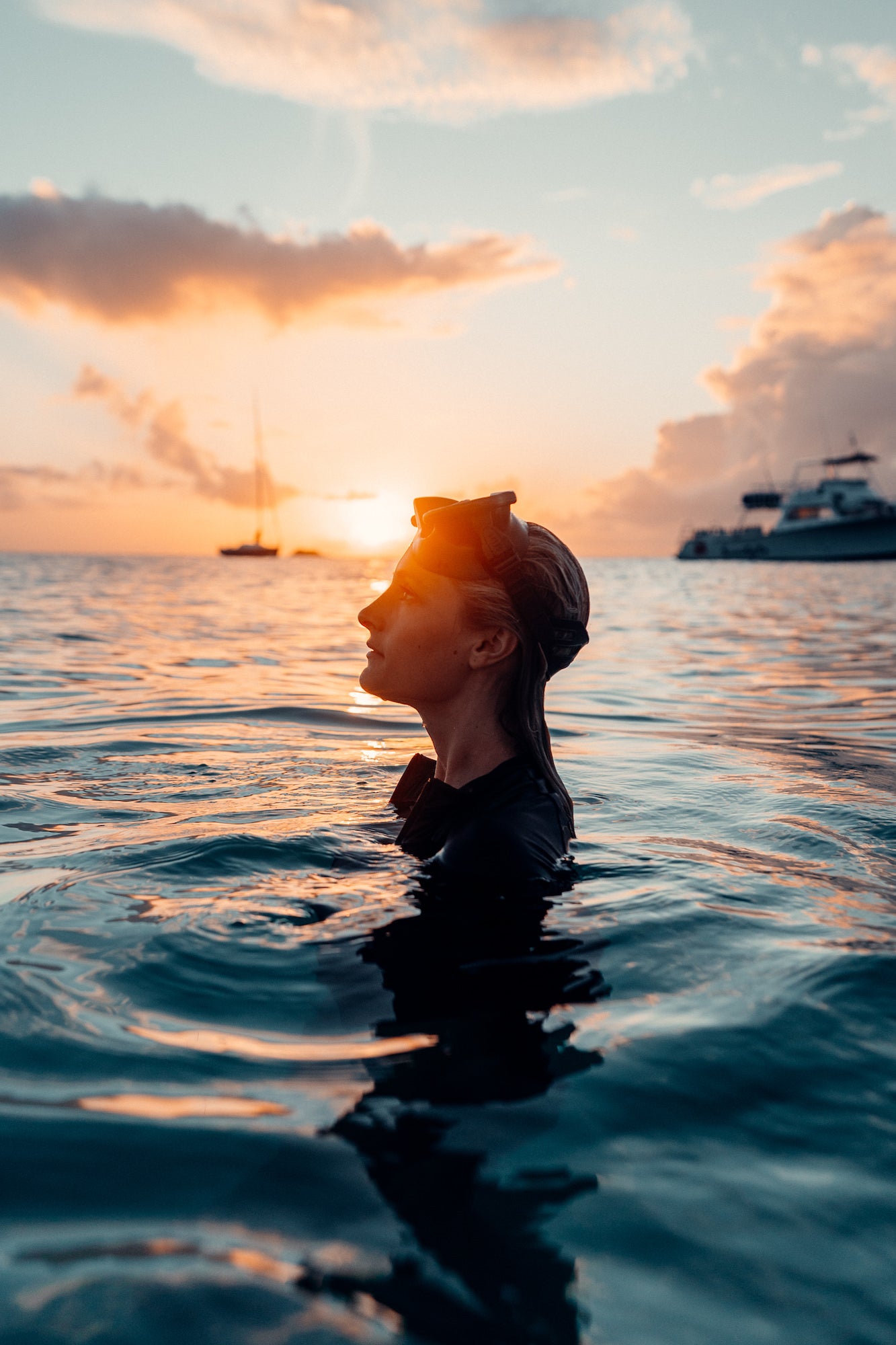 Photo by Karlie Place. Sony Alpha 7 III. Sony 35mm f/1.4 G Master. 1/1000-sec., f/3.5, ISO 200
Karlie's Journey As A Content Creator
Karlie had an unconventional path as a content creator. In college, she was in track and field as a pole vaulter. As part of her training, she and her teammates would take videos of their pole vaulting to study their form. She joined TikTok to see the silly videos her friends were posting and she began posting all the pole vaulting videos she had on her phone. This grew her to over 300K followers. The first video pinned on her page is still from her pole vaulting days, with a whopping 33.4 million views, she calls that part of her "origin story."
After graduating college, she began working for the Minnesota Vikings as a content creator. She used her background in graphic design and her passion and skills in photography to see projects through from conception to sharing on social media. Now with her first full-time job, she had the resources to start taking vacations and pursue her dream of traveling. She and her partner began to travel and it was natural for Karlie to create social content that reflected her life, so she transitioned away from pole vaulting and began posting images and videos from her trips and adventures. "For me, it felt so natural to be sharing whatever was important to me or really going on in my life," she says. "There's always been a layer of authenticity with that type of content."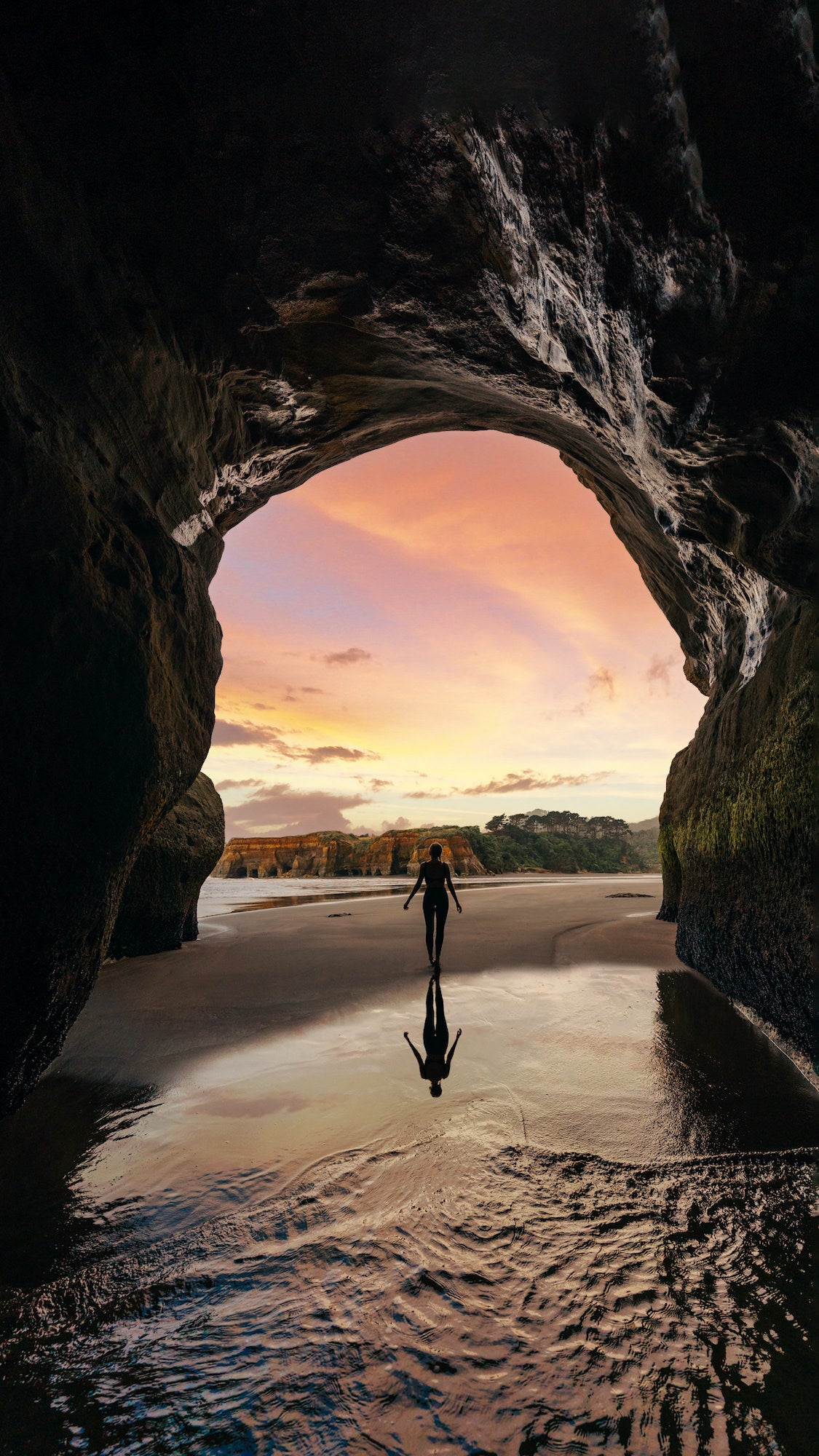 Photo by Karlie Place. Sony Alpha 7 III. Sony 14mm f/1.8 G Master. 1/800-sec., f/4.5, ISO 400
As her following grew, Karlie began getting paid opportunities from social media that were all around the world and helped her continue to travel. "It was at that point that I thought I could leave my 9-5 job so that I can continue to say yes to all of these opportunities that I can't even believe are landing in my lap."
Finding Success With A Foundation In Photography
Karlie explains that she believes her skills with high-end cameras and photography are part of what helped her grow so quickly in the content creator world. Given her previous experience with graphic design and content creation, Karlie has a special ability to understand what a client needs. From there she can look at a scene and suss out a way for the subject to stand out, even if the scene is messy or chaotic.
This is an example of Karlie honing in on the key elements of the scene to create a strong image, even if the location itself was chaotic.
She strives to achieve a whimsical feel in her photography and she knows that helps her capture special moments. "My process usually includes choosing a scene, then setting whatever the subject or figure is in a whimsical way that includes motion," she explains. "I'm not a still life photographer at all. I like taking pictures of people interacting in the space or hitting some very flattering, but not typical poses. Your whole face doesn't even need to be showing if your hair is completely whipping around. I find that something like that exudes more of a whimsy than just smiling at the camera."
Using Gear That Builds Community
As Karlie's freelance work has grown, she's also grown her collection of camera equipment. Now, she has a list she shares with people who ask her what gear she recommends. Karlie shoots with two Sony Alpha 7 III's, the Sony 35mm f/1.4 G Master (which she describes as her "ride or die lens"), the Sony 14mm f/1.8 G Master and the Sony 24-70mm f/2.8 G Master. She says that whenever she's looking to make an image that really has that "Karlie pizzazz," she reaches for the Sony 35mm f/1.4 G Master.
She also told us that her Sony cameras have helped her make friends while she's on her adventures. "I'm really a Sony purist and I haven't really shot with anything else so it's hard for me to have something to compare it to, but I will say when I meet other Sony shooters it feels like you're meeting family. It might sound cheesy but it's like you immediately have a connection and sometimes In your adult life it's hard making friends. When you already have this thing in common, the community that it brings you is genuinely valuable. I have made friends with women while out shooting that also shoot Sony and we are still friends to this day. I also brag to other photographers about Sony Pro Support all the time. I just think they do a really great job."
Content Creation – Including Yourself In The Storytelling
Since Karlie and Colin are often both the subjects of the shoot as well as the content creators, they have had to develop techniques for including themselves in their images and stories. Karlie says that they utilize the interval time function on her Sony Alpha 7 III camera. "I rely heavily on the interval timer method and manually setting the focal point and then going and hopping in the frame. Some of our most insane pictures are shot that way. I try to do tutorials on it regularly because without that feature, which a lot of cameras don't have, I would not be able to create the things that I create."
Karlie says that one of the questions she is most frequently asked is how she ensures the images of herself are in focus. "It's not glamorous, but I will take a chair, a house plant, a backpack and I'll set it where I'm going to stand."
Using Editing To Transform Your Image
Having studied graphic design, Karlie is also very talented at editing her images. She tends to use her editing to help achieve that fun, active image. "I will often remove unaesthetic items from my frame or elongate lines and curvatures," she explains. "I feel like I sometimes am a better editor than a photographer because I'm not super technical with perfect settings every time. I love the transformation process. I don't look at editing or Photoshop as a failure because I have to edit to make it perfect. I look at it as part of the process, which I love because the better you get it editing, the more you're going to be able to create the things that are already existing in your head and turn them into a visual that you can share with other people."
Karlie walked us through the high level overview of her editing process. First she drops the photos onto a hard drive and then into Adobe Bridge, where she does a wide selection. Then she flips through those selects and narrows them down even further. From there, she pulls the images into Adobe Lightroom Classic, and uses a preset she has developed as the base of her edits. Next, she will adapt presets for that specific trip or shoot, but they are still based on her original preset. "I base them all on that original so there's still a similar tonality to my images but it's not like they have to fit my style. There is something about them that is recognizably mine, which I really love." Karlie also has her presets available on her website, for those interested in editing in a similar style.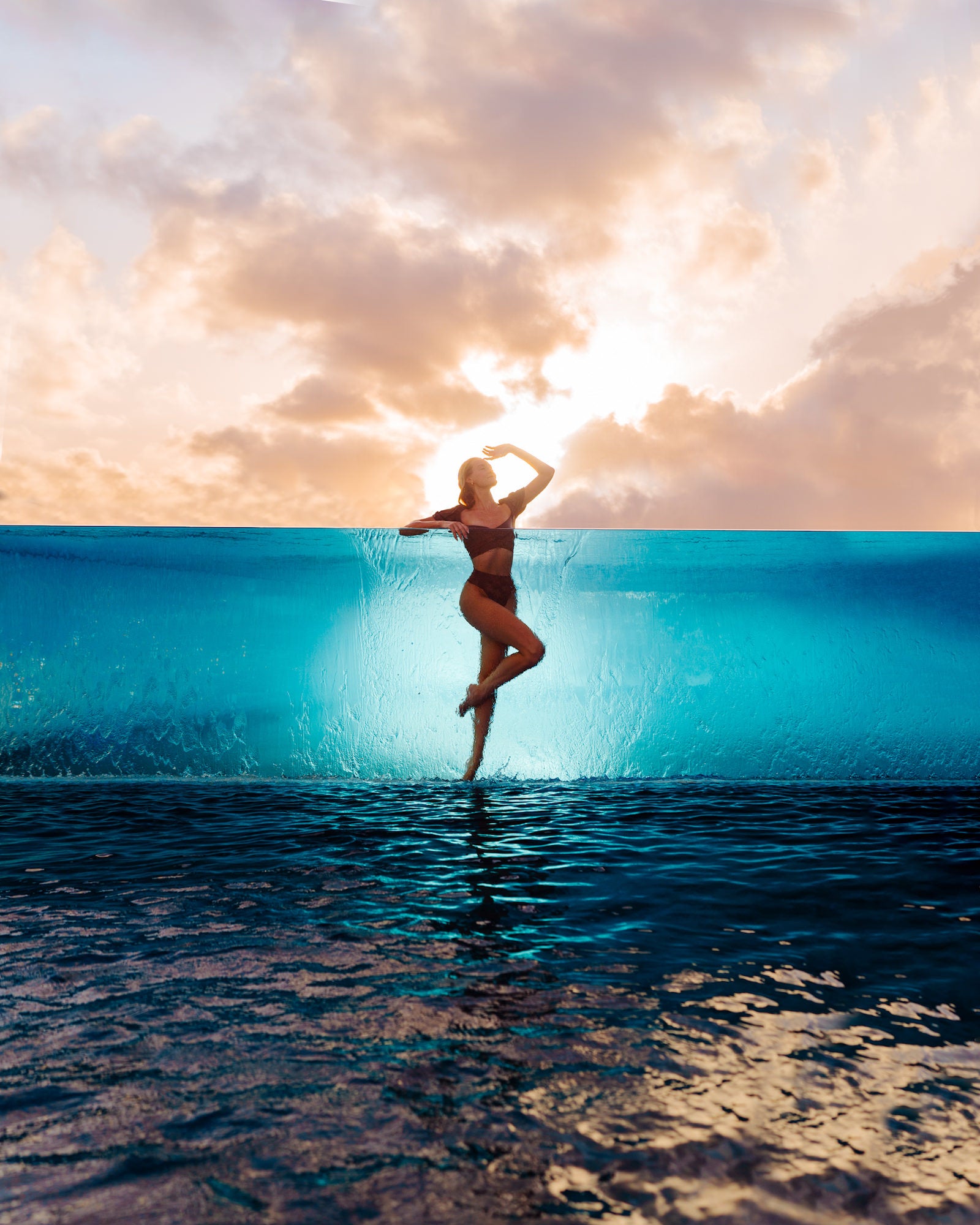 Photo by Karlie Place. Sony Alpha 7 III. Sony 35mm f/1.4 G Master. 1/1600-sec., f/3.2, ISO 125
"I do all of my editing in Lightroom, which has started to include a lot more selective edits as well with the additional tools that they've been rolling out. They've really developed great selective tools for the subject, the sky, things like that. So now it's less frequent that I will open the photo in Photoshop and then make any edits that I need to do in there. If I do, a lot of times it's expanding the edges so that it is the right dimensions for Instagram. I'm truly catering most of my work to fit an Instagram or TikTok format and then I save it from there, go back to Lightroom and then I export the entire gallery…and that's it."
Helping Others Level Up Their Content
A large part of Karlie's account is walking people through how she created her content. "I have found for me that a huge driver of my own passion is when I can share information with somebody else and they're able to level up their content. I think, in the travel content world especially, there's a lot of gatekeeping and a lot of seeing a beautiful final image without knowing where it was or what camera they used. There's not many conversations around how it was created or who it was created for. So with me and my platforms, I'm always trying to include an authenticity about where this was created, if it was for a tourism related brand, and how I did it. I try to share those strategies in really digestible ways. There's no way to share everything all at once, but that's kind of what TikTok is all about."
In addition to breaking down her knowledge on TikTok, Karlie teaches through her own program called The Shadow Me Series. "I think with applications like Photoshop and Lightroom, it's helpful to have someone show you how to do it because there are so many different workflows. I want to be able to share exactly what I'm doing and what works for me in a way that's really digestible."
For a low fee, Karlie hosts a Zoom call with a group and walks through her process. It's a casual setting to learn something new. "I just wanted it to be something that almost feels like you're hopping on the phone with your friend who's going to show you how to do it." Karlie has hosted two of these so far, one on her workflow with Adobe Bridge and Lightroom and the other was on fine tune retouching in Adobe Photoshop. The Photoshop one sold out because of a funny TikTok she posted (see below).
The next session is currently pending, Karlie is trying to decide what people would want to learn most. You can help her decide what topic to cover by filling out the survey on her website.
Advice For Others
Karlie explained that she was startled by just how many paying jobs there were for content creators. She was nervous making the leap from her 9-5 gig, unsure if this was a sustainable path, but says she has been pleasantly surprised. "I am a true believer in the abundance mindset. I don't believe other people are taking away coveted jobs. I feel like the more that I get lifted up, the more I can lift up other people because there are always opportunities."
With that, she loves sharing tips and advice with people looking to get into this space. "My advice for people just starting out and looking to be a travel creator and getting paid for it is to sit down and look at the work that you are able to produce at this time and be honest with yourself. Is that something that a company would want to pay for? Because at the end of the day you need to be creating something of value. And if you're not there yet, just take a step back and focus on improving your skills until they get to the point where someone would buy your content."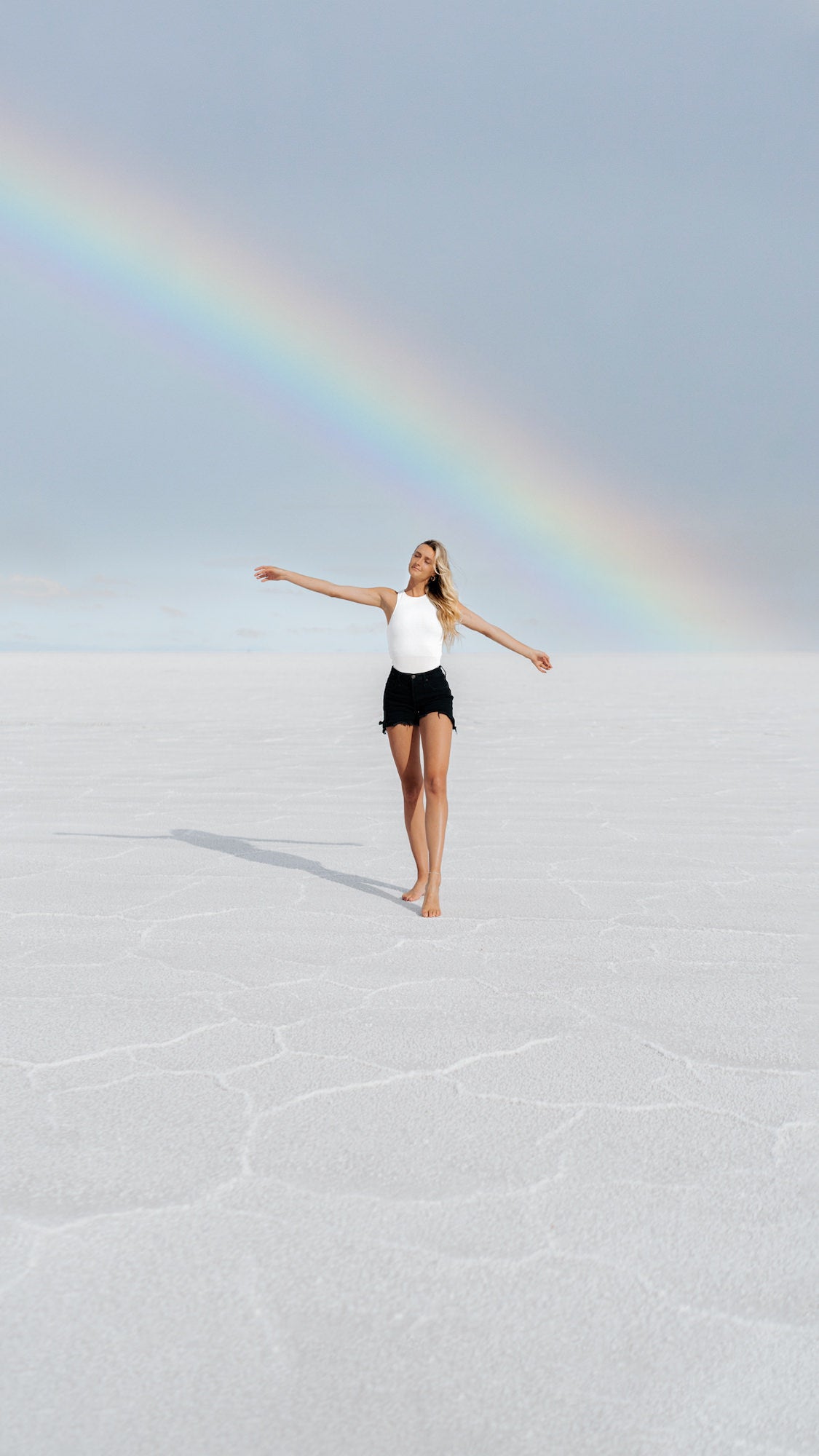 Photo by Karlie Place. Sony Alpha 7 III. Sony 35mm f/1.4 G Master. 1/8000-sec., f/2.2, ISO 100
She continues, "Then my advice to people that are already established and are looking to find more paid jobs in the travel industry: Do not forget to follow up with your dream clients. Many times when someone denies your pitch or doesn't get back to it, it has to do with timing or current budgets. That's not to say they aren't going to remember you the next time around, especially if you're continuing to put out good work. So always find creative solutions on how you can provide creative work for whatever that dream client may be."
Follow Karlie on your favorite social platform, TikTok, YouTube or Instagram to keep up with her latest adventure, learn the story behind the shots and to be a part of her supportive community.