Nick Didlick (@nickdidlick) is a professional photojournalist and sports photographer. Based in Canada, he's constantly on the move, following international athletics around the world. The pandemic might have slowed the world of sport down a bit, but even in stadiums devoid of fans, Didlick was there, credentialed as one of a select few media able to cover the biggest events. He's a Sony Alpha shooter and we had a chance to connect with him about one of the latest additions to his bag, the Sony Xperia PRO. The Xperia PRO has received rave reviews for its impressive imaging capabilities, but for Didlick the PRO has become an integral tool for him for other reasons. If you've ever been on a deadline where getting images to the client in the moment could be the make or break for you, read on.
In the news and sports world, delivery of images as fast as possible is paramount. Photographers are in competition with one another as well as anyone with a camera and an Instagram account. The Xperia PRO has 5G mmWave technology built in which can be a game changer for pros like Didlick. "The Sony Xperia phone is overall an unbelievably fantastic device," says Didlick, "and especially when you look forward to the future. When I got mine and coupled it to my Alpha 1, it was like a little marriage made in heaven. I could use my Alpha 1, one of the best cameras out there, with the Xperia PRO, and get some unbelievably fast upload speeds, which are really, really important to me and in the industry. For us in the news and sports industry, it's all about delivery of images and doing it as fast as we can. So in different places where I can find 5G mmWave, I can get 120 megabits per second uploads, which is two to three times faster than most people's home internet. In my office, I have the fastest package I can get, and it's still only 100 megabits up. With the Xperia PRO, my phone's faster than my office internet, which is a huge advantage when I'm working in certain locations."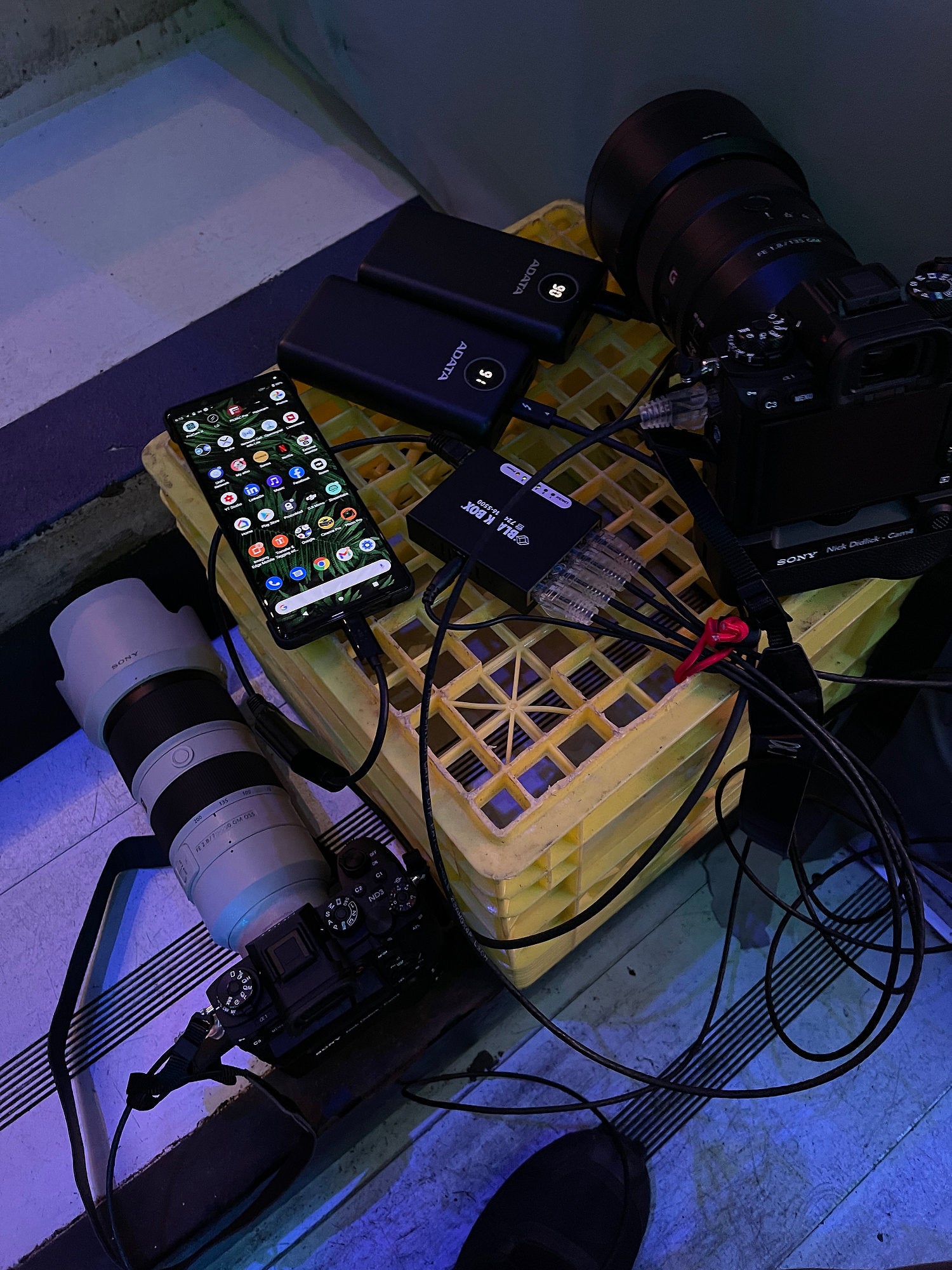 In addition to his regular work as a photojournalist, Didlick was an early tester of the Xperia PRO and he immediately saw the potential, but in a time of ever-expanding techno speak, he also saw that the feature that has the potential to make the Xperia PRO indispensable for pros like him posed a challenge. "The difficulty with 5G mmWave is people don't understand it. There's a lot of buzz out there about '5G,' but that's 5G sub-6, which gives you faster speeds than you have seen before throughout the different telecoms communications networks. But mmWave is ultra fast where it's available. For instance, NFL stadiums and teams have outfitted all NFL stadiums with 5G mmWave to allow the fans to consume content. But on the pro side of things, we don't care about pulling down content. We care about pushing content. So throughout the NFL, we're seeing huge successes by NFL photographers, pushing content, pushing their pictures, the team club photographers, and other news photographers pushing content up for delivery to the different platforms that are out there in real time."
He continues, "In Tokyo, this summer, we were able to use 5G mmWave to upload images directly. In past years, we'd work from a cabled position where we would plug an ethernet cable into the side of our camera and then start sending pictures that way, either while shooting or during breaks in the action. The obvious problem with the cable is it limits where you can be. You can be in position A, but really what you'd like to do is to go over there to position B and shoot and send pictures during the competition. And that's what we were able to do in Tokyo with 5G mmWave. We could send pictures from different locations inside the stadium." Because the stands in Tokyo were largely empty, photographers like Didlick were able to work in places that had previously been impossible and get perspectives that they never had. And using the Xperia PRO and 5G mmWave, he could still file pictures almost instantaneously from all of those different locations. And 5G mmWave isn't just confined to major sports venues. "What we're seeing is that the 5G mmWave is becoming more and more prevalent as we move around," says Didlick. "We tested one in Bryant Park in New York, we've tested in different locations all through the last year, and it's been pretty exciting to see that."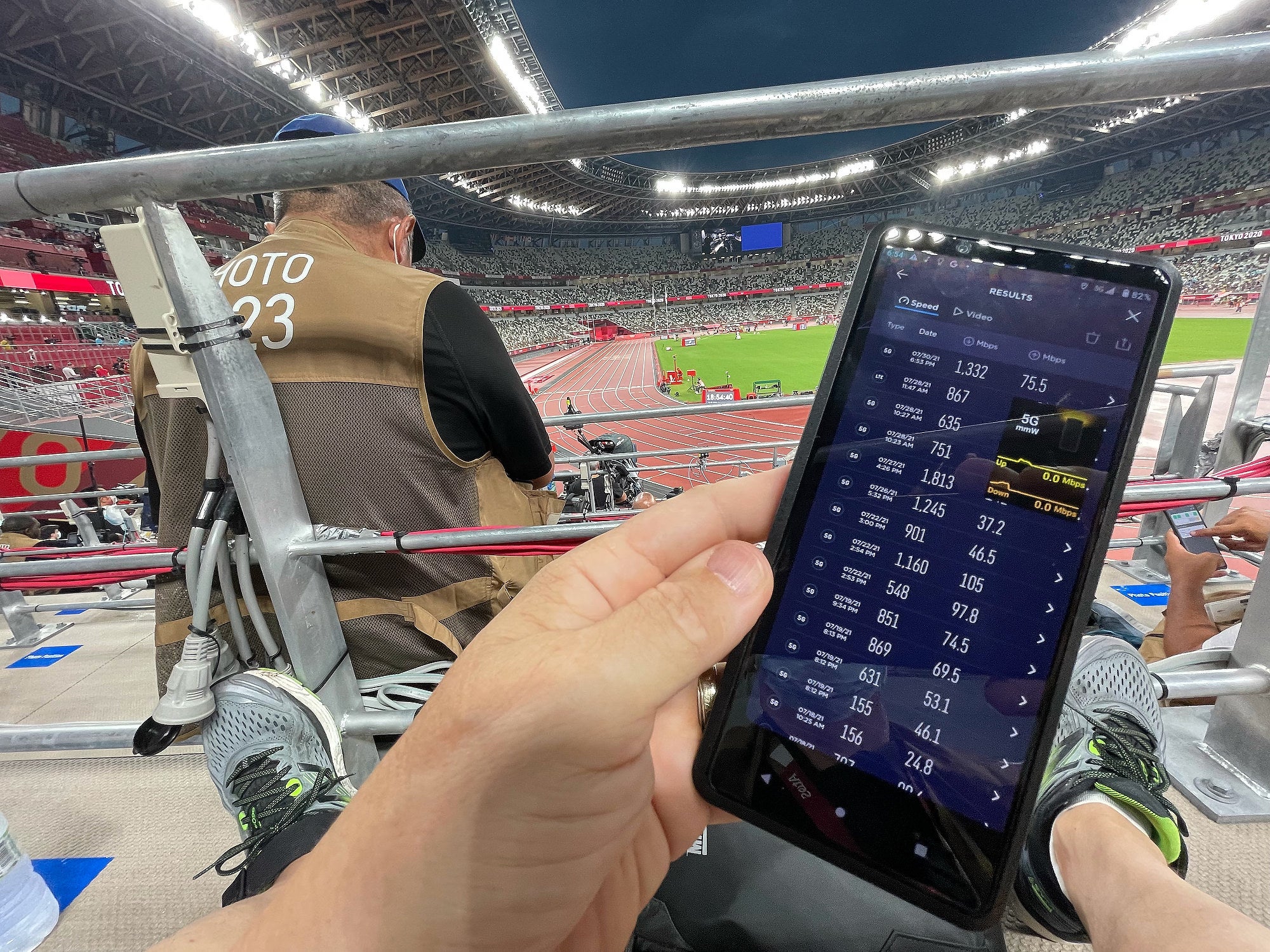 One of the Xperia PRO's most useful unsung features for Didlick is the Network Vizualizer. "No other phones, hotspots or MiFi devices that I know of have this. I'm able to walk into a stadium, hook up the Network Visualizer, and it will tell me, first of all, am I on 5G sub-6 or 5G mmWave, and if it says I'm on 5G mmWave, it will show me which direction that antenna is so I can orientate myself to get the maximum top load speeds. I think that's just a real key feature in this smartphone."
As part of his on-location workflow, Didlick is also using the Xperia PRO's Tagging & Transfer. It's an app in the Xperia PRO that allows you to apply complete metadata to an image before sending it. "I can actually have that metadata put on every image and have every picture from my camera go out to a server, which then allows editors to understand what events I'm at," Didlick explains. "To me, a picture's worth nothing unless it has some metadata on it. Tagging & Transfer is really a fantastic app."
See more of Nick Didlick's work on Instagram @nickdidlick.
Purchase the Xperia PRO HERE.