Sony has released Firmware version 5.0 for the Sony α9 camera, which brings a host of new features to the company's flagship mirrorless camera and creates a new, more robust shooting experience for all α9 owners.
This update improves on the award-winning AF system in the Sony α9 enabling photographers —especially those working in demanding fast-paced environments like sports, fashion, and photojournalism—to capture images that other systems would miss.
Above: α9 shooting at 20fps. Sequence by Nick Didlick.
With the new Real Time Tracking autofocus, the α9 uses the power of Artificial Intelligence and machine learning to track subjects with an unprecedented level of accuracy. The Firmware update also introduces Real-time Eye AF, which makes Sony's industry-leading Eye AutoFocus easier and better than ever.
Additionally, Firmware version 5.0 adds new focus selection tools, improved customization, refined image quality, and new image transfer tools.
How does a Firmware update create such an improved shooting experience? To find out, let's look at the Sony α9 and the AI technology used to improve accuracy with this new update.
Advanced Hardware Makes The Difference
The autofocus system in the α9 performs up to 60 AF calculations per second and captures images at up to 20 frames-per-second without any blackout in the viewfinder, all while continually calculating focus and exposure.
Sony achieved this by creating a new sensor and processor combination in the α9, a "Stacked CMOS sensor," which allows for incredible amount speed in transferring image data from sensor to processor. The faster the data gets to the processor, the faster the AF speed and the shorter the image processing times. Camera phones and smaller compact cameras have used Stacked CMOS before, but the α9 is the first full-frame camera with this unique sensor design.
This high-octane processing system puts the α9 well ahead of even the fastest DSLRs, which max out at 14 frames-per-second with autofocus and auto-exposure.
Real-time Tracking vs. Traditional Tracking Methods
The focus system in the Sony α9 already uses color, distance, and face information to lock onto a subject. Real-time Tracking and Real-time Eye AF add pattern and eye information, comparing the subject, in real time, to the results of machine learning-based subject-recognition information that's part of the update. In the time it takes most cameras to identify a subject only by color or contrast, the Sony α9 has evaluated up to five separate characteristics and utilized its AI-based learning to track that subject. Moreover, thanks to Sony's advanced AF machine learning, Real-time Tracking does not lose a subject if elements in a scene block that subject, or if the subject turns away from the camera.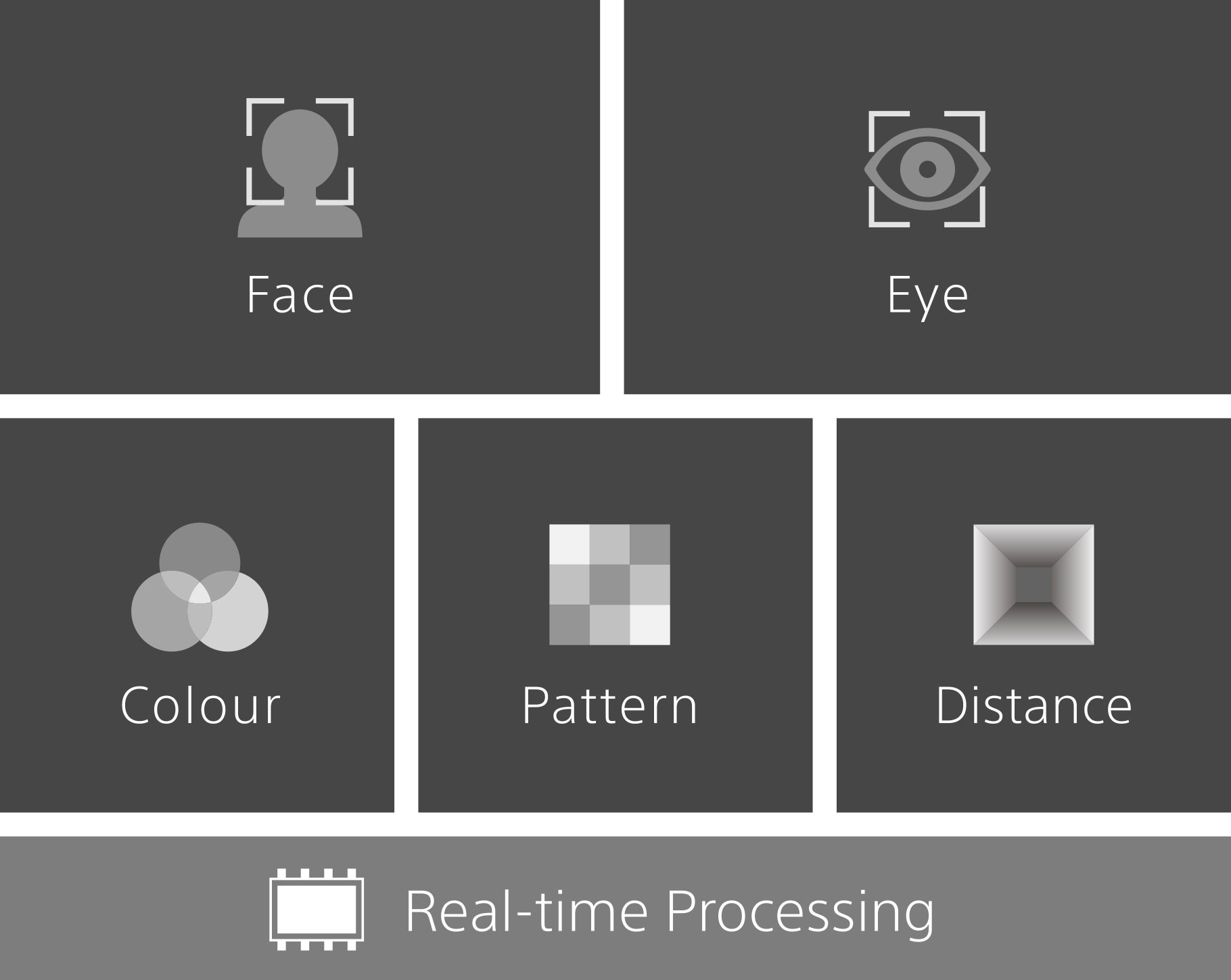 Additionally, with Real-time Eye AF, enabled by Firmware version 5.0, the α9 locks onto an eye with a half-press of the shutter—there's no need to press a separate button to initiate Eye AF as was the case before. (Photographers can still assign Eye AF to a custom button should they prefer.)
In environments where objects are passing in front of the subject—like sports, weddings, and busy news shoots—the Sony α9's Real-time Tracking stays on-task, ignoring the elements blocking the main subject, and locking back onto the subject when visible. These are situations where nearly all other camera systems typically lose tracking of the subject as soon as it's obscured.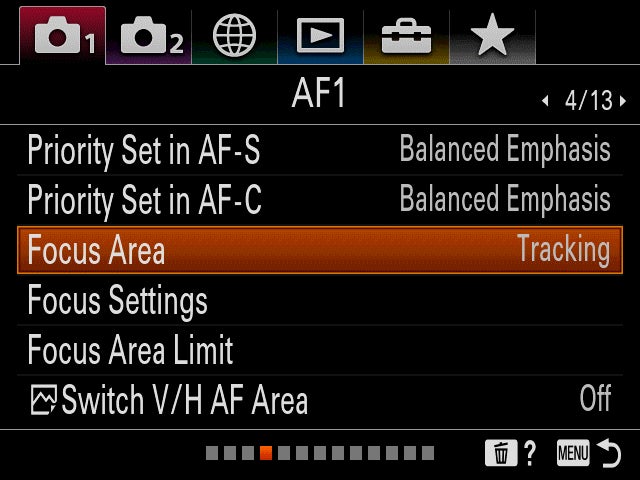 In other words, not only is the Sony α9 faster to focus than any other camera, but Real Time Tracking AF makes it smarter when focusing than any other camera. The result is more shots in focus, under more circumstances.
The new focusing capabilities are extended to video shooting as well, where a new Fast Hybrid AF mode provides more tenacious tracking of a subject, even when an object moves in front of it, which makes the autofocus system more precise and reduces the number of times that focus needs to be adjusted manually.
Also, a new AF Area Circulation setting allows the AF points to be moved quickly between upper, lower, left and right sides, which is perfect for sports and other shooting situations where the subject frequently moves from one side of the frame to another.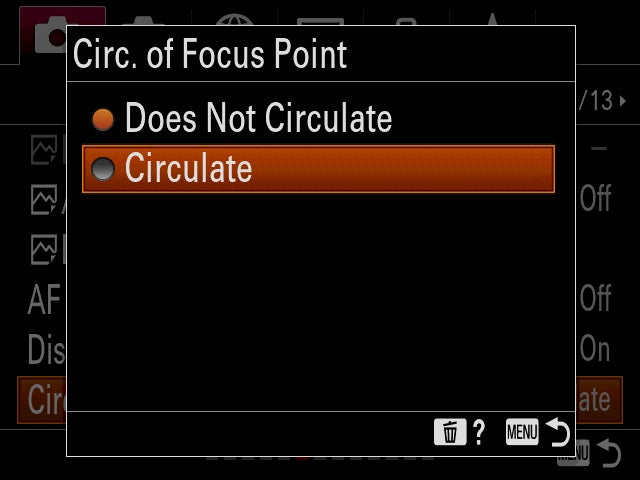 Sony α9 Firmware version 5.0 & Functionality
In addition to ushering in a new focusing system, Firmware version 5.0 is filled with improvements to many facets of operation as well, drawn from customer requests and feedback.
The Touch Pad feature allows photographers to set and select focus points by touching the rear LCD screen while using the electronic viewfinder. This selection area is an alternative to using the thumb-stick on the back of the camera and allows for tremendous focus precision. A new My Dial menu provides for the custom assignment of the front and rear dials, plus the control wheel, giving tremendous creative flexibility to the photographer.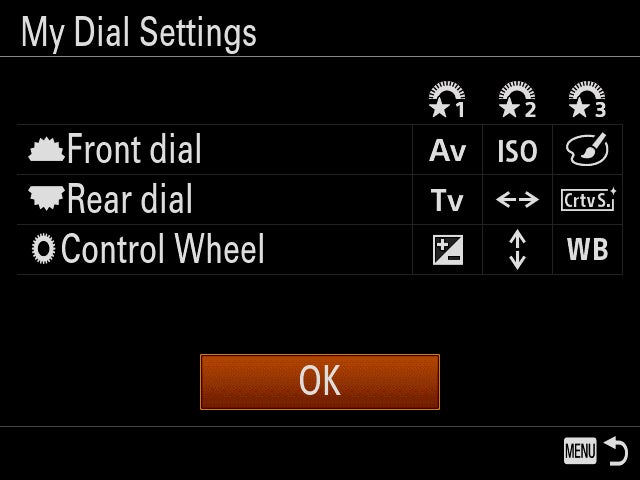 It's also now possible to assign different dial uses to different shooting situations and trigger them by using a control button— for example switching the front dial between controlling Aperture and ISO. This new customizablility enables shooters to set up the camera for their most typical shooting requirements, yet still be able to control critical settings for different types of shooting, without having to enter the menu system.
An updated Custom Button menu shows the buttons displayed graphically on an illustration of the camera so that users can more quickly select the buttons they'd like to program. An improved Function menu makes it easier to set up the quick-settings available up through the Fn button.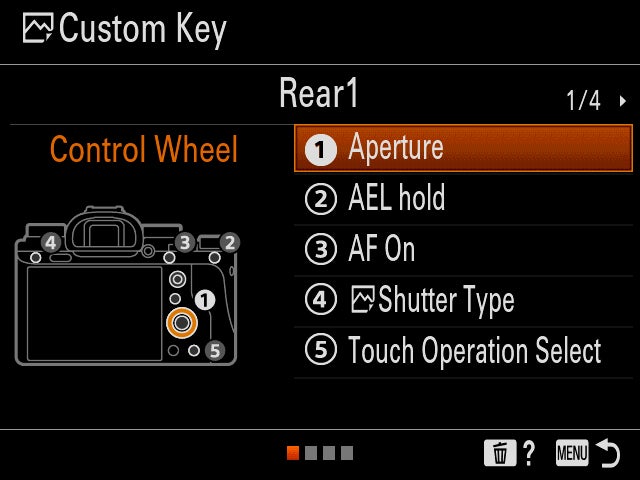 Other powerful tweaks include new settings that automatically switch over recording from one card to another when the first card fills, plus new star-rating tools for images.
Improved Image Quality
Like its sibling cameras, the Sony α9 has its exceptional image quality, and Firmware version 5.0 tweaks the image processing to reduce auto white balance differences between shots in a burst and to create subtly smoother gradations in tone.
New Mobile Support
At the request of professional photographers working in fast-paced capture environments, the update brings support for a new Transfer & Tagging application, which allows FTP background transfer to a mobile device while still shooting. Photographers can add IPTC data manually or via voice recognition, and that metadata stays with the images during transmission.
More To Come This Summer
The Firmware version 5.0 update for the α9 will be followed during the summer with Firmware version 6.0, which will add two new features. The first is Real-time Animal AF, which will allow the Sony α9 to be set to perform subject recognition and eye tracking on animals. The second feature is an interval timer, configurable via a new Interval menu.
Greater Than The Sum Of The Parts
Firmware version 5.0 shows that Sony considers its cameras to be an evolving system, more powerful than the sum of the parts. With new technologies deployed via firmware updates, users get the confidence of knowing that their investments in camera gear pay dividends long after the initial purchase.
Sony's commitment to photographic excellence begins with their design, engineering, and manufacturing, and extends to the Firmware that powers that hardware, and now embraces AI to create the most powerful photographic system available.