The art of food photography is to allow the viewer to explore the tastes, smells and textures of something using only their eyes. And within those tastes and smells, powerful memories rise from within our subconscious. Alpha Female + Grant Winner Dolphia Nandi's project over the past month has been to create a series of images for an e-book of traditional Bengali sweets that her mother made when Dolphia lived in India.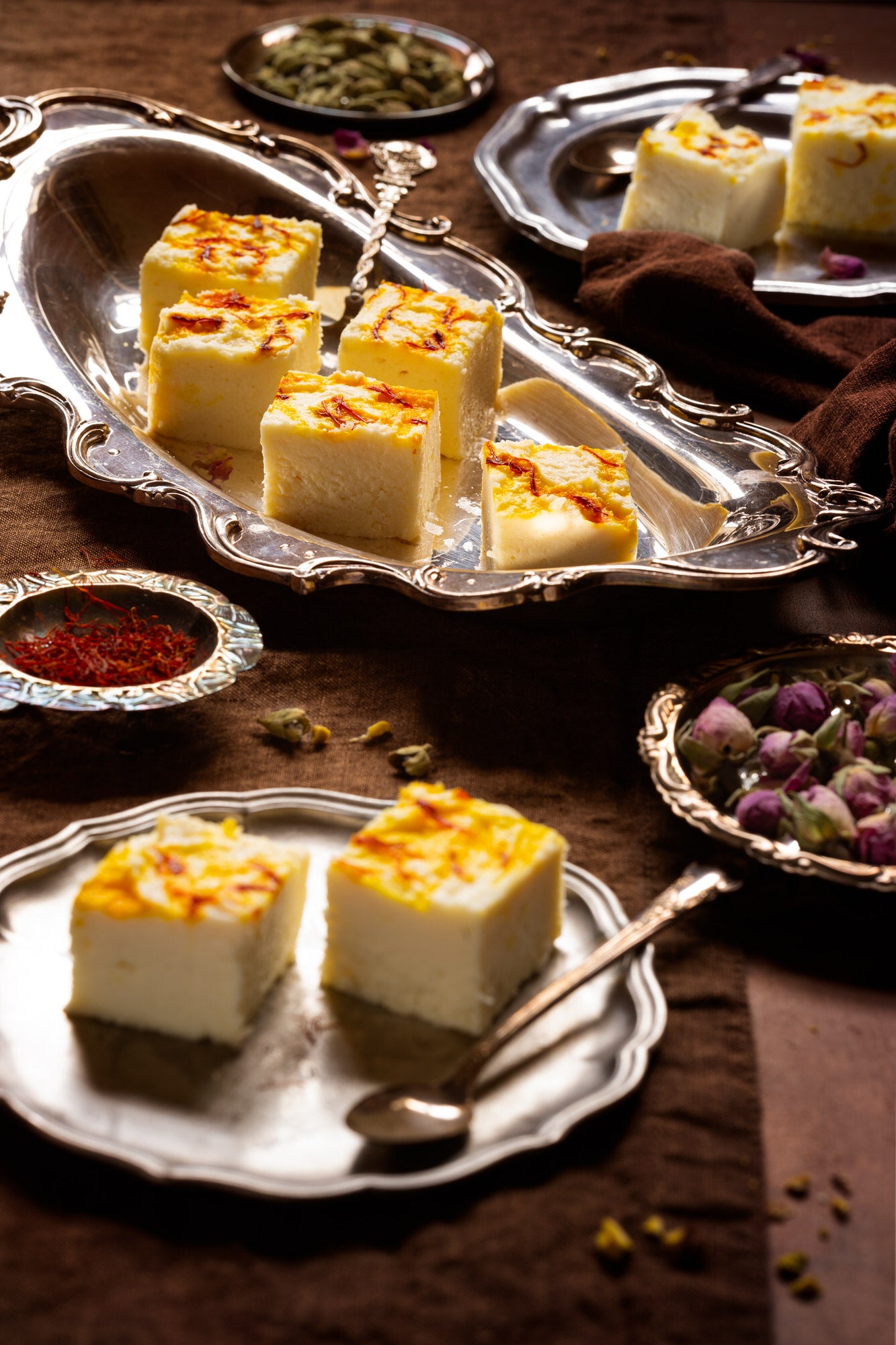 Photo by Dolphia Nandi. Sony α7 III. 85mm f/1.8 lens. 1.3-sec., f/10, ISO 50. "Steamed Sondesh is a variety of sondesh made with fresh paneer mashed with sugar and steamed to create a super soft ice cream-like texture. This dessert was the hardest to photograph because I wanted to show the height and the soft texture. I was planning to photograph top down but they were starting to look flatter. When I tried to show them straight, they were not looking that appealing. I finally set this look and added garnishes, spices to give this photo the complete feel. I also photographed with a natural backlight to make the highlights pop."
This time of year we all think of home, whatever and wherever that is. Dolphia has made her home in the United States, but today we're featuring some of the images she's made over the last month that take her back to India and her mother's kitchen as well as one of the recipes, Coconut Laddoo, from the up-coming e-book. "I asked my mom to teach me these classic Bengali sweets recipes slowly over time," says Dolphia. "Surprisingly, these sweets are super simple to make and the ingredients are readily available. I'm continuing to learn new recipes from my mom every day and honing the ones I already knew."
Coconut Laddoo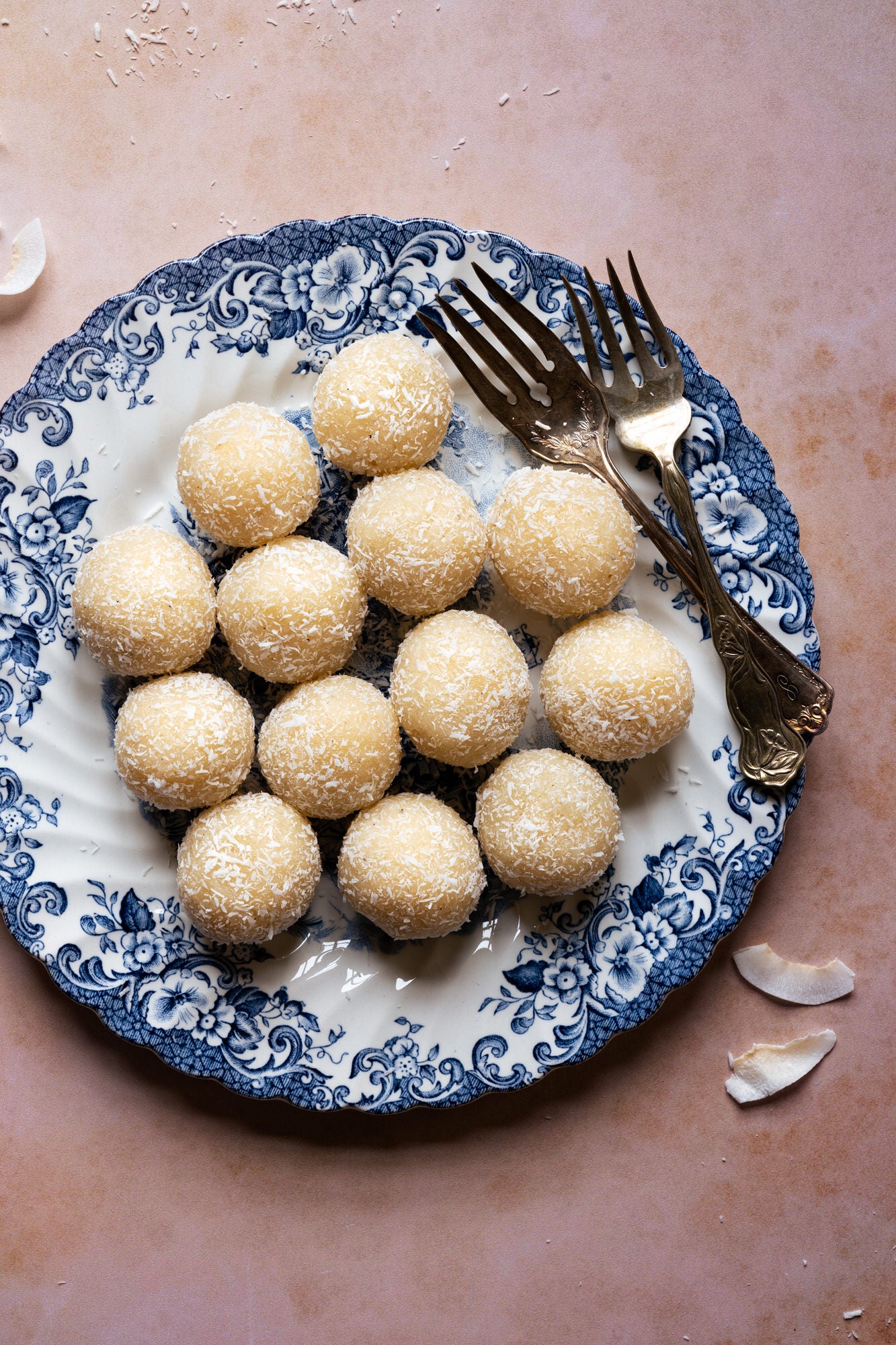 Photo by Dolphia Nandi. Coconut Laddoo. Sony α7 III. Sony 24-70mm f.2.8 G Master lens. 1/2-sec., f/11, ISO 50.
Yields 8
Cooking Time: 25 minutes
Preparation : 10 minutes
Ingredients:
2 tablespoons organic whole milk
1/2 cup organic cane sugar
1 1/2 cups frozen grated Coconut (easily available at Indian stores here)
2 tablespoons milk powder
1 tablespoon ghee
6 small cardamom, seeded and crushed (alternative: cardamom powder) A few tablespoons desiccated coconut (optional)
Procedure:
In a thick bottom non-stick pan, over medium heat, heat sugar & milk for 3 -4 minutes or until sugar melts. Add frozen grated coconut and continue stirring and breaking large frozen lumps for 3-4 minutes. Add milk powder and continue stirring for 2-3 minutes. Add ghee and continue stirring for 5-6 minutes. Make sure the coconut is not getting reddish due to heat. Adjust the heat if needed. Lower the heat and add crushed cardamom. Give it one final stir and take it off the flame. Continue stirring for 4-5 minutes more or until it cools down to handle.
Start forming round shapes ball when it's a bit warm. You should be able to form 7-8 balls. Roll it in dried coconut. They will store well in room temperature for a week but these are addictive!
Photo by Dolphia Nandi. Sony α7 III. Sony 24-70mm f.2.8 G Master lens. 1-sec., f/10, ISO 50. "Payesh is a type of rice pudding from India made by boiling milk, sugar (or jaggery), and rice, then garnished with nuts, dried rose petals. I wanted to serve the payesh in these vintage brass bowls my mom got as her wedding present. I paired with a white plate to make the pudding pop from the dark black-gold background. The soft silk in the corner is elegant Tussar silk from West Bengal. I wanted to portray the beauty of West Bengal in this shot, which is why I picked these props judiciously."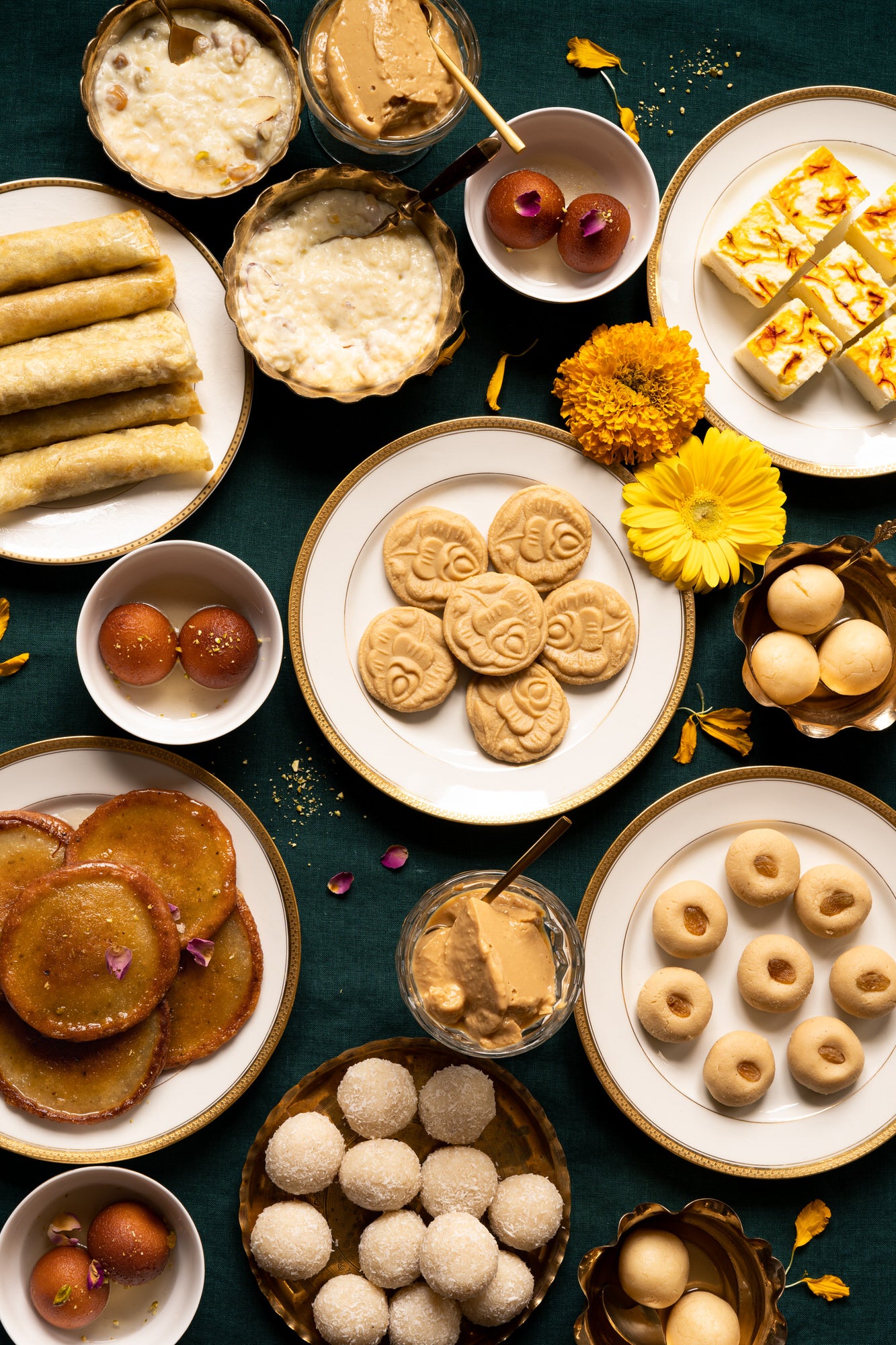 Photo by Dolphia Nandi. Sony α7 III. Sony 24-70mm f.2.8 G Master lens. 1.6-sec., f/11, ISO 50.
Photo by Dolphia Nandi. Sony α7 III. Sony 24-70mm f.2.8 G Master lens. 2-sec., f/11, ISO 50. Gulab jamun is a milk-solid-based sweet from South Asia and a prevalent food among Indian weddings. This is equivalent to a wedding cake in the United States. I photographed this dessert with a wedding in mind. I paired this with my wedding dress (saree) and my mom's gold jewelry she passed down to me. I also added ribbons and sequins to showcase gifts and blessings.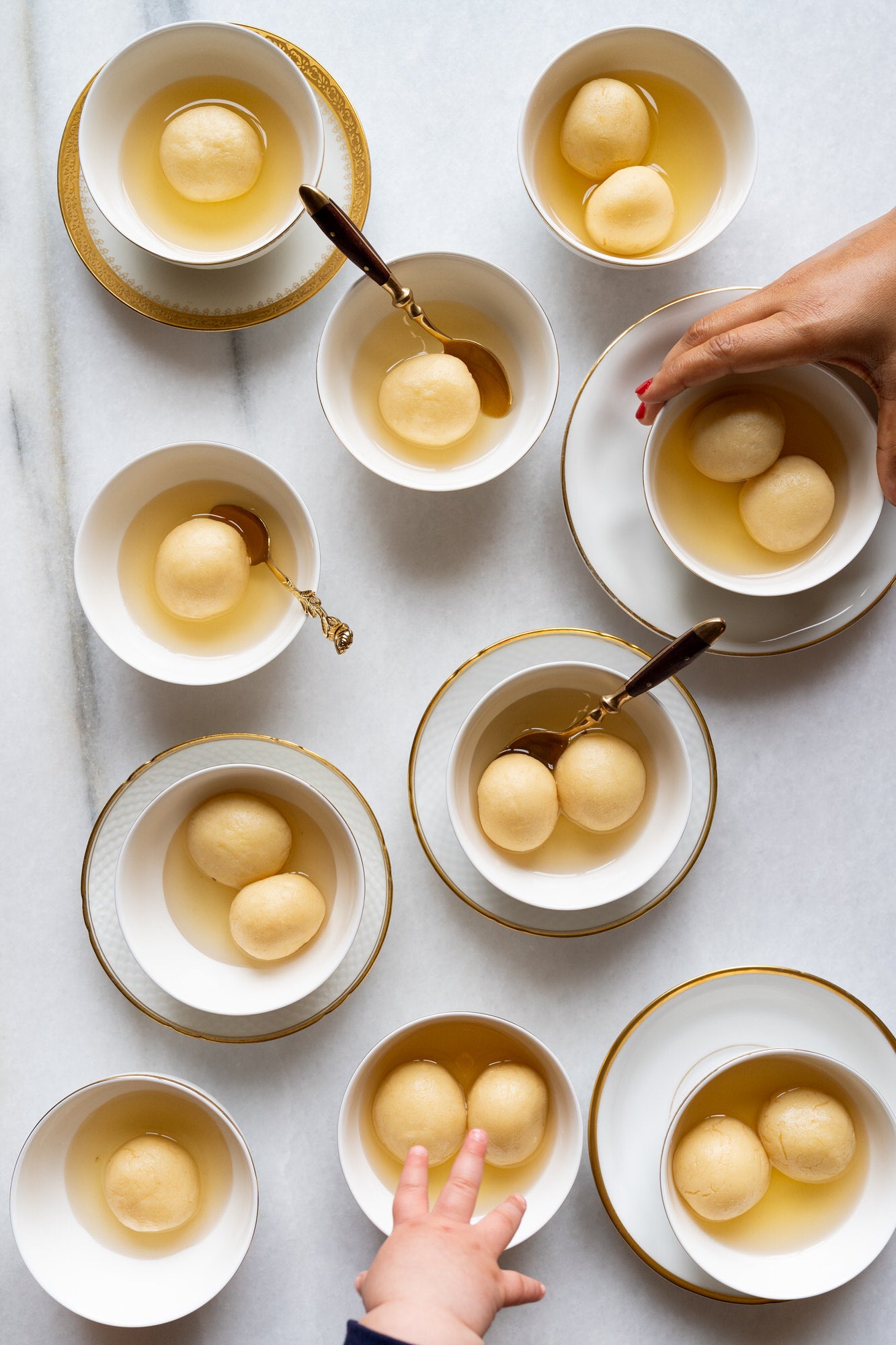 Photo by Dolphia Nandi. Sony α7 III. Sony 24-70mm f.2.8 G Master lens. 1/100-sec., f/4.5, ISO 640. Rasgulla is ball-shaped dumplings made with fresh paneer cooked in mildly sweet cardamom flavored sugar syrup. It is always served with that sugar syrup. This is the most popular dessert in Kolkata and among Bengalis.
Do you have what it takes to be an Alpha Female? See how you can apply for an Alpha Female + grant and win more than $8,000 in cash and equipment for your project. See all the details and our past winners HERE.