By Mahesh Thapa (@starvingphotographer) & Reza Malayeri (@rmalayeri)
Artists In Activism (AIA) (https://artistsinactivism.myportfolio.com/work) is a group that voices the opinions of the underrepresented communities of color. They literally shout their convictions from rooftops in the form of music and with the hope of shedding light on social injustices. Their peaceful approach and message of hope serve as inspiration to us all. Never was I prouder to be an Alpha Collective member as when Sony enthusiastically agreed to fund this project to bring awareness to the positive messages being shared by AIA.
View this post on Instagram
AIA's Rooftop Pop Up Protests in Snohomish County, Washington are peaceful protests accomplished with live music, guest speakers, and thought-provoking slogans and signs. What initially began as a short-term weekend project has blossomed into a 20+ week beacon for liberty and transformation.
Currently, AIA is teaming up with the Snohomish County Sheriff's department to begin a project called, "Cops and Barbers". They hope to bring together law enforcement and the civil community at different barber shops across the county to discuss important social justice issues and bridge the gap between the two groups.
Using The Xperia 1 II For Documentary Photography
We used the Xperia 1 II exclusively to photograph and film all the content over a period of several weekends (see more about the entire Xperia lineup HERE) . The Xperia 1 II was an ideal tool for several reasons. It is an unobtrusive camera system with excellent features for people/candid photography. Its ability to quickly lock onto a human eye and track it was essential to capturing protesters and musicians as they marched back and forth. We were also able to quickly switch from ultrawide, to wide, to telephoto with a flick of a finger, because of the ergonomic layout. In addition, as Sony Alpha mirrorless camera users, the controls on the Xperia 1 II were similar and intuitive. Finally, we appreciated the ability of the phone to shoot in RAW for all lenses. The lighting conditions were often challenging and having the flexibility to edit RAW files allowed us to extract the best possible images we could from each shot.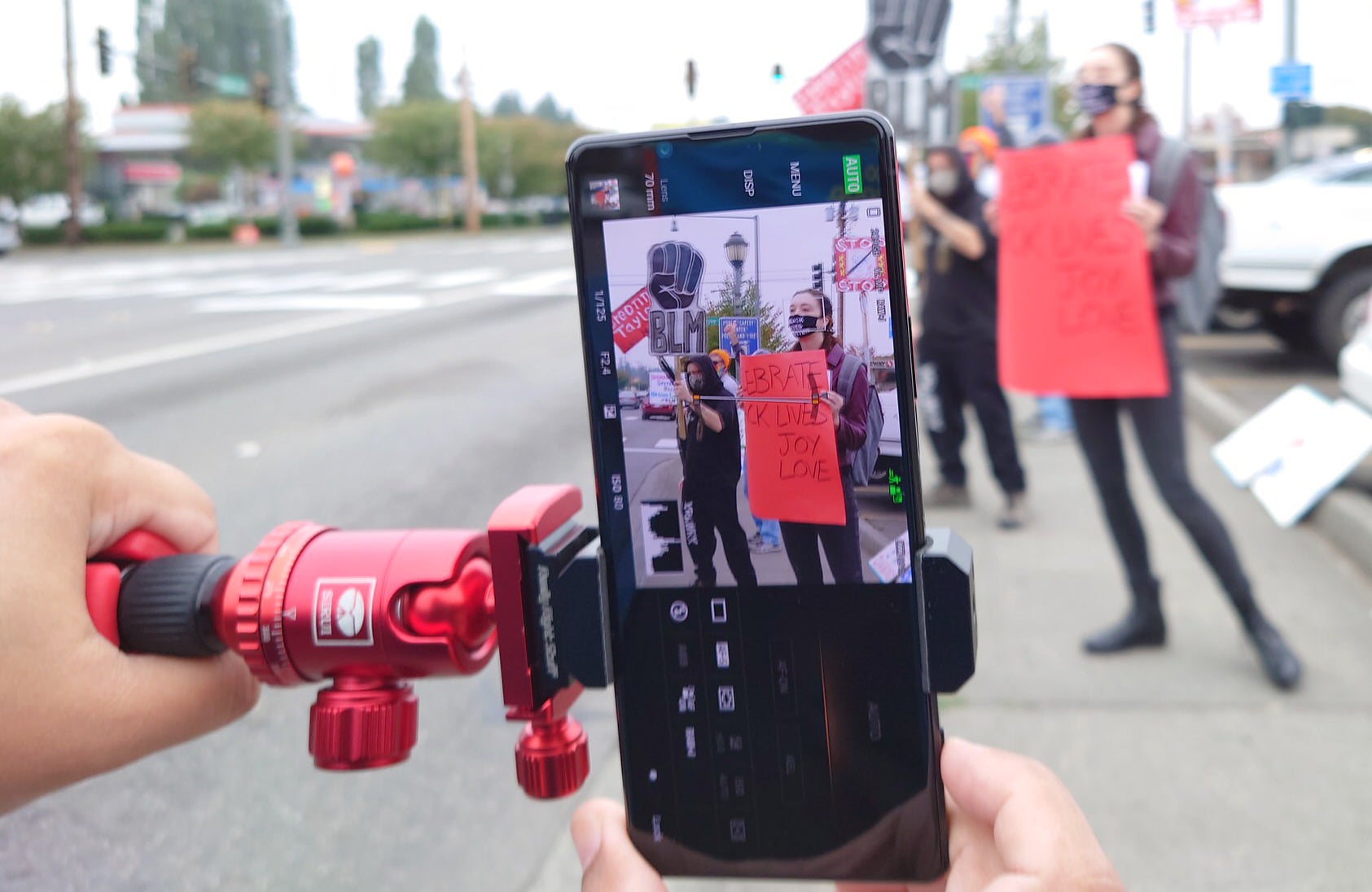 Using The Xperia 1 II For Documentary Videography
Having the flexibility of three different focal lengths, excellent audio quality, HLG codecs, and plenty of dynamic range allowed us to capture decisive moments with ease, and at a very high bit rate. The build quality of the Xperia 1 II is also excellent, with an immersive cinema wide OLED display and helpful haptic audio. All these features come in a small and light-weight package. In fact, we were even able to mount the Xperia 1 II on our drone and capture compelling aerial footage.