Every few years, Southern California gets quite a bit of rain in between late winter and early spring. When that happens, we can experience what's known as a super bloom. The usually dull, brown hills come alive with what seems like millions of colorful wildflowers. The most popular flower bloom during this time is our state flower, the golden poppy. Being native to the area, when I saw the super bloom happening, I knew I had to quickly act before droves of spectators started showing up. I had my Sony 100mm f/2.8 G Master lens attached to my Sony α7R III and drew inspiration from the Wizard of Oz for this shoot. Both the book and film depicted the poppy fields as so beguiling that our favorite characters became ensnared by them. I wanted to capture that emotion, captivating the viewer and transporting them to a world of Technicolor. In this image, we see a young woman, being swept away by the allure of the poppies.
Join Alpha Universe, create your own public profile and upload your Sony photos to the community gallery. It's free and you'll have a chance to be featured on Alpha Universe! Learn more at alphauniverse.com/profile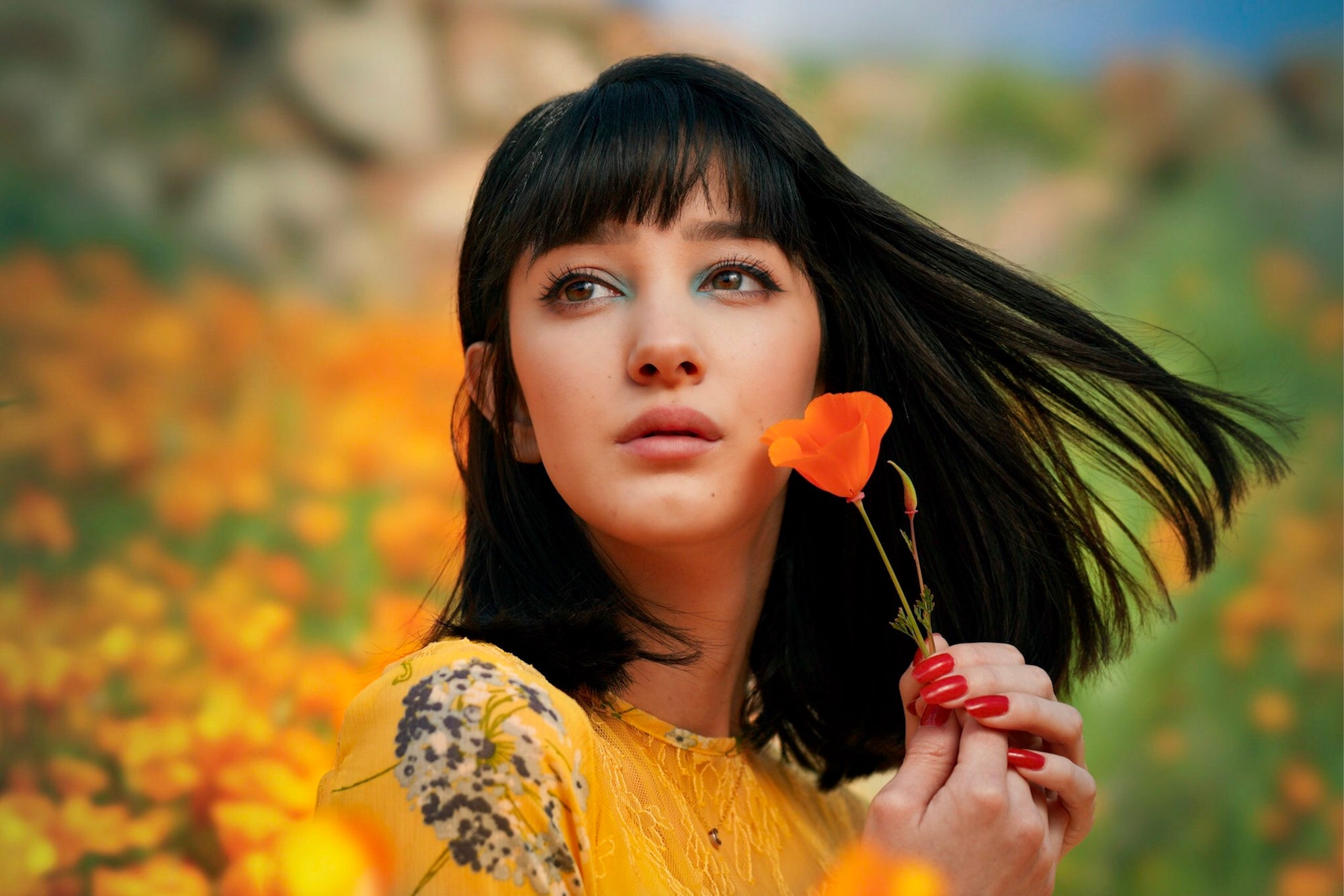 Sony α7R III. Sony 100mm f/2.8 G Master. 1/1000-sec., f/5.6, ISO 100
This image was taken at 1/1000, f/5.6, ISO 100. I was able to get amazing compression as well as achieve perfect focus utilizing the STF feature of the 100mm f/2.8 G Master lens. It gave me the depth of field of an f/2.8 aperture while providing the exposure and sharpness of a lens at f/5.6 which is truly the best feature of this lens for portraits. It's a unique lens that makes the subject to pop from the scene while rendering the environment beautifully.
The procedure for this shot was quite intricate. As far as working space goes, we were limited to a small area that required crossing a rushing stream via a bridge made of fallen trees. The dirt paths that weaved in between clusters of flowers were narrow, but we still managed to fit. It was important to us three, model Olivia Villalobos (@livieownie), my amazing partner & wife Kailyn, and of course, myself, to ensure there was no harm to the natural environment. This required careful placement and maneuvering. We had Olivia sit on a small boulder on the hillside. Lighting this shot was tricky. Kailyn held a medium scrim overhead to cut the harsh sunlight. I held an ad200 strobe at ¼ power in a 32-inch octabox attached to a monopod. This required some interesting maneuvering because I had to hold the monopod extended with my left hand and the camera with my right, all while crouching a bit to get the perspective I wanted. The composition was framed so that the two hills behind her came together to form a small valley.
As far as the wardrobe, I employed a bit of color theory to pick everything from the dress to the makeup. I left the rest up to Olivia who put everything together flawlessly. For the pose, we wanted it to look like the poppies had taken hold of her. I instructed her to smell the flower and then look off into the distance like she was in a trance. The most important part of the shot was timing. This shot combined the clouds helping diffuse the light a bit more and the breeze tossing her hair just right as I pressed the shutter button.
Visit Noel's profile to see more of his work and what's included in his Sony system.
Join Alpha Universe, create your own public profile and upload your Sony photos to the community gallery. It's free and you'll have a chance to be featured on Alpha Universe! Click here to learn more.