Social distancing has greatly reduced a photographer's access to people as subjects in their work. Luckily there is a form of portraiture that only requires one person, yourself – and that is self-portraiture. Lillian Merritt (@strengthofatlantis) first discovered self-portraiture when she was just 11 years old and attended a Creative Live Workshop featuring Sony Artisan Brooke Shaden. Fast forward to today, and she's still young – only 18, but her passion for self-portraits has really taken off. We talked with her to learn more about her work and to take a closer look at some of what she's created during this time of social distancing.
"This is our opportunity to learn how to cultivate a life of growth so we can come through situations like this stronger and more resilient." – Self-portrait photographer Lillian Merritt on creating and connecting during social isolation
"For the first couple of years I was just intrigued by self-portraiture, but I wouldn't say I was super into it since I was still so young and didn't really know I wanted it to be my career," explains Merritt. "Then in 2016 I started my own photography business called Strength Of Atlantis and really decided that this is what I wanted to do for the rest of my life. Brooke Shaden has always been an inspiration to me, and it's been a fun journey to watch myself grow into my own personal style as it's developed throughout the years."
Lillian's Self-Portraiture Process
To continue working her creative muscle, especially through social isolation, Merritt tries to come up with a new photo idea every single day. Before she even creates an image, her process always starts with drawing a sketch of what she's thinking for the photo in her mind. She created the image below and posted it as part of Brooke Shaden's most recent #PromotingPassionChallenge.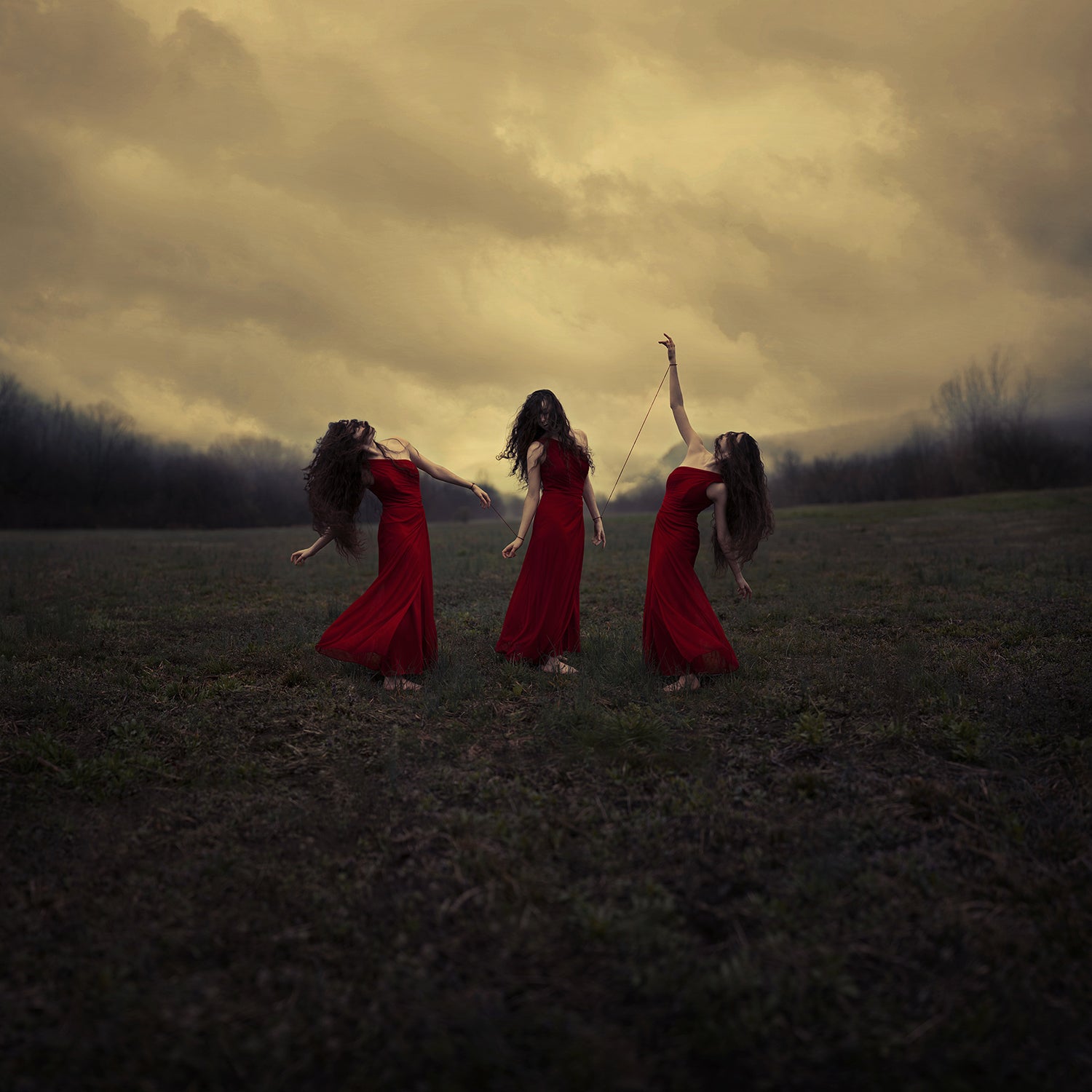 "I start with the sketch and then I write a descriptive paragraph to make sure I really understand what the main theme is behind the image," says Merritt. "This way I know what my end goal is before I even go out to shoot. This particular photo is about connection and how, during this time with social distancing, when everything's a little confused and chaotic, the most important part is to focus on staying connected. Even though we may not be able to see people face-to-face right now, it's important to remain connected with each other and with ourselves. So for this image I was going with the idea that connection is the most vital part of life when we are feeling isolated and alone. It gives meaning to what we do in life, and without it we are incomplete."
Once Merritt has the idea and theme written out, she chooses a location for her shoot. She typically chooses deserted locations away from anyone for her photos, so a shoot in the time of social distancing would be no different. Her mom also enjoys watching the photo shoots and goes with her so she isn't totally alone.
"It's much easier to go to remote spots without a ton of equipment, so I had my Sony α7R II, a fast 50mm, tripod and remote. I always use natural light in my shoots and I took several photos in different poses where the light would be the same. At first I was planning to only have one of me in the field with the string going up into the sky, but once I got back to my computer and saw the different poses I decided I wanted to tap more than one person into the frame and connect all of them with the string."
The theme of Merritt's latest image created over the weekend also relates to our current situation and dealing with social isolation. "The theme of my latest photo on a very basic level is how our brokenness provides a beautiful opportunity for growth," explains Merritt. "I directly related that to social isolation because this whole situation can seem very disheartening and crushing in a way because we are so powerless on the grand scale. Our hearts can feel very crushed, especially those whose lives have been directly touched by it. However, in our confused state there is an incredible opportunity waiting for us. The cracks that are forming inside of us are allowing in light and new ideas, it is providing us with the perfect conditions for growth. Even though we have no idea what the future will hold, this period of isolation is the perfect chance to change ourselves without the watchful eyes of others. This is our opportunity to learn how to cultivate a life of growth so we can come through situations like this stronger and more resilient."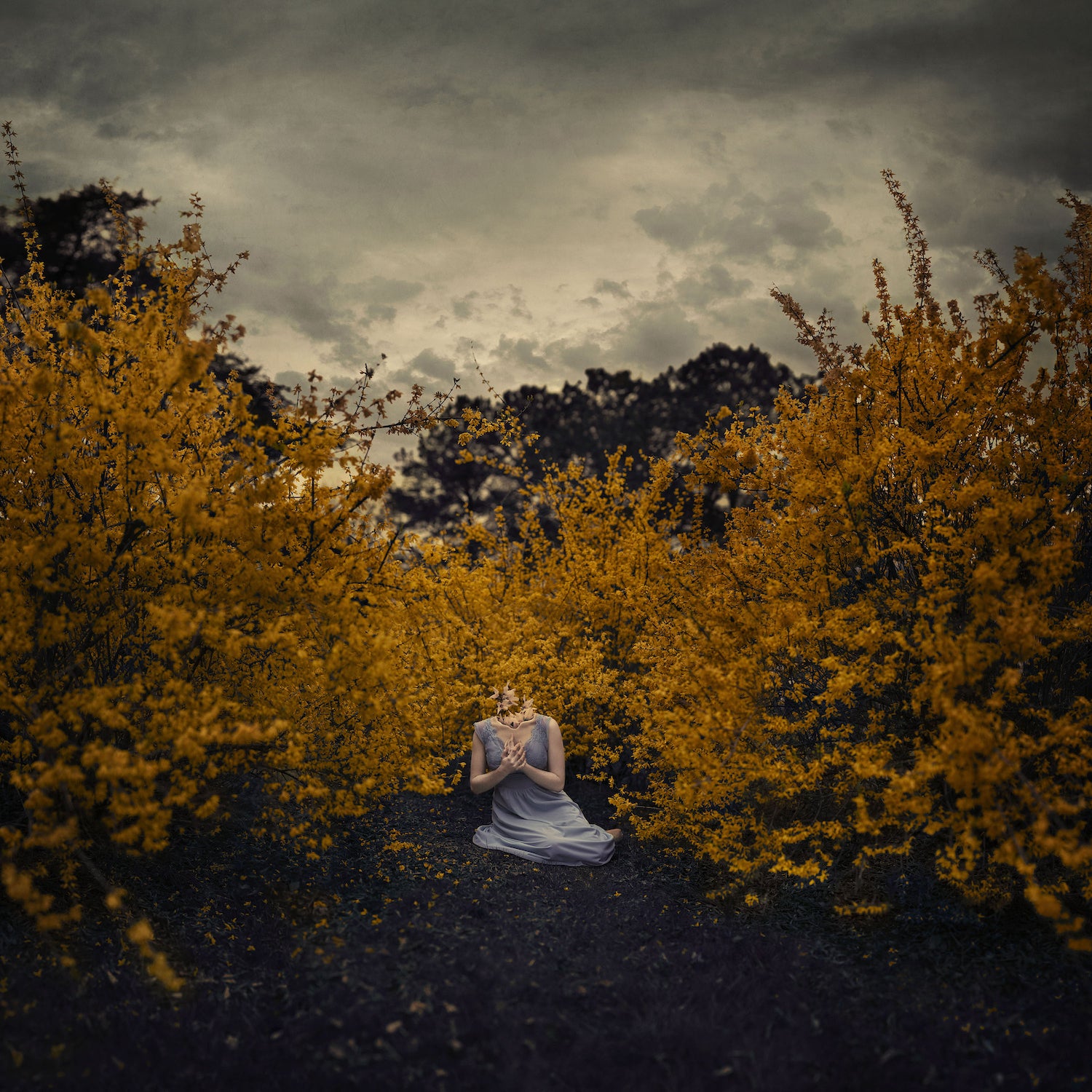 "I spent maybe an hour outside before returning home to edit this image. It was incredibly important, for this image specifically, to take additional shots of the background without me in it, so that I could later Photoshop out my head and still have the bush behind it – then add in larger flowers which I then desaturated to match my skin tone. While it may be hard to see the details of this image on a smaller screen, I created it specifically with the idea of one day printing it at a very large size in order to see the full impact it has. Because of the current state of social isolation, I was able to finish this image the day after I shot it which is quite fast for me."
"My process for post production happens completely in Photoshop. The first thing I always do is expand my image into a square using extra background shots I took during the photoshoot. From there I composite any other needed elements such as a flowing dress or in the case of the image I am working on currently, removing the model's head and replacing it with flowers. While I love editing my images, my favorite part comes after everything is composited. During this time I manipulate the lighting and colors to give it both a fanciful and timeless look. It is during that time in the process that really creates the mood of the story and emphasizes the meaning behind the photograph. After I've finished the image I choose a name. Ever since I started photography I've named all of my images with foreign words in different languages or with old English and latin words. I do this to create another level of mystery and intrigue to each piece I create. The pieces in this article are named, 'Cōnectēre' and 'Naissance.'"
As for other creators trying to stay connected and inspired, Merritt has some advice.

"I think we're in a time where the world desperately needs art because art has a way of connecting people together when they're not even in the same room. You can see art online and feel connected to the person who created it, the model in the photo, other people who are viewing it. And it can remind us that there are people out there who are thinking and doing the exact same things we are. And so I think my biggest message to other people would be to try not to feel alone and art can help us with that."