Jason Jackson (@jasonjacksonimages) loves travel and street photography for its spontaneity, keeping you aware and on your toes at all times. "I approach my travel photography with that same observational and documentarian style of shooting that I prescribe to when in the streets," he says. On a trip to Myanmar he captured this image at a busy train station with his Sony Alpha 7R III and Sony 24-70mm f/2.8 G-Master. We connected with him to get the story behind this in-the-moment, hand-held, longish exposure photo.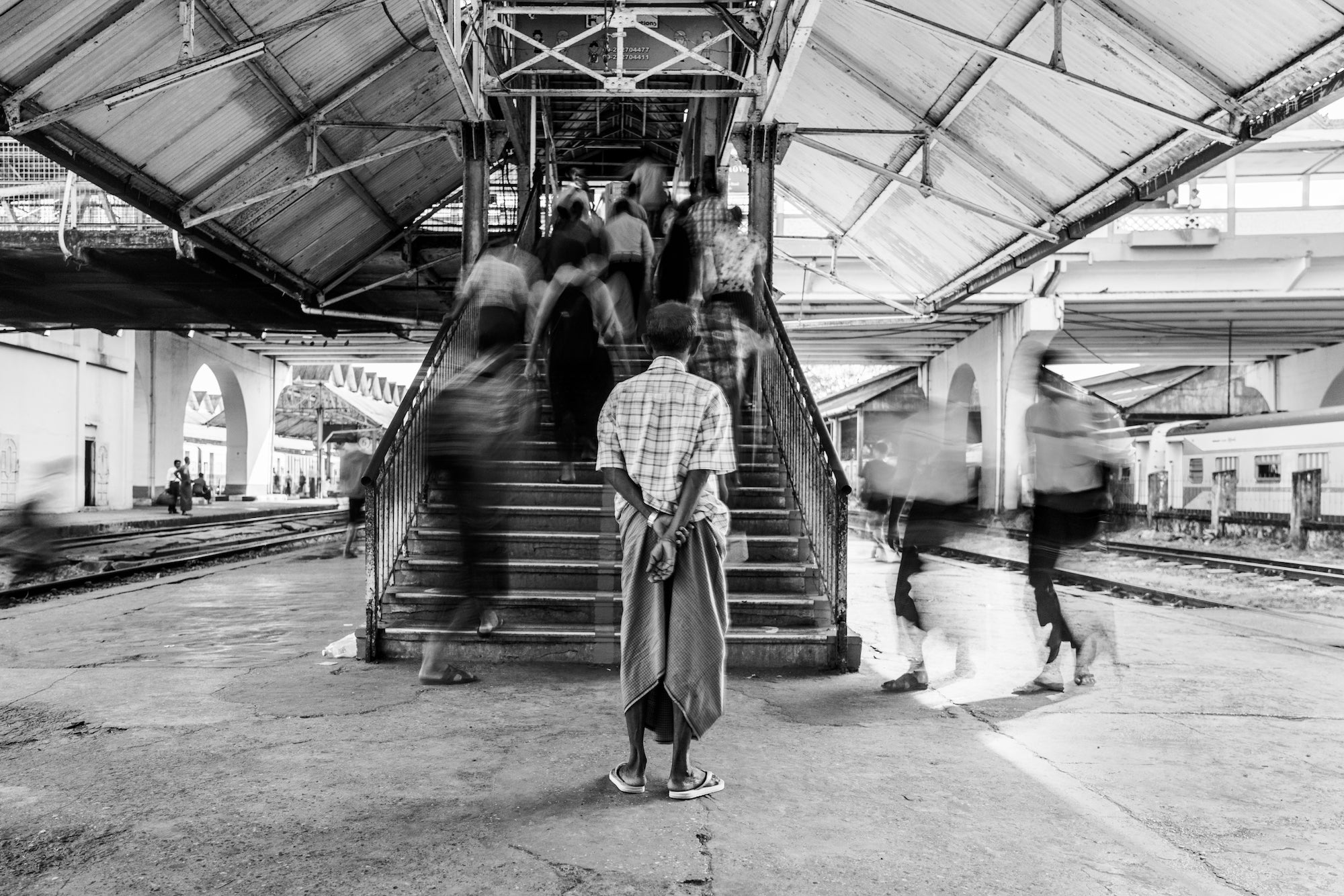 Photo by Jason Jackson. Sony Alpha 7R III. Sony 24-70mm f/2.8 G Master. 1-sec., f/2.8, ISO 800
Travel photographer Jason Jackson wanted a long exposure to juxtapose the stationary with the moving people, but there was no time for a tripod. Shot with an Alpha 7R III, the solution was actually simple.
The Scene
In late 2018 I had an opportunity to travel to Myanmar on a photography tour with Ken Kaminesky the co-founder and tour leader of Discovery Photo Tours. After the tour was completed I stayed an extra few days to decompress and explore on my own. One of the best places to capture the authenticity of a culture and its people is a busy transportation hub.
People are in transition and focused on their intent and destination and convey a sense of natural movement. It's a goldmine for human observation. I found myself camped out in the Yangon Train Station and after purchasing a ticket that gave me access to the platform I sat and waited for the trains to roll in.
A Handheld Long Exposure With The Sony Alpha 7R III & Sony 24-70mm f/2.8 GM
I made sure to carry my tripod because I had a fleeting idea to do some long exposure imagery. However I quickly decided to forego the use of a tripod in an attempt to be more inconspicuous. I chose instead to rest the camera on my thigh for stability and flip the LCD touchscreen upward to get a live view of my shot and frame accordingly. I got some great shots of the flood of people exiting the trains and navigating the steps up to the main lobby as they headed out to the street.
However, as the crowd dissipated I noticed a lone man standing at the bottom of the stairs. He was watching and waiting patiently for the crowd to disperse to allow him easier access to the stairs before he began his ascension. He approached the stairs slowly, clearly not as limber and spry as some of the younger individuals on their way to work who were bounding up the stairs. He paused as he got closer and waited for the remaining commuters to make their way up the stairs. It was at this moment that I hit the shutter. His stillness gave credence to the movement around him and allowed me to create an image that conveyed both.
Using my Sony Alpha 7R III and Sony 24-70mm f/2.8 G Master lens allowed me to get as wide of a shot as possible at 24mm. With my aperture wide open at f/2.8, I made sure to focus on the central figure of my image (the elderly gentleman). With a shutter speed of .8sec I was able to capture the motion blur but still identify the moving subjects in the image. I also wanted the lighting to be natural and not forced or artificial. An ISO of 800 allowed me to maintain my desired settings and lighten the shadowed platform while avoiding a "noisy" image.
The power of photography is that it can facilitate discussion, understanding and a myriad of perspectives. One image can resonate and be interpreted in so many ways by so many different types of people. Shoot with authenticity.
See more of Jason Jackson's work on his Alpha Universe Profile and on Instagram. Learn more about the Sony Alpha gear he uses in his What's In My Bag article.