Jason Jackson (@jasonjacksonimages) is a part-time professional street, travel and portrait photographer. "My first love has always been street photography. The spontaneity of the medium and the randomness of what you can capture on the streets really forces you to look at and listen to your environment." Jackson employs all of his senses to observe the scenes around him and he aims to be thoughtful and authentic with a subject. We came across this photo of his and wanted to learn more. The high-contrast black and white look and the hint of grain give the image a timeless and somewhat film-like look, but the photo was made with a modern Sony full-frame camera and G Master lens. Below he explains the story behind the image and his approach to photographing for authenticity.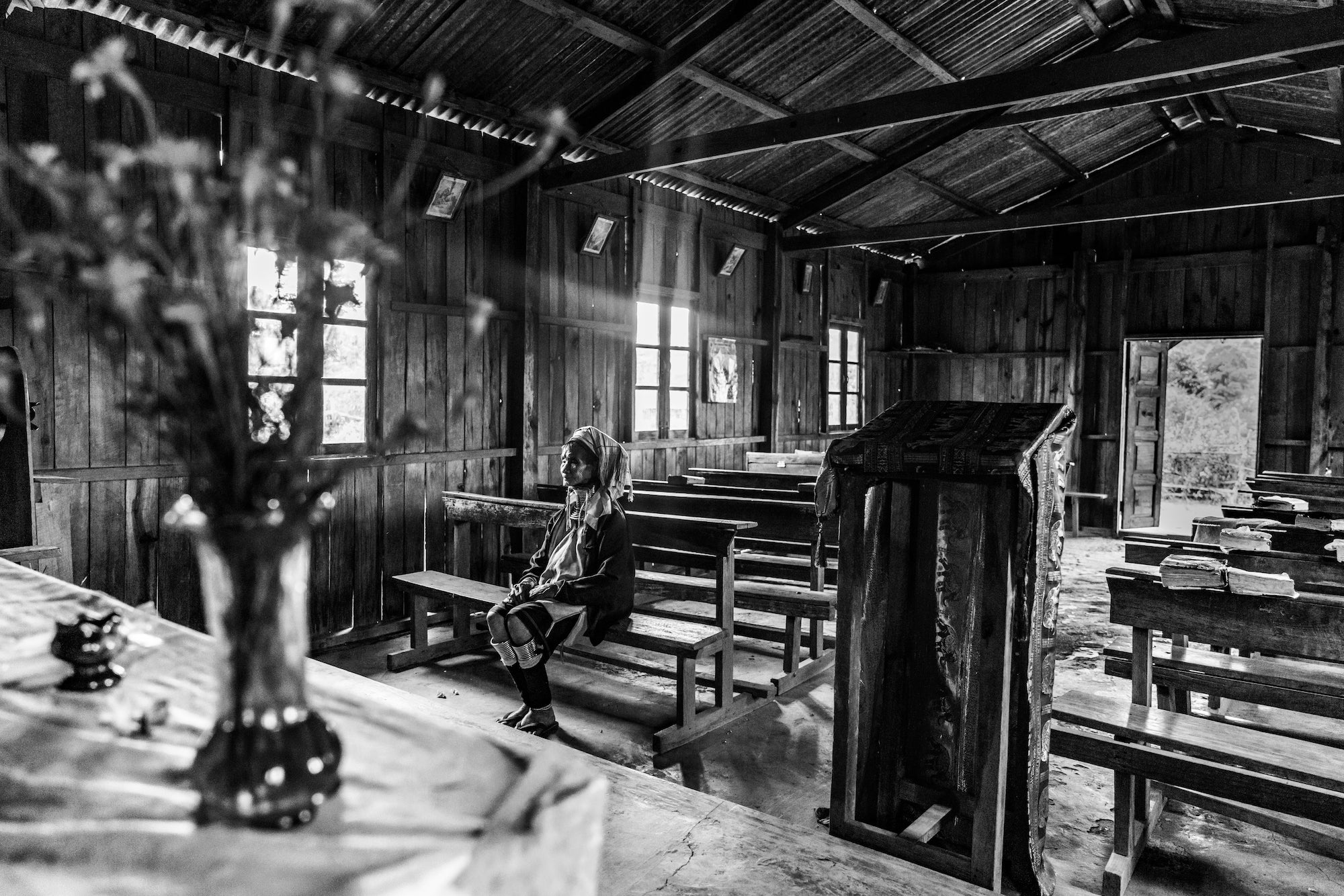 Photo by Jason Jackson. Sony α7R III. Sony 24-70mm f/2.8 G Master. 1/250-sec., f/2.8, ISO 3200
We connect with photographer Jason Jackson to find out about his quest for authenticity in photos and how he made this film-like black and white image.
In late 2018 I had an opportunity to travel to Myanmar on a photography tour with Ken Kaminesky, the co-founder and tour leader of Discovery Photo Tours. I typically prefer to plan and travel on my own or with my partner or with one or two friends, so this was a new experience for me. However, because the region has long been cited for its human rights violations and ongoing political turmoil, I decided to go with an organized tour group instead. Ken was great in that he didn't require that I stay in a tightly knit radius with the group. I was able to explore and find my own way throughout our travels in the country. This allowed me to stay true to my intention when traveling to the country which was to focus on the everyday man, woman and child and how they live irregardless of the political and religious strife around them.
Documenting Other Cultures Authentically
It is important to me when photographing other cultures, to give them a voice and representation that is true to who they are (either directly or abstractly) and not create an exploitive narrative. Authenticity is an important part of that representation. One of the most insightful parts of the trip was traveling through the Shan States of the country and interacting with the women and children of the Kayan Lahwi tribe. The women are often photographed with their traditional neck rings/brass coils that give the appearance of lengthening the neck.
Although some of the Kayan people still practice their traditional religion the majority are Roman Catholic as a result of 19th century Italian missionaries who lived and worked among them. We explored the central village first and then the photography group walked along the outskirts of town and came upon an old church. After the traditional portraits were taken with the women I noticed one of them sitting alone in the church pew. It was at that point I decided to use the environment to tell a complete story beyond what a standard portrait could do.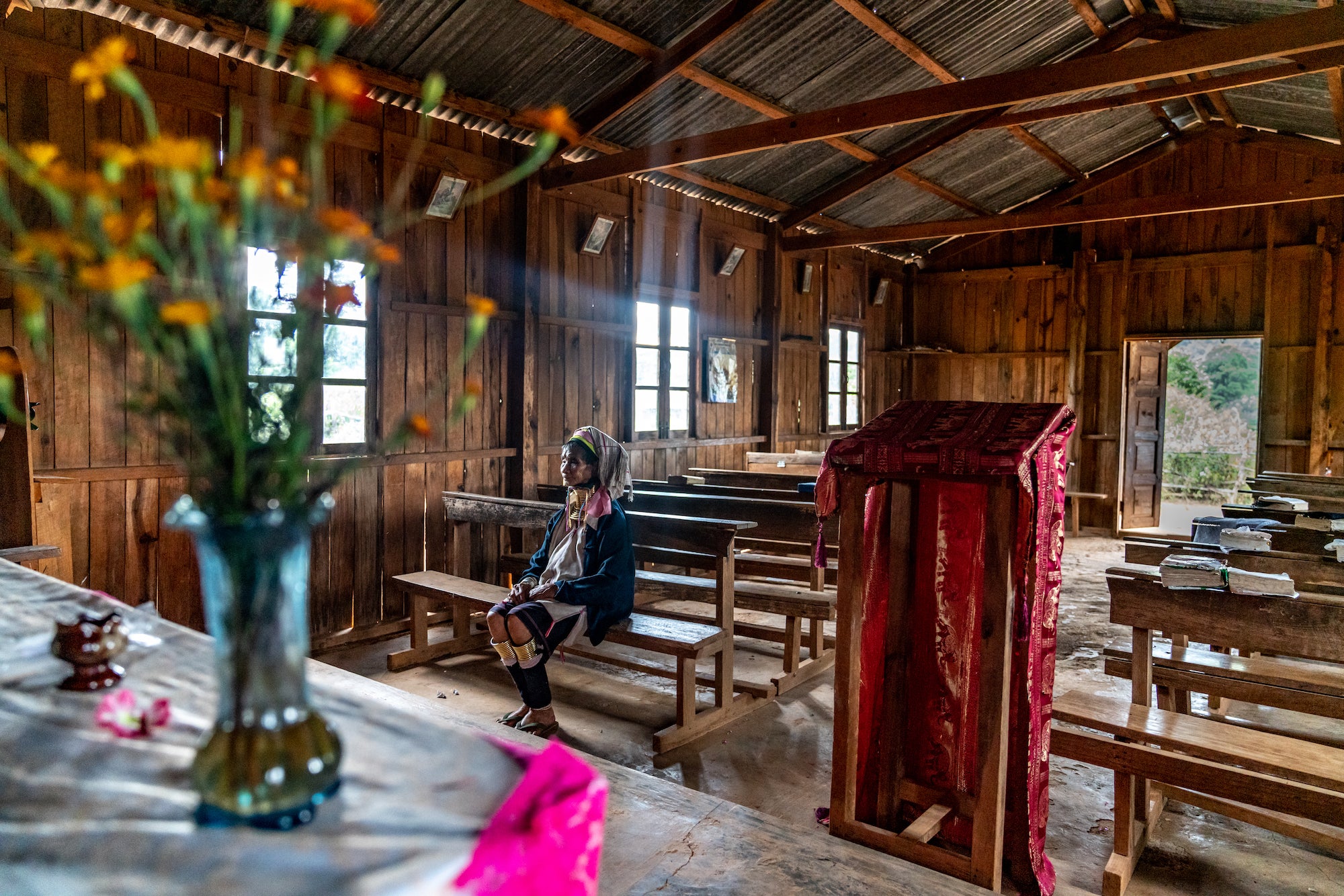 Photo by Jason Jackson. Sony α7R III. Sony 24-70mm f/2.8 G Master. 1/250-sec., f/2.8, ISO 3200
The rustic church that represented the introduction and intrusion of Catholicism was in stark contrast to the traditional garb of the woman sitting in the church pews. The empty pulpit, the empty pews, the open bibles, the bare windows letting light into what was otherwise a dark church all gave meaning, mood and context to who the woman in the picture was.
Travel Photography With The Sony Alpha 7R III and Sony 24-70mm f/2.8 G Master
Using natural light was important. I wanted the environment to be as "real " as possible without any artificial fillers. I placed myself in the corner at the front of the church to approximate the location of the religious figurehead who would have been ministering to the worshippers. I made sure to include the entryway in the shot to give context and representation of the worshippers entering the church (or the lack thereof). My Sony 24-70mm f/2.8 G Master lens allowed me to get as wide a shot as possible at 24mm. With my aperture wide open at f/2.8 I made sure to focus on the pulpit and the elderly woman who were roughly in the same plane. This allowed both to remain in focus as the background faded out of focus but still allowed the viewer to discern the importance of the environment.
I kept my shutter speed at 1/250-sec. to compensate for potential movement while leaning on a rickety table to get the exact vantage point I was looking for. I couldn't have done this without my Sony Alpha 7R III which excels in the low light conditions. The superior focus and resolution gave me the confidence to compose the shot as I saw fit knowing I would not lose the quality of the image regardless of how I might choose to crop and edit in post-processing. My last intentional choice was to bump up the ISO to 3200. I wanted the natural graininess and texture that would bring into the image to give a feeling of an aged photo and historical reference while also serving to give me more light to work with. Getting as much of my intentions to come through in camera is how I prefer to shoot if time allows. It saves me time on post processing in Adobe Lightroom and is a more authentic representation of my intended image. I did have to bring down the highlights somewhat due to the harsh sun coming through the windows but that also revealed beautiful streaks of light that complemented the shadows, textured wood and pages of the bibles. Other minor adjustments in clarity and blacks and contrast resulted in the image that you see today.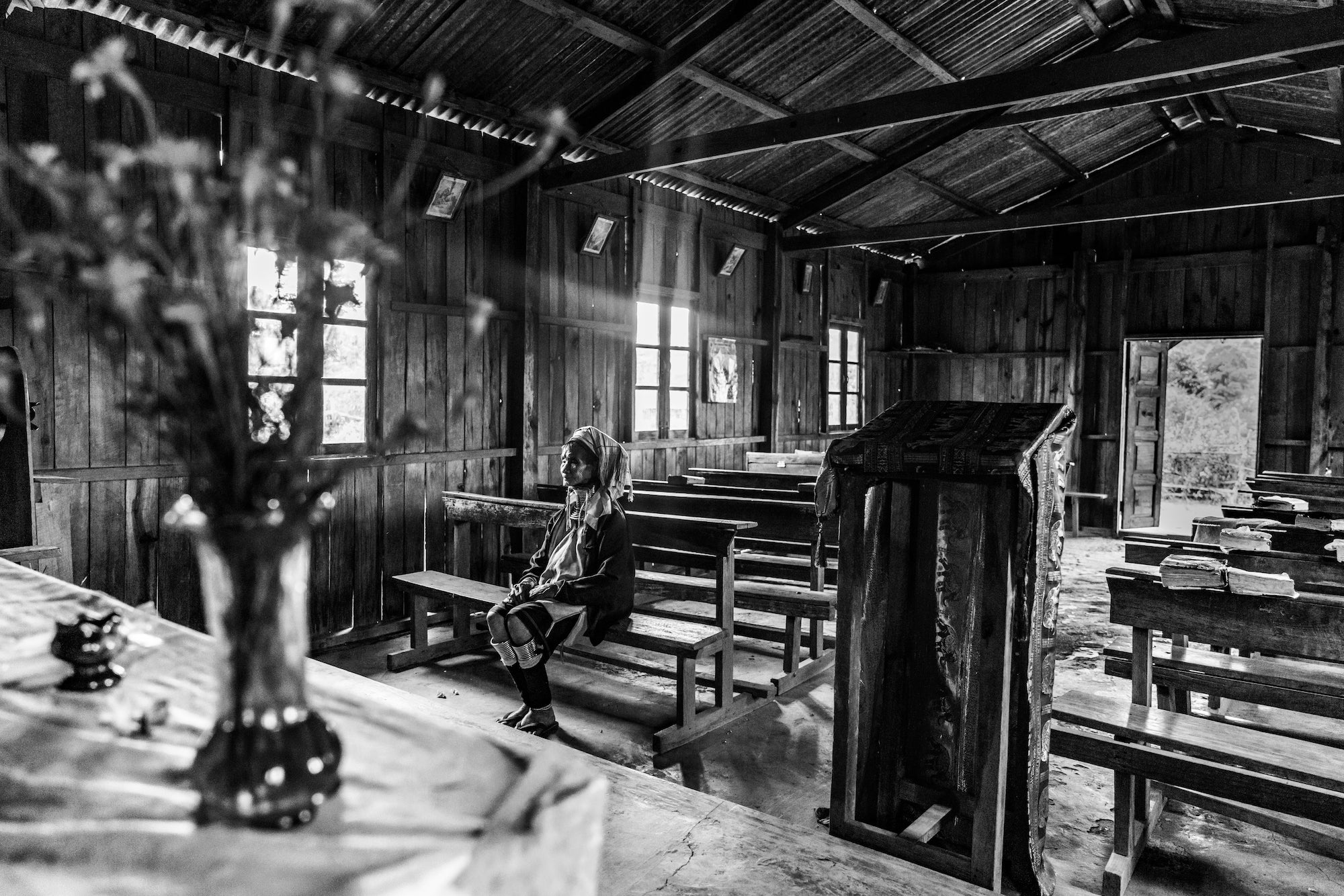 Photo by Jason Jackson. Sony α7R III. Sony 24-70mm f/2.8 G Master. 1/250-sec., f/2.8, ISO 3200
The Power Of Photography
Also of importance for me is that I often prefer to shoot my street and travel photography in black and white to remove any personal color biases I may have. It's a RAW image so I can see it in color afterwards and decide which I prefer as the final image. In this case, black and white was the more powerful image for me.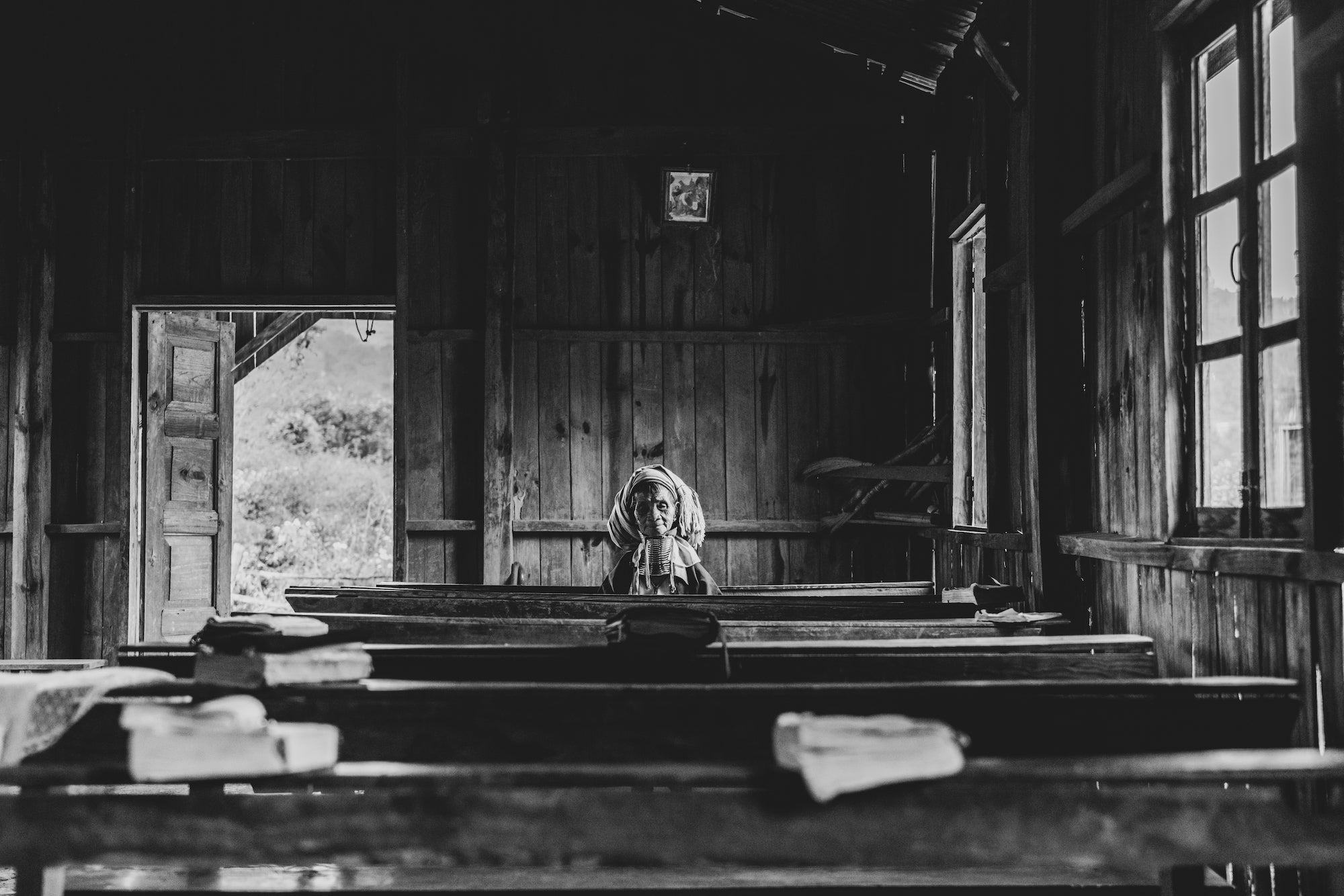 Photo by Jason Jackson. Sony α7R III. Sony 24-70mm f/2.8 G Master. 1/250-sec., f/2.8, ISO 2000
The power of photography is that it can create awareness and discussion about real world events. One image can create a movement. It can facilitate discussion and understanding. One image can resonate and be interpreted in so many ways by so many different types of people. I approach my travel photography with that same observational and documentarian style of shooting that I prescribe to when in the streets. Shoot with authenticity.
See more of Jason Jackson's work on his Alpha Universe Profile and on Instagram. Learn more about the Sony Alpha gear he uses in his What's In My Bag article.