Matt Martinez (@mattspix84) is a Flagstaff, Arizona-based photographer who loves documenting his experiences through a lens. "Whether I'm jumping off a cliff in Hawaii or standing at the front of the stage photographing my favorite bands, it's a passion that brings me immense joy." This photo of his caught our attention on Instagram and we connected with him to learn more. Martinez gives us a look at how he captured this image with a high-resolution Sony Alpha 7R IV and a 16-35mm f/2.8 G Master lens that's particularly well suited to astro-landscape photography.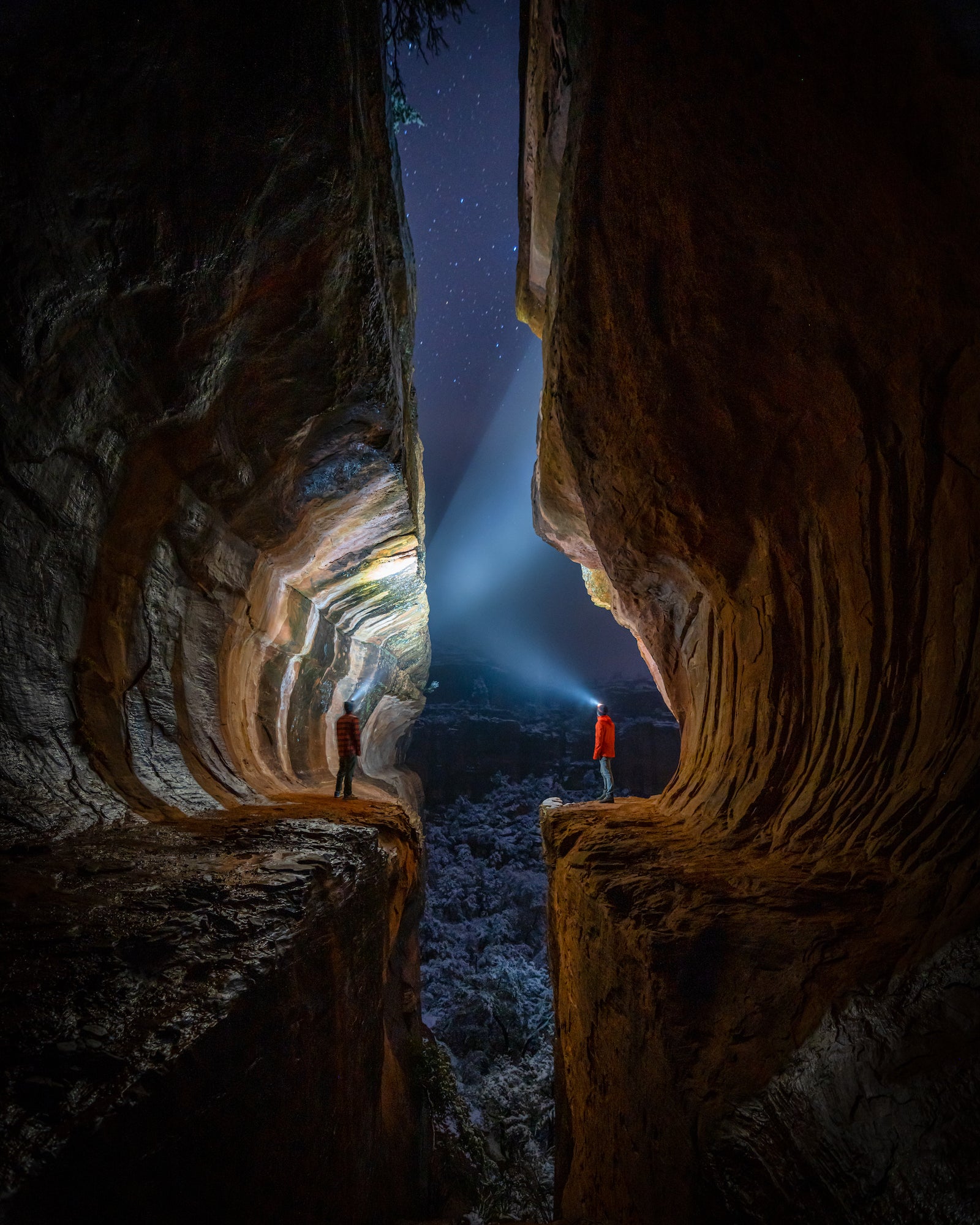 Photo by Matt Martinez. Sony α7R IV. Sony 16-35mm f/2.8 G Master. 30-secs., f/2.8, ISO 1000
Through injury & inclimate weather, hobbyist photographer Matt Martinez shares his story of capturing Sedona's Keyhole Cave with the Sony Alpha 7R IV and Sony 16-35mm f/2.8 G Master.
A Photographer's Determination Through Injury & Inclimate Weather
Last year after the onset of the pandemic myself and my best friend of 30 years Steven Mueller (@flagwoods) were inspired over the growing attention to this mystery key hole cave location in Sedona, Arizona. It's always exciting to see new locations in places you grew up exploring but never stumbled upon yourself. We were interested in visiting this spot to photograph it for ourselves, so I immediately began researching which trail it was on and scanning Google Earth for any visual cues. It was the first week of June 2020 we decided to meet in Sedona and search for the cave. Little did I know this hike would leave me injured for the remainder of the year. We had made it roughly two miles from the trailhead where we were exploring some native ruins off trail when I slipped walking down a steep downgrade. I felt an extremely painful pop as my knee hyperextended which I found out later that week I had completely torn my ACL and lateral meniscus. We ended up calling off continuing to search for the cave as I was limping pretty badly and not sure of the severity of the injury. I managed to hike back to my vehicle and by the time I got home my knee was swollen and I couldn't walk.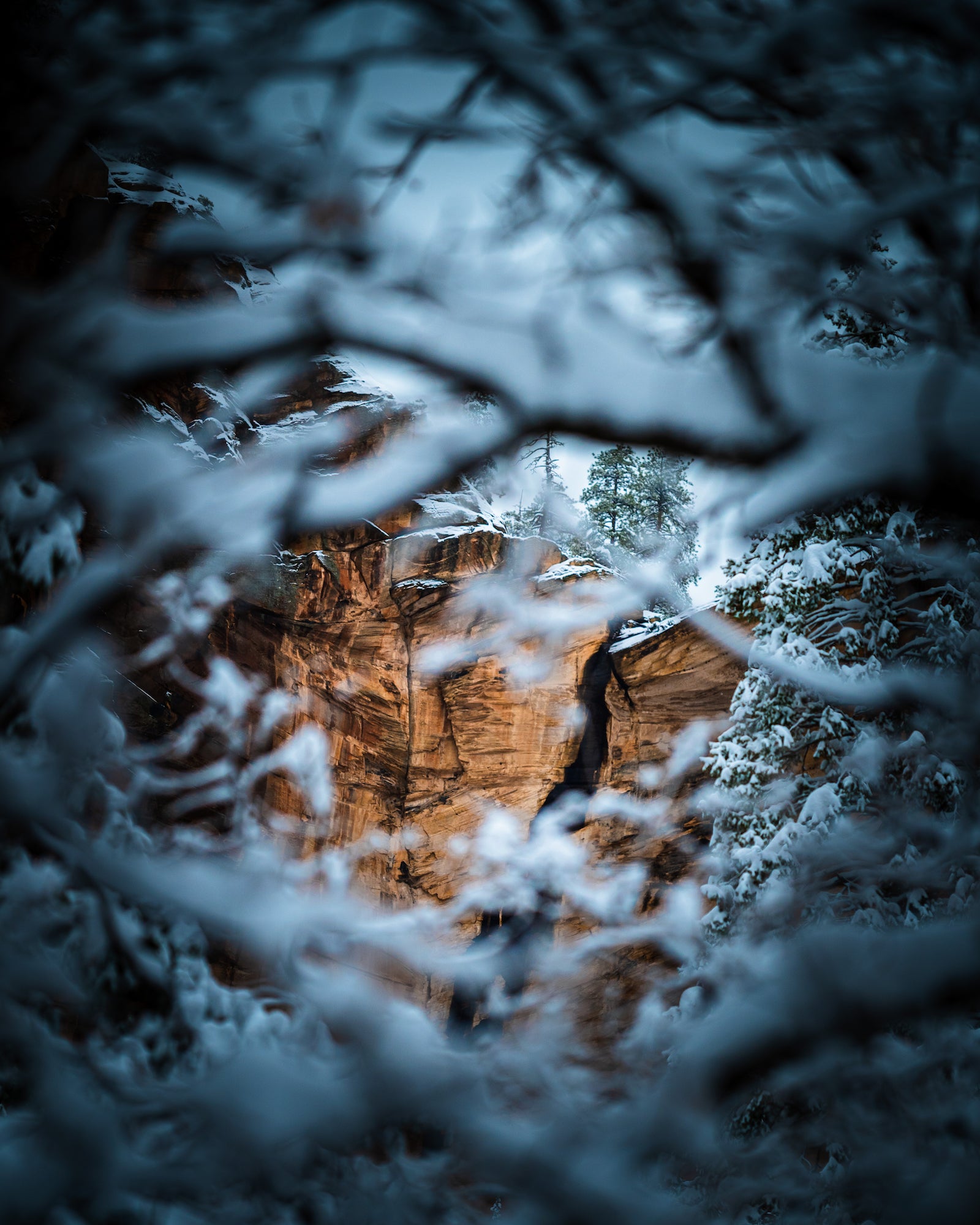 Photo by Matt Martinez. Sony α7R IV. Sony 16-35mm f/2.8 G Master. 1/500-sec., f/2.8, ISO 640
Fast forward to March 2021. The dream of photographing the keyhole cave had remained with me through months of physical therapy and quarantine. I was determined to get back out and find the cave in early spring when Sedona gets minimal random snowfall and that creates incredible contrast of the red rocks covered in snow. On March 13, I woke up to a forecast of snow and decided that it was the time to make it happen. Steven and I met at the trailhead in the early afternoon and it immediately began to snow as we set off to redeem our failed attempt from the previous year. This hike for me was more than just a walk in nature, it was a kind of redemption after the long, dark, miserable months fighting injury and COVID quarantine.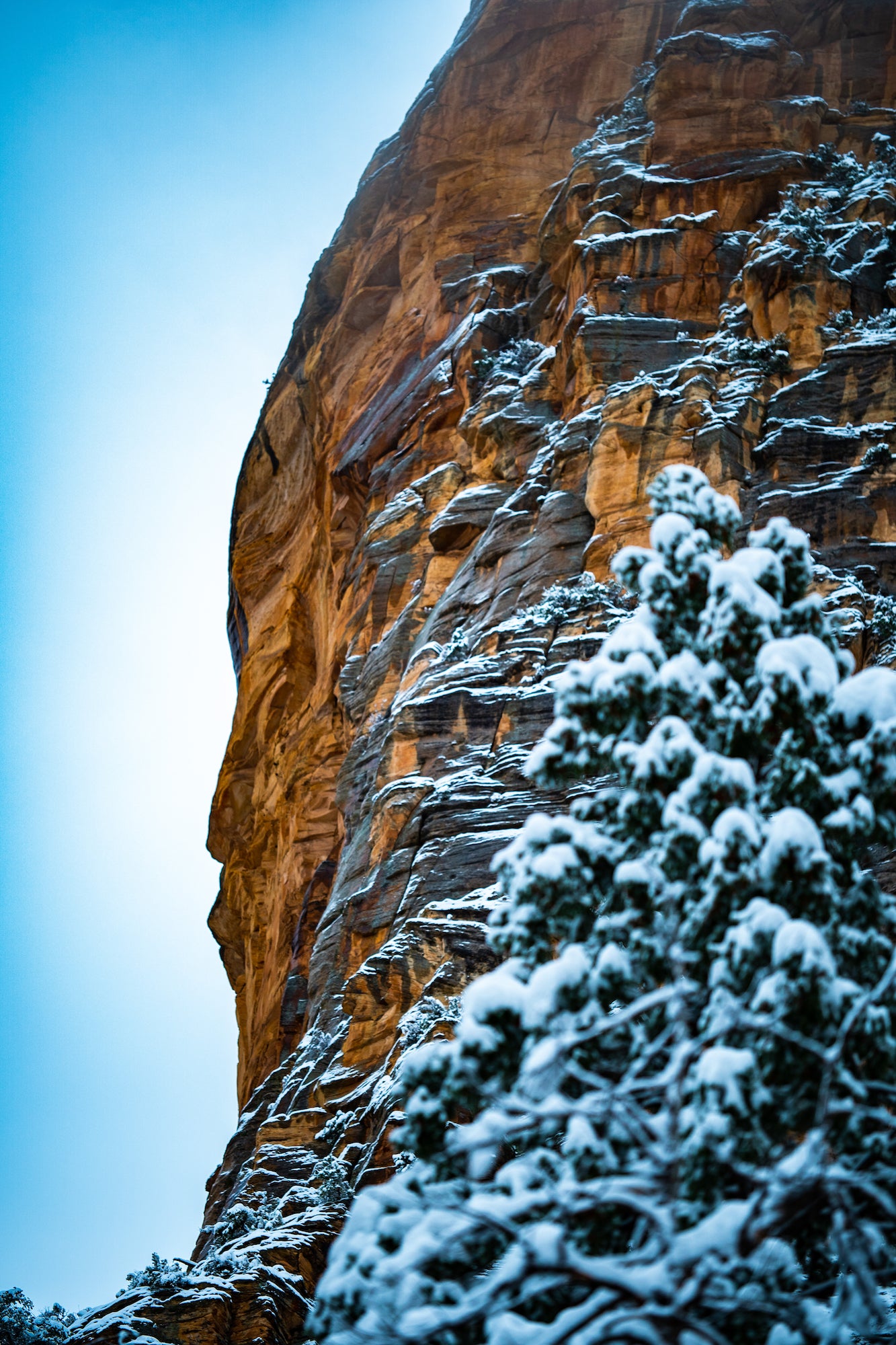 Photo by Matt Martinez. Sony α7R IV. Sony 16-35mm f/2.8 G Master. 1/320-sec., f/2.8, ISO 640
As we progressed further into the hike the snow continued to fall and most of the hikers were making their way out due to the inclement weather. It began to get dark as we approached the end of the trail and had yet to find the cave. Soaking wet and cold we were determined to find what we came for. We carefully combed the trail looking for a fork that branched into the thick brush that would lead us to the keyhole. We had been given a rough GPS location of the cave but it was quite a struggle never visiting this spot and it being covered in snow and dark outside to navigate. When we finally made it it was nearing 8:30pm and the snow fall had slowed down/ The cave was cold, dark and wet. I can't imagine a more perfect opportunity than the one we had that night. Over the past year I'd seen countless images of this spot and I was excited to create a new perspective night shot lit by our headlamps. A vortex can be a portal but a portal isn't always a vortex.
Getting The Shot With The Sony Alpha 7R IV & Sony 16-35mm f/2.8 G Master
For this shot I used my Sony Alpha 7R IV with the Sony 16-35mm f/2.8 G Master lens. I had the focal distance set at 16mm as I wanted to capture as much of the cave as I could. When I arrived at the location that night it was incredibly dark as March 13 was a new moon so the aperture was set to f/2.8. My exposure time was set to 30 seconds to gather as much light to brighten the foreground as possible. The ISO was set at 1000 with my intentions of no significant amount of noise.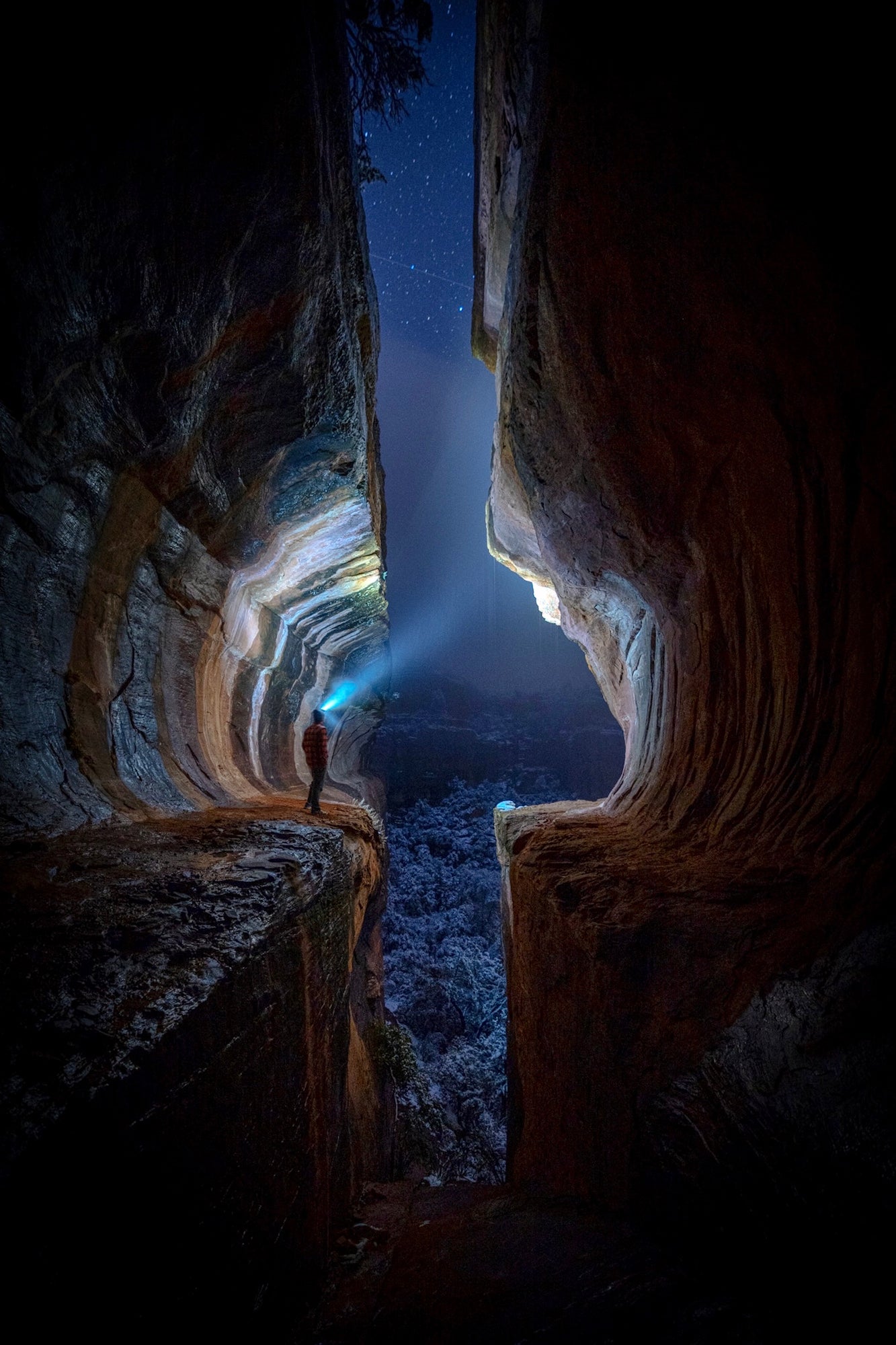 Photo by Matt Martinez. Sony α7R IV. Sony 16-35mm f/2.8 G Master. 30-secs., f/2.8, ISO 1000
To get everything in the frame I set my tripod up as far back in the cave as I could without jeopardizing its stability on the uneven and wet ground. I manually focused on the interior of the cave by using a headlamp shining at the wall and I took several test shots to make sure I was happy with the focus point. A timed shutter release was used to trigger the shutter as Steven and myself would both be in the photo. I took 5-10 photos dialing in my settings. The final image is one exposure and it was extremely difficult to remain perfectly still for the full 30 seconds. In fact if you look carefully you can see I am slightly blurred on the left, but it's minimal and I am overall incredibly happy with how this turned out.
Post-Processing
Post-processing of the RAW file was done in Lightroom:
I slightly decreased the exposure.


I decreased the highlights and bumped up the shadows.


I slightly decreased the temperature to give it a cooler look, as it was in person.


I used Lightroom's chromatic aberrations and lens correction tool Lastly I used noise reduction to get rid of any unwanted shadow noise from shooting at ISO 1000.
See more of Matt's work on Instagram @mattspix84.