The new Sony Alpha 7R V features a variety of advancements for photo and video shooters. Professional portrait and wedding photographer Kesha Lambert had the opportunity to use the new camera for a dramatic portrait shoot. Using it paired with the Sony 50mm f/1.2 G Master, the Sony Artisan created this cool shot from inside a garage. We talked with her more to learn how she created the scene and how the features of the new Sony Alpha 7R V helped her capture it.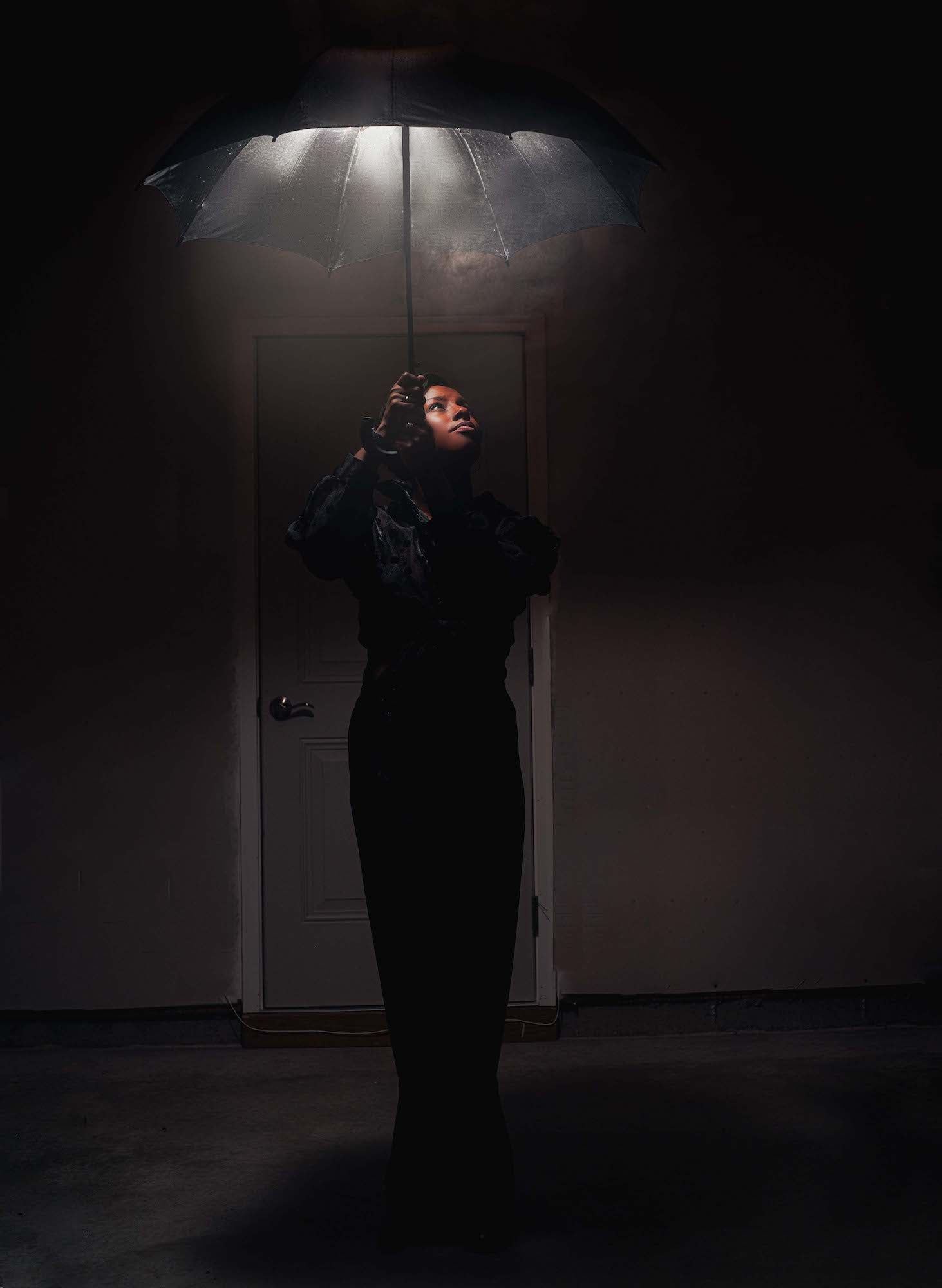 Photo by Kesha Lambert. Sony Alpha 7R V. Sony 50mm f/1.2 G Master. 1/200-sec., f/4.5, ISO 200
Creating Dramatic Lighting & Effects
"This photo was done in a home garage," Lambert explains. "My goal was to make a portrait involving motion in a setting that is challenging in terms of light. Since it was a sunny afternoon in a brightly lit home, the garage was my best choice."
In order to get the dramatic light coming from inside the umbrella, she clamped an off-camera flash inside a regular umbrella. "The flash was positioned facing up and bounced off of a sheet of cardstock white printer paper that I stuck inside the metal prongs at the top of the umbrella. I wanted to create dramatic light and shadows and contrast and used the white paper for bounce flash to soften the light on my subject. For the shot we sprayed mist from a spray bottle to add the particles in the air."
Like A Familiar Friend…But Better
Lambert says that while using the new Sony Alpha 7R V to capture this image, the functionality felt familiar. "I set the camera to mechanical shutter," she says, "and since I was going to shoot through my subject doing a fluid movement of looking up into the umbrella, the camera was set to prioritize my subject's face and the focus area was set to Zone Tracking. I also took advantage of the new LCD screen to take different perspectives of this shot."
She paired the new camera with the Sony 50mm f/1.2 G Master to create this image, a pair she calls fast and precise. "When creating a portrait, especially one involving movement, in low light, the 50mm f/1.2 G Master is my go-to. It is impressively fast and precise, and this lens paired with the AI-powered AF system made it possible for me to execute this portrait quickly and easily."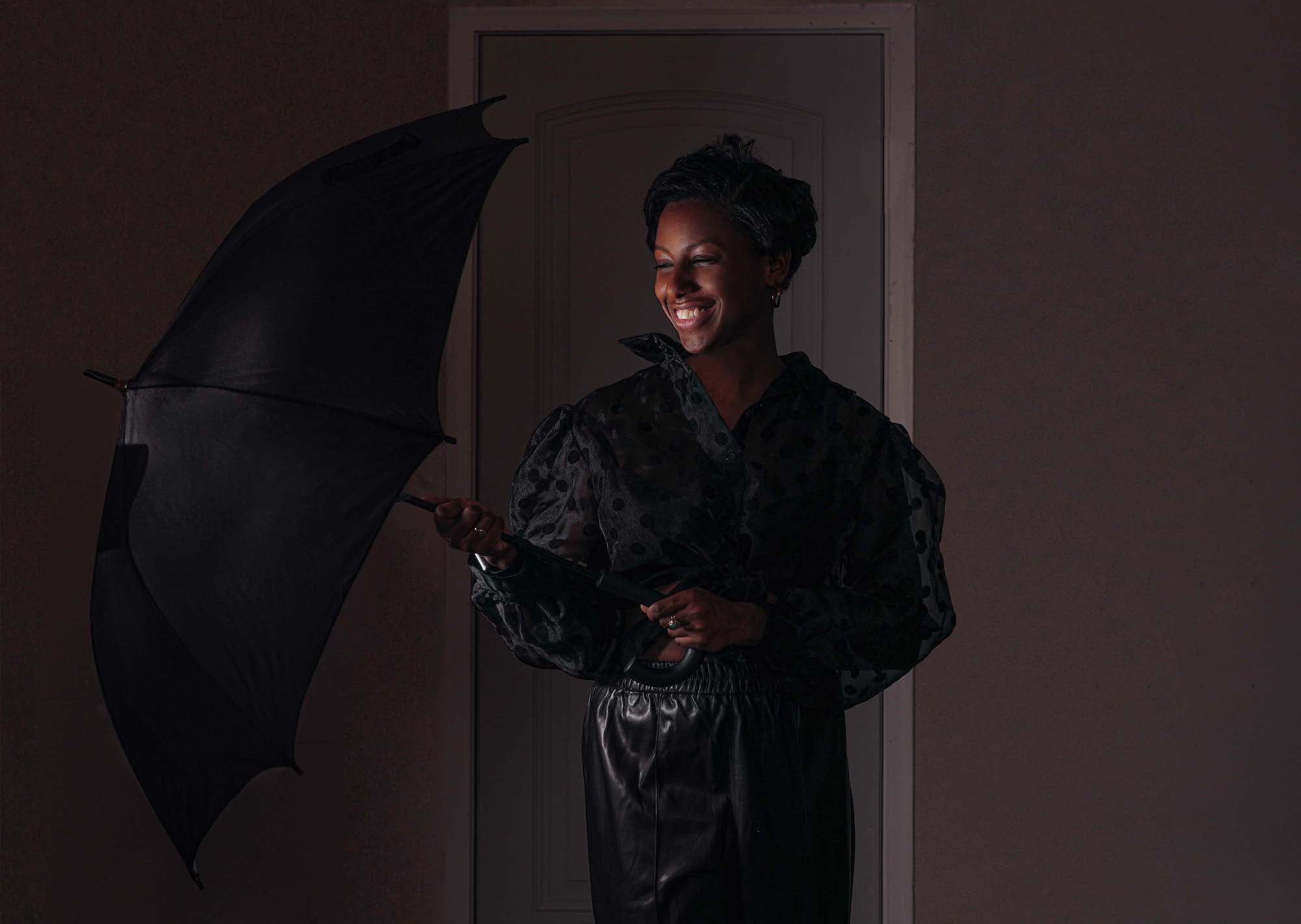 Photo by Kesha Lambert. Sony Alpha 7R V. Sony 50mm f/1.2 G Master. 1/200-sec., f/5, ISO 200
To create the final image, Lambert removed some distracting objects from the environment – those typical garage things like a hose and a box. She also cleared up some paint marks from the walls and used masking tools to apply isolated edits to the model and color graded the image to give it the final touch. "This camera is exciting. It brings some long awaited features and innovation like the options in RAW file sizing. This option is going to make processing for high volume work faster for me."
See more of Kesha Lambert's images and thoughts on the new camera in our First Shots article.
Learn more about the new Alpha 7R V HERE.