Although for Michael Hindman (@michaelhfoto), photography has never been his career, it's always been a creative outlet that has inspired him personally and professionally. Over the last 16 years, Hindman's career as a designer has spanned advertising agencies, two rising tech companies, to currently co-founding a company with two friends and through it all he's found himself diving back into photography, whether through hiring photographers to accomplish design work or picking up a camera himself to experiment with portraits or to shoot a wedding. Hindman is also an avid landscape and nature photographer, applying his design sensibilities to scenic vistas. We connected with him to find out more about how he made a brilliantly colored and textural photo in Utah. A lot of landscape photography is being in the right place at the right time. See how Hindman made his own luck through preparation to capture this beautiful scene.
How preparation intersected with opportunity for a landscape photographer on an early morning hike to capture this canyon sunrise with his Sony α7R III & 16-35mm f/2.8 GM.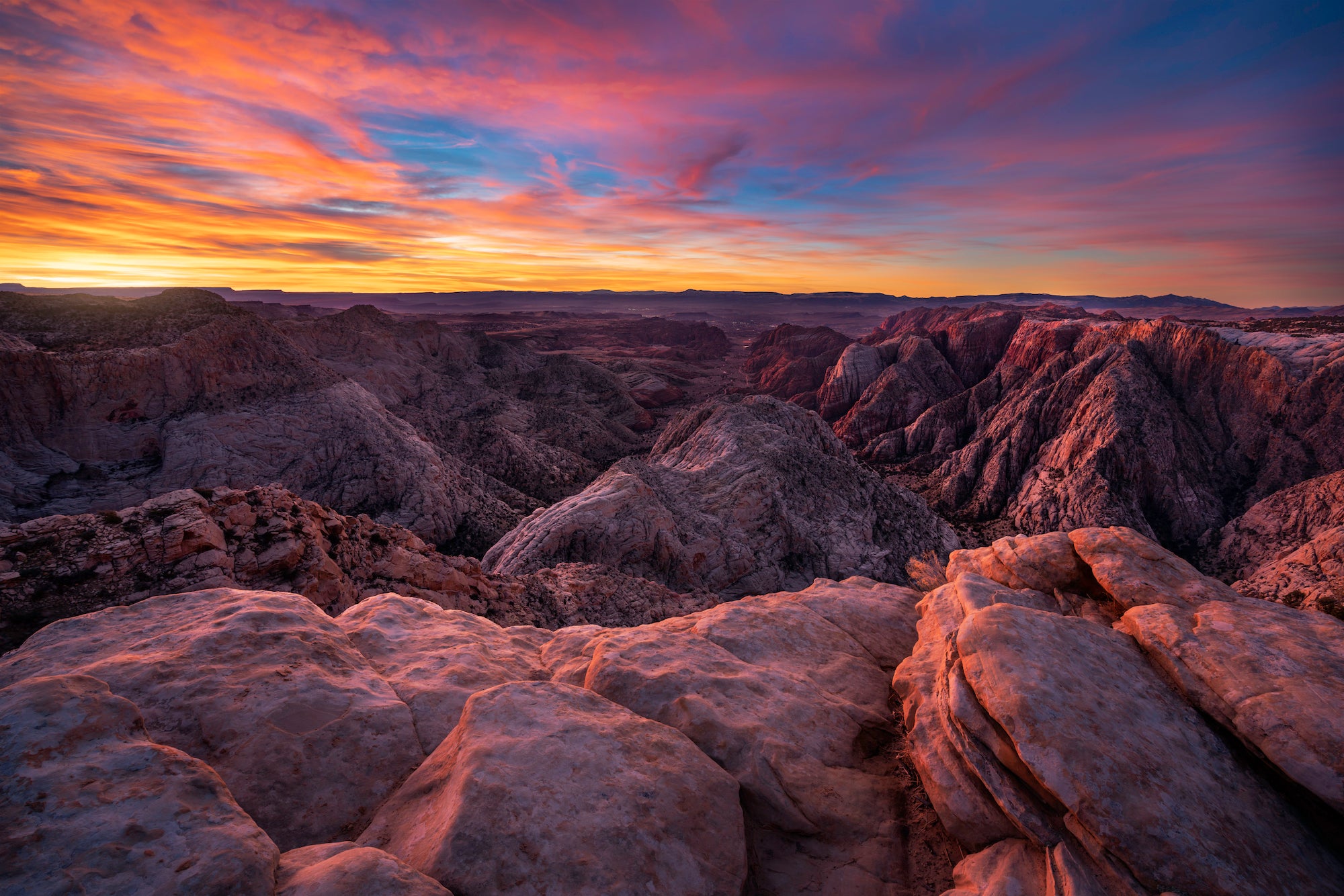 Photo by Michael Hindman. Sony α7R III. Sony 16-35mm f/2.8 G Master. ½-sec., f/5.6, ISO 100
Seven years ago I found my passion for landscape photography and have devoted my free time to improving my craft and trying to find my own voice in a crowded space. My work has recently been recognized by Outdoor Photographer Magazine, Epson Pano Awards, International Landscape Photographer and Popular Photographer Magazine.
Growing up on Nikon I thought I was always going to be a lifelong user. But on a recent trip to Death Valley with a friend, I had the opportunity to play around with his Sony α7R II and was instantly hooked. In particular, the focusing features, viewfinder image preview, and smaller and lighter setup offer a superior user experience. I have since become a Sony shooter with the α7R III and haven't looked back.
How He Got The Shot
Every winter I spend some time traveling and photographing the desert on the way to and from my parents for the holidays. I was planning my return trip home this year to be strictly a driving trip as I had a 4-month-old puppy onboard. However, while parked for the night in my camper in Utah, I made a last-minute decision to take Rocky, my four-month-old Mini Aussi on an early morning hike in an attempt to wear him out for the remainder of our drive. I found a pet-friendly trail that ended at a canyon overlook. I had never been to this location before and had no idea what to expect.
Rocky and I set out in the dark and made our way through the two-mile climb, finding ourselves on what I knew to be the ledge over the overlook, but couldn't see the view that lay ahead of us. I could see city lights in the distance and set up my gear while holding tight to Rocky's leash trying to keep my curious puppy safe and away from my tripod.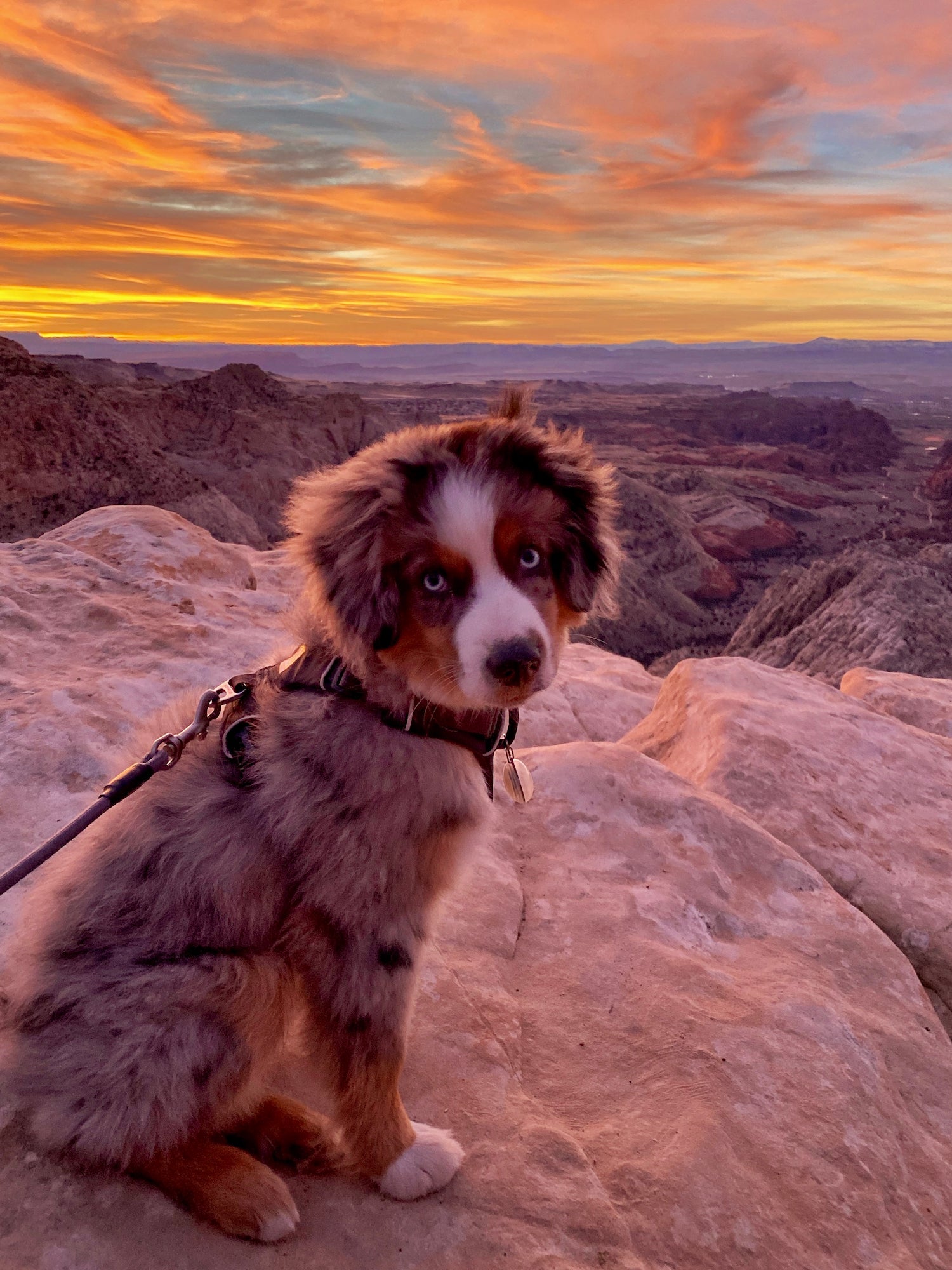 With twilight upon us, I was finally able to make out the view in front of us. The canyon was even prettier than I expected and set the stage for what was to come. While scouting the area on Google Earth the night before I felt that this overlook might contain compositional features I look for in images, including leading lines.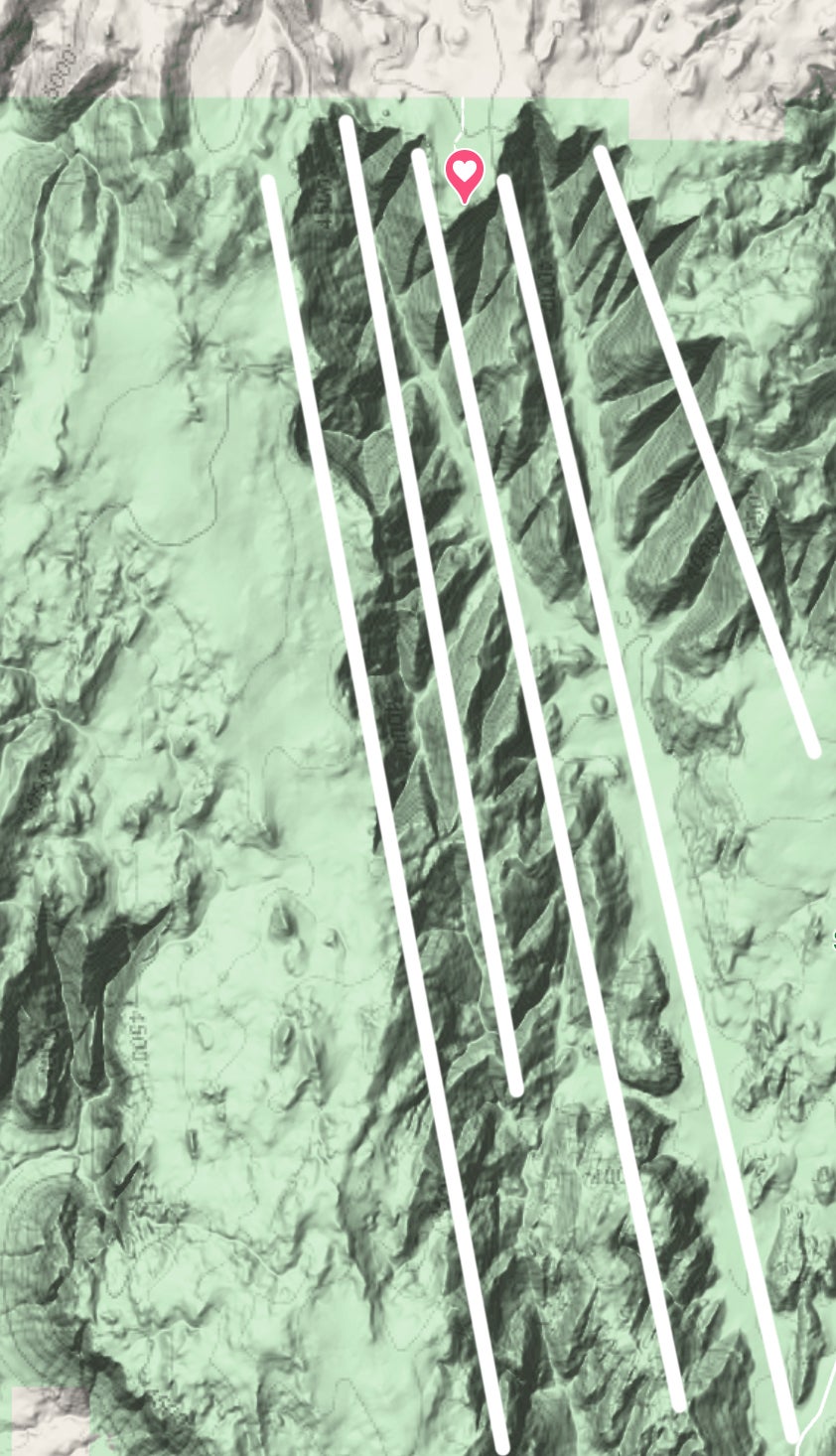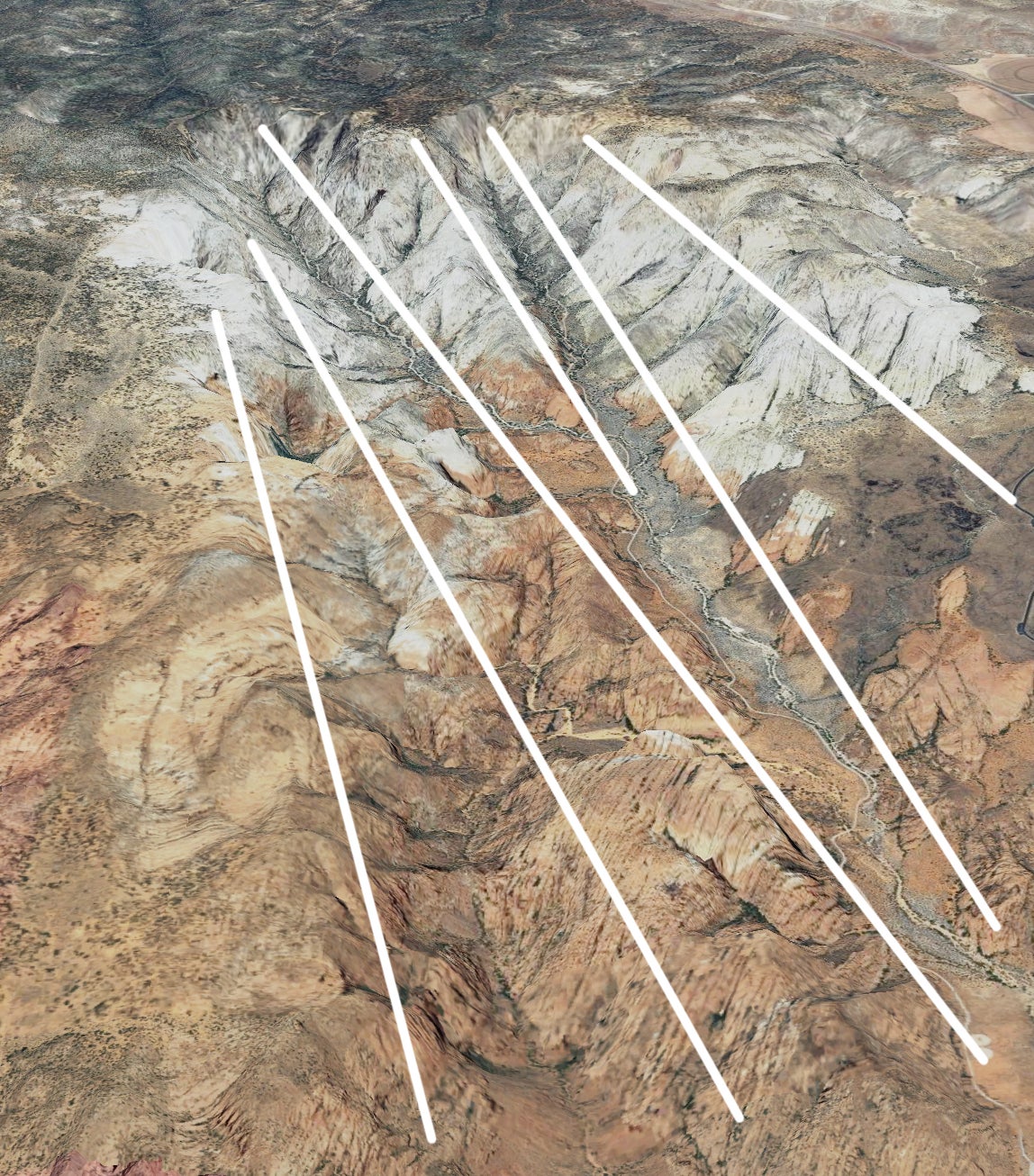 As the light came up and I could see the canyon, I indeed began to see those lines in the frame. I quickly looked for a foreground that could help complement those lines and create a jumping-off point for the viewer. Finding my final composition I was giddy but also tempered, as I have been skunked more times than I would like to admit. Not being a full-time photographer and having the ability to shoot a place over and over, I have constantly had to hope for a little luck.
Gear and Settings
I have a pretty simple setup, tripod, camera, lens, and a remote trigger. I used to use filters but have passed on them recently for more room in my bag for a drone. I was carrying my Gitzo Mountaineering tripod, my α7R III and my Sony 16-35mm f/2.8 G Master lens mounted to it for this shot. I am a big fan of shooting wide and this lens allows me to do that without too much distortion. Due to the dynamic range of light in this scene, I needed to create a few exposures to help me when processing my final image. My basic settings for this image were ISO 100 and f/5.6. I also needed to capture a few different focal points within the scene as I wanted to keep the image sharp from front to back. My exposure time ranged between an ⅛ of a second for the sky and a ½ a second for the rocks in front.
Post-Processing
Hiking back to the car I was filled with excitement as this was by far one of the better sunrises I have seen, and seeing it over a drop-dead gorgeous canyon was a huge bonus. I spent the next 12 hours driving home piecing together the edit in my head and couldn't wait to start processing the image. I began the process by selecting the frames I needed to get my image sharp from the foreground to the sky. These frames all had the same exposure setting, just different focal lengths. I then found my sky frame and compiled the frames together in photoshop. Once all the frames were aligned, I began to reveal the areas of the image with the sharper frames to create the focus stack. From there I worked my exposure blend for the sky, creating the image I had seen standing on the overlook.
Typically I take a varied editing approach based on the image, from dodging and burning, to curves and level corrections, dust cleanup, and image polishing. This image didn't need much editing. I mainly dodged and burned the contours of the canyon walls to help them pop and create depth in the image. While I tend to sit on an image for a couple of days wondering do I like it?, did I over-edit it?, did I under edit it?, is it worth a release?...with this image, I felt pretty early on that it was a special one and was very excited to release it.
See more of Michael's work on his Alpha Universe profile. Create your own profile here for a chance to have your work featured on AlphaUniverse.com.