Photojournalist of 30 years Steve Jessmore has a passion for photographing bird behavior. (You might remember his incredible image of a cardinal in flight.) He recently won the Fisher Prize in the 2022 National Audubon Photography Contest for most creative approach to photographing birds – receiving the highest creativity points from the 10,000+ entrants. The winning photo, "Feeding Frenzy," features a group of Northern Shovelers and, in addition to being a contest winner, was also featured on the cover of the current Summer Awards issue of the National Audubon Magazine. We caught up with Jessmore to learn more about how he captured the image with the Sony Alpha 1, Sony 600mm f/4 G Master and a bit of patience.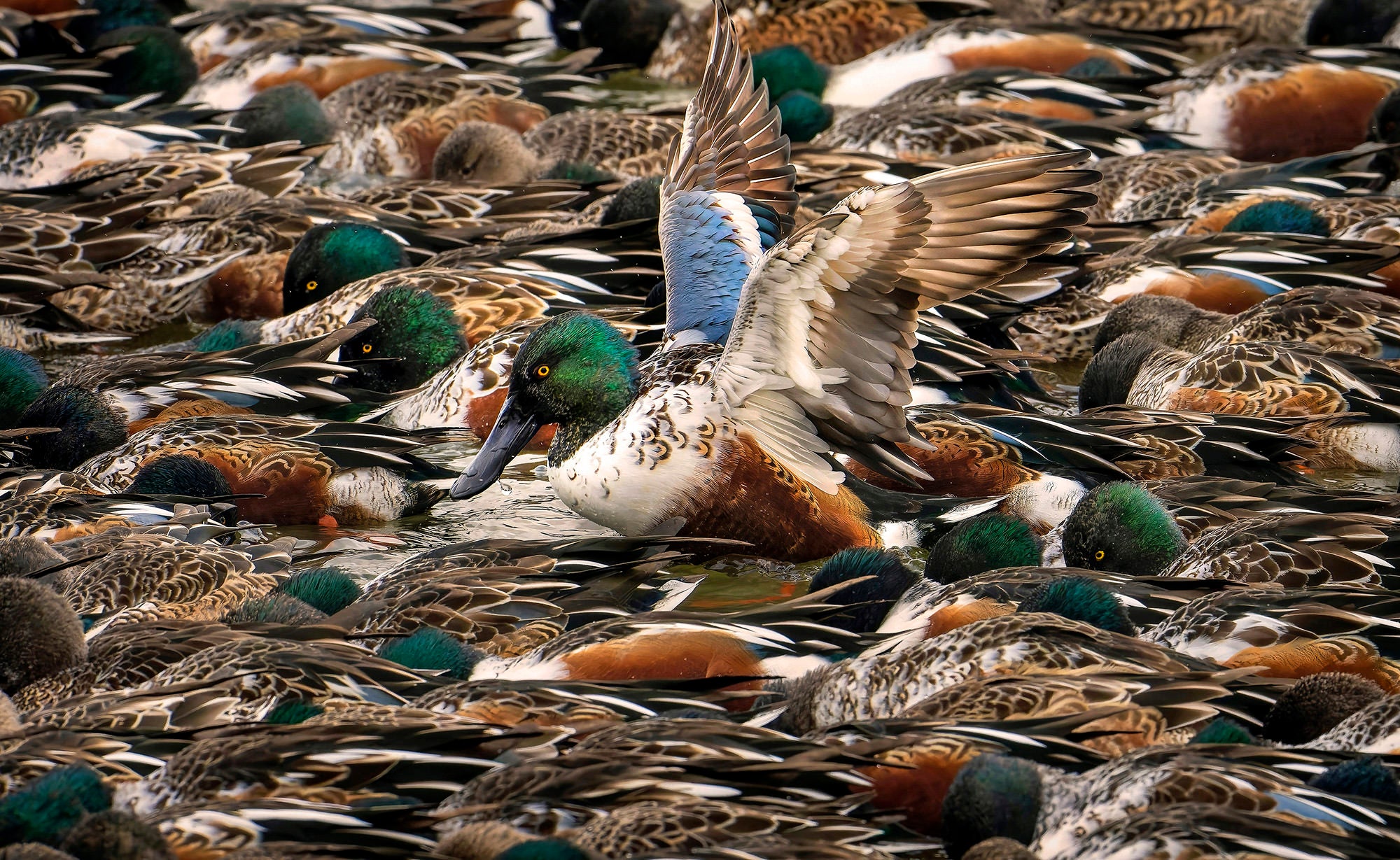 Photo by Steve Jessmore. Sony Alpha 1. Sony 600mm f/4 G Master. 1/1000-sec., f/11, ISO 2000
No it's not a composite...how photographer Steve Jessmore captured this stunning image with his Sony Alpha 1 & Sony 600mm f/4 GM to win the Fisher Prize in the 2022 National Audubon Photo Contest.
The Scene
"I began my day at our cottage on the Torch River," explains Jessmore. "It was a very dull, dreary and typical winter Michigan morning. After photographing the morning there I decided to drive the backroads the 160-miles home hoping to find some birds to photograph. I wound my way south and saw nothing. I aimed towards the Muskegon County Wastewater Management facility which features two large reservoirs often a great spot to see diverse birds especially during the migrations."
Getting The Shot
He continues, "I began to drive the dike system which surrounds the lakes and turned onto the causeway which runs between them. The wind was fierce and made it bitter cold. It was hard to stand and keep my lens steady so I huddled behind my Subaru using it as a wind block. I noticed four groups of shovelers feeding and began to make images. I was drawn to the swirling motion of the ducks as they circled and fed. The groups grew and shrank. I was trying to fill my frame with the ducks, see a pattern and not see water."
As many bird photographers know, patience is all a part of the game. After a couple hours, Jessmore was rewarded with the moment. "Almost two hours into shooting, a drake Shoveler briefly rose out of one of the masses to stretch his wings and then drop back to continue feeding. It was sudden and lasted perhaps a second or two. This unexpected gift and moment made the shot unique. It shows the ducks unique coloring- especially the blue wing color and separates him from the mass. I shot for another half hour or so, but soon realized I had made a unique image. It wasn't the one I was expecting which made it that much more special."
Jessmore was shooting in crop mode, making the lens 900mm and the file sizes half. With his shutter speed at 1/1000-sec., aperture at f/11 and ISO at 2000, he captured the contest winner and cover photo.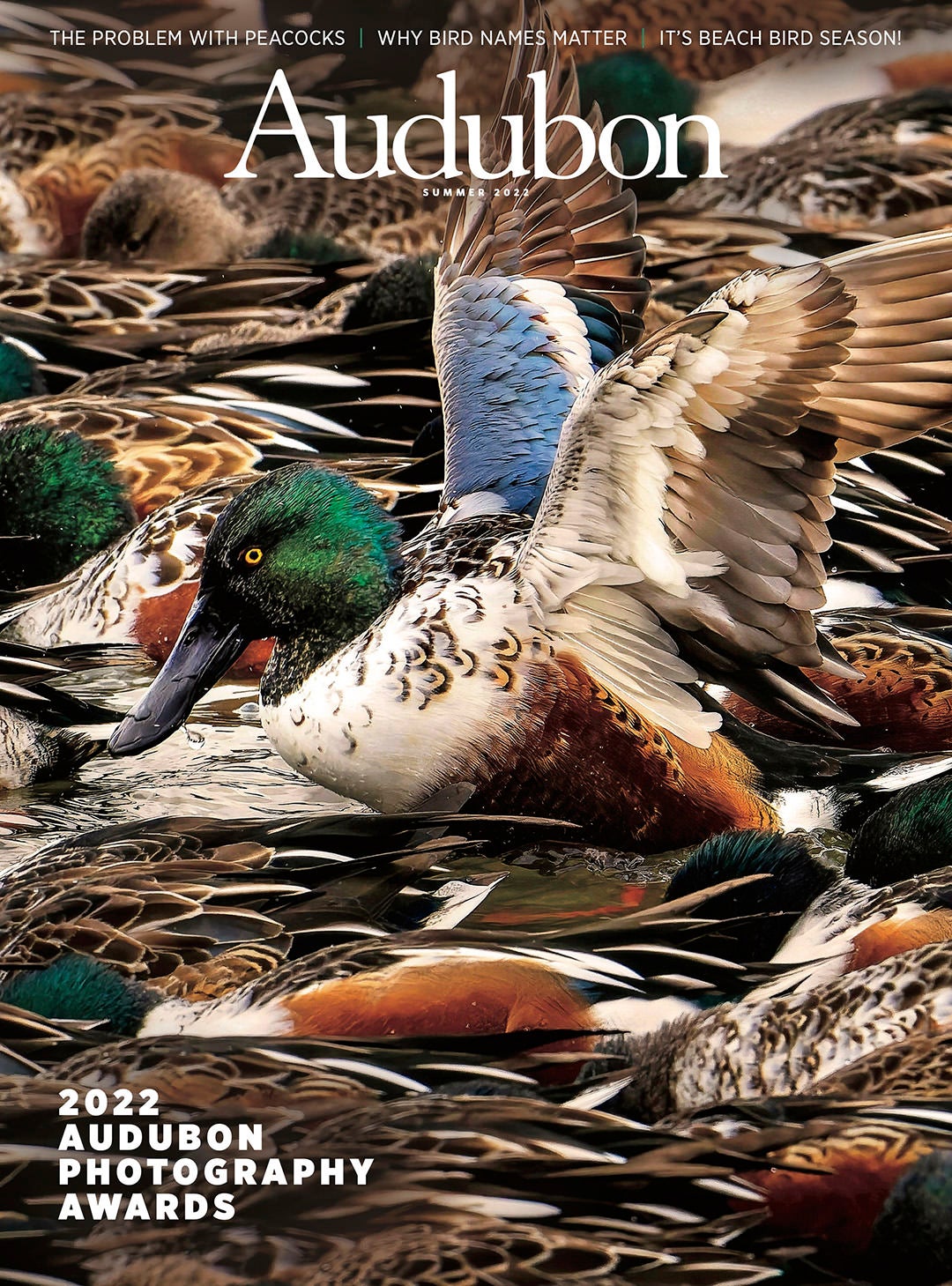 2022 Audubon Magazine Cover Photo by Steve Jessmore.
The Gear
Jessmore took the image with his Sony Alpha 1 and Sony 600mm f/4 G Master on his ProMaster carbon monopod. "I love my Sony gear specifically because I am at one with all the ergonomic programmable buttons," he says. "I had to recompose and react to the duck rising which I just did naturally- never thinking about the technical stuff. I find the back button focusing and the two modes I have set to be intuitive for me. I don't hunt or get frazzled, but just concentrate on composition and the moments."
Learn more about the gear Jessmore uses for bird photography in his What's In My Bag article.
See more of Jessmore's work on his Alpha Universe Profile, Instagram @sjessmo and on his website stevejessmore.com.