Steve Jessmore (@sjessmo) is a freelance photographer who focuses mainly on higher education storytelling working for numerous colleges and universities. Previously he was a 35-year photojournalist working for newspapers and former staff photographer for Central Michigan University, now based in Grand Rapids, Michigan. During COVID, Jessmore challenged himself to learn something new and make good use of this unexpected gift of time and began to focus on nature photography. He enjoys capturing in flight and behavioral moments from land and kayak. "I'm a beginner at birding. Every day is a new learning experience. Sony equipment has exponentially helped me shorten the learning curve. Camera equipment are creative tools for me. They are what I use to earn my income and Sony equipment has become my golden hammer. I've never felt more comfortable or confident making images." We connected with him to learn more about the Sony Alpha gear he relies on for bird photography - see what's in his bag below.
See why veteran photojournalist turned nature photographer Steve Jessmore switched to Sony Alpha cameras & lenses and how he captures birds in flight & more.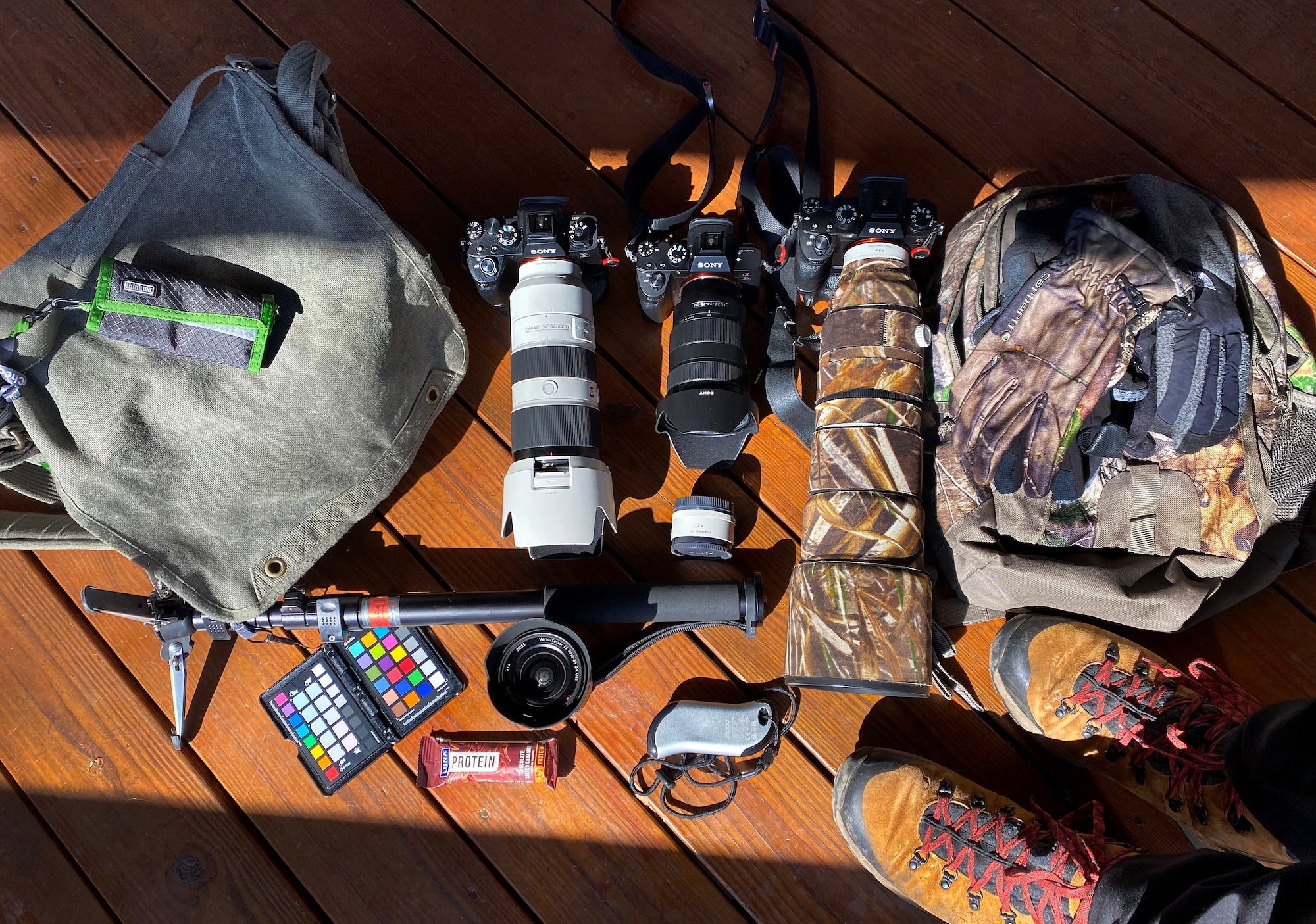 Cameras
Sony Alpha 1: I've only known the camera for a short time, but I am in love with it. All the specs we've all read about – the 30 frames per second and 50-megapixel sensor lured me in. The autofocus system has been impressive in helping me capture birds in motion even in the flat, cloudy Michigan winter.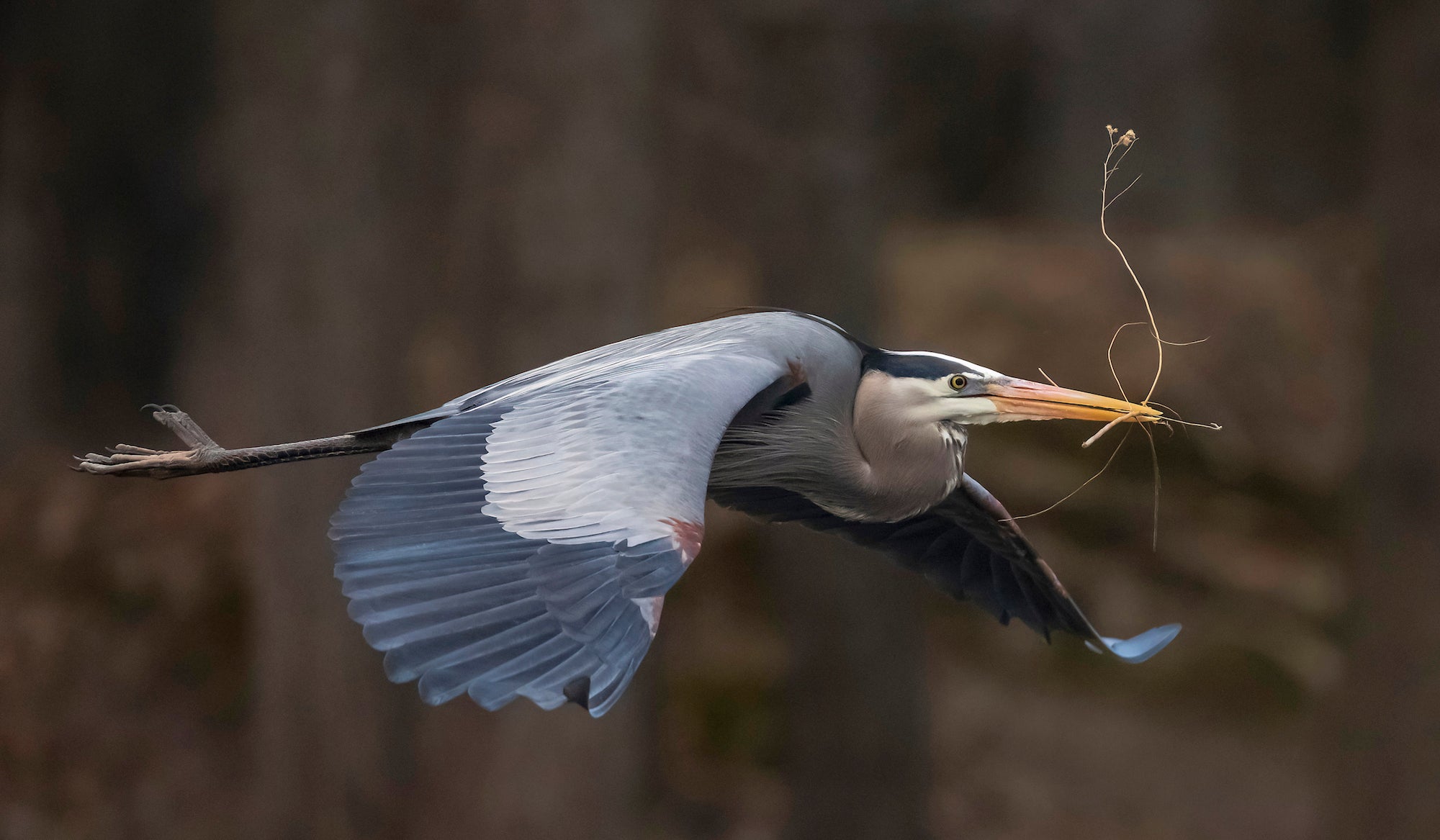 "A great blue heron brings home the perfect stick- a weed with blossom, to his mate to build there nest before sunrise. For me this image proved the great high ISO performance of the Alpha 1. I've found as long as your exposure is correct, high ISO's are very impressive." Photo by Steve Jessmore. Sony Alpha 1. Sony 200-600mm f/5.6-6.3 G. 1/2500-sec., f/6.3, ISO 12800
The Alpha 1 has become my go-to camera for my freelance work. The large, high quality files satisfy the most demanding client. It makes the camera easy to justify. The quality was noticed on my first shoot I did for a long-term client. She said not that my past files looked bad, just these looked special.
I am truly amazed by the buffer on both the Alpha 1 and the Alpha 9 II when I take advantage of the high frames per second. I have yet to have the camera slow down or stop while writing to the cards. It's also amazing when I go to edit and everything is in focus. That especially is something that I'm not used to.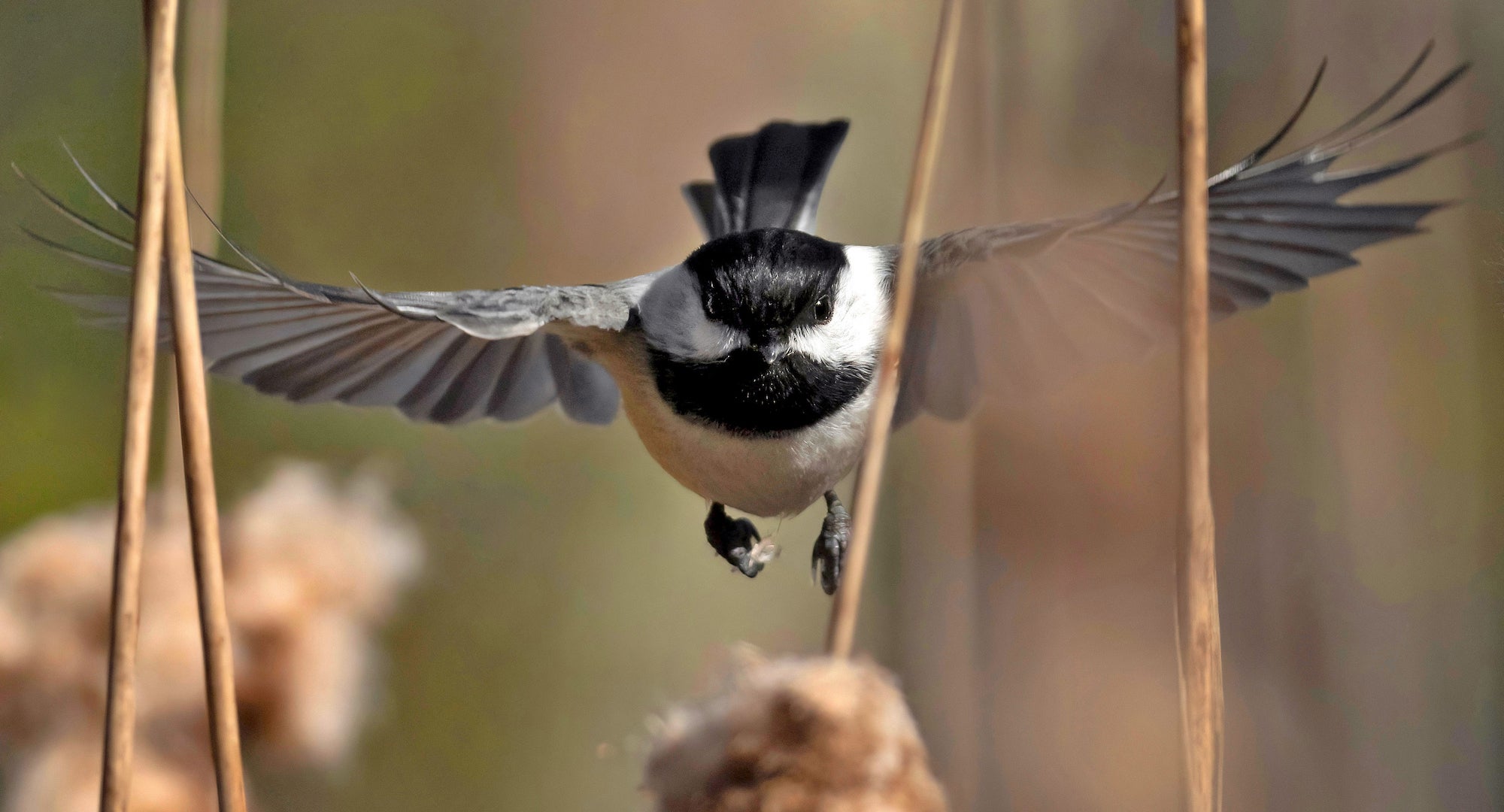 "The tracking and eye focus of the Alpha 1 has been impressive. I'm still learning the nuances but putting it to hard tests such as capturing this chickadee as it flew from cattail to cattail in search of seeds and larvae." Photo by Steve Jessmore. Sony Alpha 1. Sony 200-600mm f/5.6-6.3 G + 1.4x TC. 1/5000-sec., f/8, ISO 1250
The eye focus for birds, animals and humans is tremendous.
Perhaps my favorite features of the Alpha 1 are the customizable buttons and dials. I've only used the Sony system since late December and already feel at one with the cameras. Shooting has become very intuitive and changing features second nature leaving my mind more space to focus on being creative and capturing moments.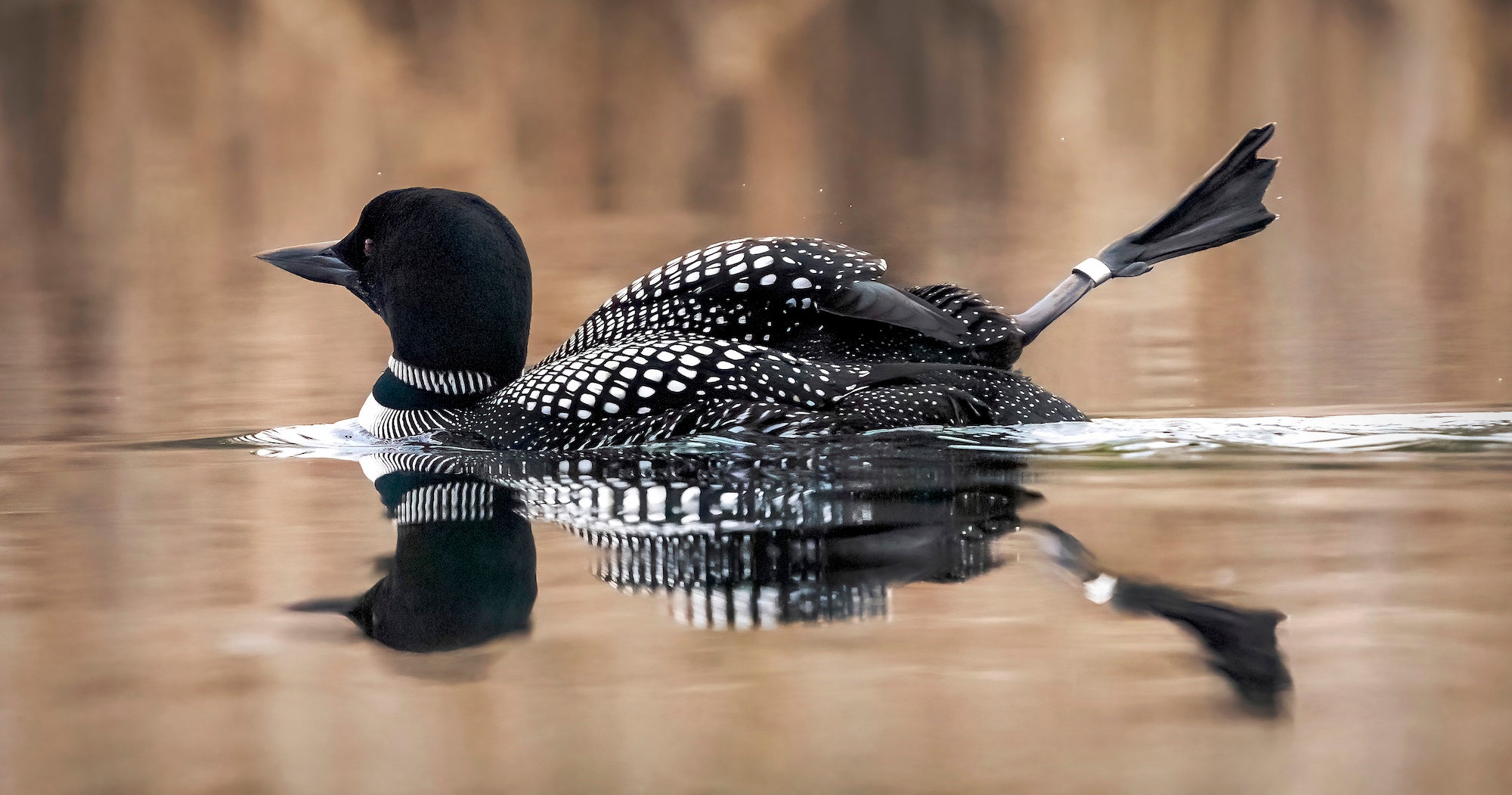 "A Loon swims upstream the Torch River in Northern Michigan on a sunless evening at dusk." Photo by Steve Jessmore. Sony Alpha 1. Sony 200-600mm f/5.6-6.3 G. 1/2000-sec., f/6.3, ISO 12800
Sony Alpha 9 II: This was my introduction to the Sony system. I now use this as my second body for wildlife shooting usually with a shorter zoom lens. The focusing is tremendously responsive in all kinds of light. The 24.2 megapixel sensor and 20 frames-per-second are more than adequate for most projects I do. I've had tremendous luck cropping images and them being great quality.
When I first got my Alpha 9 II and Sony 200-600mm f/5.6-6.3 G lens I was out photographing birds. I sat and focused on a snowy owl which was perched on a post. I watched the owl for well over an hour before it took flight. When it did, I remember thinking, "Let's see how good this focus tracking is." I pressed the shutter button, held it down for about 7 seconds and tracked the owl at 600mm on a flat, cloudy day. I shot over 140 images and all but one frame were in focus.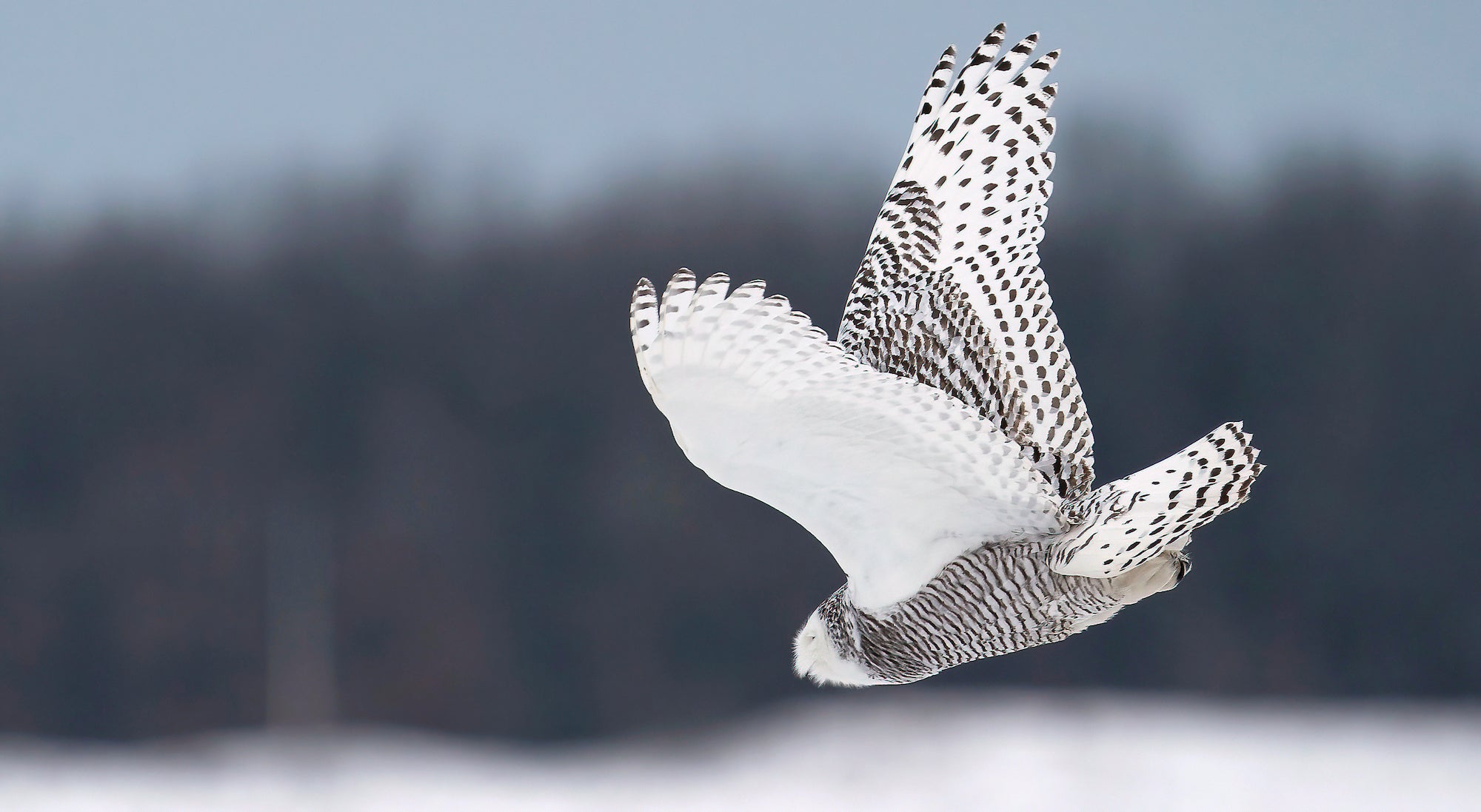 Photo by Steve Jessmore. Sony Alpha 9 II. Sony 200-600mm f/5.6-6.3 G. 1/2500-sec., f/6.3, ISO 1250
I have found the battery life to far exceed any expectations I had. I can shoot thousands of images in a morning and still have power left.
The dull, dreary Michigan winter was my testing ground. Little sun and short days. I found this camera to perform well beyond expectations. I never have felt comfortable to venture past 3200 or so with my previous cameras but find myself going well beyond that now. It is not unusual for me to use ISO 12800 and have tremendous detail. I often use a light pass of Topaz Denoise AI or noise reduction in Lightroom to finish my images.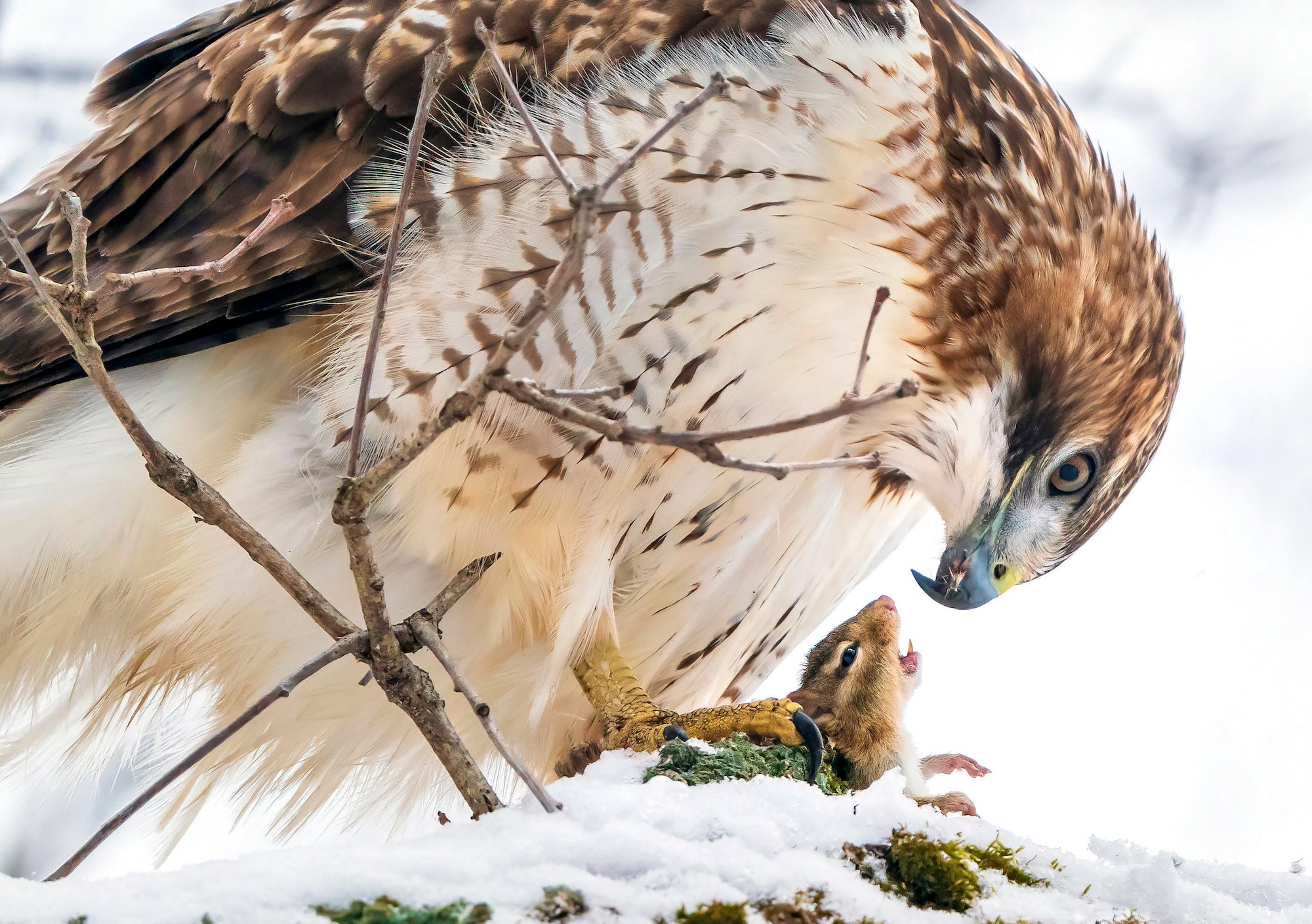 "I followed this Red Tailed Hawk for more than two hours as it perched then hunted on the edge of a woodland and swamp. I captured a series of the experience with the Alpha 9 II and 200-600mm. Both performed well on this flat, cloudy winter day." Photo by Steve Jessmore. Sony Alpha 9 II. Sony 200-600mm f/5.6-6.3 G. 1/2000-sec., f/7.1, ISO 3200
Alpha 7R III: The 42.2 mp sensor was the draw for me. I purchased this camera gently used from another university photographer and haven't been disappointed. I use this body for my freelance work because of the high file size, the rendering of color. It makes a great camera for my wide-angle landscapes and compliments with my Alpha 9 II and Alpha 1.
Lenses
Sony 200-600mm f/5.6-6.3 G: This is my go-to wildlife lens. This lens and the Alpha 9 II were the reason I made the switch to Sony. The lens was an affordable entry point for me. I primarily shoot wide open and have found the lens very sharp at both 200 and 600 and all lengths in between. The light weight and internal zoom make it appealing for my kayak and hand holding. It's balanced well and the zoom ring is in the perfect spot for me to use to compose on the fly. I often keep this lens on my Alpha 9 II as my travel combo in my car. I primarily use it with the Alpha 1 when I am out in nature though now because of the file size.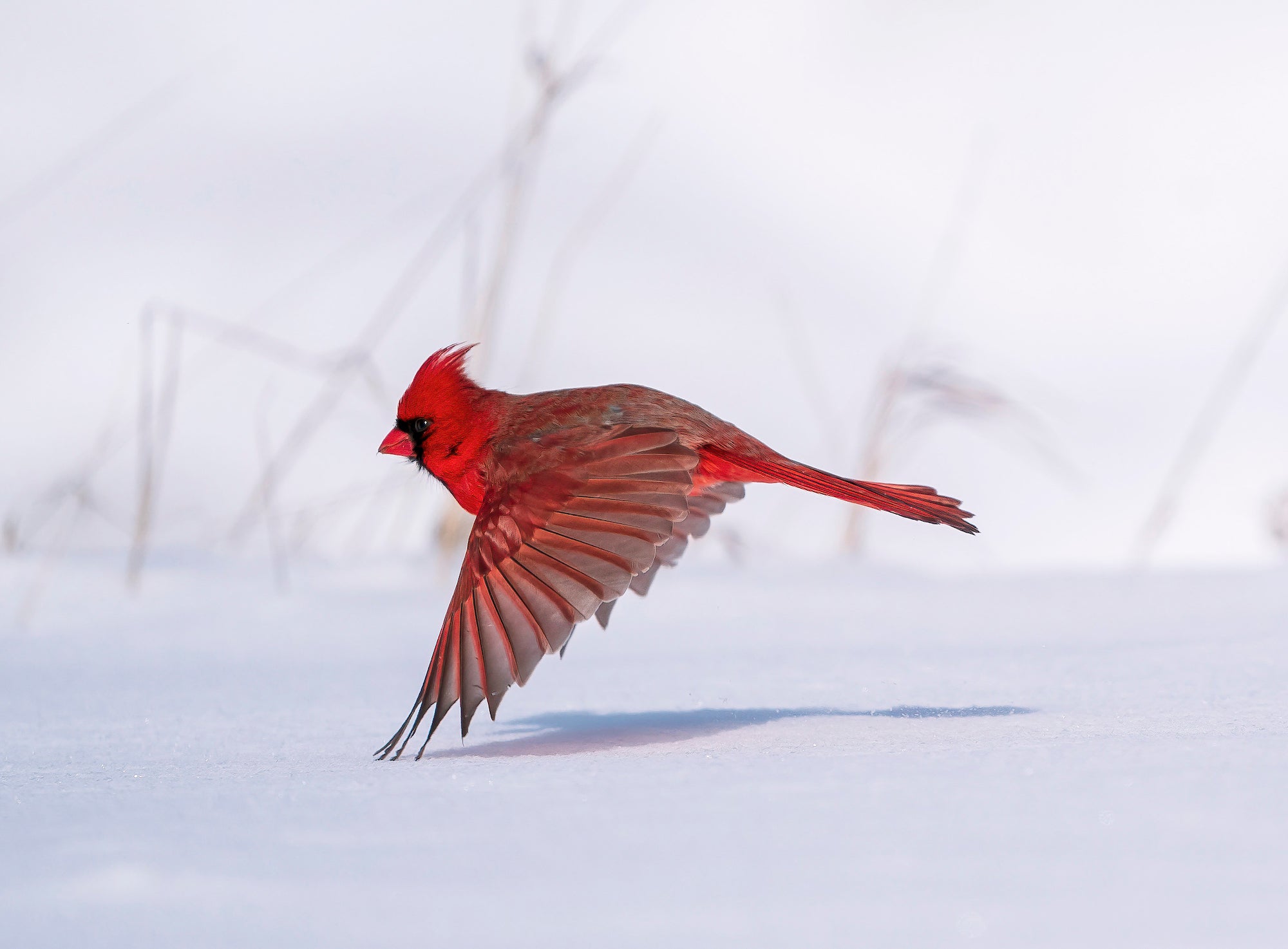 "A northern cardinal flies close to the snow as it searches for seeds in rural Michigan." See the story behind the shot HERE. Photo by Steve Jessmore. Sony Alpha 9 II. Sony 200-600mm f/5.6-6.3 G. 1/5000-sec., f/6.3, ISO 250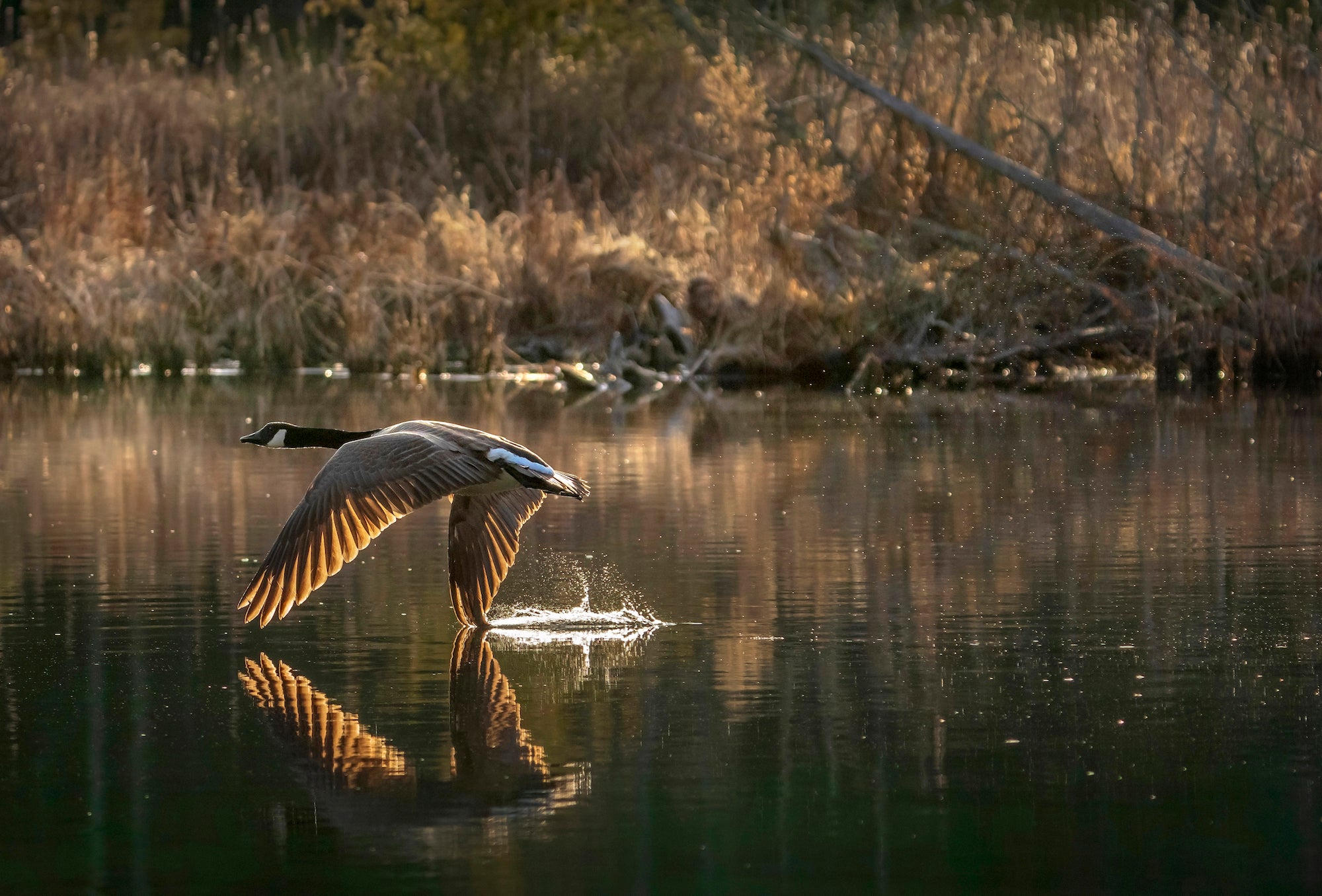 "The flexibility of the FE 200-600 f/5.6-6.3 G OSS is tremendous for either a go-to or secondary wildlife lens. I was able to zoom out and compose as this Canada goose made a noisy getaway after encroaching another's territory." Photo by Steve Jessmore. Sony Alpha 1. Sony 200-600mm f/5.6-6.3 G. 1/4000-sec., f/5.6, ISO 2000
The Sony 24-70mm f/2.8 G Master and the Sony 70-200mm f/2.8 G Master lenses are my go-to lenses for my freelance work. I primarily used this combination throughout my photojournalism career. The 24-200 range – all at a maximum aperture of 2.8, make them perfect lenses for available light and shallow depth of field. I like the two body/two lens approach for most documentary and storytelling photography I do. The lenses are built well and very versatile.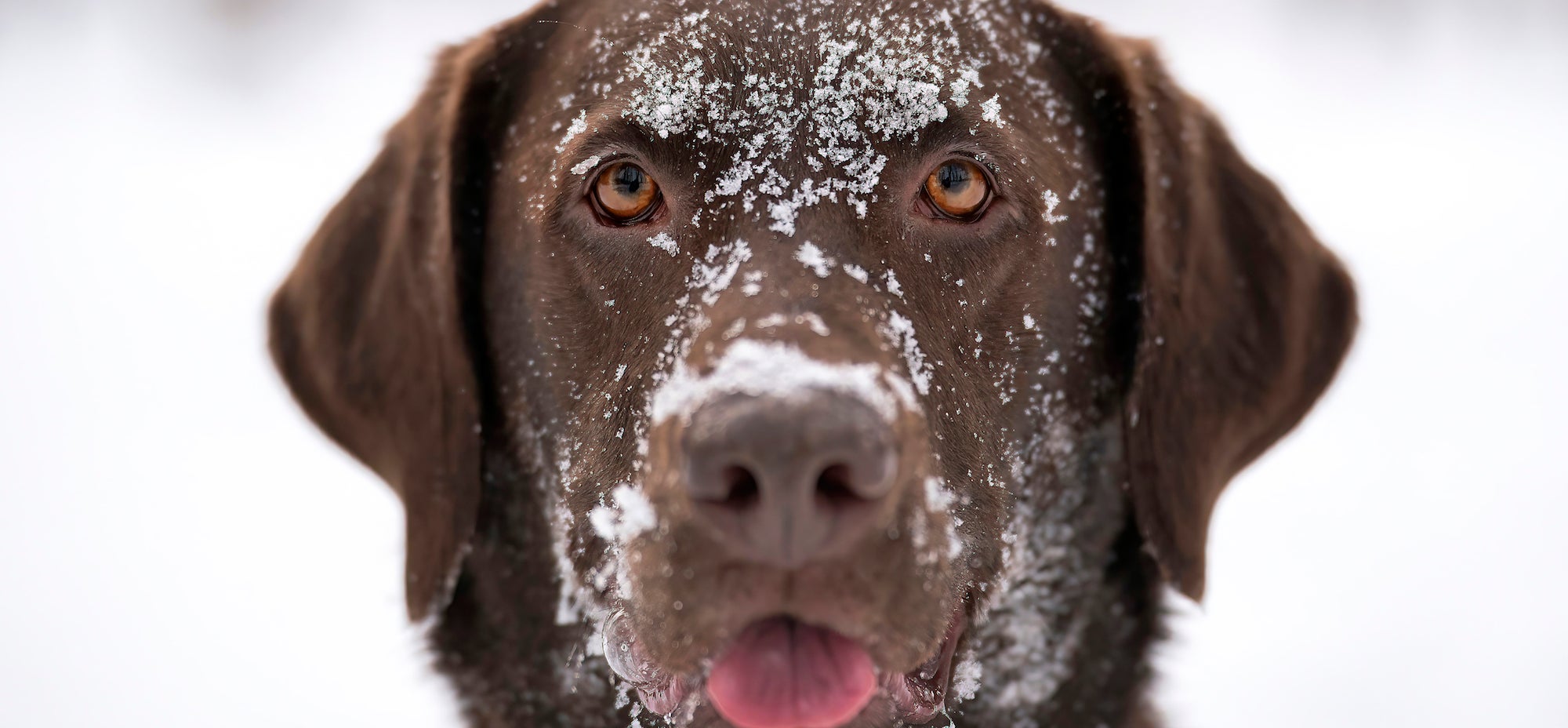 "My snow covered swamp walking companion Izzy poses for a portrait with the Alpha 9 II and the 70-200mm GM." Photo by Steve Jessmore. Sony Alpha 9 II. Sony 70-200mm f/2.8 G Master. 1/4000-sec., f/2.8, ISO 5000
Sony 16-35mm f/4: I find this lens very sharp and relatively lightweight. I love it at 16mm. A great lens for my freelance classrooms and outdoor landscapes.
Teleconverters 1.4x and 2x: I carry both teleconverters with me when I am out photographing birds. I find the 1.4x with the 200-600mm a great combination during the daylight hours – especially with sunlight. 
I look forward to the day when I have a 600mm f/4 GM lens to use with both of these.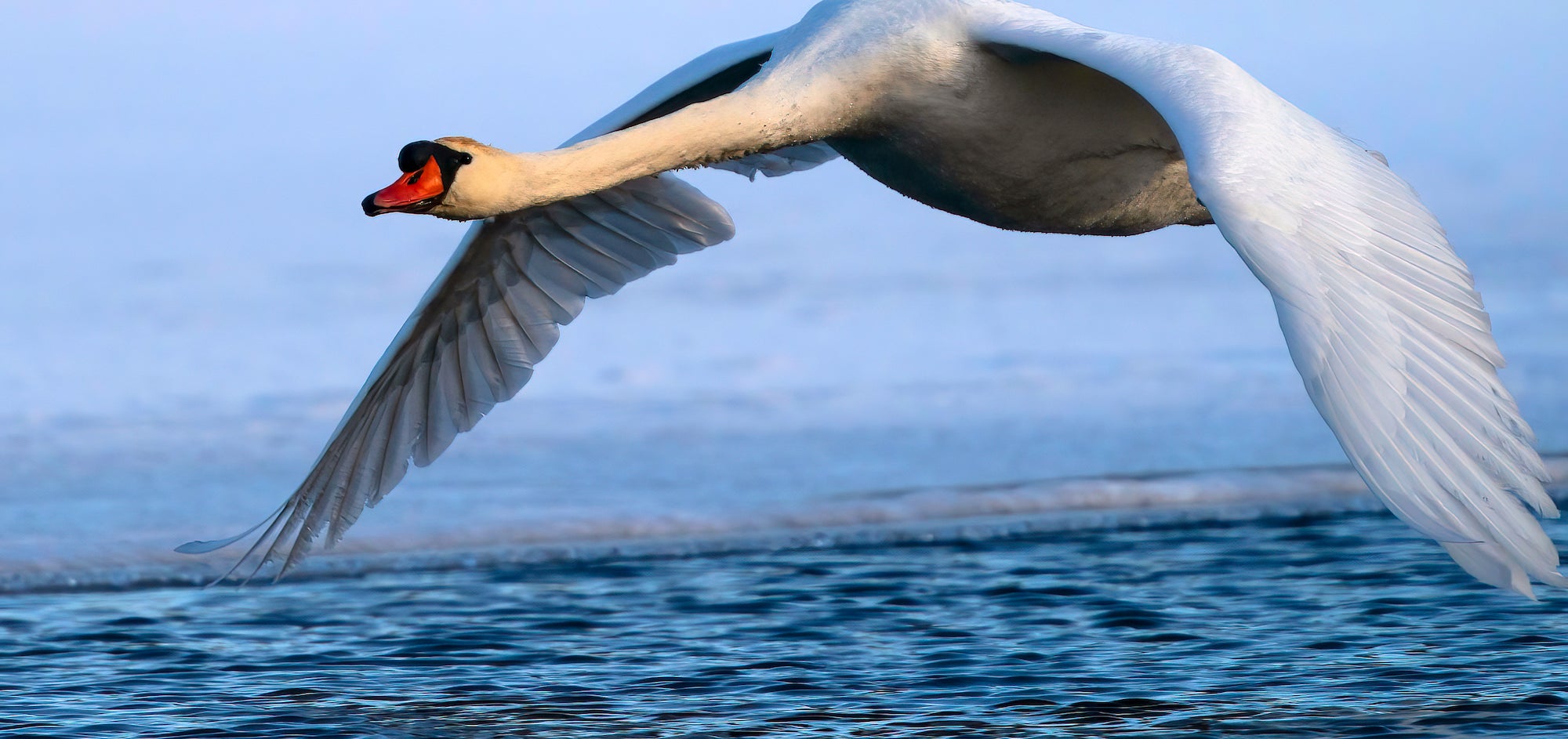 "The setting sun kisses a mute swan as it flies low over the unfrozen Torch River in northern Michigan." Photo by Steve Jessmore. Sony Alpha 9 II. Sony 200-600mm f/5.6-6.3 G + 1.4x TC. 1/2000-sec., f/9, ISO 1000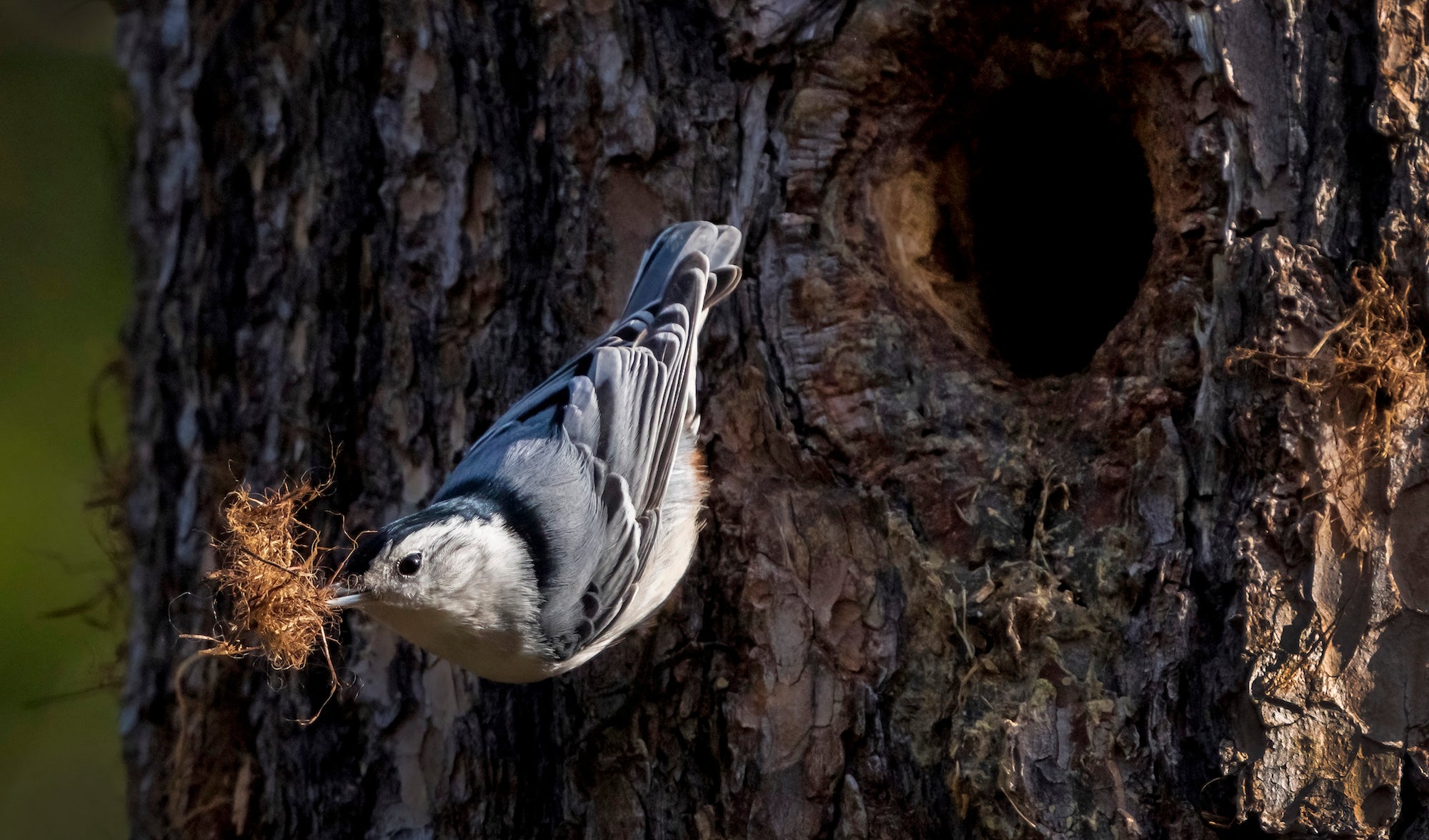 "A nuthatch cleans out a nest hole in a pine tree. He and partner removed contents, shook them out and tucked them in the bark of the tree to air out. When the hole was empty he replaced the material back in the hole." Photo by Steve Jessmore. Sony Alpha 1. Sony 200-600mm f/5.6-6.3 G + 1.4x TC. 1/3200-sec., f/9, ISO 2500
Accessories
Sony CFexpress Type A TOUGH Memory Card: The fastest card available for the Sony Alpha 1. It is a must-have card if you want to maximize the benefit of clearing the buffer while shooting at a high speed.
Think Tank Bags & Accessories: I've found these bags well designed and constructed. They keep my gear safe, dry and readily accessible. Think Tank also makes a great SD Card carrier that anchors to my bag. Zippered pockets keep my cards secure and an additional pocket keeps my business cards nice and presentable for clients.
Promaster Professional MPV+ Monopod: I love the flip locks and the folding 3-point base and swiveling ball joint. They are also very affordable.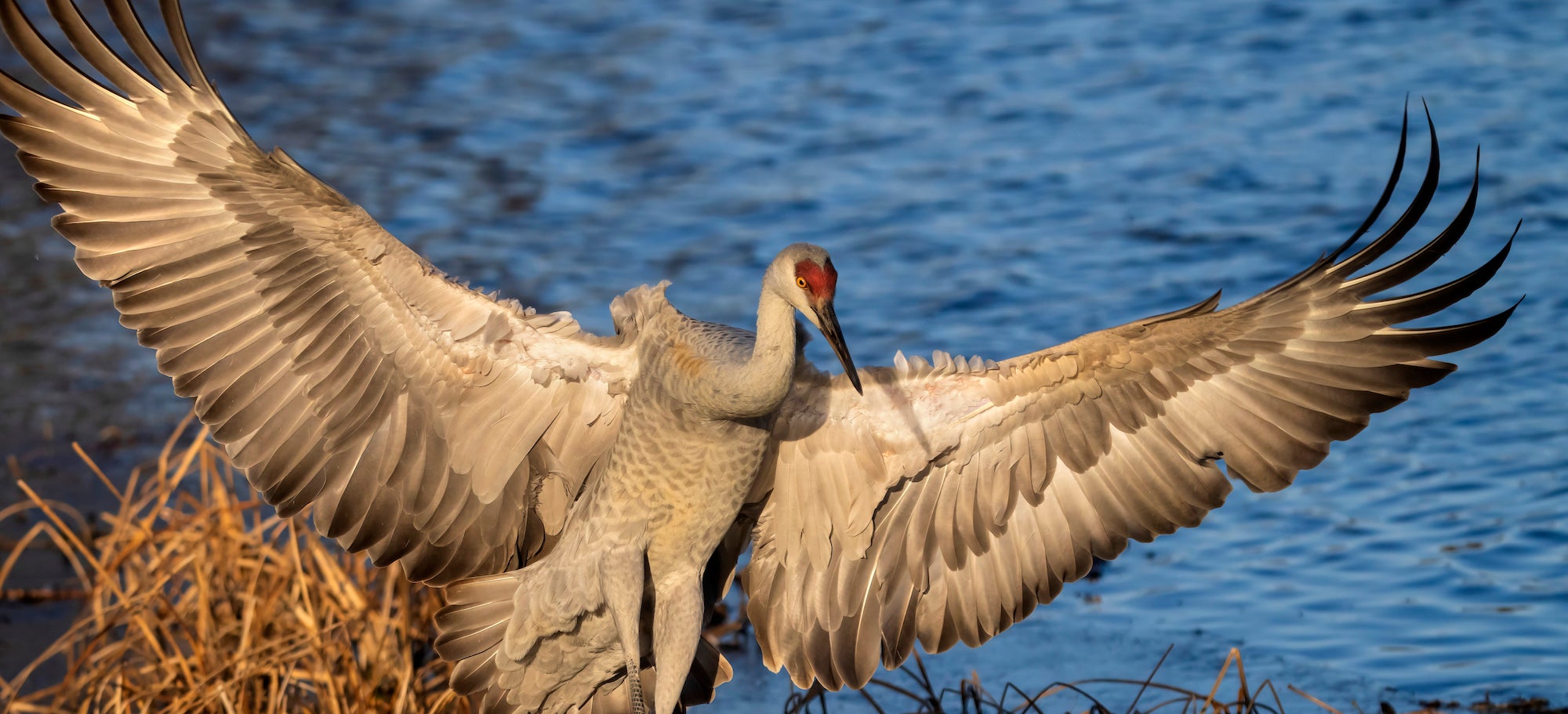 "Wings spread, a sandhill crane comes in for a landing at sunrise." Photo by Steve Jessmore. Sony Alpha 1. Sony 200-600mm f/5.6-6.3 G + 1.4x TC. 1/2500-sec., f/9, ISO 1600
Zippo Hand Warmer and Inexpensive Camo Backpack Filled With Various Pairs Of Gloves: I've found it's tough to shoot and be ready when your fingers are freezing. I'm often outside for 5-6 hours in sub-freezing weather. This is invaluable. Danner insulated boots have been a godsend also. I keep this in my car ready to grab and go.
Lens Coat Camo Neoprene cover For FE 200-600 f/5.6-6.3 G OSS: I'm usually hiding in the marsh or reeds in camo, so this made sense. I like how it protects and cushions the lens. I saw a big difference in how close I was able to get to flying ducks the first day I wore camo and outfitted my lens.
Food: Protein bars and something to drink.
X-rite ColorChecker Passport Photo: When you want to get color right, it's invaluable. I use it on my interior and strobed freelance work primarily, but also at times in my nature work.
See more of Jessmore's work on his Alpha Universe Profile, Instagram @sjessmo and on his website stevejessmore.com.