My name is Jay R. McDonald (@jayrmcdonald), I am a Canadian-born, Calgary Alberta-based, commercial photographer/videographer and co-founder of RoamCreative.ca. My work can be found in magazines such as Canadian Geographic, Folk Magazine and more. My greatest joy in this life is found in meeting new people, seeing new things, and traveling the world in order to learn, experience and share the stories and traditions, new and old around us. During this strange and unprecedented time in the world, I've had to find new ways to be creative at home. Using some props, my 35mm f/1.4 and α7R III, I made this photograph to serve as inspiration that this difficult time will come to an end.
How an outgoing photographer with a passion for travel used a personal collection of "props" to create a series of images about getting through social isolation.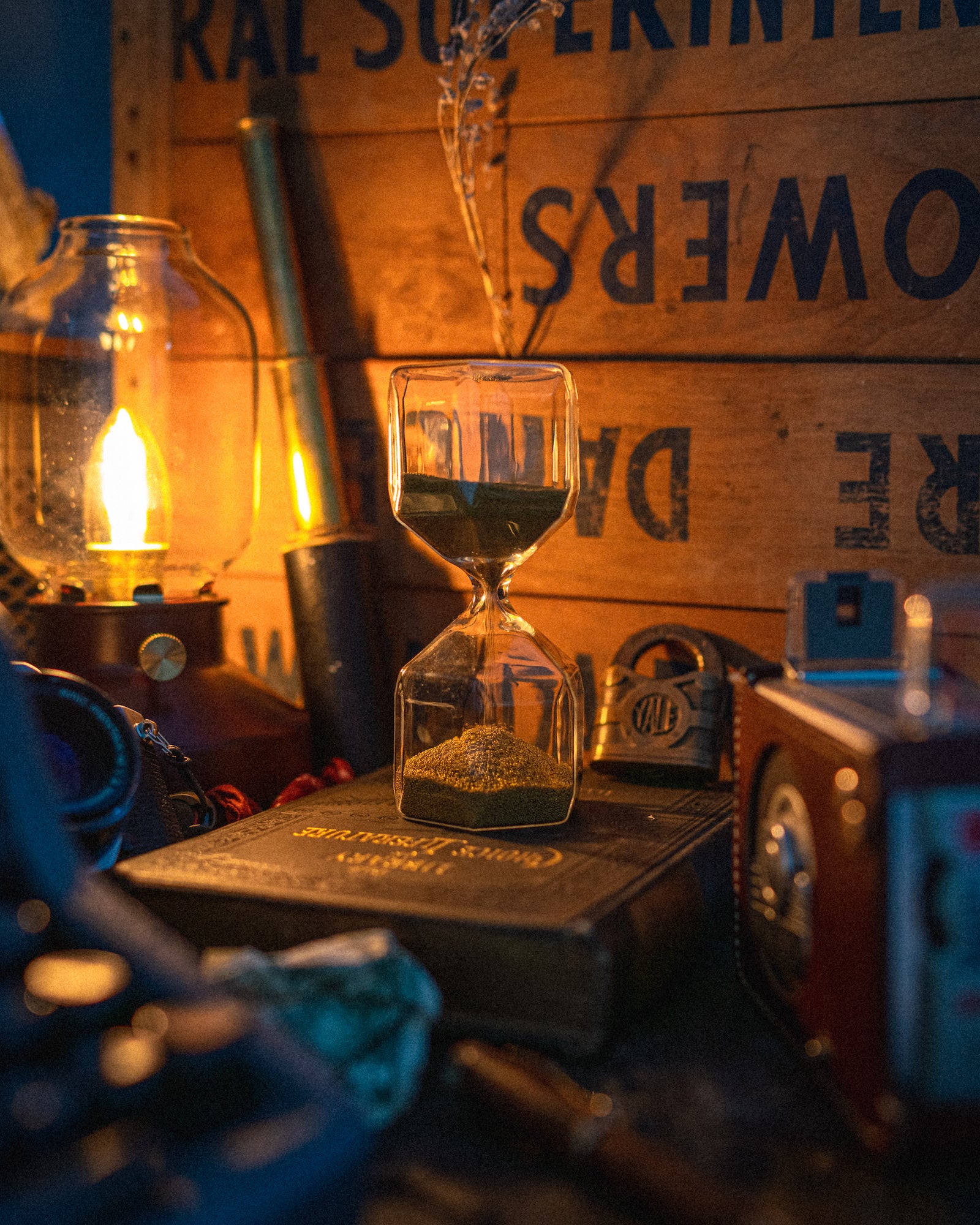 Sony α7R III. Sony 35mm f/1.4 lens. 1/160-sec., f/2, ISO 800
The Inspiration Behind The Shot
These photos were the second series in a set called "Letters Into The Unknown" (seen here), inspired by the feelings of stress, anxiety and uncertainty I am sure most creatives are feeling right now, due to the current events surrounding COVID-19. My Pops (dad) is the kindest, most humble and wise man I know. During times like these, he always says "Jayman... One hundred years from now, none of this will matter; and this too shall pass." These are words that seemingly cannot be argued and have forever been encouraging to me. In feeling the increasing weight of the collective masses, I wanted to try to encapsulate the sentiment in a photograph that could be shared. The idea came as a collaboration between my Roam Creative partner's @MarcWebster & @LostCoordinate.
The Scene
Being stuck inside due to the Canadian Government's request for social distancing/isolation, I've had to change up the way I create. We are all being forced to become much more present and aware of our immediate surroundings. Feeling the itch to shoot, I started looking around, for what could be used near me. Luckily my roommate @LostCoordinate is an avid collector of old things. I ran to our "prop wall" and began physically assembling the idea in my head, begging to be released from my mental mood board. The foundation of the photo is a vintage World War II trunk, and the backdrop is a railroad cargo box from the 1920s. Protruding from the cargo box is a weed stolen from the farm field behind my house, a little piece of the outside. In the foreground you can see my grandfather's typewriter, a crumpled one-dollar bill representing the weight of the current economic pressures, a wooden pen gifted to me from my favorite high school teacher, a tired super 8mm film camera, telescope, 35mm film camera and more.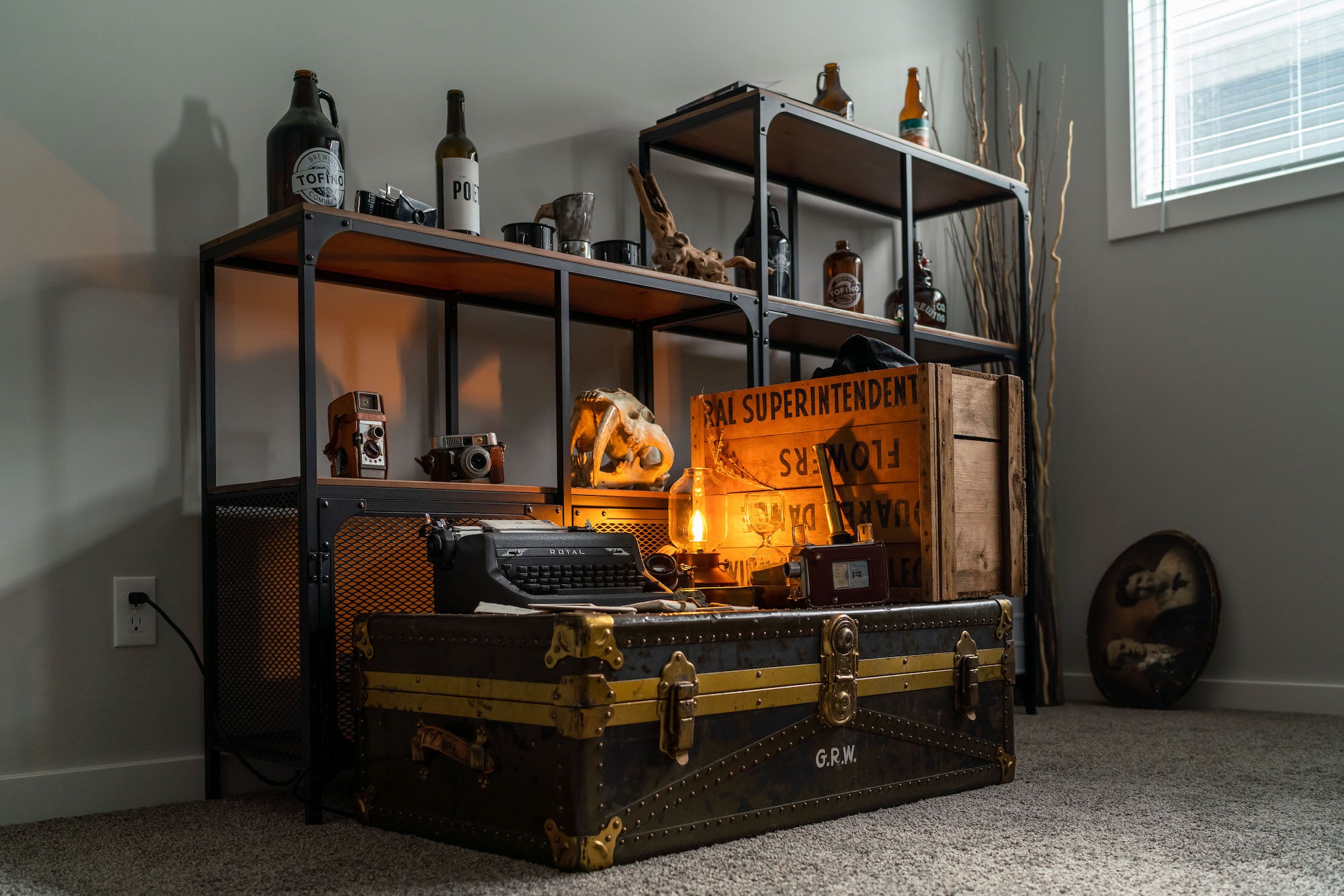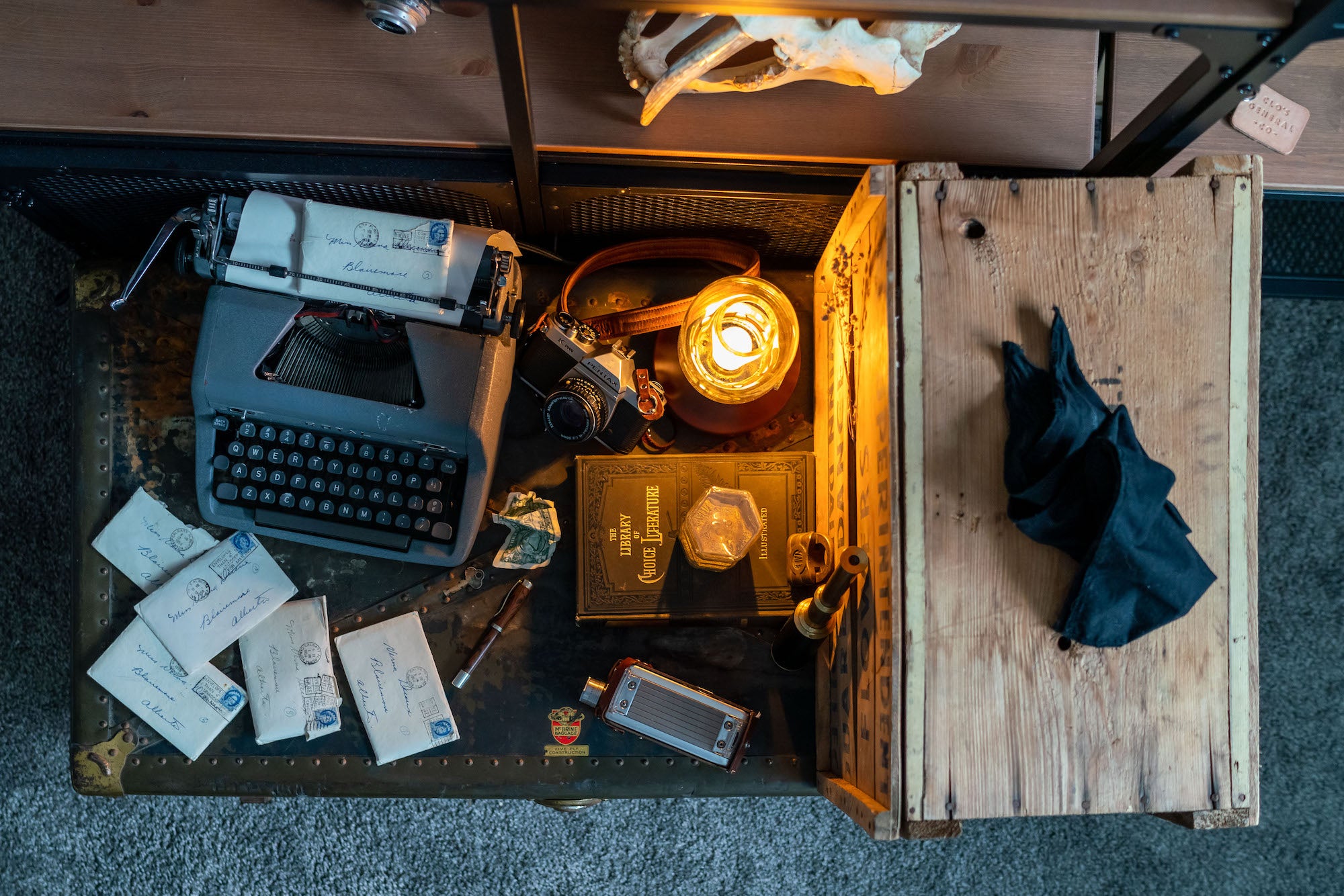 The Gear
This image was shot on the Sony α7R III with the Sony 35mm f/1.4 lens. This lens has forever been my go-to "workhorse" lens. I can't seem to get enough of the 35mm framing and love the ability to drop the aperture for low light situations, smooth bokeh and clean depth. I love that I can confidently shoot at high ISO ranges of 800+, due to Sony's incredible low light capabilities. The dynamic range of these cameras is incredible and I hope the images speak for themselves in showcasing it.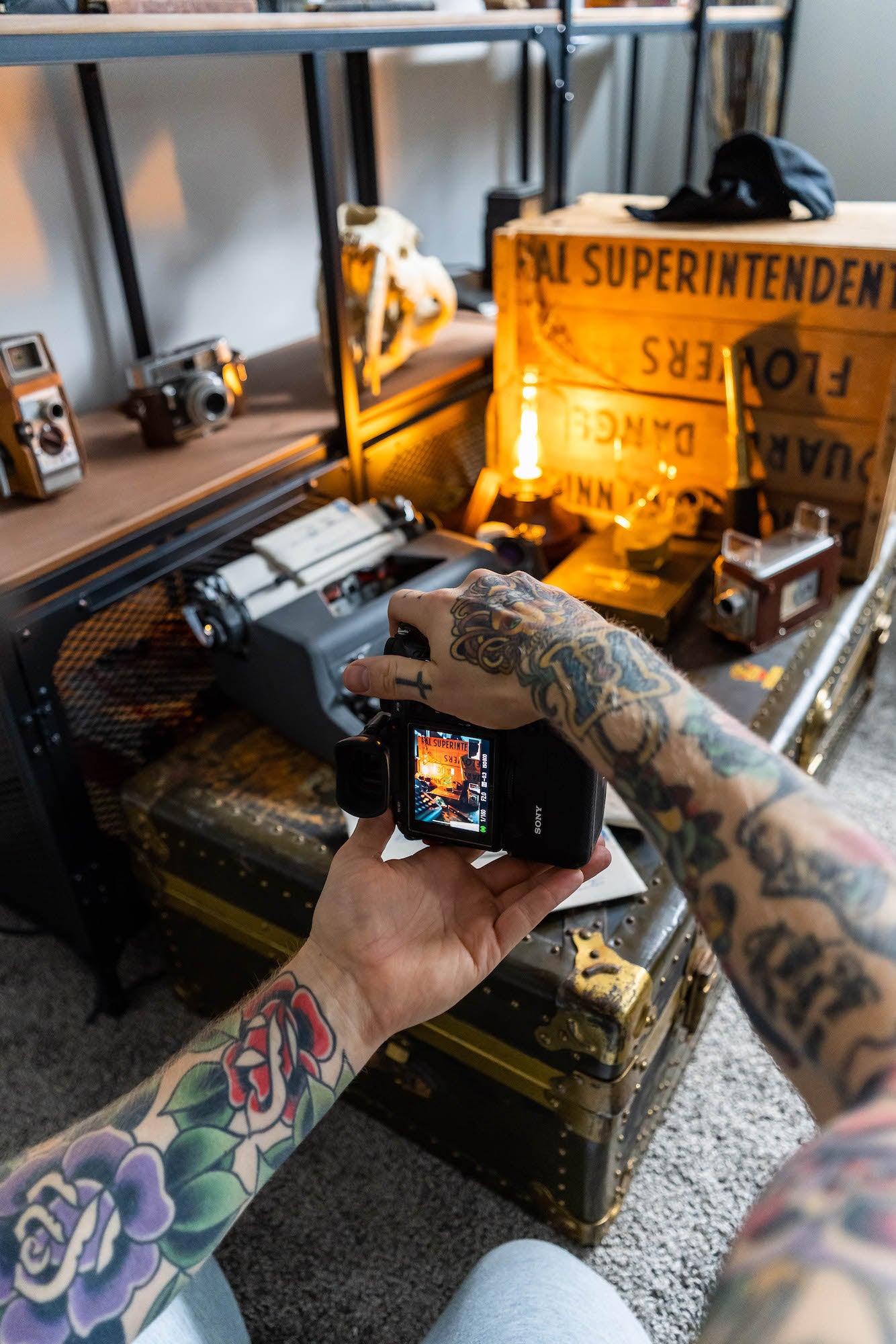 For lighting, I chose to use the dim naturally diffused light coming through the window, revealing a soft-lit scene with cool tones in the shadows. I then played with the fluorescent yellow lamp on the left of the frame to wrap the scene in warmth and provoke the viewer to look into the hourglass. The set up was simple, yet elegant (I hope). I chose to shoot the images handheld, without the use of a tripod, to allow for more movement and flexibility with framing. Luckily Sony's autofocus is as sharp as a samurai sword and faster than minute rice, so I was able to shoot at close range without having to worry about any unwanted focus racking or reverting to manual focus. The aperture was set at a comfortable f/2. Though I love the strong compression and the creamy bokeh that an aperture of f/1.6 or even f/1.4 provides, I found that with this set up I am able to get as close to that desired look as possible, without sacrificing any focus on my subject. That's the amazing versatility and unparalleled capabilities that Sony gear provides.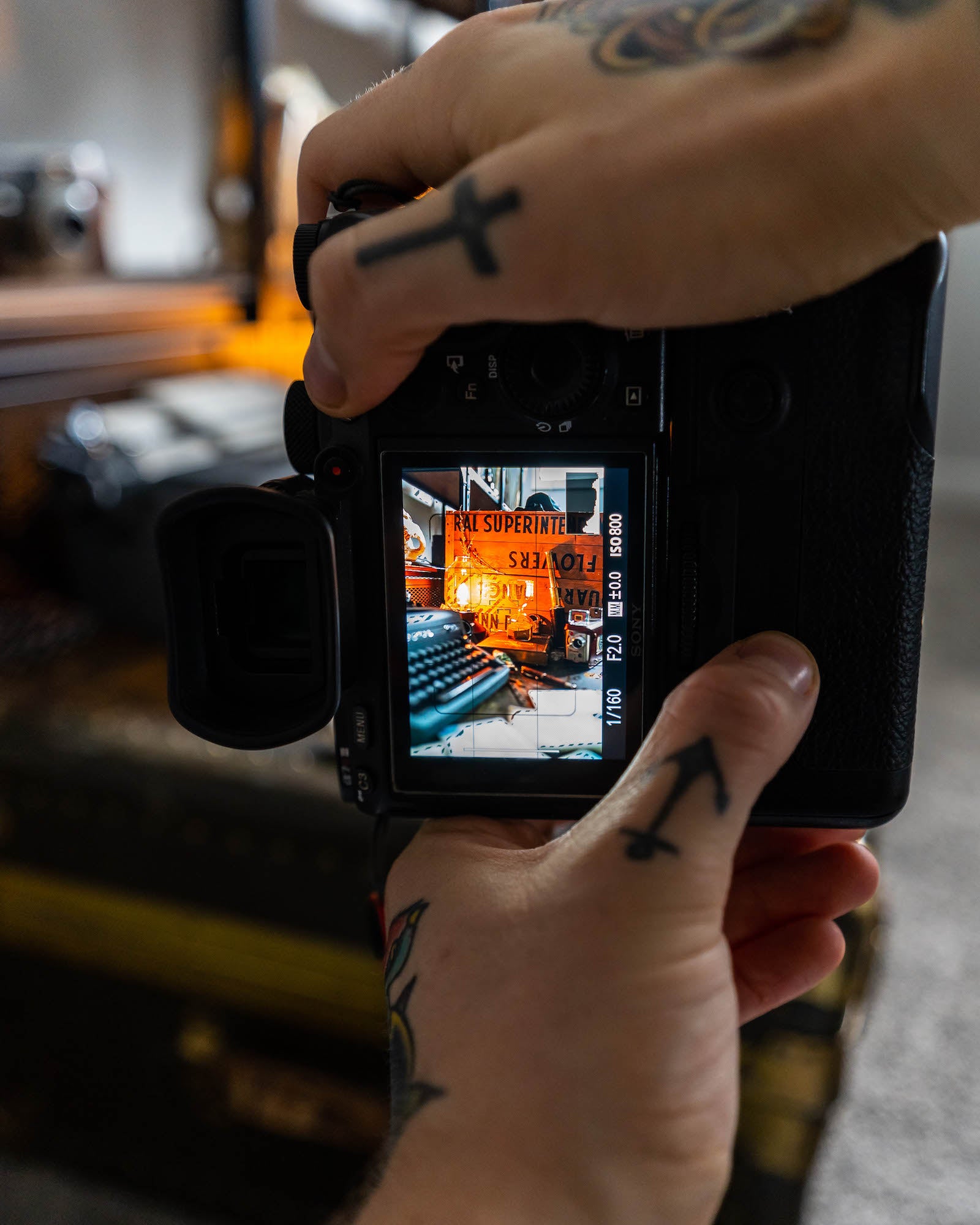 The Post
I wanted to develop sort of a vintage, timeless looking imagery, so the post-processing was fairly basic for these images. I culled my photos using Photo Mechanic (which is a lifesaver if you are a "spray and pray", "run and gun" style shooter with a heavy shutter finger, like me). After making my selects I loaded the images into Lightroom, where I began my editing. I like to start by changing the image to black and white. I find that doing so, removes the distractions of color and other noise so that I can focus on the overall exposure, highlights, shadows, contrast, tone curve, grain, etc. Following this, I used two graduated filters coming from the top left and bottom right both with a lowered exposure and decreased temperature. I then brushed in my subject, the hourglass, with a brush I call "First Touch", that increases the shadows, sharpness and clarity on what I am hoping to make "pop" out to the viewer. Lastly, a few tweaks were made here and there, until "Voila!" there it is.