Ewa Jermakowicz (@ewajermakowiczphotography) is a landscape and nature photographer specializing in long exposure and low light photography. "Through my photos, I want to show the beauty of our world and inspire people to discover, fall in love with and to protect it," she says. "I usually travel in my campervan which gives me a lot of flexibility choosing a location and time when I can be there. It is helpful when I need to be at the location long before sunrise and want to stay for sunset or night photography without a need to drive to a hotel or home." We came across this beautiful long exposure landscape image and connected with her to learn how she created it using her Sony Alpha 7R IV and Sony 16-35mm f/2.8 G Master. Read her story behind the shot below, from the setup to the edit.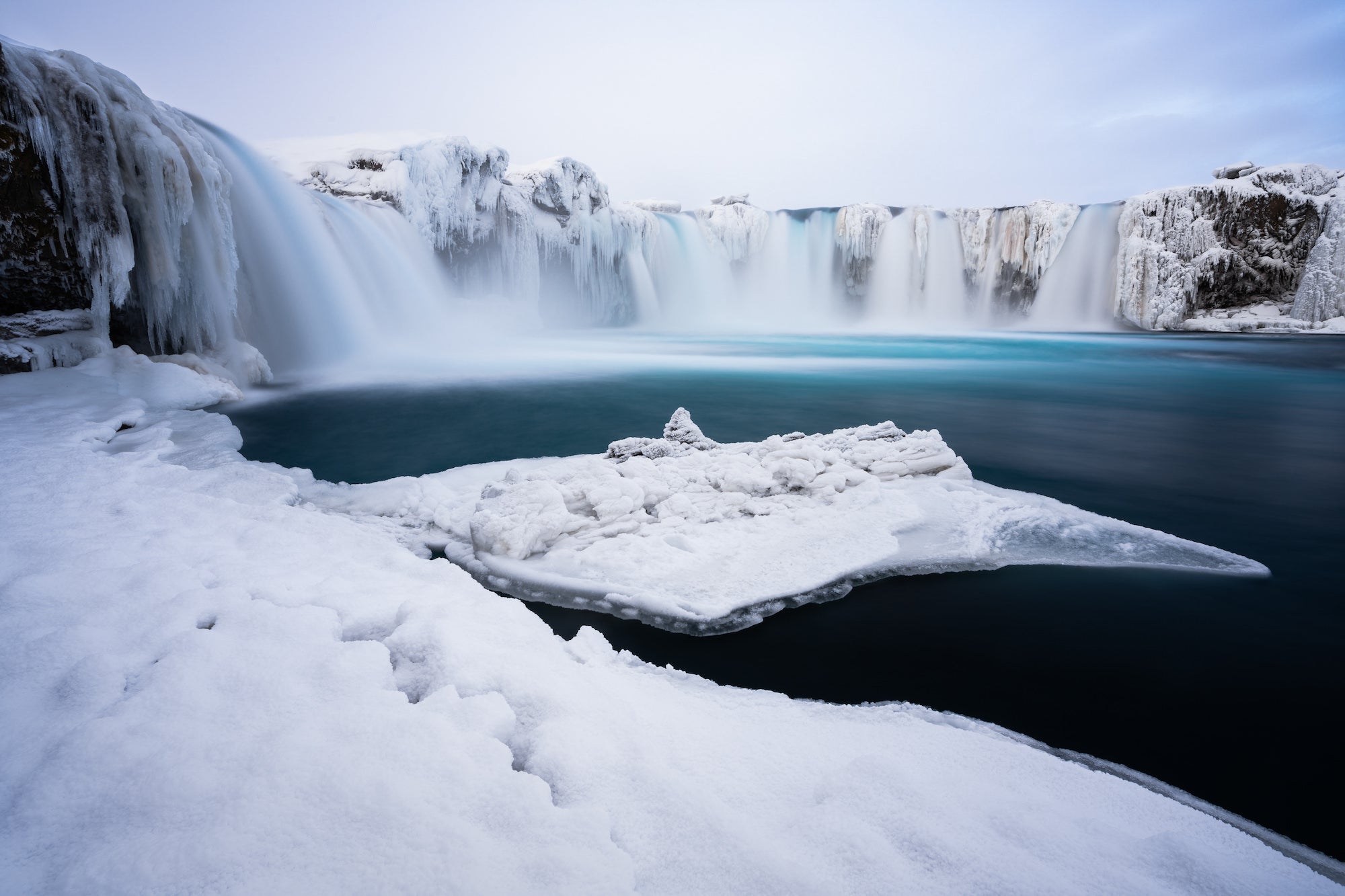 Photo by Ewa Jermakowicz. Sony Alpha 7R IV. Sony 16-35mm f/2.8 G Master. 13-secs., f/16, ISO 50
Landscape photographer Ewa Jermakowicz explains how she created this long-exposure waterfall image with her Sony Alpha 7R IV & Sony 16-35mm f/2.8 GM lens.
The Scene
Last February, I spent two weeks traveling around Iceland. It was my third trip to this amazing country. I rented a campervan there and decided on my next destination based on the weather forecast and light opportunities. Godafoss, where I shot this photo, was one of my top destinations where I have spent two nights to have enough time to experience different kinds of conditions. My primary goal, which couldn't be met due to cloudy weather, was to shoot the Northern Lights over the waterfall. I had a couple of other photos in my mind since I visited this place a couple years ago, but the beauty of the winter landscape is that it changes frequently so that I could get creative while at the location.
The first morning, the sky was covered with clouds and the world seemed monochromatic. I felt disappointed to not have a fantastic sunrise until I saw the results of my first long exposure shot which turned the world into a unique blue and white landscape.
I went to the base of the waterfall where I was alone for some time which gave me the perfect opportunity to find the best foreground. Not being able to go into water, I decided to use the edge of the ice as well as a piece of ice floating on the water as my foreground. I had to be careful as I wasn't sure how hard the ice cover was. The ice piece on the water kept moving so I had to balance the time of the exposure with my goal to capture a sharp foreground. It took me a couple of trials until ice stabilized for a little while. I love how long exposure creates surreal looking pictures without actually changing anything in the photo itself. This is that surreal look that I was going for choosing the exposure time as well as the foreground.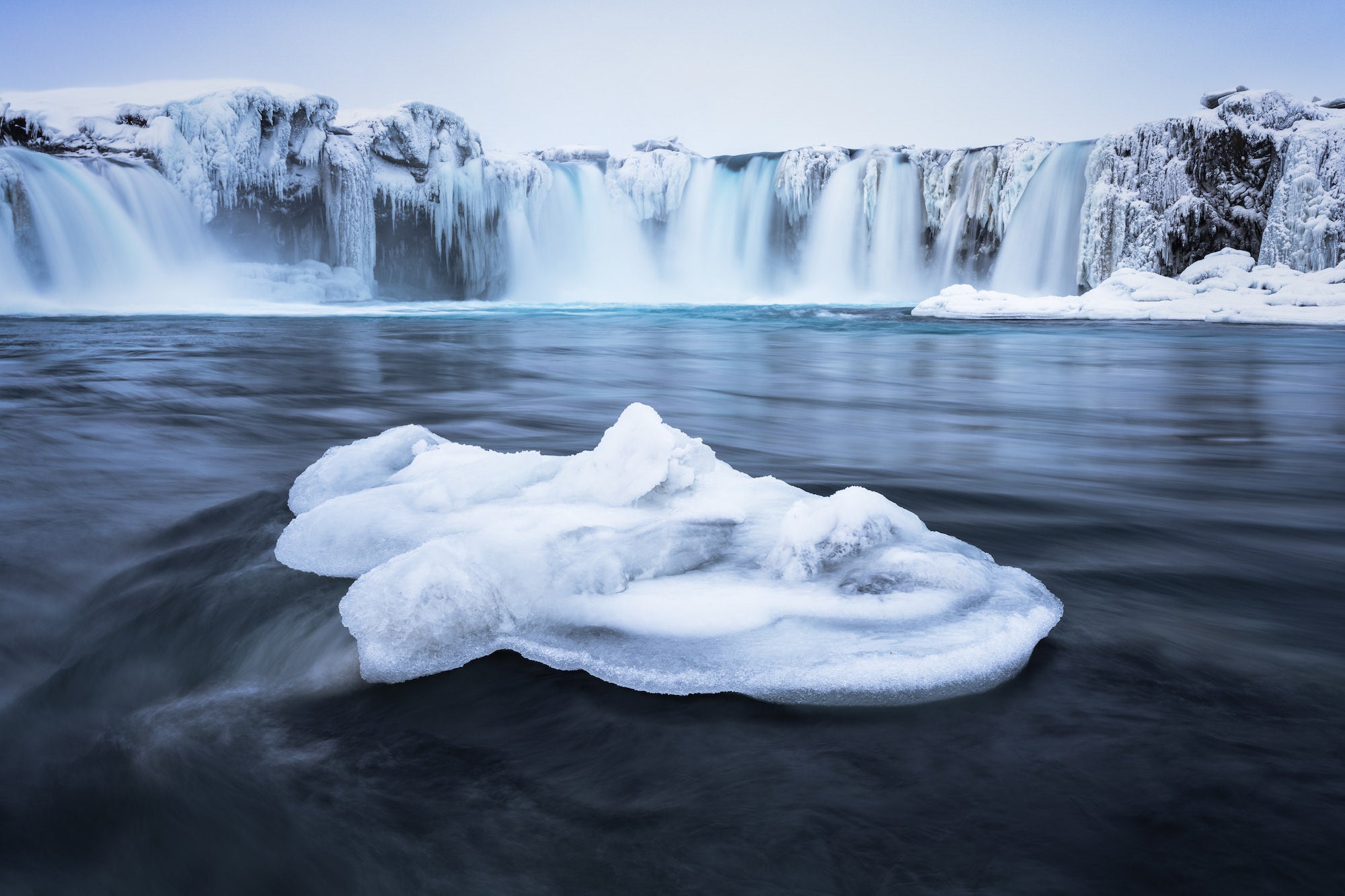 A similar Jermakowicz took while trying out different foreground elements. Photo by Ewa Jermakowicz. Sony Alpha 7R IV. Sony 16-35mm f/2.8 G Master. 13-secs., f/16, ISO 50
Gear And Camera Settings
Since I purchased a Sony Alpha 7R IV earlier this year, I was traveling with two cameras - the Alpha 7R III and Alpha 7R IV. That gives me an opportunity to shoot simultaneously in quickly changing conditions and limit the time I have to spend changing my lenses. This time, I went for an Alpha 7R IV and my favorite landscape lens – the Sony 16-35mm f/2.8 G Master. After a couple of experiments, I went for a 13-second exposure that gave me the effect I wanted. Photographing waterfalls and rivers, I choose exposure time depending on how fast the water is moving and the effect I want to achieve. In this case, 13-sec. was enough to create the effect I wanted without risking that the floating ice will move and lose sharpness.
In order to achieve this exact time, I decreased my ISO to 50, used a circular polarizer, a neutral density filter and also a split ND to avoid overexposing the sky. I chose f/16 and focused on the floating ice to get the entire scene in focus.
To shoot long exposures, it is necessary to have a good and very sturdy tripod, especially in such windy locations like Iceland.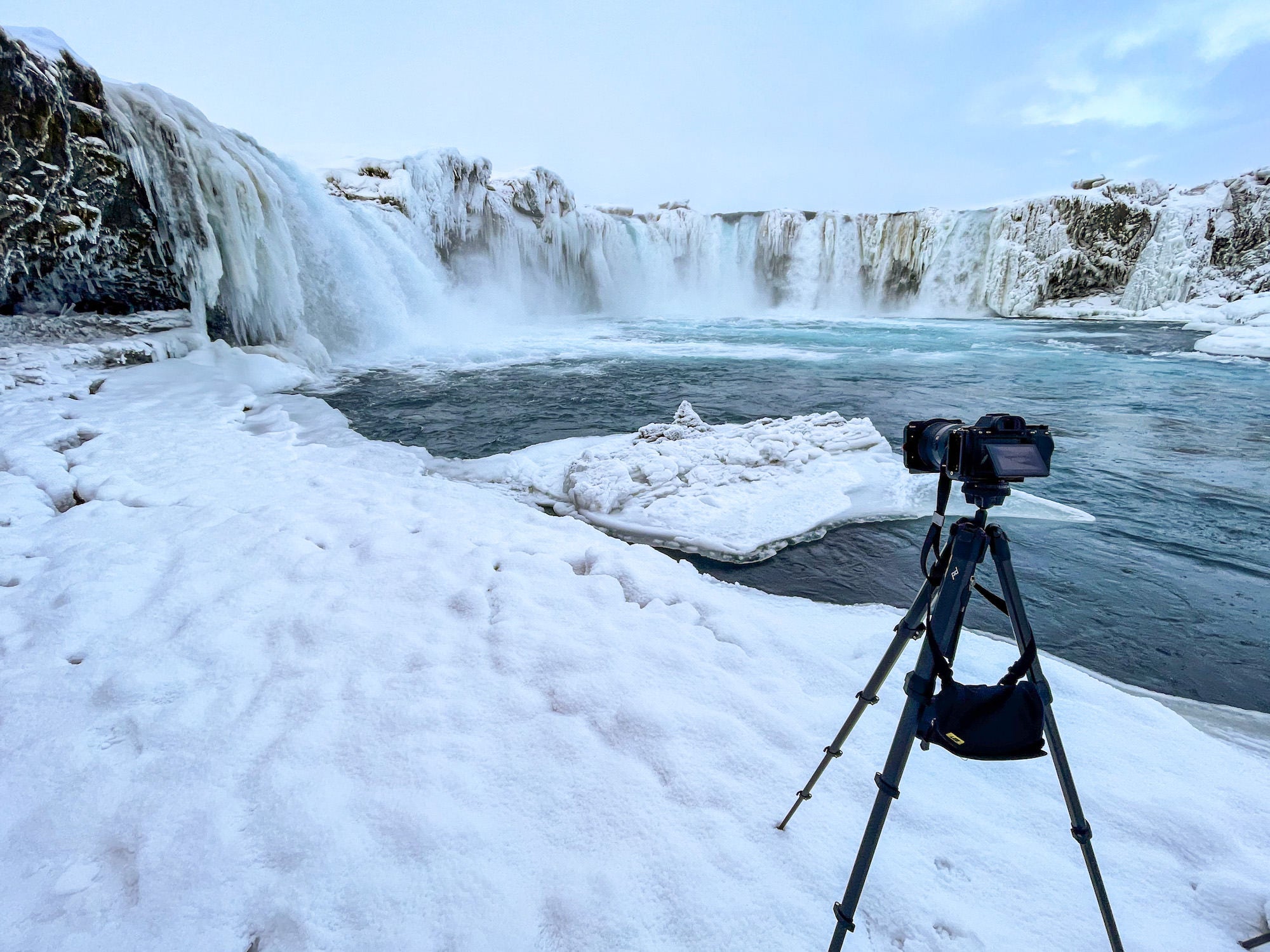 Jermakowicz' setup in Godafoss.
The Edit
I like to produce as good an image as possible straight from the camera so that I don't need to merge photos in post production. I also apply limited post-processing, mostly limited to developing photos in Lightroom.
I always start with pre-selecting photos that I want to further work on. Sometimes, I might select a couple of similar shots, try to process all of them and then see if there are some important differences to choose one over another (e.g. amount of highlights or a tiny change of perspective). In this case, the sharpness of the floating ice and the choice of exposure time were the factors that helped me decide on the final choice. I followed my standard post-processing workflow in Lightroom, starting with correcting white balance, reducing highlights and recovering shadows. Fantastic dynamic range optimization was one of the main reasons why I selected Sony a couple years ago. I adjusted whites and blacks, worked with the tone curve and calibration.

Before and after editing the photo to bring out the details.
I then moved to Photoshop to remove any dust I might have had on the sensor and worked on vignetting. After that, I returned to Lightroom for some final touches, like adjusting contrast or colors. White working on the photo, I often return to the original file and make sure that I don't over-process anything. I want the scene to look natural. The goal of my post-processing is to show the beauty of the place and details of the image that might have been lost when looking at the RAW image (e.g. shadows) rather than creating a new world. That's why I never replace the sky or add items that weren't there in the first place. Even if that means that I won't have the photo I wanted and I need to return to the location a couple of times.
See more of Ewa Jermakowicz's work on Instagram @ewajermakowiczphotography.