Chicago-based creative Mike Meyers (@mmeyers76) can often be found on the streets of the Windy City with his camera. He creates stunningly sharp captures of cityscapes and architecture that will have you constantly returning to his photographs to find something you missed the first time. Using the Sony Alpha 1 and Sony 24-70mm f/2.8 G Master II, he created this cool long exposure black and white image of the Chicago skyline.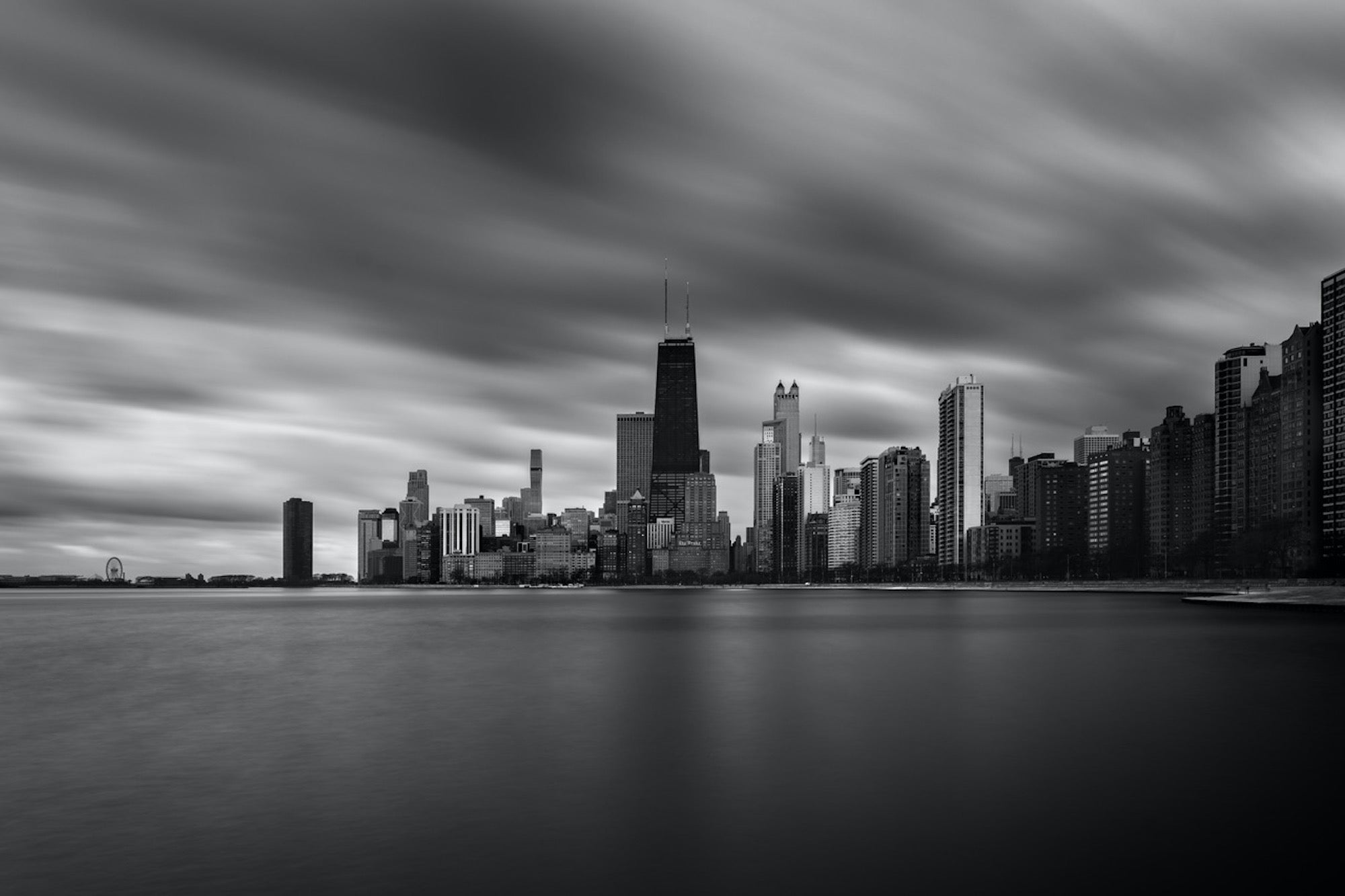 Photo by Mike Meyers. Sony Alpha 1. Sony 24-70mm f/2.8 G Master II. 30-sec., f/8, ISO 50
When his plans for a Chicago skyline sunset were dashed by a layer of clouds, instead of packing up, Alpha Imaging Collective member Mike Meyers got creative.
Working With The Scene In Front Of You To Get The Shot
This spot is one of Meyers' favorites to take photographs in Chicago. "It's kind of by North Avenue Beach in the city, and it has what I think is the best view of the skyline," he says. "It has the Hancock building right in the middle, then you can see all the other major buildings there in one way or another across the water. Sometimes you can get reflections, nice clouds or a good sunrise or sunset. So I thought it would be a place to get a good sunset. I got there and it was maybe a 50/50 shot on whether or not the clouds were going to clear the horizon to blow up the underside of the clouds and make for a nice sunset. But, it became pretty evident after a while that wasn't going to happen, so I just started thinking about what I could do."
Even without a good sunset, Meyers wasn't deterred. He decided to work with what he had and came up with a plan to capture the clouds in the sky. "You can't make something that's not there," says Meyers. "If you try to fight against the conditions that are given to you, you end up with not so great shot, so it's best to just lean into whatever the conditions are. There were some cool clouds in the sky and the water was relatively calm, but there wasn't really any good color. So I thought it might be nice for a long exposure and a black and white. So as I was taking this photo I was shooting it with a long exposure black and white image in mind."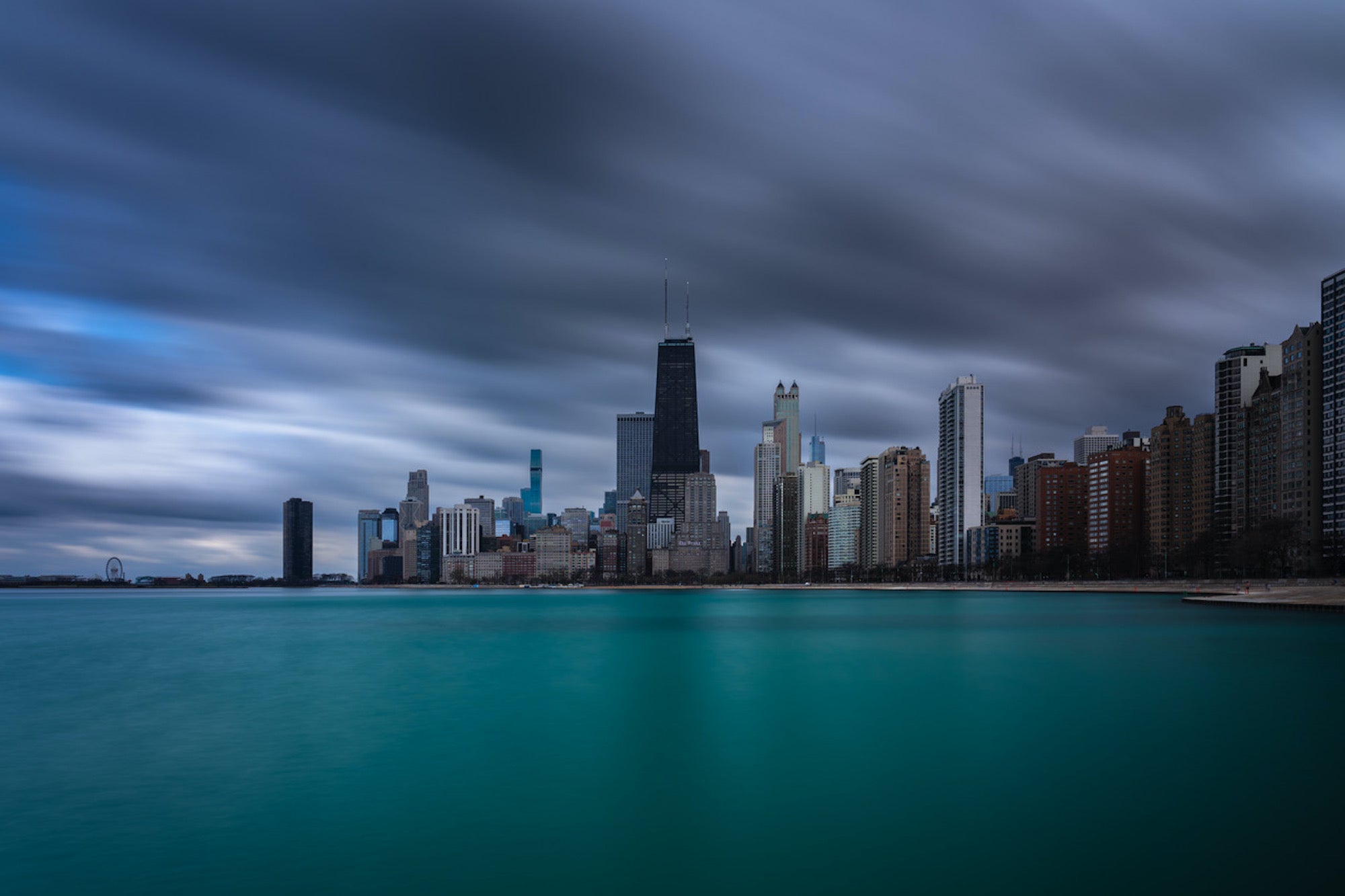 Photo by Mike Meyers. Sony Alpha 1. Sony 24-70mm f/2.8 G Master II. 30-sec., f/8, ISO 50
He continues, "I decided to take a 32-second exposure so I could pretty easily move out all of the details in the water and get a little bit of a reflection. I didn't have any filters with me but was still able to do the 32-second exposure. Then I picked the sharpest aperture for the lens, which was around f/8. I put my shutter speed at 30 seconds and dialed my ISO down to 50, so that I could get the exposure proper, and then just took a shot."
The Alpha 1 & 24-70mm G Master II For Cityscapes & Architecture
If you're taking a shorter long exposure at one or two seconds, using brackets to blend the shots together is a fairly easy way to capture it and edit in Photoshop. But with this long exposure, Meyers shot it at 32 seconds, meaning there would be a lot of movement in the sky over that time. If you took a second shot for bracketing, it would be very difficult to control the exposure and blown out highlights. This is why Meyers says the Sony Alpha 1 was the perfect camera for the image he wanted to capture.
"At the end of the day, what makes the Sony Alpha 1 grade first shot like this, is the dynamic range of the camera," he explains. "I don't need to take more than one shot for this, because I know that I'm going to be able to bring out shadows and tame down the highlights while I'm editing it, so I don't have to worry about bracketing for a long exposure, which would be difficult. The dynamic range of the camera is a big help in a situation like this."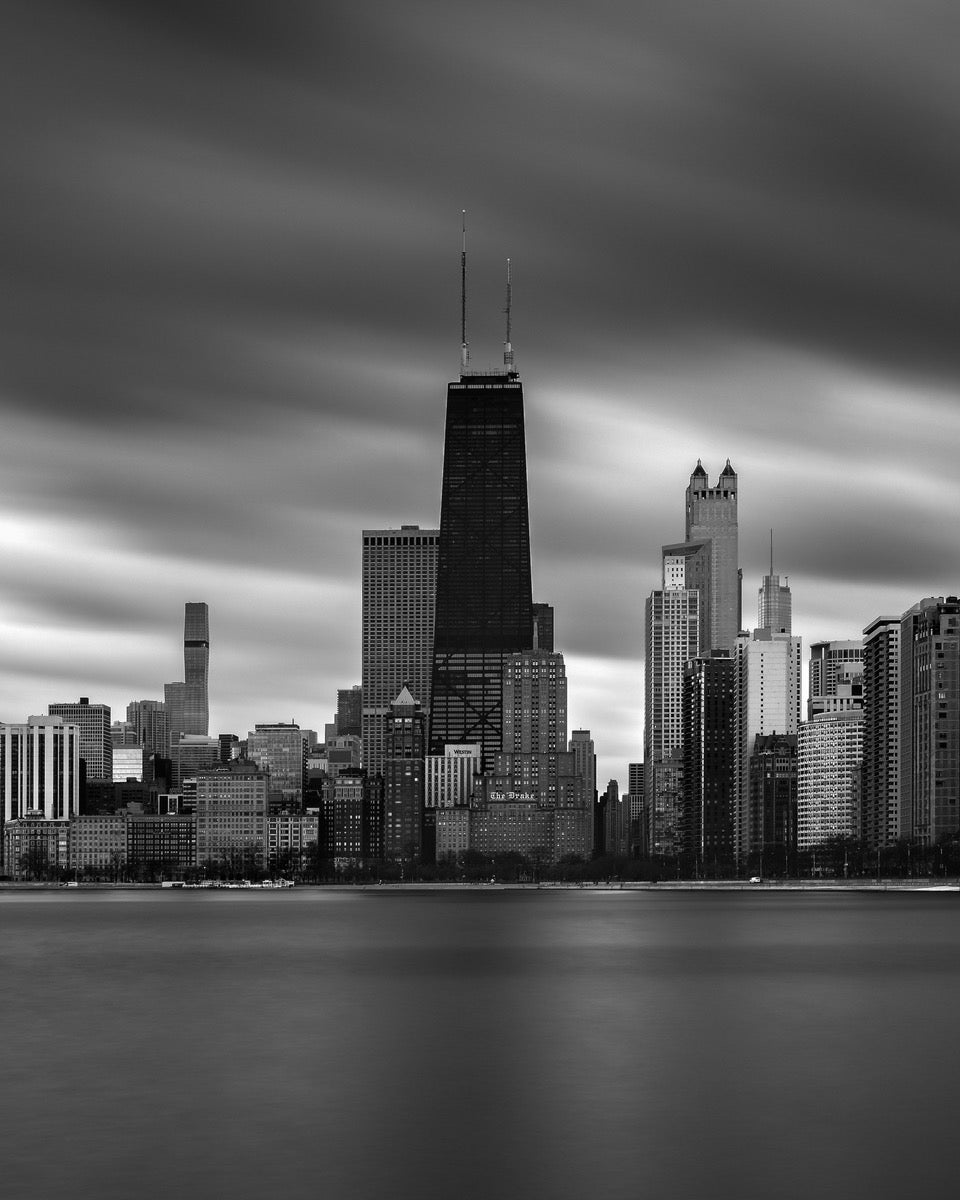 Photo by Mike Meyers. Sony Alpha 1. Sony 24-70mm f/2.8 G Master II. 30-sec., f/8, ISO 50
Meyers has always been a big fan of the 24-70mm focal length and says he probably shot 80% of his images with the original Sony 24-70mm f/2.8 G Master. Now with the second version of the lens, which he says is even sharper, he can capture cityscape images with a new level of detail. "For a shot like this," he explains, "there are a lot of details in all the windows of the buildings and all pf architecture. You really want to be able to capture that as crisp and clean as possible, so the Alpha 1 and 24-70mm f/2.8 G Master II is a nice combo. You've got the 50 megapixel resolution in the camera itself, so that image is going to be huge. You could blow it up in a massive print and you'd still be able to see all the details. You could crop in on it and still blow it up in a massive print and still be able to see all the details because of the size of the sensor."
He continues, "The sharpness of the lens coupled with the sensor size gives you this extraordinary resolution and exceptional industry-leading sharpness. Especially for a zoom lens to be this sharp. It's nice to carry around something that's versatile without having to sacrifice quality. I think for somebody that shoots a lot of architecture, this combination is incredible. It really allows you to bring out the details and all of the fun things to look at. You can create the kind of image where you just pour over the details. You can blow it up and have it be an interesting photograph that you can keep coming back to and looking at over and over again, because you might not have noticed something before that you notice a second, or third, or tenth time you look at it."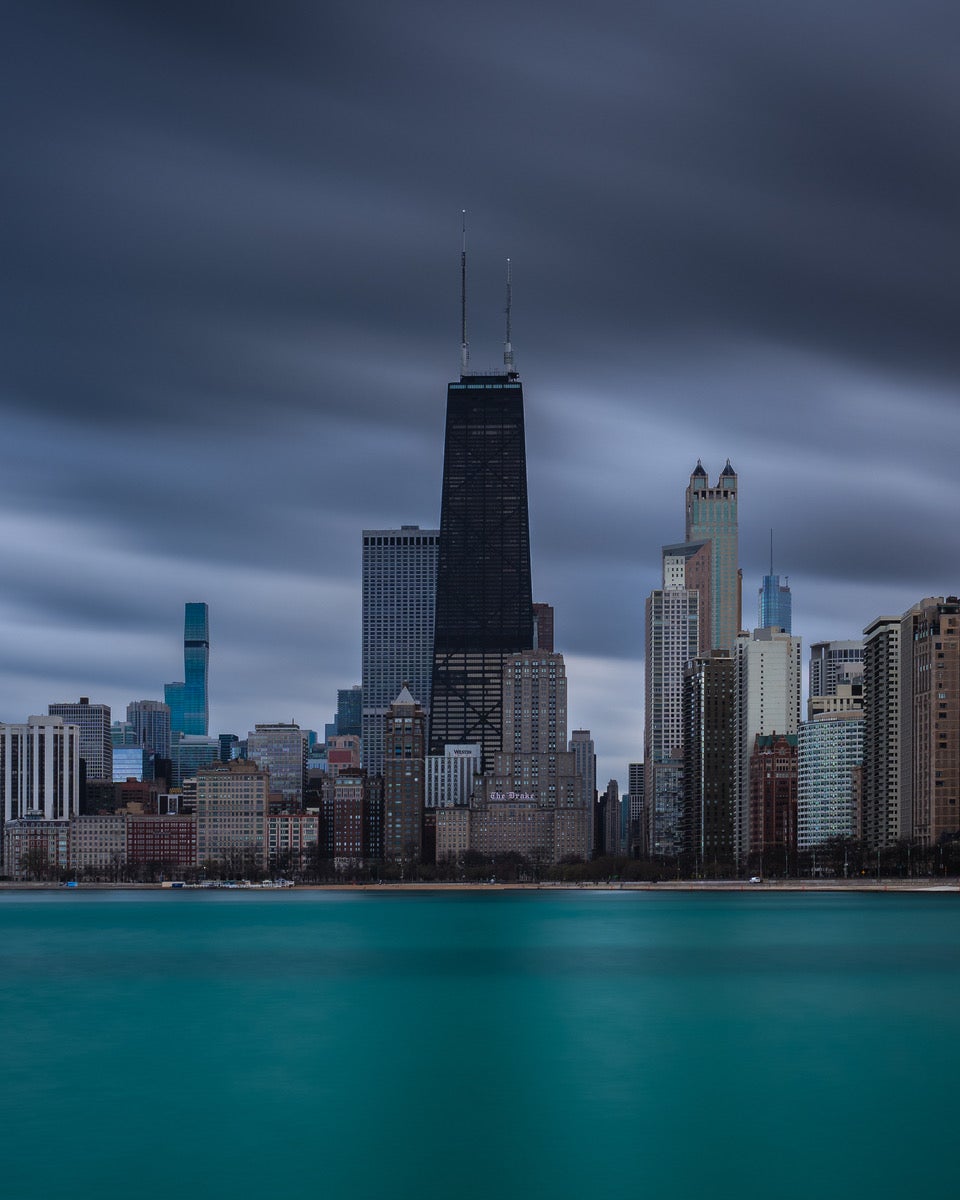 Photo by Mike Meyers. Sony Alpha 1. Sony 24-70mm f/2.8 G Master II. 30-sec., f/8, ISO 50
The Edit – Both Color, Black & White
Meyers did decide to edit both the color and black and white versions but ultimately landed on the black and white as his favorite. "I edited the photo in color first. It didn't look bad, I just thought it might be a little bit punchier in black and white, so I gave it a shot and I just liked the way I looked better. I used Lightroom for most and then I added a little bit more polishing in Photoshop. That's my general process for stuff. I get about 90% of the way there in Lightroom and then there are some tools in Photoshop I like to use that have a little bit more control. It was a pretty simple edit."