This week, AlphaUniverse.com is taking a look back at 2020, a year none of us will forget. We asked the Sony Artisans of Imagery and the Alpha Imaging Collective to share their most meaningful image of the year and we're counting down to 2021with the photo and the story behind each one. Today, from professional athletes playing in empty stadiums to election year politics to epic expeditions in the wilderness to quiet moments of near normality, Sony Artisans Chris Burkard, Jean Fruth, Jermaine Horton, Tony Gale, David Burnett, Sara France, Colby Brown, Michael Rubenstein and Thibault Roland tell the stories behind their most meaningful images of 2020.
From professional athletes playing in empty stadiums to election year politics to epic expeditions in the wilderness to quiet moments of near normality, we're counting down the photos of 2020.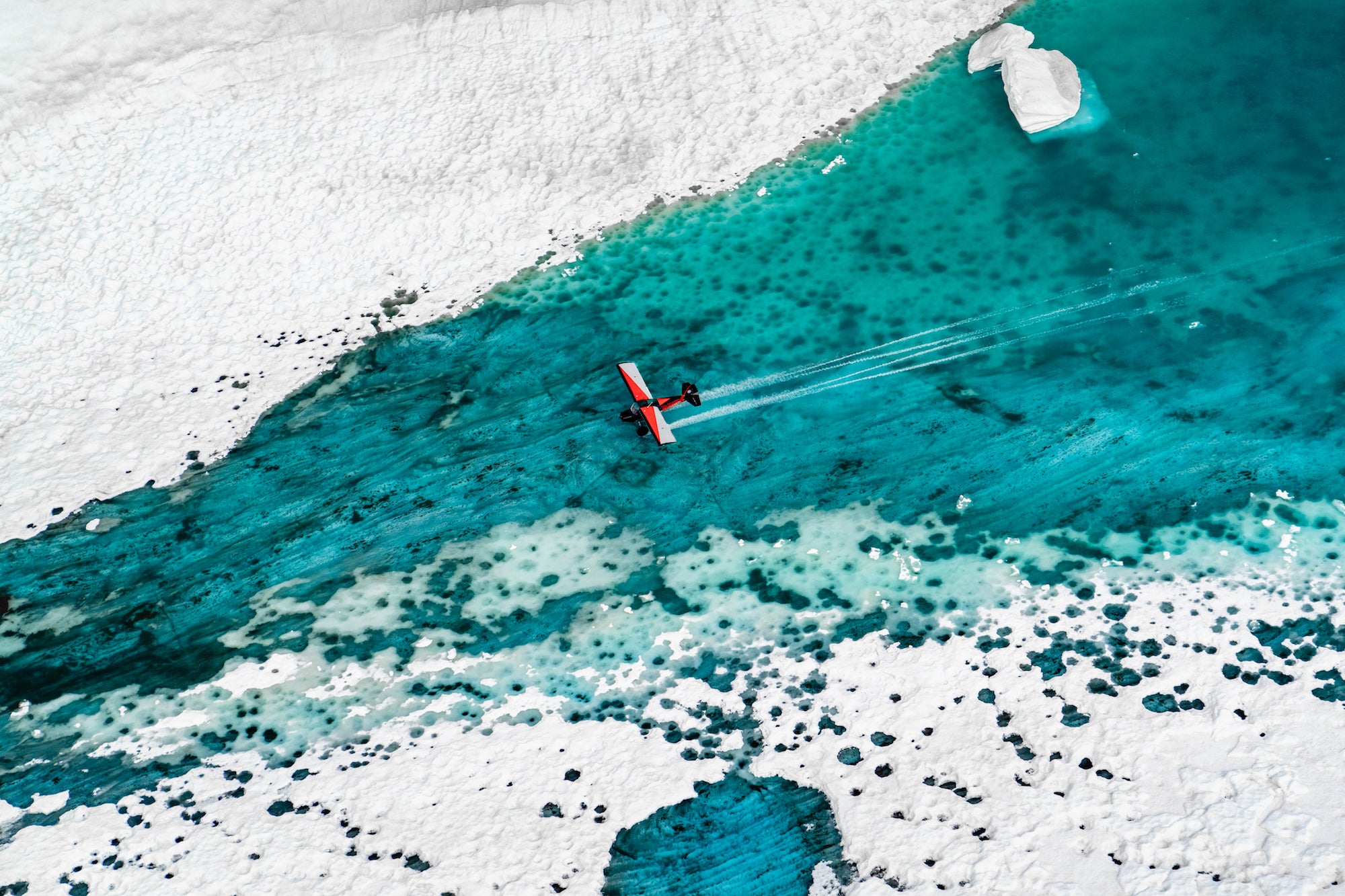 Photo by Chris Burkard. Sony α7R IV. Sony 24-70mm f/2.8 G Master. 1/3200-sec., f/4, ISO 160
"Glacial melt ponds are formed during the spring & summer months along sea ice or ice sheets where the surface is flat. They appear like a swimming pool amongst the blinding white of the ice. Often sapphire in color, these melt ponds are truly a rarity as they can sometimes last only a short period of time and finding them can be a particularly fun challenge. While up in Alaska earlier this year, we hopped in a bush plane and went on the hunt for these blue pools. The bush plane water ski is in many ways an evolution of the landing 'check' that many are forced to do before setting down on new terrain, or rather any unfamiliar surface. The ability to literally 'skim' the surface is a true talent and is critical for proper backcountry landings with fat tires. It's amazing to witness someone so skilled at their craft."
"As a small town kid growing up in a single parent home, who never owned a passport, I could not have ever envisioned the world offering me the chance to see places like this - let alone experience them. There have been moments so surreal that they felt like a dream that might fade away. Experiencing the blue pools was one of these moments. In many ways the camera has just been the right tool to remember these places, experiences and adventures."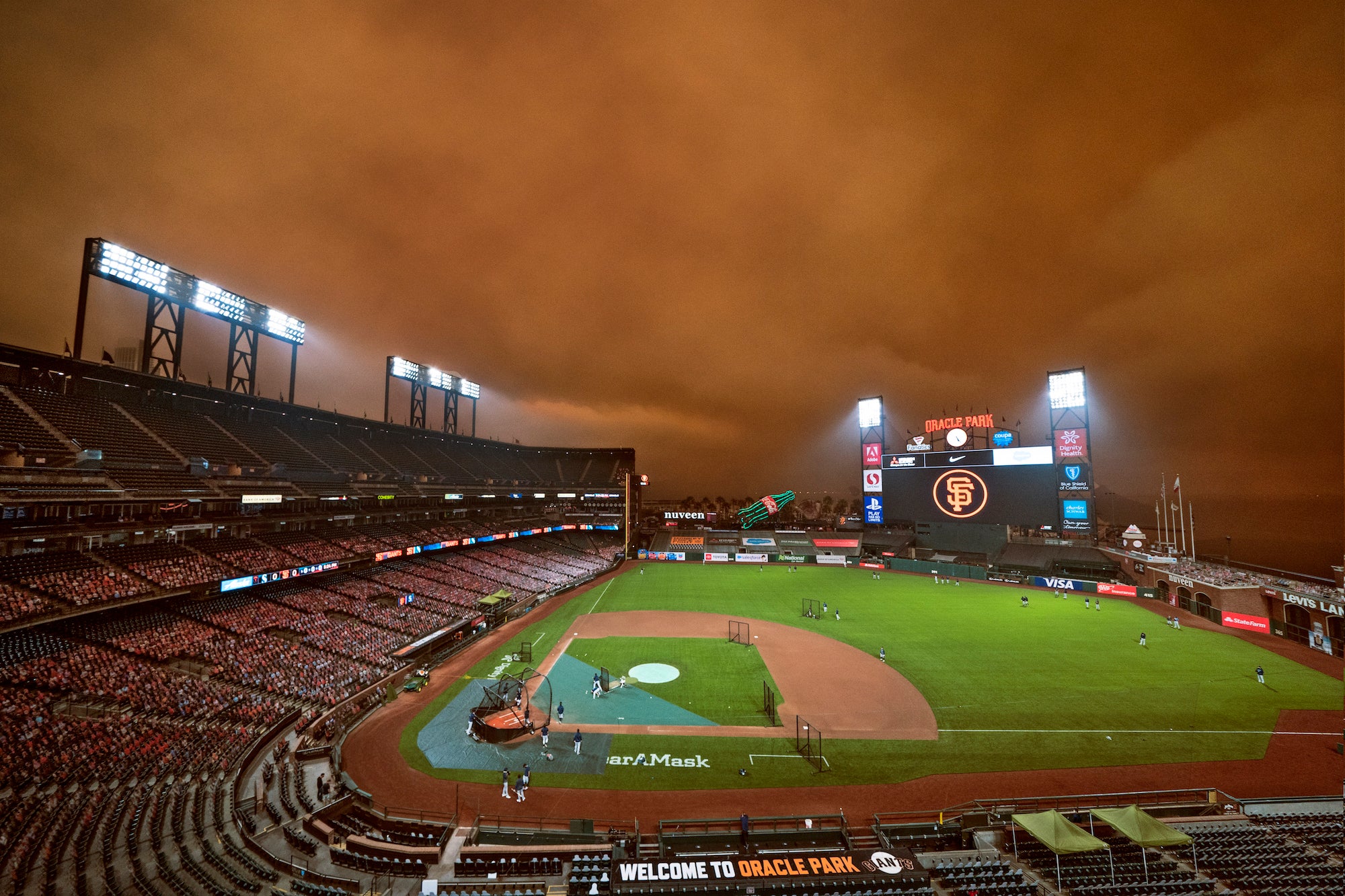 Photo by Jean Fruth. Sony α9 II. Sony 12-24mm f/4 G. 1/250-sec., f/6.3, ISO 2000
"I was on assignment to shoot this MLB game. When I woke up to find a dark ominous sky filled with smoke and ash, I expected the game to be canceled. I decided to get to the ballpark early and document the effects of the fire around the ballpark. They let me know the game would be played as scheduled and I went up to the top concourse and made this photo."
"With sports pressing on through a pandemic, the Seattle Mariners played the San Francisco Giants while their surroundings burned. The smell of smoke permeated the air leading up to first pitch, as chunks of ash fell. As I was shooting, I thought that this tells the story of the 2020 baseball season, which was so much bigger than what happened on the field: a pandemic, empty stadiums, political unrest, racial injustices, demonstrations and players striving for their voices to be heard."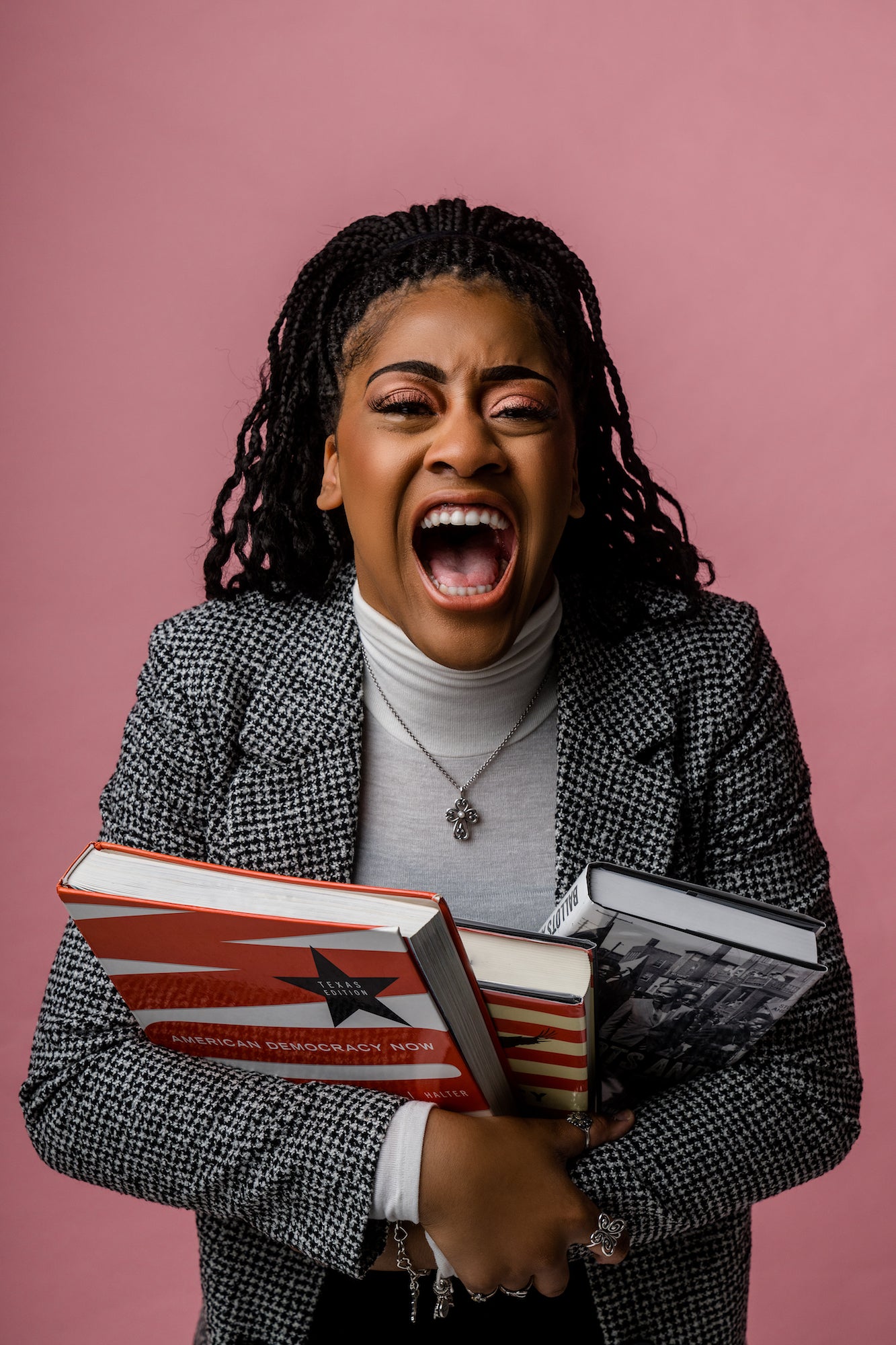 Photo by Jermaine Horton. Sony α7R IV. Sony 24-70mm f/2.8 G Master. 1/160-sec., f/5.6, ISO 100
"This photo is from my The Art Of Confidence Project where a young adult was targeted by classmates and 'SWATTED' her. SWAT entered her room from a false accusation on her school campus that traumatized her and turned her world upside down. So I asked her to remember HOW she felt in that moment and to let go and get her power back. With a Westcott FJ400, I used flash to freeze my client in her RAW emotion while photographing with my Sony α7R IV and Sony 24-70mm f/2.8 G Master lens."
"This photo is our signature image and it's called The Release. Upon sharing this session we secured a major donation of $10,000 from a donor that allowed this young lady to leave that school and enroll in WMU. This truly warmed all the hearts involved and showed that our Art Of Confidence Project is truly needed and making a difference."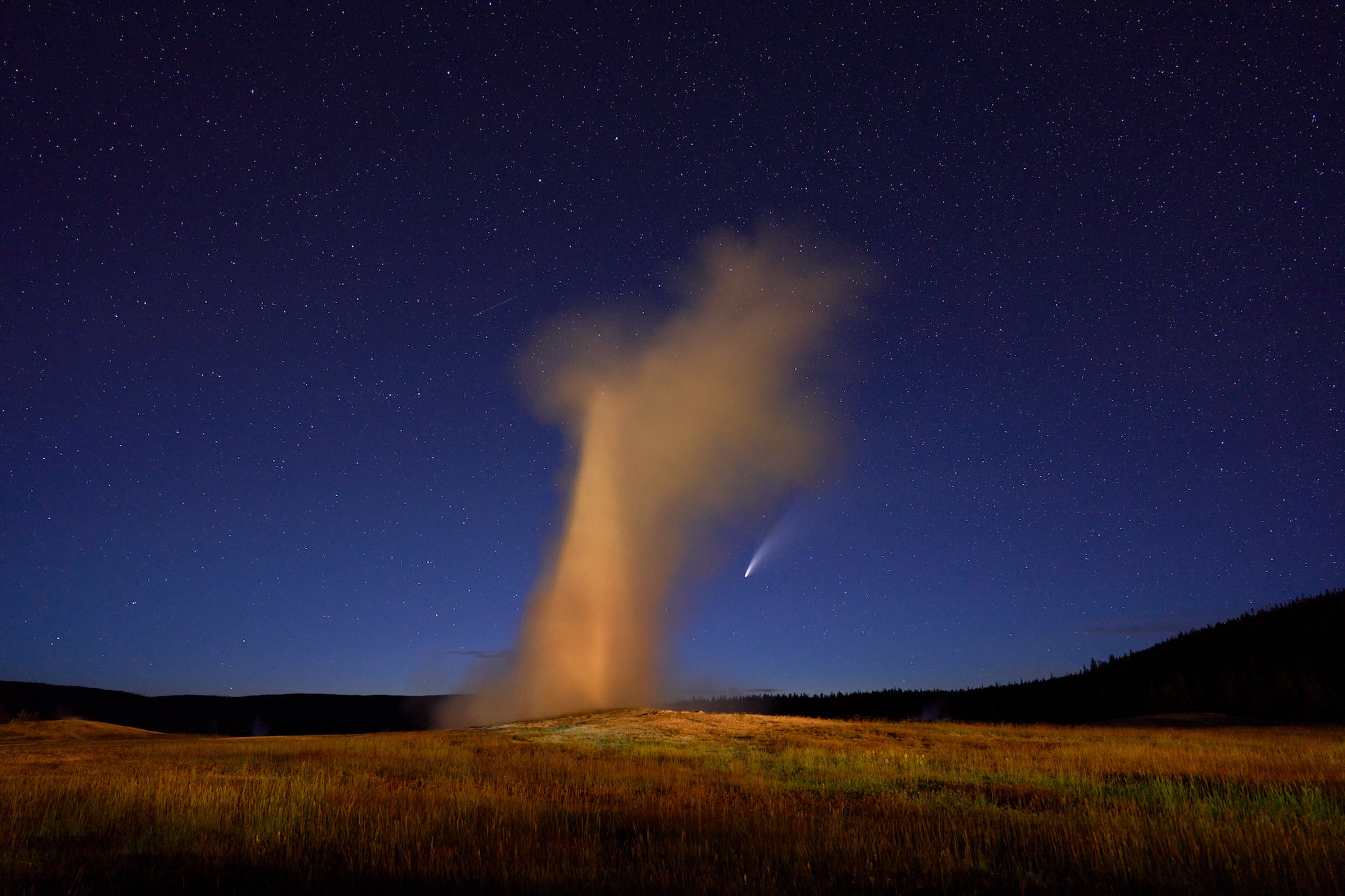 Photo by Tony Gale. Sony α7R IV. Sony 24mm f/1.4 G Master. 13-secs., f/2.5, ISO 1600
"In a normal year I travel extensively, this year has of course been quite different. This was photographed on one of the very few trips I made in 2020 and it's a place I have wanted to see since I was a child. We were staying in Yellowstone near Old Faithful, which, of course, has been photographed many, many times. I couldn't recall seeing photos of the geyser at night, though. So I decided to do just that."
David Burnett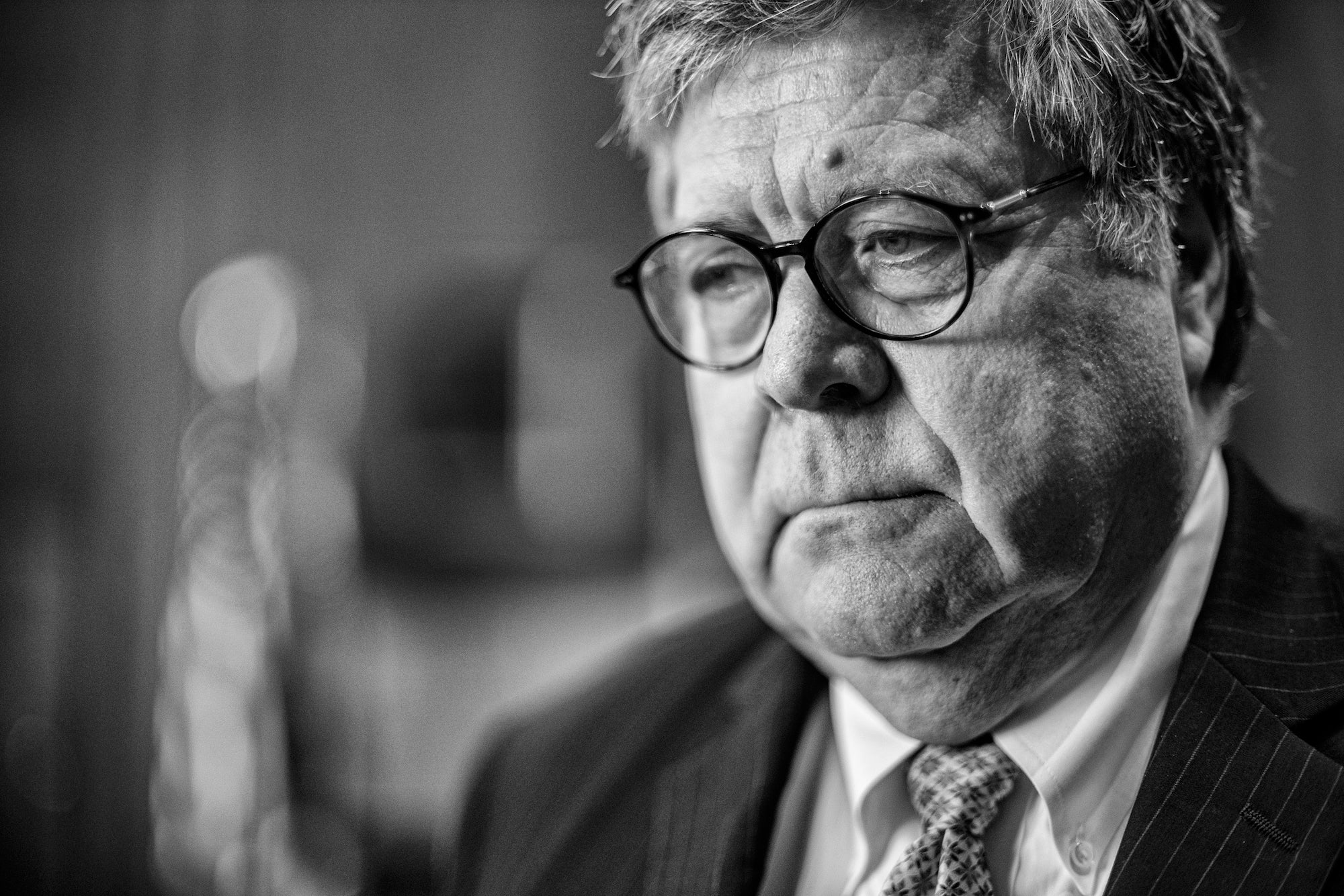 Photo by David Burnett. Sony α9.
"A reflective moment for the Attorney General, who was let go a month before the end of the Presidential Term. Photographed at Dept. of Justice, Sept 2020. In a world where politicians tend to cover every movement, there is occasionally a picture which breaks through the partisan noise."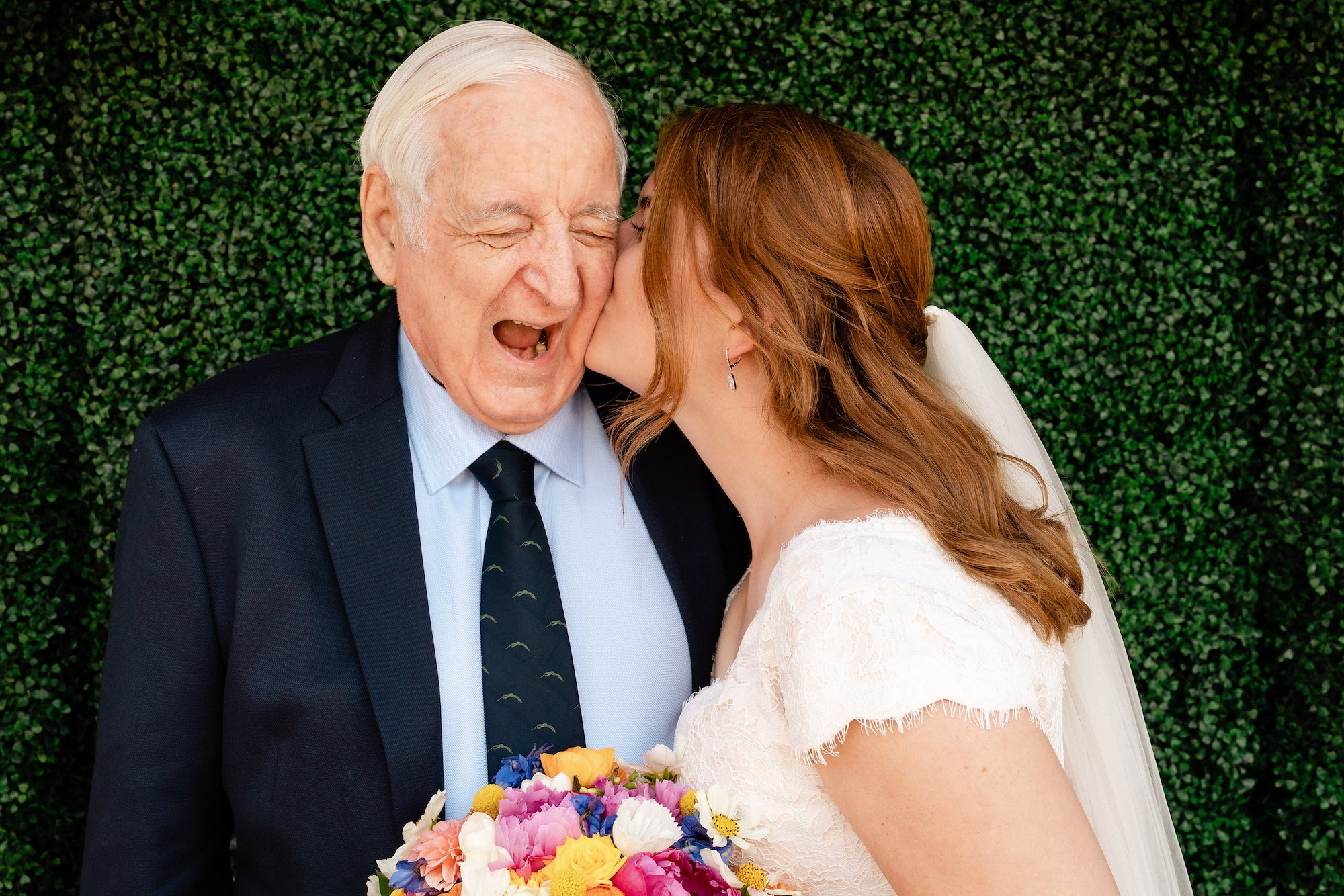 Photo by Sara France. Sony α7R III. Sony 50mm f/1.4. 1/250-sec., f/6.3, ISO 320
"This was originally a very large wedding. Once the pandemic hit they decided to still have the ceremony with just a few family and friends in the Bride's Parents back yard. This photo was taken during family formals. The bride was so excited to have a photo with her grandfather who was the guest of honor there. They have a special bond and I really tried to bring them together and the give them space to interact. It had been months since her grandfather had been around anyone and he was beyond thrilled to get this love and affection from his adoring granddaughter."
"This year there has been so much loss and fear. So many missed moments of being able to be with our loved ones and this moment felt like all that bottled up sadness was released for a moment. This small wedding was so small so that her grandfather could attend and so the couple could still get married in the timeframe that they wanted. This year had so much disappointment that this moment felt like such a win. We have spent this year in fear of what might happen if we see our grandparents but this moment is what I think everyone including myself is hoping to get back to. All I want to do is be able to be close to my friends and family without fear for their safety. I have been able to see so many couples turn the tragedy of this year into a different type of wedding day that works for them. It has been a year of prioritizing family and it has brought so much deep meaning to weddings, to being with family and friends and celebrating life and love!"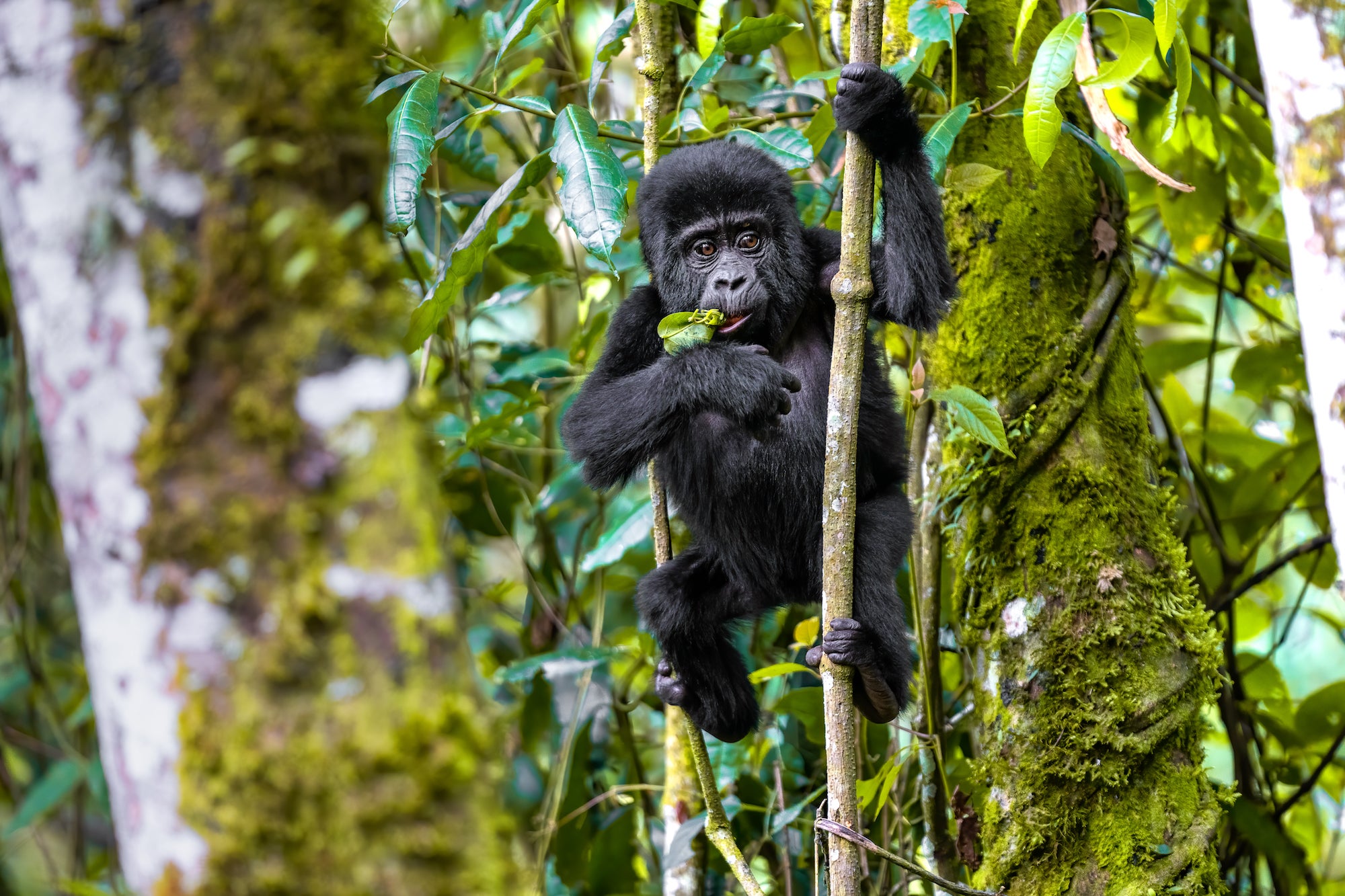 Photo by Colby Brown. Sony α7R IV. Sony 24-70mm f/2.8 G Master. 1/1000-sec., f/3.2, ISO 1600
"This is one of the first photos I ended up taking in 2020 after spending New Year's Day trekking through the jungles of Western Uganda looking for Silverback Gorillas. These creatures are easily my favorite wild animal to photograph, leaving me with a giant smile on my face after every encounter. While 2020 didn't end up being the year I envisioned, it was great having a few of these moments back at the start of the year."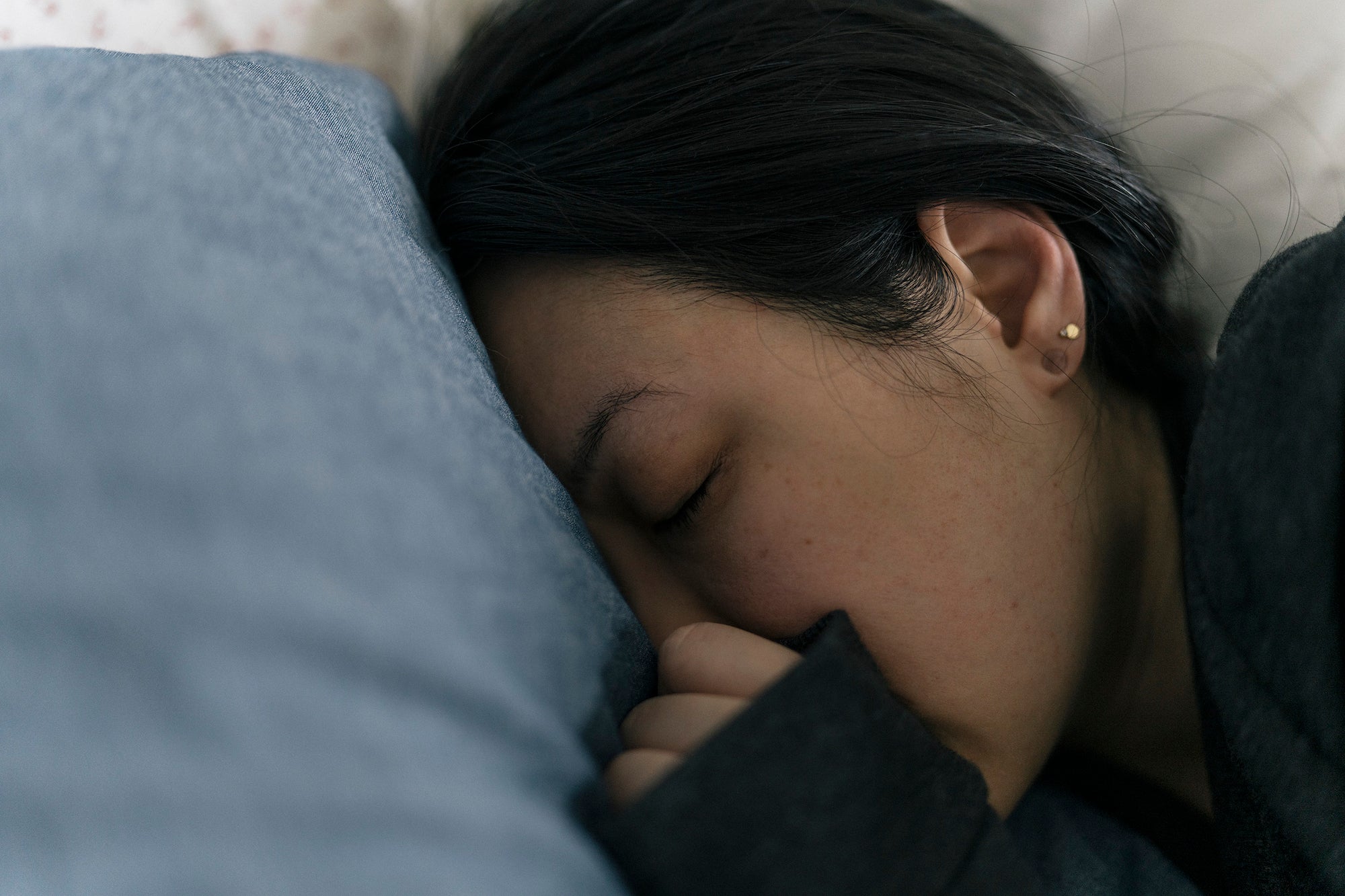 Photo by Michael Rubenstein. Sony α7R IV. 1/125-sec., f/1.2, ISO 400
"I saw my wife having a nap and she looked so peaceful and sweet so I grabbed my camera and photographed her. Throughout the pandemic my wife and I have been together nearly twenty four hours a day. We've honestly never spent this much time together and I'm grateful that at least one good thing came out of this very difficult time. I feel that it's important to try to find a little light in the darkness right now and Jen is my light."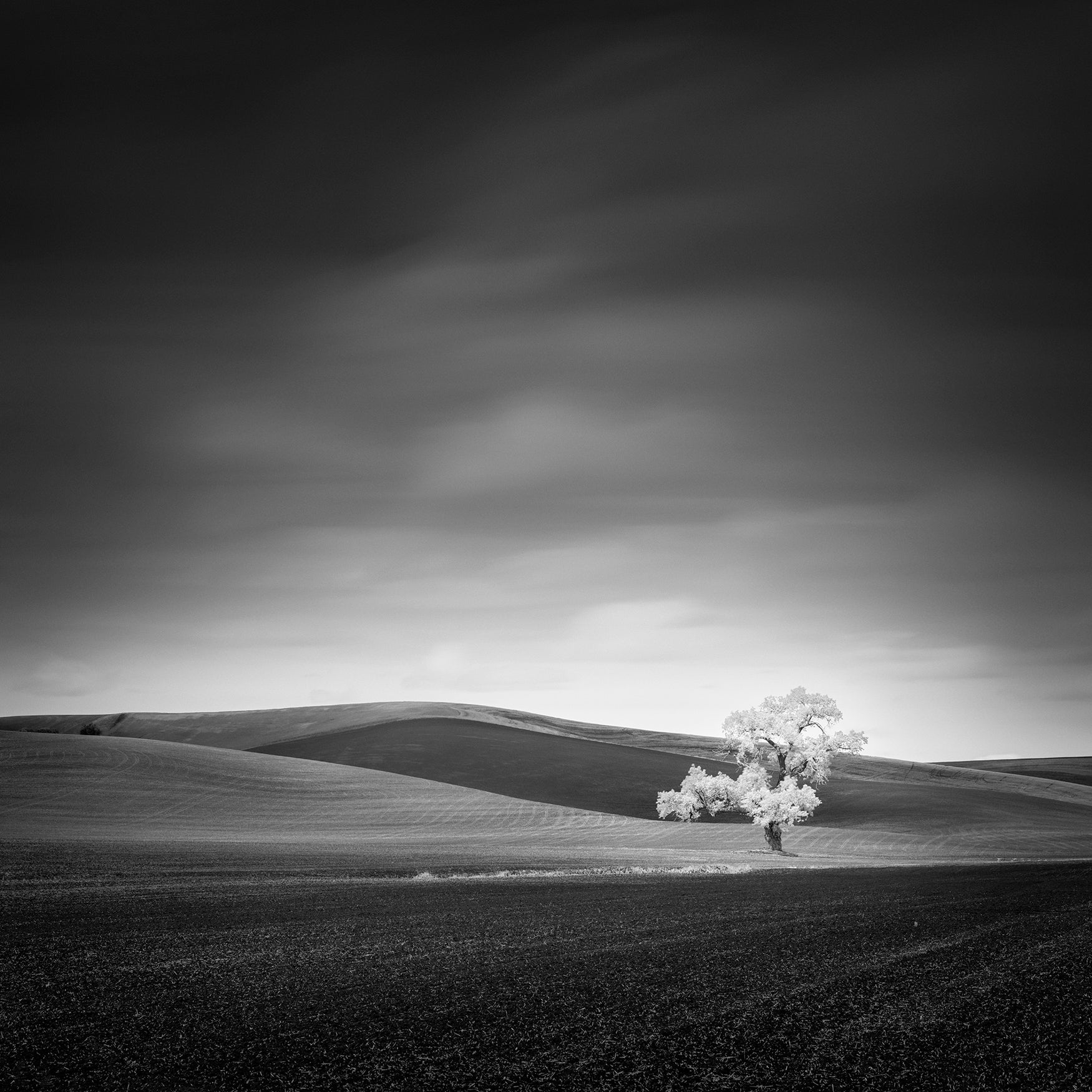 Photo by Thibault Roland. Sony α7R III. Sony 100-400mm f/4.5-5.6 G Master. 47-secs., f/11, ISO 100
"For the last few years I have been going back to this tree every time I run a workshop in the Palouse area or scout there for new locations. I find it both a challenge and rewarding to go back to shoot the same subject: it always offers a different version of itself, either because of the weather and lighting variations, or more interestingly because of the angle, composition and intent that I decide to infuse in my final image. For this particular version I decided to shoot the tree from a distance and offset in the frame, thereby amplifying the feeling of loneliness and isolation of this tree, weathered by time and the elements as depicted through the use of the long exposure technique."
"Just like for everyone else 2020 has been a challenge, to say the least. When COVID-19 hit us and everything shut down, all of my carefully laid out plans for the year went out of the window. Shooting trips, store events and workshops got canceled. Although it was definitely a curse, it also was a blessing. I was finally able to edit images from my backlog, explore fresh avenues and develop new projects. This forced hiatus helped me learn new photographic techniques and approaches, it made me meet new people virtually, I got back into printing and I was able to spend more time to work on new and improved proposals and plans for next year. After many months staying home, I was itching to get back out there to take some pictures, even if just for myself in an area off the grid where the population density was low. So of course my first thoughts went back to the Palouse, and I was very lucky to find a couple of photographers interested in me leading a private workshop there for us. I jumped on the occasion and started looking into how such an event could be run safely, and after a few weeks of careful planning we finally hit the road and were able to take some amazing photos. In particular of this tree which I always go back to when I am in the area. For me this image is a representation of all adventures and photographic opportunities that are still out there, just waiting for us to experience when the world goes back to normal. It is a promise of wonder, excitement, and more importantly... better days to come."